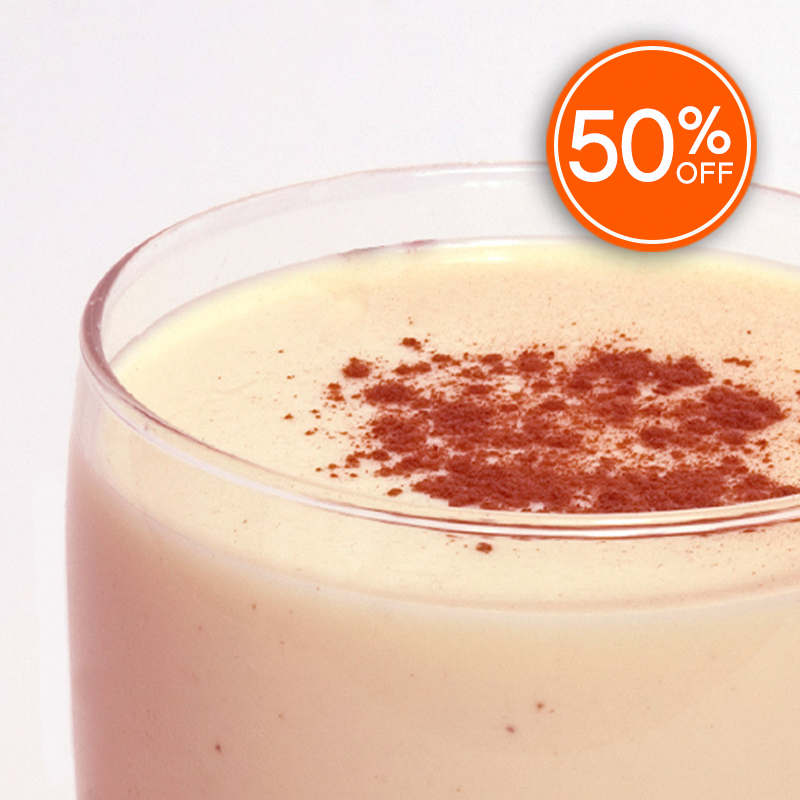 As of 02/15/2019:
This product is discontinued and no longer available.
Details
A holiday warmer of sweet almond and vanilla. Note Profile:
Top: Cherry, Nutmeg
Middle: Amaretto
Base: Vanilla, Cream


Suggested Colors: Light Brown, Ivory, Butterscotch
See our complete list of candle making dyes and soap colorants.
Note: Bottles filled by weight, levels may vary.
Properties
Candle Safe

Yes

Usage: 3-10%
Soap Safe

Yes

Usage: 3-5%
Lotion Safe

Yes

Usage: 1-2%
Vanillin Content
0.01% - 2%
Soy Performance
Flashpoint
200 °F
Phthalate Free
No
Prop 65 Warning Required
No
Diffuser Base Compatible
Yes; Up to 15%
*Usage amounts are recommendations only. Individual usage amounts can vary based on your desired fragrance strength, wax type, soap base, or lotion base. See IFRA certificate for max usage levels.
Documents

Reviews
Bring it back. I have customers raving about this scent.
I get taking away a scent that isn't selling, but I doubt that was the case here. Every candle I made with this scent got rave reviews. Please bring it back or could you suggest a substitute? Any Amaretto would probably smell amazing.
I love this scent! Please bring it back
Most loved fragrance....gone
Do you have a suggested replacement?
This is my go to holiday fragrance! Please bring this back!!!
Like everyone else here I came to beg you to bring this one back. It's one of my best sellers as well as a personal favorite!
I brought quite a few when they were at a discounted price, but my one customer only orders this scent. Please! Please! Please! Bring it back!!! I' actually making is orders now.
PLEASE bring back phthlalate-free and FAST!!!
I'm sitting here selecting my upcoming holiday fagrance oils and I'm sad this is DISCONTINUED and no longer available. I have no doubt that you're reformulating the ingredients and will bring it back without too much delay. This is one of my customers favorites, too! You guys are great! I always appreciate that you take our safety into consideration first. That speaks volumes!!!
Like many other I just came here to order this because a friend of mine specifically requested it for her fundraiser and it's disheartening to see it's gone but like someone else pointed out, I suppose it makes sense why and I trust you guys will roll out something to replace it as soon as you're able. Thanks for being awesome.
I still gave a 4 star review because it was an awesome fragrance.
Whoever made the decision to stop selling this really ruined my business!!!! This was one of my customers favorite all year around! I just ran out and came on to order more and it's discontinued!!! What am I gonna tell my customers now!!!Normally you guys have a replacement but I see none GOOD GOING
Not surprised it discontinued
This was a nice fall/holiday scent it was a soft sweet cherry almond scent. Incase no one notices anything that has Phthalate they discontinue and then remake it so it doesn't have Phthalate (sometimes the new scent is better and sometimes it isn't)
NOOOOOOOO!!!!! This is BAD!!!!!!! It is a favorite of mine and my customers!!!! Why are you doing this????
Why is this discontinuing
My customers LOVE this scent it is their favorite of my holiday scented candles. I'm so sad to see this being discontinued.
I can't believe your no longer going to have this scent! This is very upsetting
Awwwwww! Man!!
The ONLY reason I didnt buy this in bulk for the holidays last year is because it isn't phthalate free!
I HATE to see this go. I really was hoping it would be available soon without the phthalates. This super classic, creamy, warm, sweet, fragrance that performed perfectly in 464, and was perfect for the fall/winter. Maybe you'll surprise us with an updated version later? 😄
This fragrance is a holiday favorite! I am sad to see it being discontinued. The fragrance is excellent in both hot and cold throw! Well I guess now I am going to have to mix fragrances to get this scent!
I've made this fragrance for the last 2 years during the holidays to sell and it is snatched up quickly by happy customers. Great cold & hot throw, too!
This is a lovely scent, sweet and delicate. Sadly, it has poor cold/hot throw in my soy candles. You must put your nose right on top of it to smell the amaretto. I won't be able to use it in the future.
It just smells sweet but barely has a lasting scent really let down about that
Amaretto Nog does not have a very strong scent. I was let down big time.
This fragrance is absolutely delicious and a best seller. But it really NEEDS to be phthalate free.
This fragrance smells really good! You get a good amaretto smell. Not to strong but pleasant none the less. A fragrance we would buy again.
Love this sweet eggnog scent - perfect for a change in holiday scents from the usual tree-types. Just wish this was phthalate-free!
Vanilla, cherry and almond
I really like this fragrance. It does smell better cold for some reason. It doesn't smell exactly the same burning. It sold okay. I'm going to try mixing it with something else. Maybe whiskey or more vanilla.
This is a really good scent if you like spicy sweet scents! Great scent throw!
This fall was my first attempt at candle making. Did a lot of research first. Used this fragrance oil at 10% with para soy blend ig6006 in the 9oz tumblers with the echo 8 wicks. I really liked this fragrance. It was stong hot and cold. It smells like cherries, almond and vanilla although the cherries took over when burning. Personally I liked it but it didnt sell well. I'm going to try it again next fall and change the name.
I like more of a sweet AND spicy scented candle and this one is definitely just sweet so it wasn't my favorite scent. BUT it sold! & I keep it lit in the bathroom when we have guests and everyone loves it! I don't understand the reviews that describe this scent as 'subtle' or 'faint'; I think it has a great scent throw.
I tried this oil in 3 different batches at different percentages. It is just toooo faint. I love every other oil I have from CS. I will try to blend with something else.
I have not soaped with this fragrance, but I have used it in body spray and I have to say this is like high end perfume fragrance! The amaretto and the spices create and bloom a perfect feminine concoction that is a hands down winner! I will have to order more just for body sprays :D I cant wait to try it in soap and other things!!!
You can definitely smell the amaretto, and it's a good scent, but it didn't feel very nice to breathe in. Performed well in GB 464.
This is one of my favouriteshelves! People really love this scent!
This scent is pleasant, but too faint and non-descript in soy wax to make it into my candle line. It might be better in other waxes?
I really wanted to love this scent, but it's way too much for me and gives me a headache. They sold, but I won't make more.
I also had trouble with how they set. It was probably a temperature issue, but 3 out of 12 of them separated, leaving a fluid bit under a solid wax top. Odd.
Wonderful fragrance. Smelled fresh, clean and very yummy.
This smell is very light. I used almost a full ounce for 1/2 a pound of wax. It does smell good.
This scent is very subtle, not too strong, but not too weak! I used GB464, 1oz/lb, ECO#10 wick
LOVE this scent!! Its probably one of my favorites!! Everyone seems to love it, when they smell it too! It's a must have for the holiday season!! :)
I loved this scent in the bottle, but once my candles cured I could barely smell anything! I used 1 ounce for a pound of GB464. I am still going to try and sell these (I know there are folks out there that like a more subtle scent, so we will see). Personally, I would bump the FO to 10% next time.
I can barely smell this FO. Right out of the bottle I was like, 'Is this water or FO?' Disappointed.. Maybe it was a bad batch? Who knows..
I don't know what happened with my FO, but it had just abut NO fragrance at all. Very disappointed. I will say that I was using it in soap rather than candles, but have not had a problem like this before with Candlescience FO. Unfortunately I purchased the 4 oz bottle since everyone raved about it, but it was a big mistake for soap. Wish I knew why. Used a scant 2 tsp in 10 oz of glycerin soap. Any ideas?
I didn't know what to expect with this scent but there are some pronounced cherry and vanilla notes. Perfect for that person who doesn't like spicy fall scents.
Wasn't sure I would like this scent, but when I got it as a sample, I loved it. Anyone that I ask have said they like it just as much. I highly recommended this scent.
This is a lovely scent. It could use more almond notes.
One of my most popular Winter scents! People love this one! A tiny bit sweet mixed with holiday goodness.
Fabulous Sweet Holiday Scent!
I love this scent! nearly every one of my customers who smelled it, ordered it, and every customer who ordered it, loved it! :-D it was a hit for the holidays! I used 1oz with 1lb of GB 464 to make 3 8oz tins. Turned out perfect!
Light and very intriguing . . .
I really enjoy this fragrance although I didnt really pick up on the almond notes as much as I anticipated given the other reviews. Gave this one 4 stars because it is not phthalate free. Hope that is something that will change soon!
Not a fan of almondy smells, but really like the creaminess of this one. Great at Christmas time.
I like this a bit more than the vanilla type smells. Def smell the almond, but also warm and inviting. Have used in bath and body products.
this scent is reallly nice, out of all my candles i had 3 different people say they liked the ameretto nog the best.
Very strong scent. Filled a very large area of the house. Made with GB464 Eco#10
I purchased this to make a candle for my friend who is obsessed with Amaretto, but the almond essence is sort of lacking on this one. I really have to punch it up with another oil to make this fragrance pop. Nevertheless, great fragrance. Not too sweet, not too bland. I think my customers will really appreciate this one. :)
Nice & strong! Beautiful scent!
Extremely strong and smells yummy.
My customers cannot get enough of this scent!! Great throw!! Another job well done by Candle Science!!
I used this for Christmas...
and loved it! It had a creamy, bright scent that made my mouth water! I will order it again!
This scent very inviting, soft and a definite must have.
This is a great autumn scent.