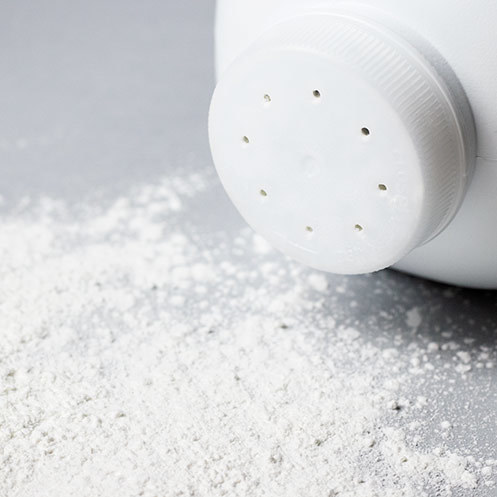 Ready to Order?
Ships from East Coast. Expected: West Coast 12/3
6+ 5lb Jugs
$72.42
$0.91 /oz
12+ 5lb Jugs
$65.18
$0.81 /oz
Safer Scents For The Home
CandleScience Clean Scents™ are free from carcinogens, reproductive toxins, and other potentially hazardous chemicals often found in fragrance. Choose Clean Scents and create safer home fragrance products you and your customers can enjoy with confidence.
Read More >
Details
REVISION NOTICE:
It is our policy to notify customers if any part of a fragrance was changed for any reason. As of
January 15, 2019
our Baby Powder was revised to meet our stringent safety standards to remove ingredients on the Prop 65 list. The original strength and fragrance characteristics have been preserved. To see details of the previous version,
click here
.
Freshen any space with the clean, instantly recognizable scent of our Baby Powder fragrance. Top notes of sweet orange and airy ozone blend with delicate florals of violet, rose, and orange blossom. Base notes of cedar and powder finish off this classic aroma.
Candles, wax melts, and reed diffusers bring a powdery, clean freshness to any room. Baby Powder is also a beautiful scent for handmade soaps, lotions, and body care creations. It's a go-to for baby shower favors and for creating a comforting and soothing atmosphere.
This fragrance oil is infused with natural essential oils, including cedarwood and patchouli.
Note Profile:
Top:
Ozone, Orange
Middle:
Rose, Orange Blossom, Violet
Base:
Powder, Cedar
Suggested Colors
: Ivory, Blue, Pink
See our complete list of
candle making dyes
and
soap colorants
.
Note: Bottles filled by weight, levels may vary.
Properties
Candle Safe

Yes

Usage: 3-10%
Soap Safe

Yes

Usage: 3-6%
Lotion Safe

Yes

Usage: 1-2%
Vanillin Content
0.01% - 2%
Soy Performance
Flashpoint
210 °F
Phthalate Free
Yes
Prop 65 Warning Required
No
Diffuser Base Compatible
Yes; Up to 25%
*Usage amounts are recommendations only. Individual usage amounts can vary based on your desired fragrance strength, wax type, soap base, or lotion base. See IFRA certificate for max usage levels.
Documents


Cold Process Soap Performance
| Acceleration | Discoloration | Separation |
| --- | --- | --- |
| Slight | Tan | None |
Lye Water Temperature 112ºF
Oil temperature 125ºF
We did see very slight acceleration with this fragrance but no separation. The batter came to a light trace quickly and stayed fluid while hand stirring. As we poured into the mold the batter started to thicken quickly. After 24 hours the scent was strong with a pleasant powdery character and the bars had discolored to a light tan shade. The soap reached a partial gel and there were signs of overheating through the center. After 30 days the scent is a little softer and smoother and not quite as strong but very pleasant. The bars discolored to a tan shade. Due to the discoloration, this fragrance would work well as a single color or various shades of brown. The batter will be workable for a short period of time so be prepared to work quickly and plan a simple design.
Reviews
I love this fragrance. Deserves 5 stars.
More than slight acceleration.
It was insane, and I am proficient in working with problematic scents as an experience soap maker. The scent is great. Perhaps is better for just candles.
Used this in soap and worked great! Left my soap a yellow color even after using titanium dioxide as a colorant. I didn't mind the color change as the fragrance is so good!!
Baby powder fragrance oil
The "new and improved"baby powder scent is truly a disappointment. It does not have the strong smell that me and customers are used to. You can barely smell anything. So disappointed will be looking for other manufacturers. This is not the first fragrance I am disappointed with. Idk why the fragrance smell are becoming lighter and lighter. It makes me look bad as a business.
I received a sample of this to test for gender reveal Candles & out of the bottle it definitely smells more like the pink johnson's and johnson's baby lotion to me but definitely still a "baby" scent. Haven't tested it in a cured candle yet but hoping it has a decent throw in my coco apricot wax - if not thinking of playing around with mixing it with lavender.
Hi i received my baby powder FO today and it smells amazing but the top of my candles are looking slushy as they are becoming solid using 464 soy wax, any tips on why this could be happening with this scent? all my other candles with other scents look great.
Hi! A member of our team will be reaching out shortly!
Very disappointed with the new formula. I'm currently making candles for a baby shower and had to restock to complete the order. I was shocked by the lack of scent in this version, it barely smells like anything never mind baby powder. Its so disappointing, and I'm at a loss now, half of the candles will smell like baby powder and the other half like nothing. My long time baby powder customer are going to be very disappointed. Bring back the old formula!
This fragrance is amazing! I use IGI6006 and both CT&HT are fenomenal! Also very strong on my melt and pour soaps, I just love it! Thank you CS!
Baby powder has become my favorite in my candles, even made a car air freshener which is amazing!!! Please never stop making this one.
Absolutely love the baby powder fragrance in my candles! It's clean and fresh, and makes me smile with every sniff. Don't change a thing. P.S. I started on the reformulated version.
Very disappointed this doesn't smell the same as the original baby powder. This one does not appeal to my customers or myself and I can't find that version of baby powder anywhere. So sad!
I honestly didn't know I liked the smell of baby powder this much. It's fresh and light, pure powdery heaven. It behaved reasonably well for me in a goats milk soap. Though there was some discoloration, I think some TD could help ameliorate the effect. It began to gel immediately; I had my soap in the fridge for 15 hours and when I cut into it, there was pretty significan partial gel. My soap was also a little on the chalky side when I cut it, but I'm pretty sure that was my impatience, not the fragrance. Unlike many other scents, days of exposure to it (curing on a rack) are just making me happy instead of headachey - I will DEFINITELY be purchasing this again.
This definitely captures the baby powder scent but I am not crazy with it on its own. I do like to mix it with other scents (like pound cake, cake, or vanilla). By itself, I would probably only make a cornstarch stain blotter with it.
Keep in mind that I'm a novice & don't use my oils to make products for others. I only use oils in a wax warmer pot, or as a room fragrance, or as personal fragrance (mixed with a lotion).
When we first purchased the original baby powder, it was a big hit!! Our customers loved it... this fragrance was one our best sellers... great reviews!
Now, with the reformulated version, our customers don't like it as much.
Please go back to the original version.
Not the same. I'm hurt it's not that strong
Not the same. I'm hurt it's not that strong as the old one I use twice as much which made mess.of things. We need to at least have a option to pick the baby powder we liked.
#1 seller baby powder 😣
Smells like Johnson & Johnson baby wash.
Definitely Spot On0-Reformulation is SOOOO much better than Previous Baby Powder
The previous baby powder did not smell at all like baby powder. It had a more lilac-lavender soft smell. Nothing powdery at all, and the previous version didn't hold up in my soap for over 6 weeks.
However, THIS version is spot on. Perfect, perfect. Powdery, light, best baby powder on the market. Please don't change a thing!!
I have tried over 15 suppliers of baby powder fragrance for CP soap. This is the very best, wonderfully powdery scent. Not chemical or perfume smell - holds extremely well (like after a year) in CP soap. LOVE IT! Recommend highly.
The reformulation of your baby powder is a bust. It smells nothing like the original. I am soooo disappointed because it was one of my best sellers and no one else's baby powder fragrance even comes close.
Smells fresh...It's Baby Powder at is freshness!
Thanks
Love the sweet scent! I didn't think I would like it but it grew on me and now I love the scent!
I LOVED this baby powder scent, smelled just like J&J, was strong, and stuck in my cold process soap. The discontinued version did not have a true baby powder smell, it was more floral. Thanks for new scent CandleScience!
I ordered this revised version and I am highly disappointed in the new baby powder scent. This was one of my biggest sellers in my Candles and I even had a little left in my old bottle and the two smell nothing alike. I went ahead and made a batch of candles with the new version anyway and now I have customers complaining and I have to search for a new baby powder scent from another company so that I can send out replacement orders so that I don't lose those customers. This has caused me a lot of stress and money. And the description is very misleading because they say that the original scent was preserved and it was not and I would like a replacement fragrance oil for the inconvenience. Do not buy this, it is not a good one anymore.
This is one of my absolute favorites I received the new version no change note still my top seller keep up the great work Candle science