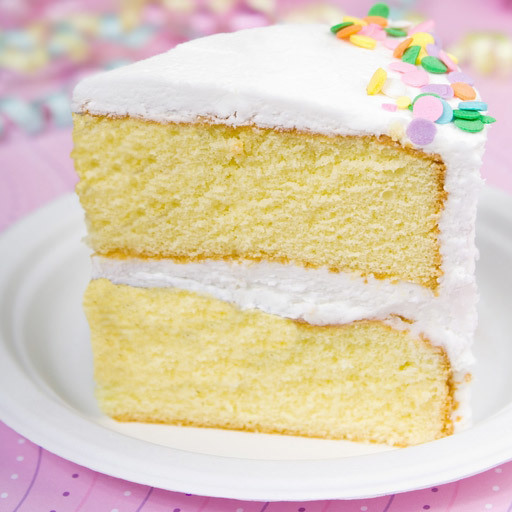 Ready to Order?
6+ 5lb Jugs
$75.24
$0.94 /oz
12+ 5lb Jugs
$67.72
$0.85 /oz
Details
Call it birthday cake, call it wedding cake, maybe call it cupcake; it won't matter. One whiff of this fragrance and you'll be hooked. Lots of buttery, creamy, and vanilla notes make our Cake Fragrance Oil irresistible.
Note Profile:
Top: Buttercream, Sugar
Middle: Cream, Honey
Base: Vanilla

NOTE:
It is Candlescience policy to notify customers if any part of a fragrance has been changed for any reason - even when the revised fragrance cannot be distinguished from the old one by our test panel.

As of April 1, 2011, our Cake Fragrance has been revised due to a crystallization problem at low temperatures. The original strength and fragrance characteristics have been preserved. The new formula should eliminate any crystallization issues for problem free use year-round.
Suggested Colors
: Yellow, Ivory
See our complete list of
candle making dyes
.
Note: Bottles filled by weight, levels may vary.
Properties
Candle Safe

Yes

Usage: 3-10%
Soap Safe

Yes

Usage: 3-6%
Lotion Safe

Yes

Usage: 1-2%
Vanillin Content
0%
Soy Performance
Flashpoint
179 °F
Phthalate Free
Yes
Prop 65 Warning Required
No
Diffuser Base Compatible
Yes; Up to 25%
*Usage amounts are recommendations only. Individual usage amounts can vary based on your desired fragrance strength, wax type, soap base, or lotion base. See IFRA certificate for max usage levels.
Documents


Cold Process Soap Performance
| Acceleration | Discoloration | Separation |
| --- | --- | --- |
| None | Dark Brown | None |
Lye Water temperature 108 ºF
Oil temperature 98ºF
We did not experience acceleration or separation. After 24 hours the soap was brown and had a mild odor. The soap did start to gel with minimal insulation. After 30 days the soap was very dark brown and was stronger than after the initial cut. This fragrance is vanillin free, but other raw materials cause brown discoloration.
Reviews
Really enjoyed this scent takes me back to being a child and eating buttercream birthday cake.
I prefer birthday cake from other companies.
Smelled like vanilla abstract no sweetness I had to mix it with another scent and still nothing (wanted to use for a body butter but used in a soy candle instead)
I originally purchased this fragrance for bath bombs, but after smelling it from the bottle I was horrified. It smelled chemically and just not pleasant, so the bottle got put in the back.
However. I was playing with a new body butter recipe and decided to use it for the sake of using a fragrance, not wanting to use up my tried and true scents. I used it at 1% and I couldn't believe how amazing it smelled when I finished! It lost that chemical smell and provides a warm, soft vanilla scent. I wouldn't say it smells like cake, but it's lovely nonetheless... And I'm not a fan of vanilla-based fragrances in general. So far the customer response has been great!
Don't be scared by the smell right out of the bottle. It surprised me in the best way!
I absolutely love this scent. My daughter and I cant get enough. Used 464 soy way. Good cold and hot throw
Great scent but very little throw
This would be my FAVORITE scent if the throw was stronger, but it's very weak.
Yes this one is soft in fragrance throw , but it's scrumptious, like a real cake!
This had almost no scent that I could detect. When used with wax in a warmer, the scent improved but was only very faint.
Keep in mind that I don't use my oils to make products for others. I only use in a wax warmer pot and as personal fragrance (mixed with a lotion)
JUST like yellow birthday cake!
This fragrance smells absolutely amazing. It's more complex than plain vanilla, and I can definitely pick up notes of buttercream and vanilla cake batter. I used this in deodorant and it smells gourmand and complex. Not too overly sweet! LOVE!
This is a great sweet vanilla. Good on it's own, and an excellent blender. Expect to wick up with this.
This cake fragrance is absolutely amazing. I cant believe the bad reviews. I highly recommend you give this one a try. Not only do I love this, but, my customers absolutely love it. I find myself constantly restocking this. I call it Wedding Cake and also Birthday Cake.
By its self, it smells more like coffee cake. Mix it with Vanilla and you have a great cake scent.
This smells pretty good. Im not sure what it smells like, but it's not cake. Maybe vanilla candy? I'm not sure. It does smell pretty good though, so I'll probably still use it. I'll just name it something other than cake.
My customers and I love cake or cupcake smell and this did not smell like what i was expecting. It smells more like a vanilla extract or a artificall vanilla extract smell. Needless to say was not very pleased.
This fragrance smells just like a buttercream cake! It's mouthwatering on its own and one of the most scrumptious dessert scents when mixed with another sweet CS fragrance! I could smell a tiny 2 oz jar throughout the house. I'm already craving more!
Deliciously Divine & Ahhh-mazing FO!!!
I have to admit, I am not a fan of food or baked FO... However, this is hands-down my new favorite FO. It smells just like you are walking into a bakery immediately after the baker just made a bunch of cakes. It is deliciously divine!! I used 12% FO in 10 ounces of IGI 6006 with 1 drop of ivory and 3 LX20 wicks in the new tumbler. If you are looking for a recipe I suggest you follow my directions and bake yourself a cake scented candle.
My family has always loved the smell of the cake scented for our wax melts. Barely any smell at all when I used this. I am going to try the very vanilla next time. Seems more people loved it and say it smells like cake batter.
I'm surprised so many people don't like this scent. I was hesitant based on so many people saying it smells artificial or generic, but I'm so glad I got it. This is one of my favorite cake smells ever!!
this scent does not exactly smell like cake, i was expecting a funfetti- type smell, but it just smells like vanilla extract and something else that does not smell like cake.
Smelled great in the bottle, but hardly any scent to my tarts at all. Disappointed.
Has a very light scent throw.
Smells more like vanilla extract.
Maybe better as "cold throw"
Sniffing this after opening the bottle made me hungry. Smelled like butter, vanilla--yellow cake. That is until I made a candle and lit it. Then it had a chemical smell. I thought it was the wick and made a "tart" for the wax warmer, same artificial chemical smell. Perhaps I can make a cupcake candle or something for someone who I KNOW won't light it but wants a cute decoration.
I'm obsessed with this "cake" scent! Great throw
It's not "cake". It's an artificial vanilla smell. It's not a good seller for us in candles. It doesn't have a good cold throw.
im surprised this scent is getting bad reviews. I've been looking for a cake scent for so long and this one is the only one that actually smell like the cake batter you want to smell when you're looking for cake. no artificial notes at all! not too sweet, very gourmand of it! this is an awesome scent, please don't discontinue!
Did not like this one at all. It has a strange, chemical scent, like artificial sweetener. Was hoping for something more buttery and warm. Will see if it cures into something a little less icky.
The first time we smelled this, it brought us to tiers, tiers of joy. Getting customers to buy this candle is a piece of cake. We whisk our way through this fragrance, it is butter than any other. To those saying it's not any good, lay-er off! Smelling this, we've never (vanilla) bean so happy. Luckily, this scent doesn't seem to have a lot of, frosting, associated with it. There is absolutely muffin wrong with this fragrance, anyway who thinks there is something wrong with this fragrance is a total fruitcake.
Nope, will not buy again. Does not smell good at all. A nasty Vinalla smell.
Doesn't really smell like cake
I'm disappointed in this one! It is OK, but does not smell like cake. I was hoping for a cake smell like when you find in the stores, but this isn't it.
This does not smell at all like cake! Bought this for a wedding gift and the scent smelled nothing like cake! Would not recommend!
This scent was okay, but doesn't smell like cake. But to be fair, I've yet to find one that really smells like cake instead of just vanilla. Performed good in GB 464.
I made this fragrance into a candle. It did not smell like Cake. It smelled maybe like faint Vanilla. I was very disappointed.
I love this scent. My family asked me for a regular vanilla scented candle so I had them smell both Cake and Very Vanilla to see which they preferred. They all liked Cake better because it is a bit softer than the Very Vanilla, which has a stronger, deeper almost sultry vibe. Both smell like vanilla and are amazing, but Cake definitely has the butter cream icing element. Delicious! Great hot and cold throw with 464 soy wax. I honestly think more often than not the bad throws come from mixing at the wrong temperature than from the fragrance being subpar, although some certainly do turn out stronger, namely food scents is seems.
I'm typically a fan of this type of scent but not from here. Part of it is there but something else in there is just really far off with this one. Try a sample first. (3/10)
I can smell the difference between vanilla and this cake scent. Its a great scent throw and my candles can be any color to go with it. I left it as cake because you never know what the special occasion is. :)
This is a very nice vanilla, but I don't really smell "cake". I'll have to compare it to Very Vanilla and see which one I like best- both are very good!
Only bought this one based on the reviews. No hot scent throw and barely any cold throw at all. Very strange chemical smell to it, couldn't figure it out, but now I see others have had the same issue. Won't be keeping this one in my line.
This smells good, but I think it smells generic. It smells like any vanilla candle you might pick up at the dollar store. It was a forgettable smell.
This scent doesn't seem to have a good hot or cold scent throw and doesn't fill a room like the other scents I have. It's a decent mixing scent but not one I'll keep in my line.
Love, Love this. One of my daughter's friends asked me if I had this scent. I didn't, so I tried mixing French vanilla, sugar cookie and vanilla frosting scents and didn't come close. I got a 1 oz. bottle to try out and since I only make 16 & 21 oz jars, this didn't make a full 16 oz jar. so I burned it myself and I was hooked. My husband walked into the living room and asked what I was baking! Lol. I don't bake! As soon as someone walks in they ask me if I have any to sell so I am stocking up. This is one you can sell anytime.
Oh my gosh, yummylicious!!!! I decided to call this Cake and Cupcakes. Customers are loving it!! Reminds me of wedding cake actually, frosted in heavenly buttercream frosting. I think I need to create a cute little label that says something like please don't eat me, I'm not edible!
I love this one it is amazing not something that I would burn all the time but I do like it.
This fragrance is a delight to the senses! My daughter informed me this needs to be a regular in our line, I agree! Thanks candlescience.
P.S. I love your rating system it will help me decide on my next purchases!
The hot scent is awesome, smells just like cake. I use this for my candles and my tarts, Must have in mine line of candles.
CONFUSED ABOUT THE BATH AND BODY!
I AM NOT SURE WHAT HAPPEND BUT AFTER I ADDED THIS FRAGRANCE AND RUBBED MY FACE THAT HAD OIL ON IT; OMG MY EYES WHERE ON FIRE. I THOUGHT THIS IS A BATH AND BODY FRAGRANCE, WHY IS IT SMELLING A LITTLE CHEMICALLY AND BURNING MY EYES?
Smells More Like A Chemical Than Cake
Used in Soy wax tarts. Expected more vanilla. Strange chemical smell. No hot throw in soy. Tried this one based on reviews. ??? Stick with Very Vanilla.
Smells Great! Gives a great scent throughout the house. The throw is great with GB 464. Must try. I love this one.
I really like this fragrance, but I wish it had more of a unique flair to it. Sort of generic.
This smells like you have a cake in the oven. It has just the right amount of vanilla. Great throw in Comfort Blend wax.
I was scared because this scent had an awful chemical after-smell out of the bottle, but once it had cured for a few days in the soy candles that I poured - it was exactly what I had expected it to be! Great scent throw, too.
This is by far one of THE BEST vanilla based scents I have used in my soy candles! I usually have a hard time with a strong scent in vanilla, but this fabulous! Must try for soy candles!