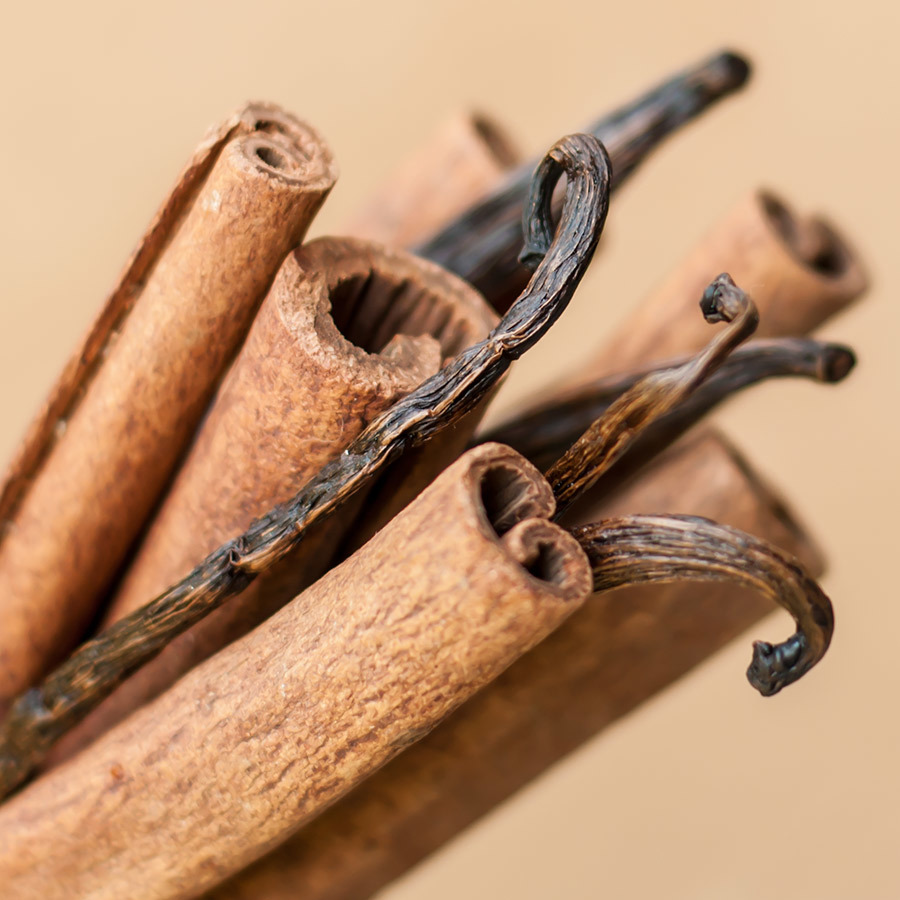 Ready to Order?
6+ 5lb Jugs
$79.94
$1.00 /oz
12+ 5lb Jugs
$71.94
$0.90 /oz
Details
Distinctly separate from our other cinnamon fragrances, Cinnamon and Vanilla combines the full bodied scent of spicy cinnamon with the sweet and creamy accords of vanilla. This mouthwatering scent evokes the excitement of the fall and holiday seasons.
This fragrance oil is infused with natural essential oils, including gurjun balsam.
Note Profile:
Top: Cinnamon, Clove
Middle: Cream
Base: Vanilla

Suggested Colors: Any shade of brown
See our complete list of candle making dyes.


Note: Bottles filled by weight, levels may vary.
Properties
Candle Safe

Yes

Usage: 3-10%
Soap Safe
No
Lotion Safe
No
Vanillin Content
2.01% - 5%
Soy Performance
Flashpoint
217 °F
Phthalate Free
Yes
Prop 65 Warning Required
No
Diffuser Base Compatible
Yes; Up to 25%
*Usage amounts are recommendations only. Individual usage amounts can vary based on your desired fragrance strength, wax type, soap base, or lotion base. See IFRA certificate for max usage levels.
Documents


Reviews
I LOVE THIS FO SO MUCH.... IT SMELLS AMAZING
Out of the bottle this scent has a very strong cinnamon smell. hen added to 464 wax it becomes more complex. the smell of cinnamon is present as well as a subtle vanilla. All my customers love this scent. I cannot keep my wax melts on the shelves.
I LOVE THIS SCENT!!! IM NOT EVEN A CINNAMON FAN BUT THIS IS A FAVORITE OF MINE I WAS GOING TO USE THIS FOR MY PROMO FOR THIS MONTH BUT ITS OUT OF STOCK BUMMER😕😕
Per my client the throw on this melt was not very good. She works in an office and always has customers stating how good her office smells. With this scent she got no positive feedback. I will probably take this one off my list.
This fragrance is definitely a customer favorite!
Got a free sample and immediately went online to get a bigger bottle. This smelled my entire house up I am in love with it. I hope my customers love it as much I do.
One Of My Favorite Scents!
This scent smells SO good!! I mixed this with 464 and it come out beautiful with 10%! Adding a little bit of ground cinnamon on top makes it look like a masterpiece!! Hope this helps! :)
The cinnamon slaps you in the nose, then the vanilla apologizes afterwards. Haven't tried it in candles yet, though, so that could change my opinion.
I can't keep this one make this one fast enough. My favorite & definitely my best seller! Cozy, warm, wonderful scent!
I love it so much!!!!!!!!!
I am nine and decided to start a candle business. I tried this scent and LOVED it. I only added half of the bottle instead of the whole bottle and it worked perfect! right away I knew it would be a best-seller.
Love the smell of cinnamon and vanilla mixed together. I would say a little bit for goes a long way. Definitely will be buying more thank you. ❤️💕
making tarts for wax warmer
smells more like ginger but nice
I purchased this scent for my first attempt at candles for friends and family for the holidays. Everyone loves it and I'm going to keep purchasing and was inspired to try more CS scents. I used 8oz mason jars and 1oz per lb soy wax. Most people said they could smell it right away & it filled the room with a natural smell. Love it & purchasing more!
This scent was perfect! Not to strong and certainly not weak. It smelled good and warm right out of the bottle and has continued to stay strong in our tealight candles. If you like warm fall scents I definitely recommend this one!
While this scent is really cozy and "warm" smelling, it is not as strong as I had imagined it would be? Recommended for fall / winter, though!
Wonderful!! I sold out of all of my Cinnamon and Vanilla candles within the first 30 min of the craft fair!! Great smell!! Best FO I have ever smelt. Made me want to eat it... LOVED IT :)
This has that classic smell you can find everywhere that sells vanilla candles. It has no subtlety whatsoever and frankly smells kind of cheap and generic. And yet there's something so nostalgic about this scent that I still feel like it's a good one for the holidays and would be a general crowd pleaser. Not great but it's what it says - cinnamon and vanilla.
This is one great scent to mix in with other scents that need a kick! It's very smooth and not overpowering. I love to mix it with cinnamon buns and other bakery scents that just need a little something.
This one sells really well for me. It's really nice.
Bought this for myself but....
I originally bought this for myself, but my customers bought out all of this scent quicker than I could say "WOW"! If you don't buy this, I guarantee that you will regret it. Even in the Spring, when I thought most customers would want fruity or floral scents, I am now hopping back on this website to buy this scent by itself to fill my loyal customers orders! BUY THIS SCENT! Even if you only pick it as your free sample, you need to try this out for yourself.
Wonderful combination of cinnamon and vanilla. Great scent throw, room still smelled good the next day.
I tried this scent to make holiday candles and its very weak. I used 1oz for 8oz of g444 and I can barely have a hot throw. Not sure if I will purchase again.
I used 1.5 oz in GB 464, and the cold throw is amazing, and the hot throw is pretty decent, especially after burning for 1-2 hours. It has a rich, spicy cinnamon scent with vanilla as an accent, which is nice because so many scents have vanilla as the mainstay attraction. This is great for the holidays, but also a great year round scent. I also like that the cinnamon doesn't smell like straight red hots.
This smells amazing and we were really excited about it. Unfortunately there is NO hot throw. You have to almost put your nose in the candle to smell anything. Very disappointed.
I decided to try this as my free sample from my last order. I am SOOOOO glad I did!!! I created some candles for a vendor show this past weekend and I completely SOLD OUT!!!!! I had to order the bigger bottle as I have orders waiting for this scent. It has an awesome hot and cold throw. You won't be disappointed.
Good but maybe better as a mixer than alone
I used this in EcoSoya PB and it threw well. It has a true cinnamon scent, not too sweet. It's true to it's name and while it doesn't smell artificial, it reminded me of a potpourri in craft stores for a little bit. I only smelled cinnamon and vanilla (as intended) but my nose seemed to want a little something more. I'm looking forward to combining it with other FOs to see what I come up with!
Hello, I have a question because I am used to using essential oils for my candles but would this fragrance be considered all natural? Thank you.
I had only purchased the 1 oz. size to sample. Added the oz. to 9 oz. GB464 soy and made 2 clamshells and 1 candle. I'm a city employee and sold what I had yesterday to another dept., our Clerk's office. When I walked over today they told me they used the melts in their office tart warmer and they all LOVE it and to please make more because now they all want some....hence why I'm here....to order a 16 oz. bottle....thank you CS for another awesome FO!
When we first smelt the fragrance, we were really happy with it. After we made it into candle using soy wax and lit it, the fragrance didn't throw at all. I'm happy it was a free fragrance, and let down that this won't become one of our holiday fragrances.
This is the best cinnamon scent Candle Science has, I disagree with the one reviewer it smells nothing like the cinnamon Chai, it has it's on cinnamon twist, not as strong as the cinnamon stick, but still a best seller. Used 1 oz to 1 lb C3 soy wax. Nice cold and hot throw, a keeper!
I give this cinnamon scent 5 stars, my customers LOVE IT!!! I use 1.5 oz to 1lb of C3 Soy Wax! I am all the time re-ordering this scent, I sell it more than the cinnamon stick which is very strong! My customers just love it! 1.5 oz to 1lb C3 Soy Wax. Get this scent I promise you will fall in love with it!
This is a great alternative to those who find cinnamon scents less than appealing. The addition of the vanilla is nice but somewhat similar to the Cinnamon Chai scent, and it creates a well-balanced FO without being overwhelming. I made tealights with this; dyeing them with 1 chip of the Cinnamon dye chips in 8oz GW 464 which turned them into a nice primary red. The cold throw is pleasant but not incredibly strong and the vanilla really comes through in the base note. I'm hoping the hot throw is stronger.