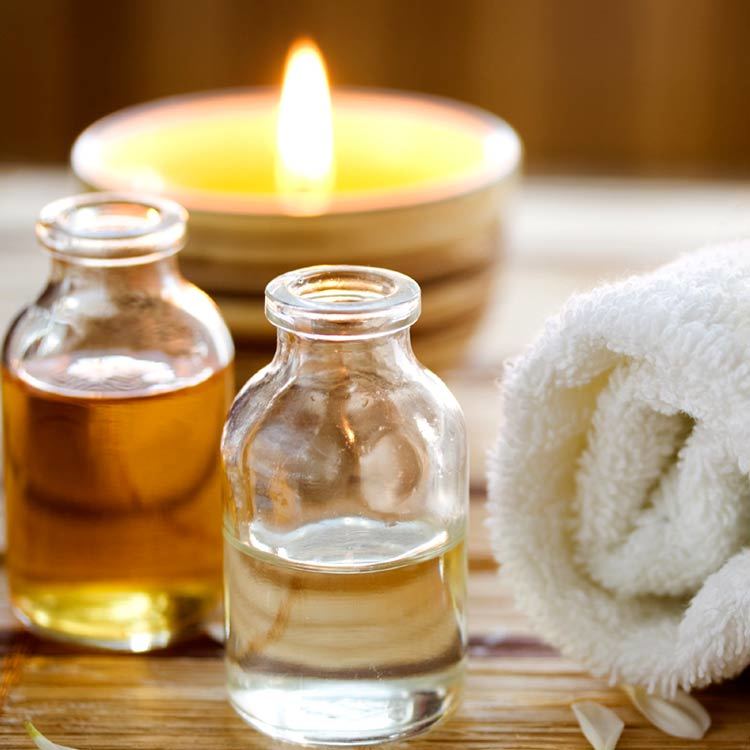 Ready to Order?
6+ 5lb Jugs
$84.84
$1.06 /oz
12+ 5lb Jugs
$76.36
$0.95 /oz
Details
Day at the Spa is a calming and balanced fragrance that combines notes of lemongrass and black currant with hints of patchouli and sugarcane. It's a great year-round fragrance that fits well in an aromatherapy line.
This fragrance is infused with with natural essential oils, including Lemongrass, Patchouli, and Lime.
Note Profile:
Top: Lemongrass, Lime, Lemon
Middle: Jasmine, Sugar, Black Currant
Base: Patchouli, Powder


Suggested Colors: Ivory, Light Blue, Light Green or Pale Yellow
See our complete list of candle making dyes and soap colorants.
Note: Bottles filled by weight, levels may vary.
Properties
Candle Safe

Yes

Usage: 3-10%
Soap Safe

Yes

Usage: 2-3%
Vanillin Content
0.01% - 2%
Soy Performance
Flashpoint
206 °F
Phthalate Free
Yes
Prop 65 Warning Required
No
Diffuser Base Compatible
No
*Usage amounts are recommendations only. Individual usage amounts can vary based on your desired fragrance strength, wax type, soap base, or lotion base. See IFRA certificate for max usage levels.
Documents


Reviews
Love this fragrance! Can it be used in deodorant making?
Hi Kim! A member of our support team has reached out to assist further!
I haven't tried this in a candle yet, but OOB I mostly get notes of lemongrass, sugar, and banana. I usually hate lemongrass, but I think this scent is balanced nicely. I am a massage therapist and this definitely gives me spa vibes - if anything I wish it had some eucalyptus or musky notes added to make it a little less sweet, but overall I think this is a nice, complex fragrance.
I like the scent but it doesn't smell anything like a spa it smells more like a lemon zest!
I love this scent - doesn't necessarily smell like a spa though. My problem with this scent is that it accelerated trace in my CP so fast that I could hardly work with it..... as others have said - you end up with soap on a stick.
Smells great in candles and soap
Moves very fast in cp soap, but worth it.
I thought day at the spa was ok but wasn't one of my favorites. I made a few to test a few new containers with HTP wicks. After they cured for a week I found out HTP wicks were discontinued so I gave them to friends because I didn't want to waste the time testing them if I couldn't get the HTP wicks anymore. After a couple of weeks everyone that I gave them to told me they loved it and wanted to buy more. I am adding this to my year round lineup.
I wish I would have read the reviews on this before buying, CS is one of my favorite suppliers so I forget sometimes that not all FO's are going to be winners. This doesnt give me spa vibes at all. Its sweet, fruity and candy-like. Honestly, smells just like a bowl of Fruity Pebbles (which I love btw, just not what I expected a spa FO to smell like). Hard pass.
To me it wasn't the smell of a spa. It was a lemony smell. It was delicous smelling in my soap but not what i'd use again.
I love the scent and It really get the spa vibes I had a guest say she smelled oatmeal which I didn't really get but I will be ordering more.
I made this candle for a friend who's been having a bit of a tough time lately, and wanted to give her a nice relaxing spa-like candle.
This does not smell like a relaxing day at the spa at all, but more like a lemony sweet.
I think if you re-branded this fragrance oil as "Sherbert Lemon" that would be much more accurate.
Now I'm not saying I don't like this smell - it's a very sweet, almost candy-like lemon scent. It's not my favourite as I generally don't like very sweet smells, but in a candy candle range for example, like an old English sweet-shop type line, it could work quite well!
I cannot determine whether or not I like this fragrance. I was drawn to it because of the lemongrass and lemon notes and you can definitely smell those but this definitely shouldn't be marketed as a "spa" scent. Honestly it kinda smells like a combination of lemon candy and bug spray. I made this into a room spray and sprayed it at work and everyone thought I had sprayed bug spray. Very odd
Misleading Fragrance Title
I was expecting this fragrance to carry notes that made one think of clean cotton, floral, maybe even SLIGHT hints of musk or patchoulli. NOT. This fragrance "smells" like (as someone else pointed out) a kid's breakfast cereal that's been sitting in the bowl getting soggy for far too long. I will never buy this scent again. Very unappealing (at least to me).
Accelerated Trace BIG Time
The scent is lovely and I really wish it would have worked for me. It accelerated trace a LOT in my cold process soap...and it's a recipe I typically use to slow down trace and give me more time to work with fluid batter. As soon as I added this fragrance, I got soap on a stick.
This is one of my favorite scents and one of my customers' favorites as well--a best seller for me. There is definitely a lot of citrus in this scent, with a lot of fruity top notes reminiscent of CS's White Current FO, but I think they're balanced by the deeper notes like patchouli. I don't quite get the "lemon candy" vibe others are describing, but I don't know what spas normally smell like, so I have no comparison there. (I'm also using these in candles with 464 wax, not bath/body products, which might make a difference.) If you *are* looking for something even more lemon-y, CS's Lemon Verbena FO seems like a better match--I can definitely see why someone might get "lemon cleaner" vibes from that. I happen to like both!
I expected a tranquil, soft, spa like scent. It reminds me of fruit loops cereal. Too sweet for a "spa" scent.
When is it available again?
I did M&P soap and it smells as amazing as the OOB.
I purchased this FO a while back thinking it would be a nice scent to add to my line that would be more complex and unique than just traditional lavender or spa scent. I ended up hating the FO, I've never hated a FO in all my years of making candles. I've come across some that are not my thing but this one is just not good. I LOVE all of our other fragrances that I get from CS. This one just was not good.
Lemon Head Scent But Made It Worked
I have to agree with the other reviewer that said that this smells like the lemon head candy. At first I was going to use this for my spa theme box but I have to yet smell a spa that smells like this. Good thing I only purchased one bottle. However, I used this scent with another scent which smells amazing. I think this scent needs to be more subtle so that it can resemble an actual spa and less like a candy scent.
This totally smells like a "lemonhead" candy! Not as tranquil as I had expected.
This one is FLYING off the shelves. I made it my quarantine candle on my etsy account and people are raving about how lovely it smells. Thankyou candlescience!
I agree with one of the reviewers who said this oil smells like lemon drops. Both the lemon and sugar notes are pretty strong in this one. I like this oil, but it honestly isn't one of my favorites. I think if the sugar note was taken out and if the lemon note was toned down or even taken out completely, it would be a lot better. A spa scent to me smells less sweet and more mild (light), calming, soothing, unisex and slightly herbal with a tiny touch of lavender. For sellers out there who are looking for a good "spa" scent from Candle Science, may I recommend the Sea Mist fragrance oil. That smells pretty spa-like to me.
One of the best fragrance i try from you us so far definitely will be back !!
I loved this fragrance it is not a heavy flowery one...but light and crisp....this is one of my favorites
While I get a bit of citrus... To my nose it has a powdery sweet fragrance. It did accelerate my soap recipe slightly, but it was workable. A delightful scent though.
Based on the reviews, I purchased a sample size first to test it in my candles. I only made 2 candles just to see if they would sell and took the fragrance bottle with me to market. They were the first to go and everyone who experienced the fragrance loved it. I personally love the scent and will order larger quantities. I already have preorders for candles in this scent.
This FO smells like lemon scented pledge, not any spa that I've ever been too. 0 stars!
Smells like lemon drops candy
It smells like lemon drop candies. Nothing spa like to me. Could not sell it.
Could it be my favorite scent?
This is a delightful scent. Very difficult to describe due to the complexity of its fragrance notes. It's light and relaxing - definitely good for aromatherapy line and all year round. Citrusy without being citrusy. A close friend loves it too. Try this one for a unique fragrance experience.
I was expecting more of a calming scent, but this scent burns all lemon. Not a bad thing!! This will be great to mix for lighter/fresh scents meant to energize as it is a crisp lemon when in candle form.
This scent became a hot commodity instantly in my wax & candles. People were fighting over who got their hands on some! I originally added this to my line as a seasonal scent but now I am definitely keeping it on year round. It's the perfect bathroom/kitchen scent. It is very sugary/lemony but people LOVE IT.
Confused by mixed reviews
This scent is amazing. No other word for it. Cold it smells sugary/lemon... hot it has a black currant/tea note to it and reminds me of an Aveda spa.. I am in LOVE with it. I made an exclusive box of products with this candle in it and my customers are begging me to add it to my everyday scent line. 10/10.
I can't decide if I like this scent or not. It smells very lemony and we are actually calling the candles we made with it "Lemon Drop". A couple of our customers loved it, a couple hated it, and most are kind of on the fence about it. If you're looking for a fresh, bright, lemon scent, you've found it with this.
First note I get is lemon then a clean floral. It's a nice scent.
This smells nice but has a very strong sugary note to it that reminds me of lemon candy -- like lemon heads without the tartness. Not the sophisticated scent I was looking for, but usable nonetheless.
I Was wrong.out of the bottle strong lemon sent,bit it changes becomes sweet. Nice by it's self. Better if mixed with sand lwood
want to know what it smells like go under your kitchen sink grab any bottle and sniff
Smells great but use caution.
I used this scent on it's own, no color, 4 oz mason jar with eco 4 wick and 464 wax. I am happy with it and the customers are happy but the making is interesting. When measuring by weight, use glass or something that is easy to clean, not plastic. I would not personally choose to use this in body care because it's so strong. It's viscous and very tacky to clean up. Cold throw is strong, hot throw is lighter and that's good. I use at 1 oz per pound. I do consults and make gifts in large quantities for clients, so they choose and this one is chosen often of the 20 I take as options. I think this is a personal scent, I would not burn this at an event, unless I reduced the fragrance percentage. It does have a scent that people will relate to if they the salon folk; massage, steam, etc. It does smell like a spa or hair salon. I have never been able to figure out what salons smell like, but this is it. I don't get a strong citrus or lemon from this. I had to get up and smell it again, oob and cold pour. It's a spa scent. I might put it in the 'laundry' scent category, and those are not my favorites at all. Four stars because it's not a fragrance I'd tolerate daily but it's worth trying and customers chose it.
This smells nice and i was excited to use it. I made a 2lb batch of soap and after adding the fragrance my batch completely seized on me! Had to throw it out. I thought i did something wrong. I made another 2lb batch that looked wonderful until the fragrance hit the batter... another seize. Pretty sad it didn't work out.
Out of the bottle all I could think of was cleaning chemicals. Used it to make candles with GB 415 1oz/1lb. Now that the candle has cured, I like the scent and can smell the different notes. The strong chemical smell is gone.
To me this smells just like Lemon Drop candy. Not really what I would think a Day at the spa would smell like, but i think it still smells great. It is actually one of my best sellers.
This scent is intoxicating! I guess to each their own, but I can't get enough, I want to keep smelling it! Great hot/cold throw :)
We are on Day 3 since the scent has arrived... we have yet to determine it's origin. We have narrowed down the possibilities to black licorice and a sort of lemon candy. We are all skeptical of it's "spa" term. We are not sure how to feel about this strange scent, and grow more and more confused as the days pass. We hope to provide more insight in the future; however, I fear this may be our last entry.
I'm not sure what we were expecting but it wasn't this. Upon first receiving the scent we had the whole household take a whiff to determine why the scent was so familiar... and we are still stuck. We have determined it to be a mixture between black licorice and lemon candies. Not sure how to feel.
my favorite... until I burned it
I fell in love with this in the bottle. I made the candles and declared it my favorite candle ever. I lit it and wondered what smelled like lemon scented pledge. I am so torn on this one. It smells amazing as long as you don't burn the candle.
Smells a bit like a cross between lemon pound cake and banana walnut bread, pleasantly sweet! A good seller.
I love this scent...just the right combination. I'm not sure why it's not getting a good rating...everyone I know that has smelled this loves it! And great scent throw in GB 464 wax.
Reminds me of an Aveda spa! 5 stars for me!
I was disappointed in the scent. I envisioned "Day at the Spa" having
a totally different scent that what it smells like. It reminds me of an old
after shave type of smell that has been around for a long time?
This smells nothing like I expected but I do like it! Reminds me of eating those push up Popsicles in the summer. Sweet and slightly tangy scent.
The Lemongrass really comes through. It seems more refreshing than relaxing to me.
I love this scent so much but I am soooo sad that I cannot get a good hot scent throw out of it. I have tried GB 464 and GB 415 and all different ways of pouring and heating, etc. I used 1oz per lb of wax, I may have to try again using more Fragrance oil.
I love this fragrance oil however, I cannot get a good scent throw from any of the waxes I've used. I used GB464, IG6006 and 4630 and there is little scent throw or none at all. The 4630 has been sitting since Feb so I expected the Hot Throw to be great.
I can't really put a name or description to this one - but I find it a light, relaxing, and wonderful FO. While I don't think it smells like lemon wood cleaner, it does have a clean fresh scent to it. This one is always a sell out for me. I also tend to use this FO for candles I make for personal use, too. I use 1oz in 1lb of GB454 and color my candles a light teal/aqua color.
I give the scent 5 stars, but it behaves VERY BADLY in cold process soap. Guess I need to add it to cooked soap instead before molding :( I really love how it smells though!
This is one of my favorite scents. I use this in GB464 and it's such a beautiful, calm and relaxing scent. I've ordered this three times now and will continue to purchase it.
Great hot and cold throw but not the scent I was picturing
Smells like Pine Sol to me...the lemon was very over-powering. When I picture a day at the spa I picture relaxation and this scent just reminded me of a hard day's work cleaning with lemon cleaner! The spa that I made the candles for said they weren't half bad and would still try to sell them so we will see what happens.
I used this scent in Cold Process soap, soaped RTCP. It traced fast, no time to swirl. A clean scent. I'm not a fan of lemonish scents, but my daughter likes it. I'm a big fan of Candle Science though!
First, let me say that my clients who ordered this smell really loved it. However, to me this smells just like pink bubble gum and not at all like the description, which is why I am only giving it 4 stars. This smells like sweet candy, which is fine if that is what you are expecting, but it was a little odd to me. I have already had a second client place an order for this fragrance, so maybe it only smells weird to me. It is not a gross smell, just strange. I used this is GB 464 at 1.5oz/lb and it was strong but not overpowering.
not what I was hoping for
I used Ecosoya Advanced, and while it has a very strong cold throw I had no desire to find out the hot throw. I just threw it away, it was very cloying to me.
OOB I hated this scent. Put it in my 5 oz jars with CB Advanced. What a difference! The lemongrass really comes through without having that lemon cleaner scent. A very crisp and relaxing fragrance. Love it!
Clean and Uplifting Scent
This was such a nice suprise. It is fresh and clean. Strong in parasoy. I can smell all the different notes. Great job Candlescience!
I used this in GB 464. Strong hot and cold throw, however, it smelled so much like a lemon wood cleaner that people commented how much dusting I must have done. Not a Spa fragrance that is up to my standards.
I used it to may soy tarts and i love it...this maybe my new fav scent.
Very much like a lemon. not necessarily bad, just not as exciting as I hoped for. Sounds great, entices you...just needs a little more umph!
Cannot get enough of this one in lotion. The patchouli perfectly balances the lemongrass...just superb! (I am normally not a patchouli person...but this is so well balanced.) You have me addicted!
Love it, Love it, Love it!!!!
This is one of the best ones!!!!
This is definately a must have fragrance! Very refreshing and energizing! I had received it the other day and my husband and I both like it alot. He said it smells very clean. I have been giving it out as samples this week and everyone loves it so far! Great job CandleScience!
I just poured a batch of soy candles in tins (Golden Brands 464), and they smell FANTASTIC! Lovely scent, very relaxing and well balanced.
Smells like it sounds... a day at the spa.
This is definitely a favorite scent already! Will be purchasing a larger bottle on my next order! Great scent throw!