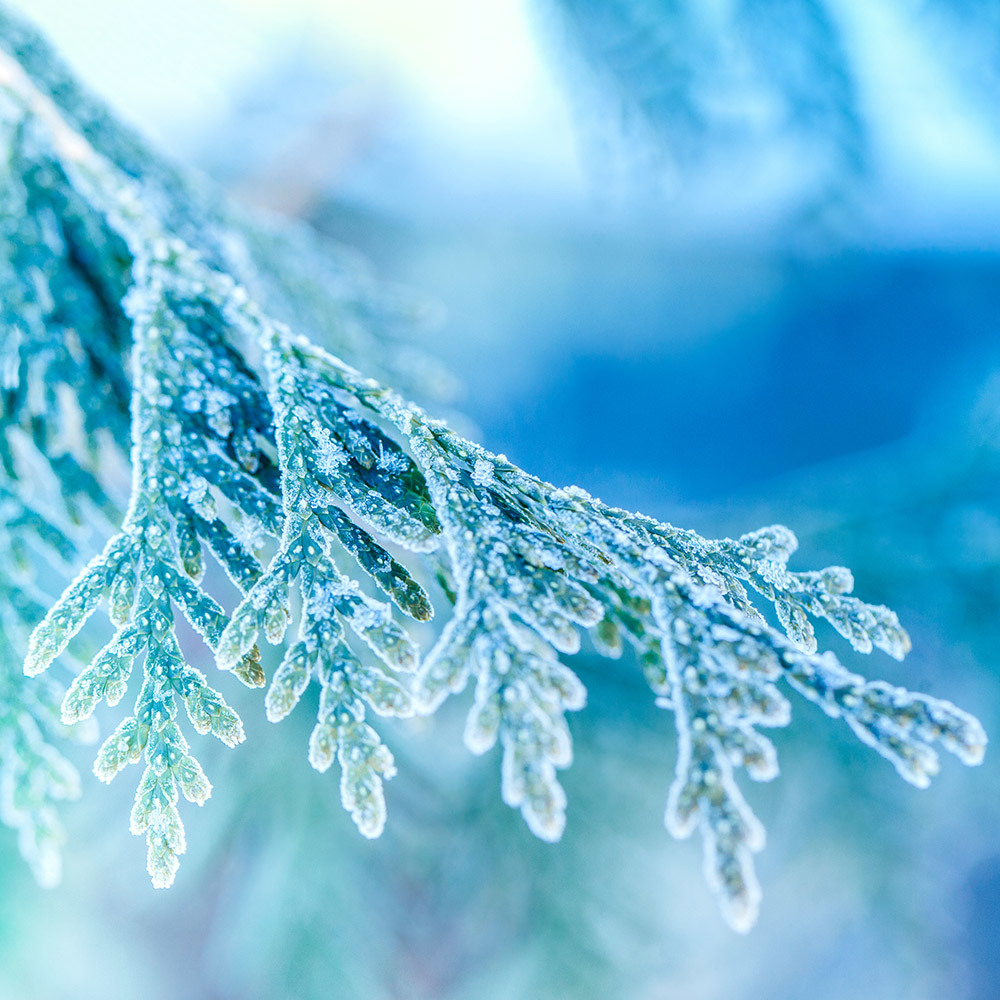 Ready to Order?
6+ 5lb Jugs
$84.84
$1.06 /oz
12+ 5lb Jugs
$76.36
$0.95 /oz
Details
Frosted Juniper is an enchanting blend of fresh evergreens and fruits. Cooling camphor, airy ozone, and a hint of citrus start off this complex winter scent. Middle notes of deep red berry balance the woody pine and juniper notes. The fresh evergreen notes are reinforced by eucalyptus, fir needle, and cedar leaf essential oils.

Candles, melts, and reed diffusers made with this classic holiday fragrance create a warm and nostalgic atmosphere. Frosted Juniper soaps and other body care creations make wonderfully festive gifts for the season.

This fragrance oil is infused with natural essential oils including eucalyptus, fir needle, lemon, cedar leaf, clove leaf, and galbanum.

Note Profile:
Top: Ozone, Camphor, Citrus
Middle: Pine, Red Currant, Berry, Pear, Cherry Blossom
Base: Juniper, Sage
Suggested Colors
: Dark Green, Dark Red, Any shade of Blue
See our complete list of
candle making dyes
and
soap colorants
.
Note: Bottles filled by weight, levels may vary.
Properties
Candle Safe

Yes

Usage: 3-10%
Soap Safe

Yes

Usage: 3-6%
Lotion Safe

Yes

Usage: 1-2%
Vanillin Content
0%
Soy Performance
Flashpoint
187 °F
Phthalate Free
Yes
Prop 65 Warning Required
No
Diffuser Base Compatible
Yes; Up to 25%
*Usage amounts are recommendations only. Individual usage amounts can vary based on your desired fragrance strength, wax type, soap base, or lotion base. See IFRA certificate for max usage levels.
Documents


Cold Process Soap Performance
| Acceleration | Discoloration | Separation |
| --- | --- | --- |
| None | Light Tan | None |
Lye Water Temperature 104ºF
Oil temperature 114ºF
We did not experience any acceleration or separation. The batter seemed to come to a light trace quickly but remained workable and very smooth while pouring into the mold. After 24 hours, we noticed a light orangish-pink border just inside the edges of the soap but overall no discoloration. The scent was strong and had a perfect mix of sweet berry and juniper. We did not observe any signs of the soap going through a gel phase. After 30 days, the bars have a very light tan discoloration and the orangish-pink border remained. The scent is still strong and smells amazing. This fragrance would be ideal for a variety of design techniques including basic swirls or even layers.
Reviews
I am not a big fan of this scent but its a great seller!
I absolutely love this scent!
This is my absolute favorite scent! I had low expectations but this scent completely knocked it out of the park.
This was hands down our top seller this holiday season. We used this along with a familiar phrase to tie in the Frozen 2 release and it literally flew off the shelves. We'll be buying MUCH much more of this fragrance for next year's holiday season. It is so beautiful and even though it has a masculine tone it really appeals to both men and women equally. Please don't ever stop making this!!
I had a couple Christmas candles left over that I wanted to just pass out. My boyfriend had friends over one night, and I gave the guys each a candle that I had made with this FO. EVERY single one of those guys said they not wanted, but NEEDED more candles with this "scent".... I was over the moon happy, and out of my Christmas batch of candles, this was also my favorite. It could be a year round FO! I didn't find it Christmas-y at all. I used 464 with 10%
I wanted to see the reaction to my coworkers before i made a review for this fragrance. And needless to say it was a hit everyone loved it! will be making more of it next winter season :)
Not many more words areneed it to describe this fragrance! It is absolutely beautiful I love the pain and the woodsy with the beautiful sweet berries it's just a perfect Christmas scent. Great job CS again
I love, love, love this new scent. It's my best seller for the season. It flies off my shelves. Thanks.
Finally and holiday scent that I don't get sick of!!
To say I adore this scent would be an understatement. It's perfect. I pour A LOT of candles and every time I make candles with Frosted Juniper I feel happy and Christmas-y!! It is an icy evergreen scent that everyone loves----so fresh and uplifting. I think I'll make these all year!!
Hands down my favorite Christmas scent! works great as a tart and soy candles. Big seller for us!
Very masculine scent. If mixed 50/50 with peppermint is better but still not a fan.
I've used over 10 fragrances from them and this is my favorite. The camphor/citrus/ozone really gives an uplifting aspect to the pine/juniper. Very happy with purchase and would recommend.
I brought this scent to my last craft show and it sold out! Everyone loved it!
This is a clean smelling winter fragrance OOB. I'm excited to use it in both CP soaps and candles for the holiday/winter season.
Love this sweetness of Frosted Juniper. It really stands out among the other holiday/winter fragrances. Can't wait to make more!
If you throw scintillating Christmas parties where you play the tune, 'Santa Baby' A LOT, then this is your scent. I mean, consider your tree trimmed. It leans more towards bright than sharp, but still manages a mild complexity. It probably turns out to be a secret prince in a Hallmark Movie.
beautiful scent. it definitely smells of juniper but also has a refreshing scent.
Bought the sample. Made a candle. Loved it. Bought the 16 ounce bottle ... Can't wait to make a bunch more. Great FO. Thanks CS!!!
I'm always nervous about buying new scents and I did another order and purchased this!!
It smells soo good! Calming! I love it!!
I will be ordering this scent again!!
What a beautiful fragrance with the perfect harmony of fresh citrus, berries and pine! The fruit notes are the strongest to my nose. I'm thrilled to add this to my collection!
This one is familiar and for good reason. The base of the fragrance is unequivocally Black Sea, no doubt. Only CS can confirm this, but if you let the fragrance dry down, you are left with Black Sea. So, having said that, this one smell like a blend of one of the evergreen Christmas Tree fragrances and a smaller amount of Black Sea. The result is a nice, complex scent that is reminiscent of a more upscale smelling version of BBW Sweater Weather. It worked well in 464 soy wax.