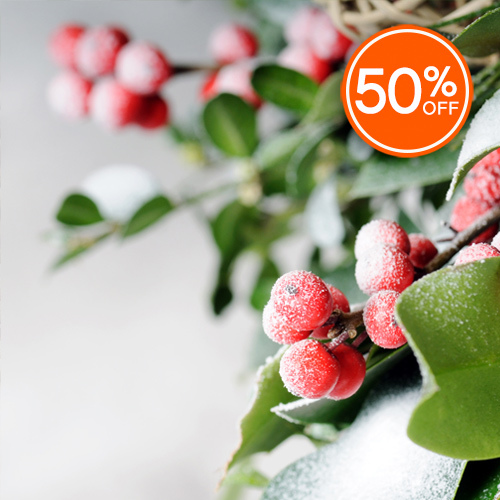 As of 06/08/2020:
This version of Holly Berry (Discontinued Version) has been discontinued and replaced with the new Black Amber and Plum. Click here to check it out!
Details
REVISION NOTICE: It is CandleScience policy to notify customers if any part of a fragrance was changed for any reason.
As of April 21, 2020 our Holly Berry was revised to meet our new stringent safety standards to remove ingredients with similar characteristics to those on the Prop 65 List. See new Black Amber and Plum.
A festive take on the traditional, our Holly Berry combines a berry and plum body with top notes of cinnamon and clove. A wonderful holiday fragrance with wide appeal, it works as well at a craft fair as in a high end boutique. This fragrance oil is infused with natural essential oils including Fir, Cinnamon leaf, Clove leaf, and Patchouli.
Note Profile:
Top: Cinnamon, Clove
Middle: Berry, Plum
Base: Fir, Incense, Patchouli


Suggested Colors: Green, Red, Pink
See our complete list of candle making dyes and soap colorants.
Note: Bottles filled by weight, levels may vary.
Properties
Candle Safe

Yes

Usage: 3-10%
Soap Safe

Yes

Usage: 3-5%
Vanillin Content
0%
Soy Performance
Flashpoint
> 212 °F
Phthalate Free
Yes
Prop 65 Warning Required
No
Diffuser Base Compatible
Yes; Up to 25%
*Usage amounts are recommendations only. Individual usage amounts can vary based on your desired fragrance strength, wax type, soap base, or lotion base. See IFRA certificate for max usage levels.
Documents

Reviews
This is absolutely the best holiday scent thus far
The smell of Christmas (or any wintery holiday)
This was, and still is, my go to smell for Holiday awesomeness. I've used this fragrance a couple times now and everyone always enjoys it. I haven't had much luck with a good cold throw, but once that candle is lit, oh man...game on!!
I used this scent to make holiday candles and GOOD LORD it is good! The absolute perfect Christmas scent all by itself but it also plays well with blue spruce.
I love the fragrance of the Holly Berry but have tried it twice in cold process soap & both time accelerated trace and ruined the design.
I tried a 1oz bottle in my melt and pour soaps, and I absolutely LOVE this scent!!! It is such a nice reprieve from the pines (which I love too), and the Mistletoe, which is very piercing to the nose. This is a very pleasant, and very Christmasy scent. I will be ordering larger bottles of this, and including this in my permanent Christmas line from now on. Great job Candle Science.
Smells good, but turns white to yello
Love the scent! But, it turned my white to yellow, even with titanium dioxide and white mica.
I made this as christmas giveaways in 2 oz tins, and it I felt that although this was a pleasant smell, it was not very Christmas'y to me. Smelled a bit soapy or like cologne.
It's so nice! Very festive, fresh, not too sweet.
I ordered Harvest Berry, not Holly Berry, which is fine but now I need to order more Holly Berry. It's lovely, nice throw in 464. I used a 1.5 oz to the lb. 180 blend, 150 pour, no color. I have 2 eco 4s in a white tumbler, burning super, but not self trimming so cut the wicks. I love White Birch and Fraser Fir as well. Aromatherapy!
My new Christmas Favorite
First of all this scent just scream Christmas to me. It smells like walking into your favorite craft store when they just set out all of the wreaths.. very nostalgic. I made CP soap with my 1 oz sample and because of a previous review of was prepared for a difficult fragrance.. and to my surprise it soaped like a dream. No A/D/R whatsoever. Scent stayed strong after the 6 week cure. Buying a bigger bottle of this one. Super happy with it!!!
This fragrance oil smells mostly like pine, with no berry scent at all.
I first have to say that I haven't used this yet. I got the sample and LOVE it out of the bottle! I have been making candles for five years now and don't know how I didn't ever try this one. I am so excited to add it to my line. I never tried the old one people are raving about, so maybe that's a good thing?! But I will be adding this one in this xmas.
Causes ricing in cold process soap. My oils were 109 & water was 110, made 3 other soaps with the same recipe today. The only veritable was this scent. A whole loaf distroyed
I thought it was great, I see some say the original was better but I never used it so I can't compare.
Holly Berry Merry Christmas
This is Christmas. Will be doing Fraser Fir, Blue Spruce and Holly Berry next year!
This one is by far my favorite. I think this is close to what Heaven may smell like in winter. I'm completely forsaking the title Holly Berry and I'm naming it White Christmas. It reminds me of "Winter Wonderland" scents.
One of my favorite holiday scents!
I ordered this as a sample and am SO happy I did. I didn't expect to like this, but I am very surprised when I smelled it. It has a smooth cinnamon and balsam fir base with just the right amount of holly berry. I used the Ecosoya Advanced Wax with it and it makes some amazing smelling candles. Definitely recommend this! Thank you Candle Science!
I really enjoyed this, and I was surprised about it. I really didn't expect to.
I hate when a fragrance gets REFORMULATED.
This really bugs me. I am SO glad I happened to read some reviews. I don't know why I did because this is like the buzzilionth time reordering this. The formulation has changed. I hate those words. Those words mean that all my customers who reorder this candle every year WILL NOT reorder this candle any more! Why? Because it smells NOTHING like the old formulation. It's not that it smells terrible or anything. It just doesn't smell anything like the original, which by the way, I had been searching for this fragrance for at least 15 years, ever since I got a whiff of Evelyn & Crabree's CHRISTMAS fragrance. Oh. my. goodness. Apparently my customers agreed with my opinion of that scent because they LOVED the original Holly Berry. So did I.
Huge seller for me for the Holiday season! This is incredibly strong! I personally love pouring it! Brings in the holiday cheer and brightens my mood no matter what!
I tried this in my winter 2014 collection and sold through the first batch quickly. I will be ordering this again for next winter. Since my candles came and went so quickly, I didn't make a mental note of the fragrance, so I can't give you a better description at this time. (1oz to 1lb GB464)
I really miss the old Holly Berry that they had a couple years ago. Please bring it back. This is still just not that great compared to the original one. Why change something everyone loved. However I did try the new pinecones scent and that is incredible. I will be switching to that one in place of this.