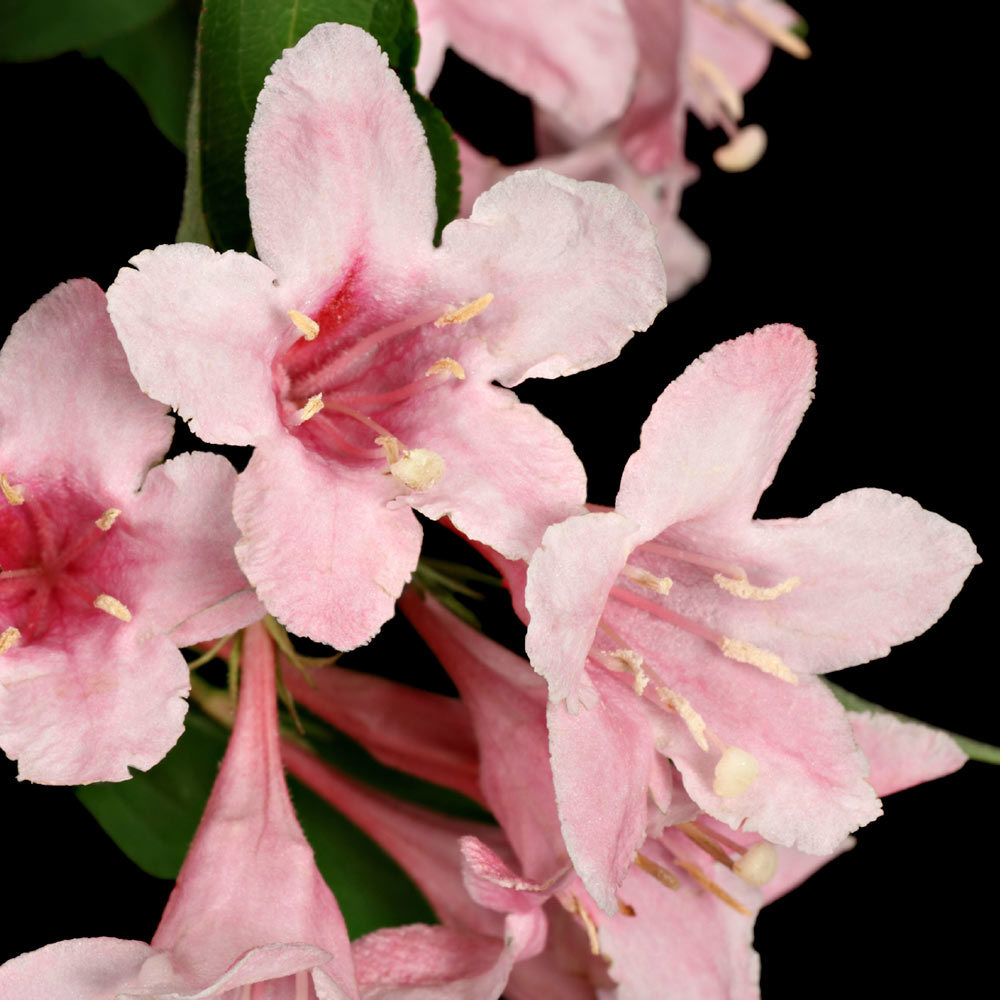 As of 07/26/2019:
This product is discontinued and no longer available.
Details
Due to raw material supply issues, Honeysuckle has been discontinued. For a similar fragrance, we recommend trying our Honeysuckle Jasmine.
There is incredible variety in honeysuckle flowers, 180 different varieties on four continents. But its intoxicating fragrance will awaken your senses no matter where you encounter it. Slightly sweeter than our Honeysuckle Jasmine, this version is a strong floral bouquet with hints of pear, neroli, and lemon. A sweet honey note rounds out this springtime fragrance. This fragrance oil is infused with natural lemon, neroli, and petitgrain essential oils. Note Profile:
Top: Neroli, Berry, Lemon
Middle: Honeysuckle, Pear, Green Leaves
Base: Honey
Note: Honeysuckle is too strong out of the bottle for the fragrance notes to be in balance. It should therefore only be evaluated in a candle or PC base.


Suggested Colors: Ivory, Pink
See our complete list of candle making dyes and soap colorants.
Note: Bottles filled by weight, levels may vary.
Properties
Candle Safe

Yes

Usage: 3-10%
Soap Safe

Yes

Usage: 3-6%
Vanillin Content
0%
Soy Performance
Flashpoint
170 °F
Phthalate Free
Yes
Prop 65 Warning Required
No
Diffuser Base Compatible
Yes; Up to 15%
*Usage amounts are recommendations only. Individual usage amounts can vary based on your desired fragrance strength, wax type, soap base, or lotion base. See IFRA certificate for max usage levels.
Documents

Reviews
This FO was always a customer favorite! Please, PLEASE....bring it back!
Honeysuckle has a great scent. Strong and sweet but not too overbearing. However in the cold process soap it accelerated so fast I couldn't even get it to pour. In a matter of less than 10 seconds went from light trace to a clump.
No, this doesn't smell like the traditional honeysuckle that most people know of. BUT it is an absolutely amazing scent. Sweet and fruity with maybe a hint of floral. It's beautiful and one of my best sellers! It's very strong in 464. Please don't stop selling this!
It doesn't smell like REAL honeysuckle but the fragrance is INCREDIBLE. I am not a fan of sweet smells, but this one I love.
mistakenly ordered this instead of honeysuckle jasmine. It's sweet in a rotten smelly type of way. honeysuckle jasmine is part of my main line so i actually ordered a 16oz bottle which i don't know what to do with. I might try it in a candle and see if it works better with wax.
just don't want to waste my precious soy wax
Honeysuckle Fragrance OIl
I received this one as a sample. It has a very beautiful floral fragrance, but does not smell at all like honeysuckle. I couldn't decide whether to give this a rating of five stars, because it is such a lovely fragrance, or only one because it doesn't smell anything like honeysuckle. I will likely purchase this for a floral blend (I have a lilac fragrance oil that just isn't what a lilac oil should be, so maybe this will brighten it up a bit), but I won't use it when I want something to smell like summer day honeysuckle. I think the reviews on this one would be better if they changed the name to something like Summer Wildflowers. ??? :) It was disappointing when I first opened the bottle expecting honeysuckle, but it is really a lovely fragrance.
I love this scent and so do my customers
I've found this fragrance performs very well, and is a customer favorite year after year.
Not a true honeysuckle, BUT AMAZING
This is not a true honeysuckle scent. However, this scent is absolutely wonderful. Its somewhere in between a sweet fruit and floral. STRONG HT in 464 soy wax. My customers love it and it's one of my favorite scents from any company. Just rename it!
I'd rate this one star because it doesn't smell anything like honeysuckle. But, I'm giving it too stars because it smells like SweeTarts, which isn't the worst thing in the world and it reminds me of childhood.
I love this smell. It's not like the yellow and white honeysuckles by my house in the southwest, but it's amazing. The cold throw is great. The hot throw is great. Used it in 464.
After trying so many different honeysuckle scents, i ended up forgetting the scent. nothing smelled right! This one is no exception, HOWEVER, Candlescience Himalayan Bamboo legit smells EXACTLY Like a honeysuckle should. try it out guys, my customers love it!
This does not at all smell like honeysuckle. Me and several of yhe people in my shop all think it smells king of likr grape. I will not be buying it again.
This scent isn't at all like real honeysuckle, or like any other honeysuckle candle scent I've ever smelled - and it's my favorite scent. Way too sweet, pretty gross. Very sad about it.
Smells nothing like honeysuckle
On the one hand, it smells absolutely nothing like honeysuckle. But- in its defense, I've now tried over 6 different honeysuckle fragrance oils, and NONE of them smell anything like the real flower. This FO is very, very strong. I used it in a scent blend, and one dropper full of this was as strong as five droppers of another scent I used. I'll actually be ordering more- it may not smell like honeysuckle, but did work well in the blend
I highly recommend this scent! This is one of my most popular scents in my wax melts.
I was just re-ordering this scent & noticed that it only has 3 stars and was quite surprised. This scent is beautiful and very similar to honeysuckle near our home (I understand there are many different varieties). It appeals to as many of my male customers as it does my female ones. Has great hot & cold throw and is strong without being overpowering. GREAT SCENT!!
This is not a true Honeysuckle Fragrance, To me it smells like the candy "Pixie Sticks" Or like Kool-Aid. But that being said I kinda like it, I think most Honeysuckles are to overly sweet, so I use them and mix it with this Honeysuckle, seems to cut the gooey sweetness and gives it a little tang..I make Cold Process Soap out of it. Candle Science has some of the best Fragrance, Essential Oil blends that I have bought and the pricing is great!
I love most all of your fragrances, but this is not honeysuckle fragrance. We have honeysuckle (several kinds) growing on our farm but this doesn't smell like any honeysuckle I've ever encountered and love. Not a bad fragrance, just not honeysuckle. I've had a 16 ounce for a year now and don't know what to do with it...I absolutely love most all of your other fragrances though. Can you tweak this?
Not the honeysuckle that I wanted.
I am not even sure how to review this! I actually like the fragrance's cold and hot throw but this is not the smell of the honeysuckle that comes in through my windows in the Spring. It certainly is not what I wanted as far as a honeysuckle scent. Try it you might like it but I would suggest that you only start with the 1oz bottle because I am kicking myself for buying the 8oz bottle from the start. May still use it and just come up with a name that does not include honeysuckle in it.
The cold throw is overwhelmingly sweet. Reminds me of grape cough syrup. If you like grape scent you might not mind this. I was eager to see if it smelled better hot because some reviews said that the honeysuckle really came out when burning. There are moments I can get a whiff of something honeysuckle like, but it still mostly smells like grape cough syrup to me. I make all my candles with the highest recommended level of fragrance oil, so maybe this one would have worked with the regular 1 oz per pound. It's not so terrible hot, I just don't like grape scented things and it doesn't really capture honeysuckle for me. Will not make the again.
Honeysuckles are my all time very favorite scent. I'm talking about real honeysuckles on a warm breezy day. I am that person that will walk into a candle store, look for honeysuckle, and walk out if it doesnt smell like honeysuckles. Because when you get honeysuckle wrong, its very wrong. Sweet and chemically. Not a good honeysuckle. I'm shocked at the good reviews. I dont even want to sell this candle, give it away or burn it. Lol! I know that sounds harsh but I am serious when it comes to honeysuckle.
I love honeysuckle and this doesn't smell at all like honeysuckle. Out of the bottle it smells sweet and syrup-y. In wax it smells floral and nice but just nothing like honeysuckle to me.
This fragrance, like the page warns, comes out of the bottle syrupy sweet, but still smelling delicious. The cold throw smells exactly the same. I am currently burning my 'tester' candle that I made with extra wax from the batch I made, and the scent literally 'blossoms' when the candle is burning into a true honeysuckle scent. I love it!
I am not a floral person, don't usually care for them as they tend to be too strong. I was so surprised when we poured this scent! It truly smells heavenly. The description is spot on! As the wax cooled we continued to pick up the scent. It's not a super strong or over powering scent either. Reminds me of spring time with the windows open and the scent of honeysuckle drifting in on the spring breeze!
Very strong hot and cold throw
This smells very sweet and candy like out of the bottle, as well as for the cold throw but the hot throw turns into a very accurate honeysuckle scent. It's a floral masterpiece! I used this in the last bit of GB 444 I had laying around and made an 8 ounce candle in a mason jar and it fills up my bedroom and leaks out into the hall and into the living room! I just love this wonderful and very strong FO. I recommend at least getting a sample of this and give it a shot. you wont be disappointed if you like floral scents.
This is weird out of the bottle, but amazing in wax! Turns into the most authentic honeysuckle I have found! Sweet, floral and an amazing throw!