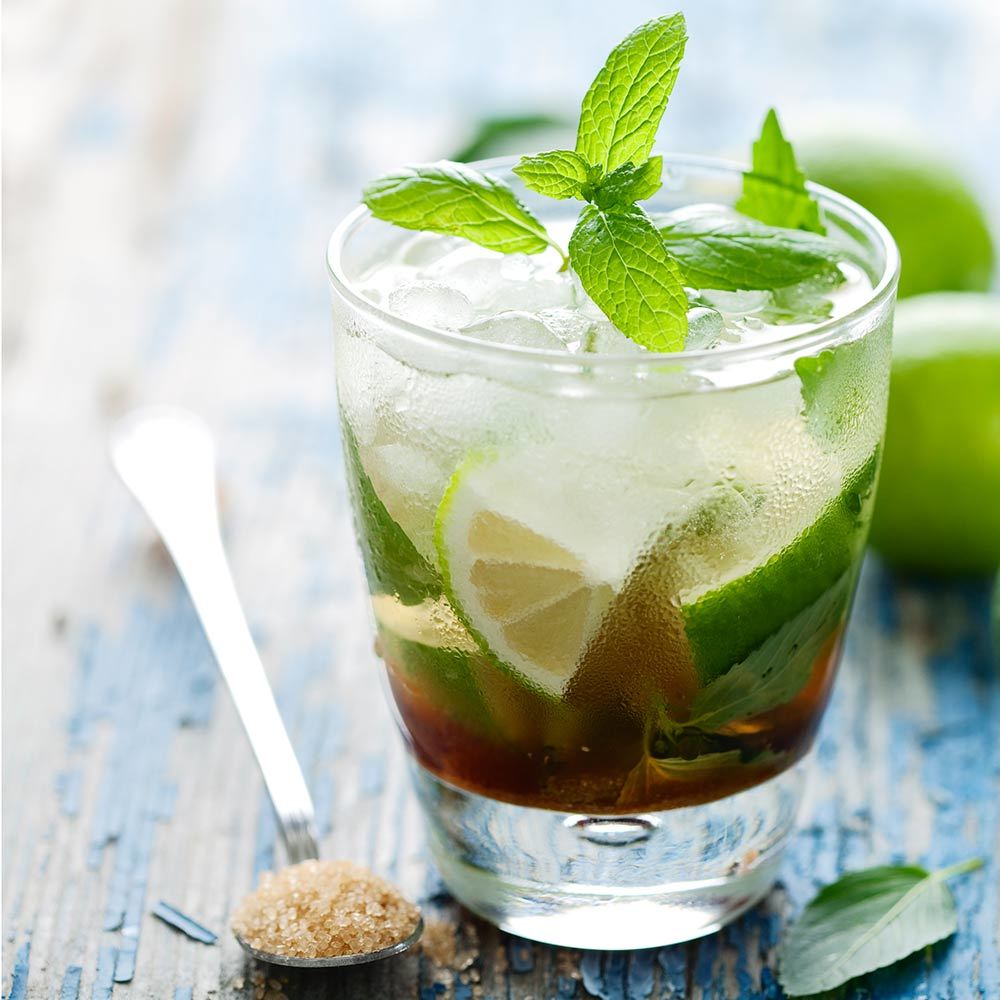 Ready to Order?
6+ 5lb Jugs
$97.97
$1.22 /oz
12+ 5lb Jugs
$88.17
$1.10 /oz
Safer Scents For The Home
CandleScience Clean Scents™ are free from carcinogens, reproductive toxins, and other potentially hazardous chemicals often found in fragrance. Choose Clean Scents and create safer home fragrance products you and your customers can enjoy with confidence.
Read More >
Details
Cool, fresh, and invigorating, our Mint Mojito fragrance is a true version of the classic mojito cocktail. This scent fuses notes of freshly muddled mint with tropical undertones of pineapple, lime, and rum.
This fragrance is infused with natural essential oils, including eucalyptus and peppermint.
Note Profile:
Top: Mint, Lime
Middle: Pineapple, Jasmine
Base: Rum

Suggested Colors: Green, Yellow
See our complete list of candle making dyes and soap colorants.
Note: Bottles filled by weight, levels may vary.
Properties
Candle Safe

Yes

Usage: 3-10%
Soap Safe

Yes

Usage: 2-3%
Vanillin Content
0%
Soy Performance
Flashpoint
205 °F
Phthalate Free
Yes
Prop 65 Warning Required
No
Diffuser Base Compatible
No
*Usage amounts are recommendations only. Individual usage amounts can vary based on your desired fragrance strength, wax type, soap base, or lotion base. See IFRA certificate for max usage levels.
Documents


Reviews
Agree very nice FO. Great feedback from test group as well.
This is probably the strongest fragrance oil I have ever used. Even before I burned this candle, it smells so minty just sitting there. I actually have full confidence that I could burn this candle the same night and it would still have an extremely strong hot throw. I mainly use coconut wax but even in my soy wax which usually produces nonexistent fragrance this scent is strong and fills a room. I don't get any pineapple from this. To me it smells like a true mojito. If anything, it has sugar notes to me, like a simple syrup. It's a very refreshing scent.
I'm just burning this today after curing for only 3 days. It smells exactly like a mojito! Great cold and hot throw in my candles. I'm going to be buying a larger bottle ...
This is one of my best sellers! It smells exactly like a mint mojito! Absolutely love it. Great hot and cold throw with 6006.
Smells exactly like the name and the throw is very strong!
Energetic and happy fragrance
Like the comment below, I am blown away. This FO is unique. It's such a positive uplifting, fun, happy fragrance that I cannot stop smelling. Well done!!!
This fragrance just knocks it right out of the park! HOMERUN CANDLESCIENCE! I love it and my customers love it!!
Smells exactly like mint mojito!! My husband loved it!! Smells so delicious! True to the smell.
Love this in 464 candles! A customer favorite! It's a very fresh scent with just the right combo of mint/lime. This will be a year-round scent for us!
LOVE tis scent! It is my number one mixer, despite it smelling just great on its own. Please don't stop making this scent. It is effervescent, which I love, and is hard to find in a mint. It is in one of my top selling candles.
This smells nothing like mojito mint, although it does smell like sweet pienapple. Unfortunately, I do not like the food-flavored scents, in general. The lime mojito I am trying to create has a sharp minty limey scent.
Please don't ever get rid of this fragrance oil or change it. It's is my favorite. The hot and cold throw are beyond amazing and I love it with every fiber of my being.
This is, by far, my favorite! Great hot and cold throw. Love it!!!
Smells nice, but not sure about candles...
Smells nice but not "quite" right to burn in a candle on its own... still trying to decide how I can use this, considering mixing but not sure yet... used in 464 - weak at 6%, so will have to go a little heavier with this one
I bought this FO on a whim. It smells nice out of the bottle. Smells wonderful in my CP soap but does accelerate trace.
I love this scent! The mint and pineapple come through nicely together and it's very refreshing. Throws great in Soy! Definitely a keeper in my spring/summer lineup.
This is one of my favorites, and sold quickly!
Not the scent I was imagining. It smells a little alcoholic or a bad memory but I'm so glad I'm putting this in alcohol bottles anyway!
My husband was so adamant about getting this scent. I'm happy it was free. The scent is as described, I'm just not into the whole mojito smell and my husband discovered he wasn't either. LOL!
This was a good smell, and performed good (in GB 464) too! Just wasn't a favorite. Would probably buy it again though.
I thought nothing could surpass my love for Love Spell but I got a sample of Mint Mojito and OMG I love it!! The minty smell with the undertone of pineapple is delicious. I cannot wait to get this to my customers to see what they think! A++
I got this as my free sample with my last order and I'm ordering a much bigger bottle! It's a sweet minty smell, and I can't stop sniffing the two candles that I made!
I am so in love with this scent!!! So refreshing and clean! I can smell the mint yet not overpowering at all!
Just needs a little more mint
This is a great summer scent and has a strong throw in EcoSoya wax, but I mostly smell pineapple. A little more mint and it would be perfect!
I used 2 oz/lb in 464 wax and it is absolutely amazing! It is now my best seller. I added mine in at 185 degrees and stirred gently for 1-2 minutes and poured at 150 degrees. All of my candles came out perfect!
Note: I put my containers in the oven at 150 degrees or keep warm setting from the time I started melting the wax until I was done adding color chips and FO. I then removed the containers and added the wicks.
One our "NEW" Best sellers
We love this scent as much as our customers do! Excellent through in our Natures Wax C3 Blend
Dead on! I recently hosted a little garden cocktail party to use up all of my wildly growing herbs, and sent all the guests home with Mint Mojito candles. We actually put the candles side by side with fresh made mojitos and the smell was so similar, albeit the candle was slightly more sweet. I get no artificial smells from this oil, and think it's the best CS scent I've tried so far. Used at 10% in GB 464 - excellent cold and hot throw.
This smells exactly like the name, strong!! Great job.
I was so excited for this scent, but it was a flop. I used this in 464 and it is very weak all around. I might increase to 1.5 oz per pound and see if that helps.
Thought I would try this new fragrance. Not bad, but could be better. A little to sweet smelling for my taste. The "mojito" had a bit too much sugar and not quite enough mint.
Great summer fragrance!!!!!! Almost sold out of them in only 2 weekends (I do BIG batch) with 8 other fragrances alongside flying off the shelves too!! Your scents are the BOMB. I paid ridiculous prices for almost 2 years from a place all the way across the country. They have 2-3 day delays before they even ship and I find you right here in my backyard with the most wonderful scent concoctions at prices that make me smile as much as the scents!!! Thank you so much!
A++!! I definitely wanted one after using this. Great cold and hot throw in ecosoya cb135, PB. Perfect summer scent.
I tried this as a sample and I was extremely impressed. I used 1oz/ lb in 464 soy wax. The hot and cold throws were very strong. It has a very sweet smell cold but I thought it became a much more true to the name scent as it burned. I think if it had a little more of a rum kick it would be dead on for a mojito.
This is a nice scent but I have to say that it is very faint. Might work better if mixed with something else or some spearmint essential oil to boost the overall scent.
I am Cuban, born in Havana and no one knows Mojitos like we Cubans do. Candle Science, you scored A+ on this scent! It's perfectly just like a Cuban mojito! Customers love it!
This scent is awesome, I'm excited to add it to my summer line! So refreshing!
I have tried about 3 or 4 other mojito fragrances & they all completely missed the mark. I was looking for something that truly smelled like fresh, muddled mint, mingling with rum & bubbles directly under your nose. So glad to have finally found it! I legitimately ran downstairs to knock on my neighbor's door so she could smell it (she's a fan of my cocktail-themed candles). Every time I walk by this bottle I have to open it up & huff it like a maniac. I made some soy candles with it last night & they are just heavenly. I'm about to buy a huge bottle of this stuff!
Absolutely love this scent. It instantly relaxes. I use it in an oil burner and as a linen spray.
Haven't burned this one yet but the scent is great out of bottle. Perfect for summer!
Good Fragrance. Perfect for the summer season.