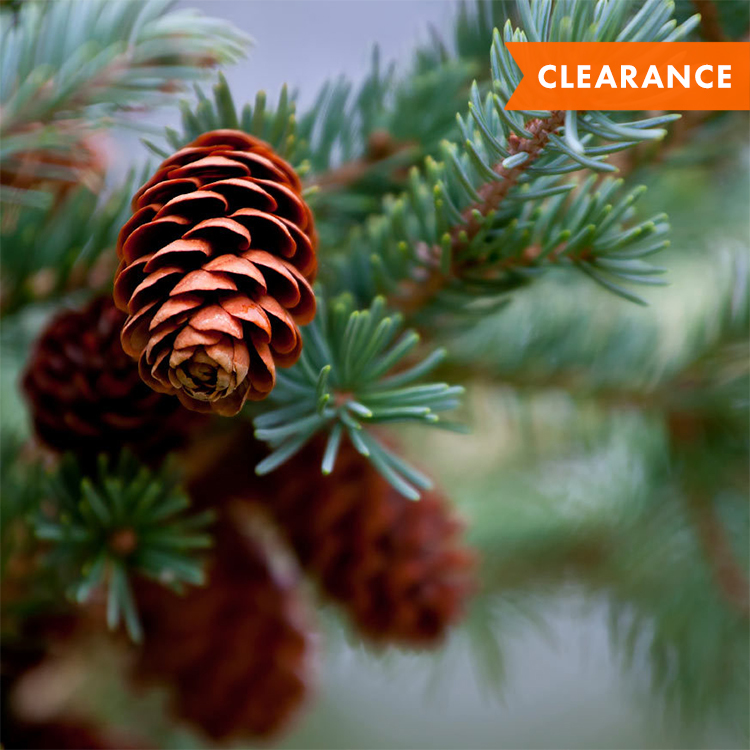 As of 08/09/2018:
This product is discontinued and no longer available.
Details
For a similar fragrance, we recommend trying our Cypress and Bayberry.
Our Pine Cones fragrance oil captures the unmistakable scent of a fresh cut pine bough and pine cone wreath. Notes of balsam and patchouli combine with natural spruce and cedar oils to instantly put you in a holiday frame of mind. This fragrance oil is infused with natural essential oils, including cedarwood, eucalyptus, orange, patchouli and spruce. Note Profile:
Top: Spruce, balsam, orange, eucalyptus
Middle: Pine needles, cinnamon
Base: Cedarwood, patchouli


Suggested Colors: Dark Green
See our complete list of candle making dyes and soap colorants.

Looking for the right pine fragrance oil? Consult our Pine Fragrance Oil Guide!
Note: Bottles filled by weight, levels may vary.
Properties
Candle Safe

Yes

Usage: 3-10%
Soap Safe

Yes

Usage: 3-6%
Vanillin Content
0%
Soy Performance
Flashpoint
183 °F
Phthalate Free
Yes
Prop 65 Warning Required
No
Diffuser Base Compatible
Yes; Up to 25%
*Usage amounts are recommendations only. Individual usage amounts can vary based on your desired fragrance strength, wax type, soap base, or lotion base. See IFRA certificate for max usage levels.
Documents


Reviews
This is one of my FAVORITE scents! Please please please bring it back!
I'm gonna keep coming back and leaving comments about how much this fragrance is missed by SO MANY PEOPLE! Just read all the other comments! Please bring Pine Cones back 🙏🏻🙏🏻🙏🏻🙏🏻
I seriously believe that a bigger company brought that scent and told candle science that they can't offer it anymore in their agreement, It just doesn't make sense this was sooooo popular. I smelled something in Walmart the other day that smelled identical to that scent by GLADE
BRING IT BACK! BRING IT BACK! BRING IT BACK 🗣🗣🗣🗣
Please bring back Pine Cones
It's a clear favorite. Please bring it back. Thanks.
Can't believe this isn't back!!
I keep checking back hoping you all have decided to bring this back. Just used the last of a bottle I've been rationing for personal use. Seems like I'm not the only one..it was a best seller for me.
Love love this scent and now you don't sell it anymore!!! not fair
If you sell a scent and decide to stop why dont you tell us were to get it from in bulk?
I can't believe your discontinued this fragrance. It was my best selling candle. Please bring it back.
This fragrance is an important component in one of our candles -- no other pine/woodsy scent works the same! Candle Science is an awesome company, but to discontinue this scent is hurting our fall collection --- Please bring it back! And no substituting Cypress or Blue Spruce DOES NOT WORK.
I will also comment that this was a year round best seller of mine and the cypress and bayberry substitute does not compare. Please bring back Pine Cones!
How many different people have to comment and say that discontinuing this fragrance was a terrible idea? Or beg to have it back? Or better yet why have it listed as a best seller by my state and then not even have it available for me to purchase????
This was a terrible decision to discontinue this fragrance oil. Why have great selling fragrance oil's that you later pull from your longtime customers and not even available in bulk???
This was so popular with my customers! I went to order more and found it was discontinued. Please bring it back, if possible!
Well...this is a tragedy. I don't get why you'd discontinue this one AT ALL.
Why would you get rid of this fragrance. It smells soooo good. PLEASE BRING IT BACK!
Bring Back the Pine Cones!
Essential ingredient in Woodsy candles, it's been hard to find a match that does what Pine Cones did.
PLEASE BRING THIS BACK!!!
This was my best selling, and my personal favorite, fragrance! So sad it's gone. I stocked up before you discontinued but I'm running out and it makes me so sad. This was such an amazing fresh, outdoorsy pine scent. Was great as a year round scent. Nothing compares to this
This fragrance is amazing and one of my best sellers. please bring it back!
Please, please bring back!! So miss it!!!!!
Pines Cones gone? I enjoyed pine cones as a all year round scent...people who liked outdoor or lodge type scents loved it...I was pleasantly surprised when I received my first order of pine cones...it actually had a pine cone smell oob..personally I wished it was just a tad stronger when it came to the pine cone smell...so it stood out more prominently...sad to see it go...maybe CS will bring back a stronger version...hint hint
Pines Cones gone? I enjoyed pine cones as a all year round scent...people who liked outdoor or lodge type scents loved it...I was pleasantly surprised when I first received my first order of pine cones...it actually had a pine cone smell oob..personally I wished it was just a tad stronger when it came to the pine cone smell...so it stood out more prominently...sad to see it go...maybe CS will bring back a stronger version...hint hint
I just went to reorder and was surprised to find this no longer stocked. Please bring it back!!! Everyone loves this scent!
100% agree my overall best seller has this as the prominent fragrance and it's one of the best performing oils across waxes. PLEASE BRING IT BACK!
Wow, this was one of my best sellers. Please bring this back!
Love this scent. Please bring it back. It's one of my best sellers around the holidays.
What??? This is discontinued!!?? Bring back!!
I come to order more for I am out, and now you discontinue this??? Why do you get rid of the best scents??! Everyone loved this scent and so do I. The cypress and bayberry is horrible and too strong in my opinion and smells nothing like the pine cones. This is the second great scent you have discontinued. One was Cypress and berries, which I have had some other company dupe this fragrance, and it's already made and people love it. Please bring back the pine cones, or I guess I will have it duped again by another company.
This is one of the very best scent throws. I agree with the others please bring it back!
One of my best sellers, this has such a lovely smell. I've tried working with Cyress and Bayberry but the pine is too harsh. Please bring pine cones back!
This is the best holiday scent ever. Please bring this back.
One of the best scents. Our most popular by far. So Sad to see it go
This was my biggest seller.
Great Scent, Sad It is discontinued
Very popular candle for us, sad it is discontinued. Will something be replacing this? Seems odd to remove before holiday season.
So bummed this scent is being discontinued! I JUST starting using it and it is one of my fav scents so far, Did very well in GB 464 just wish it was a bit more HT. Will be very missed, wont be selling the few I made, keeping :)
Love this scent please don't discontinue
So disappointing that another best seller from CS is being discontinued...
This FO reminds me of the old commercials, "That's the power of Pine-Sol." It's just not a natural pine fragrance. More like the cleaner. If you're looking for a true, woodsy, evergreen FO, I suggest CS White Birch or Fraser Fir. They are spot on and two of our best sellers.
The rating on my 1st review came out wrong for some reason
The rating I just sent was suppose to be rated a 5 star, don't know how it came out 4 stars. This is definitely a 5 stars, my favorite, and would give it 10 stars if I could.
Oh, how I love this scent!! It is my favorite during the Christmas season, but also during the season as well, just use a different name. This one smells so nice, not like pine sol at all. Such a pleasant smell, that when you smell it, you just want to keep smelling it.
Great outdoors-y pine scent. One of the best fall and winter scents.
I've tried all Candle Science's "pine" scent and this is my favorite! I've been looking for something that smells like being up in the mountains surrounded by trees without smelling like Christmas and this is exactly what I've been looking for!!! The perfect pine fragrance for year round
I bought this with high hopes, and was very disappointed. Out of the bottle the smell wasnt very pine cone-esq, but I wanted to give it a fair go. I made 4 candles with it total and can't smell any pine scent. On top of that my husband, who is my official scent rater, thought it was a fruity perfume. Not at all what I want for my customers. Fortunately I only bought 4oz.
Wasn't my favorite- smelled like cleaning supplies. So wasn't horrible but didn't smell high end by any means.
One of my favorite scents!!!!
This scent is awesome!! It smells sooooo good!! I use this in soap, HP. It does not have that nasty pine sol scent like others I have tried. It is a very nice pine scent, and has a softness to it, but strong as well. I can't get enough of smelling this one. :) Five stars and more on this one.
This one was just okay, not spectacular, but a good scent. Performed well in GB 464.
I love it!!! Nice not over powering ,fills the room with WOW! I suggested this fragrance to all friends and family. This is now my new favorite smell certainly brought my artificial Christmas tree to life!
Thankyou guys for a job well done!
I made my very first candle with this scent in the 3x3.5 pillar mold with ecosoya PB.. the scent is AMAZING as a cold throw but the hot throw not so much due to its lack of filling a room with its scent.i bought more to do with container candles and gb464 soy wax so i hope for better results! other than that it's amazing.
We got this one to add to our fall/winter line and found it to be just as described, but very potent! We normally start off with 9% for our trials and end up going to 12%. Not this one. We had to drop it to 6%. Other than that, it has a very pleasant and soothing smell reminiscent of a pine/ Christmas tree.
Not the most true pine but good.
Very floral and a little bubble gum, which is subtle but odd once you realize it. However, it has a certain softness to it that other pine scents lack—less of a chemical overtone than e.g. Blue Spruce in quantity. One person who likes pine a lot picked this as his favorite out of four.
I ordered this without smelling a sample and am so glad I did! I made a 4 pound batch today in GB464 soywax and it smells fabulous! I can't wait for my customers to smell it! MR.Toad's House of Wax
I LOVE this. I think it smells exactly like pine cones/pitch. Reminds me of camping. This is a perfect year round evergreen option if you're looking for something that doesn't smell like a Christmas candle. Will be ordering a big bottle soon. Maybe my favorite CS so far.
not getting the pine scent in this one....
I bought this to try, as the reviews were all positive, and I was in need of a pine fragrance, as my usual supplier was out. I just poured a batch of this fragrance, and I do not smell any resemblance to pine, pine cones, trees, etc. Honestly, the scent makes me think of cough drops.....one plus, it has cleared my sinuses!
A bit disappointed, as I bought a full 16 oz bottle, and I will not be making anymore of this one.
So far, I have not done a test burn but this smells so fantastic. Has good cold throw...my house smells amazing right now after making some soy candles in my crock pot (GB 464)
The aroma of pine cones - one of my favorites & this is a beautiful job replicating that.
Very strong scent throw in Ecosoya CB 135. To me it smells like sweet pine cones! I would definitely buy this again.
I LOVE this new fragrance!! It is awesome! The throw use the GB 464 is amazing! Keep up the great work Candle Science!!