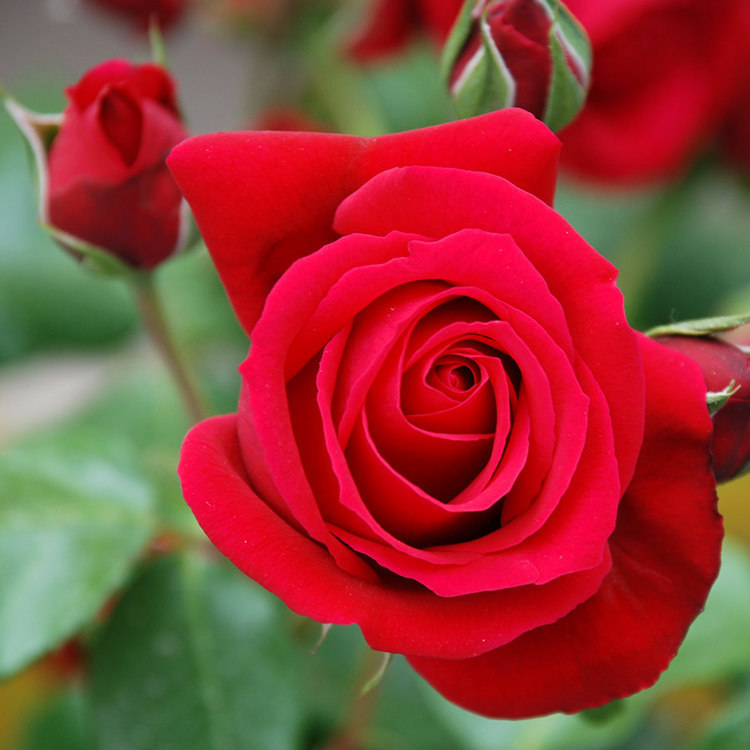 As of 08/11/2020:
This version of Red Rose (Discontinued Version) has been discontinued and replaced with the new Rose Petals. Click here to check it out!
Details
REVISION NOTICE: It is CandleScience policy to notify customers if any part of a fragrance was changed for any reason.
As of June 30, 2020 our Red Rose was revised to meet our new stringent safety standards to remove ingredients with similar characteristics to those on the Prop 65 List. See new Rose Petals.
A realistic take on an enduring favorite, Red Rose captures the essence of a rose garden in peak bloom. This modern, floral experience begins with faint notes of green leaves, lemon, and spice. Light touches of violet and carnation boost the natural rose essence at the heart, then base notes of honey and sandalwood add an earthy, sweet touch.
Candles, melts, and diffusers add a hint of romance to both intimate and communal spaces, while handmade bath and body products like soaps and lotions make for delightful gifts. Beautiful in its simplicity and contemporary in its character, Red Rose creates an uplifting atmosphere for any occasion, any time of year.
This fragrance oil is infused with natural essential oils, including elemi oil.
Note Profile:
Top: Green Leaves, Lemon, Spice
Middle: Rose, Violet, Carnation
Base: Honey, Sandalwood


Suggested Colors: Any shade of Red or Pink
See our complete list of candle making dyes and soap colorants.
Note: Bottles filled by weight, levels may vary.
Properties
Candle Safe

Yes

Usage: 3-10%
Soap Safe

Yes

Usage: 2-3%
Vanillin Content
0%
Soy Performance
Flashpoint
207 °F
Phthalate Free
Yes
Prop 65 Warning Required
No
Diffuser Base Compatible
Yes; Up to 25%
*Usage amounts are recommendations only. Individual usage amounts can vary based on your desired fragrance strength, wax type, soap base, or lotion base. See IFRA certificate for max usage levels.
Documents

Reviews
The rose scent didn't smell close to the real thing to me.
I love this fragrance and My customers love this fragrance. Why is it discontinued?!!! This is so heart breaking!
This is the main fragrance in my rose-scented candle. so glad there're still some inventory so i can snatch it up and really hope the revision is just as beautiful as this one!
i love this fragrance!!!!
I'm obsessed with this scent! I used this FO in candles and they smell amazing. The scent is on the stronger side so you can always use a little less oil, but if you like Damascus Rose or a Sweeter Rose scent you will enjoy this.
Tranquility Soy Candles...by Patti
This is a true amazing scent. The fragrance is just like a Rose. One of my biggest sellers. Try this you will LOVE!!
i have a customer who purchase this scent over and over, it's the only one she likes so far....i feel the scent is right on ! its perfect don't change a thing, the people who complain can just add less if its overpowering to them, this is precisely why i went into the candle business because the candles i was buying were not strong enough to smell in the house......loving a bold lasting scent such as this one...love it, thank you for being right on target ♥
The scent is absolutely wonderful! The cold throw from a candle is beautiful and fills my house with the scent of a pure red rose! My wife adores this scent, as do my customers. I would recommend it to anyone!
I feel like this is an accurate Rose scent in some ways, but at the same time it's way too strong and Intense. My first time burning it I started to eat dinner and literally couldn't swallow my food because the scent was so overpowering. It was weird and so disappointing. I probably will not order again unless they tweet it a bit.
I tried both this Red Rose and the Yellow Rose. This one is by far the better rose scent, to my nose at least. I am an avid gardener and grow roses, lilacs and jasmine. Red Rose really captures the essence of rose and is very similar In fragrance to several of my garden roses. Also very similar in fragrance to the Heritage Store Brand rose water you can buy at Whole Foods. This fragrance is really very lovely. It also mixes well with the Soy wax 464 giving a perfect beautiful pour and burn. (Some of the fragrance oils seem to cause dimples/ripples on surface of the Soy 464 wax after cooling.) The Yellow Rose, while nice, doesn't actually smell like any rose I have buried my nose in. Also I should add that the fragrance, English Garden, is quite similar to certain roses and has fragrance of rose mixed with lilac. It is also high on my list of favorite Candle Science fragrances along with Lilac.
I bought this used 1 oz per pound of wax. The stuff was so strong my sinus started running and my wife and I almost got sick to our stomach from the strong smell. It smelled like a cigar burning. Two people couldn't have the same reaction unless there was something wrong with the scent. Don't buy.
This fragrance smells like a rose in bloom. I love it.
Bring back the discontinued rose
Devastated that Candle Science stopped making their former Rose fragrance oil that was soft and powdery like a real rose petal, I decided to try their newer takes on rose. Out of the two, this one is slightly better than the Golden Rose, but yeeeeeeesh, it's still bad. Sickly sweet, perfumey, and sharp, not powdery or soft. This smells like a grandma for sure. Please, PLEASE bring back the old rose.
I like the way smells. It does smell like a rose but also slightly perfumey.
Do not buy this scent if you want an accurate substitute for the discontinued Rose fragrance oil. Giving it two stars because it isn't unpleasant, but not special either. Also, it smells kind of artificial and finally it doesn't really smell like rose. Please, please, please bring back your original Rose.
I got this during the sample sale. It smells a lot like one of my favorite tea roses,Chrysler Imperial, which made me very happy.It is VERY strong so I might suggest using less than the normal amount. The down side it accelerated like MAD! I had plans for a cool design with pipes which ended up with a red,pink,green and black with white trim mud pie. All I could do was blop it in and level. Just know this and plan for it.
This is terrible compared to your old Rose fragrance.Too much of a perfume and powdery What is going on with Candle Science these past few months?
I LOVE the older Rose scent and this new version is just, meh. It'll pass for a Rose scent but it's a little too heavy on the powdery scent. I wish we could get the old Rose FO back.
Please bring back the original Rose Scent
This one I was hoping was like your other Rose scent that has been discontinued. It wasn't. Can you please bring it back?
this scent I was hesitant at purchasing because im not huge on floral scents but this one was like sticking your face in a fresh bouquet of summer roses and isn't overwhelming. I really love this one!
I was hesitant to give this new rose scent a shot after reading some of the other reviews. I bought a 16 oz bottle, and LOVE it!
It's not a true rose scent like the previous one, but it's a very lovely smell and I'm happy with the switch.
Be prepared to work fast, I mean really fast. I made a cold process coconut milk soap with this and holy cow did it bind up fast. I soaped at 110 degrees like I do with all my milk soaps. I had planned to make a pink, white and red swirl with rose pedals on top. I ended up doing a glop and press with the pedals pressed into the top. I'm pretty sure it will work out. Sure smells good.
This is not great. It's straight artificial perfume. It's funny that they call it a realistic rose scent. It is not. I despise perfume for its artifice, gives me a headache. This was way overpowering in that sense. If it was a true rose it would have a less chemical smell and it would have some green notes and maybe a hint of citrus. As we know, most large roses in America have no scent, but tea roses do as well as many others throughout the world, this is nothing like any of the roses I grow or have smelled. This is wayyyy sweet and smells mostly like chemical-y gardenia. Sorry.
Bring back old Rose please
This red rose smells nothing like the old rose Candle science used to carry. So disappointed in how fake this one smells. Hopefully Candle science can find something closer to a true Rose Otto because this rose smells no different or better than any other rose on the market.
I love all the rose scents but this one hits the make on what a deep fresh red rose smells like I can't wait to see how the hot throw smells. Will definitely be ordering more.