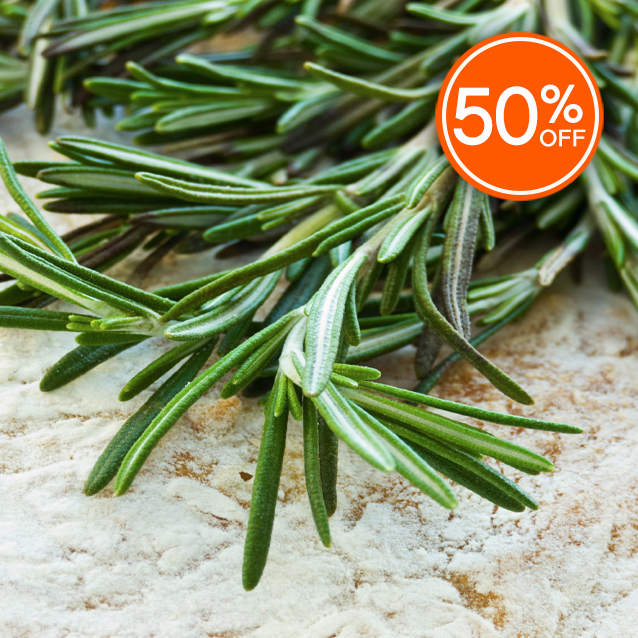 As of 09/09/2019:
This product is discontinued and no longer available.
Details
For a similar fragrance, we recommend trying our Rosemary Sage.

Rosemary has been used for mood enhancement by practitioners of aromatherapy for centuries. Its herbal fragrance is very strong in soy wax and is perfect for a high-end candle or personal care line.
This fragrance oil is infused with natural essential oils, including cedarwood, eucalyptus, patchouli, and thyme.
Note Profile:
Top: Rosemary, Thyme
Middle: Eucalyptus, Spearmint
Base: Cedar, Fir

Suggested Colors
: Green
See our complete list of
candle making dyes
and
soap colorants
.
Note: Bottles filled by weight, levels may vary.
Properties
Candle Safe

Yes

Usage: 3-10%
Soap Safe

Yes

Usage: 3-6%
Lotion Safe

Yes

Usage: 1-2%
Vanillin Content
0.01% - 2%
Soy Performance
Flashpoint
138 °F
Phthalate Free
Yes
Prop 65 Warning Required
No
Diffuser Base Compatible
Yes; Up to 25%
*Usage amounts are recommendations only. Individual usage amounts can vary based on your desired fragrance strength, wax type, soap base, or lotion base. See IFRA certificate for max usage levels.
Documents

Reviews
this was my absolute FAVORITE! I want MORE!!!
I really loved this scent and was using it in a blend for some candles I planned to sell. Does anyone have any recommendations on any other rosemary scents from either CS or other wholesalers?
I actually really love this Rosemary, it's a large part of one of my signature blends for soy candles, so I'm sad to see that it will be discontinued! It's earthy, herbal, and yes somewhat soft, but it works well for how I'm using it. I will be ordering more while still in stock, so I hope the Rosemary Sage will be a comparable replacement once it's gone.
Not the best Rosemary... BUT...
... this FO is not as bad as many of the reviews below make it out to be. I made candles with this FO in IGI 6006 and used 10% fragrance load. It takes a few weeks to cure. I left mine in storage for 6 months and it smelled like Rosemary from the garden. You MUST let this cure. If you want a new take on two FO, let me suggest mixing one part Rosemary and one part Garden Mint. Great kitchen or washroom candle. Clean, fresh, and simple.
As a lover of rosemary, this scent is disappointing. It's very soapy/musky and masked by the other powdery scents.
My Love Letter to Rosemary. Allow me to paraphrase Tina Turner. "Simply the best. Better than all the rest." I don't believe there's anything I haven't tried this FO in, y'all. I love it so much. It's perfect in everything. It's that scent I've always wanted. It's that satisfaction you have when you've created a stellar product and find a stellar fragrance to complement it. In case you haven't figured out by now, it's my favorite. I even spray it in my car so I can smell it all the time. It's just...THE best.
Very disappointed in your rosemary. Extremely powdery smelling, Reminds me of an aerosol deodorant. Still a huge fan of Candle Science FOs.
I guess I'll stick to rosemary essential oil instead.
I have been growing and using rosemary for years and no nothing is as good as the real thing but This is as close as it gets to the real rosemary.Rosemary essential oil fades pretty fast in cold process soap and I have several other rosemary fragrance oils that just aren't good enought so if you are looking for a very close real rosemary scent then this is it.
I used this in cold process soap and it was very well behaved. No acceleration. I colored it with green mica and it was beautiful. The scent is strong and has not faded after several months. This is one of my favorite scents.
Just like all the other reviews indicate, this isn't a true rosemary scent. It's not bad - it's just not rosemary. Definitely more of a soapy scent and I assume it would mix well with other herb and/or floral fragrances; though, I hope CS concocts a Rosemary scent that is more true to the herb.
This Rosemary FO smells like soap. lacks the biting briskness of true rosemary. This is sappy but also very soapy not unlike Irish Spring Soap.
I like it, and it performs well in GB 464. I don't plan on ordering more, just because I don't think it would sell with my customers, even though I like it.
Rosemary Very Nice (Earthy)
Sells like hotcakes! Love this scent!
Smells strongly like soap -- looking for more of the sweet rosemary scent.
Very nice scent for candles and room sprays. I love this scent becasue it's different and earthy.
I got this because I had a customer request Rosemary scented tarts. It is not a true Rosemary smell. It smells more like soap of some kind, maybe along the lines of Irish Spring. Although it does not smell like Rosemary, it is still a strong, crisp, and clean smell. Just smells like soap. I just placed a tart in my towel cabinet to keep the towels smelling fresh.
I love this one. I use 464 soy and it is a big seller. I also use this for incense and in my B&B line. Actually I use it in all my hand-made products. It is the only fragrance I have found that removed odors from my clothing and in my home; not just cover them up. Thank you for providing such an awesome product.
In use it in GB 464. It has an amazing hot and cold throw. It has a nice clean and fresh scent. I can't keep it on stock!
Rosemary? More like soapmary.
This scent was another let down. It smelled somewhat like Rosemary in the bottle, but in candles it just smells like soap. Cheap, powdery, boondocks-hotel soap. Rosemary is my favorite smell in the world too, so I had really high hopes here.
Good but not true Rosemary
I like this a lot, especially mixed with a Christmas tree scent. This is not a true rosemary scent though, it's more of a masculine pine scent to me. Kinda sweet too. All in all it worked for me in combination with another scent. I used a soy C3 wax and they sold out in a week. I'm ordering again.
I love this one right out the bottle. Need I say more.
Gardeners would love this!
This smells just like my garden.
Made candles with soy wax, burns great.
Probably like the other reviews not for everyone.
If you love rosemary this is it.
Herbacious Smells amazing. Love it very much! Order by the pounds!
aroma of rosemary fragrance oil
It smell so horrible, it does not smell Rosemary at all. I like to bland with other oil and use in my skin care products and cb-135 soy wax. I can not take this horrible smell out from my home for a long time.
So sorry but this is not for me or my clients. If i am allowed i would 0* this.
I was looking for a true Rosemary smell. I personally did not like it. But, had a customer that really liked it. I used GB464 wax.