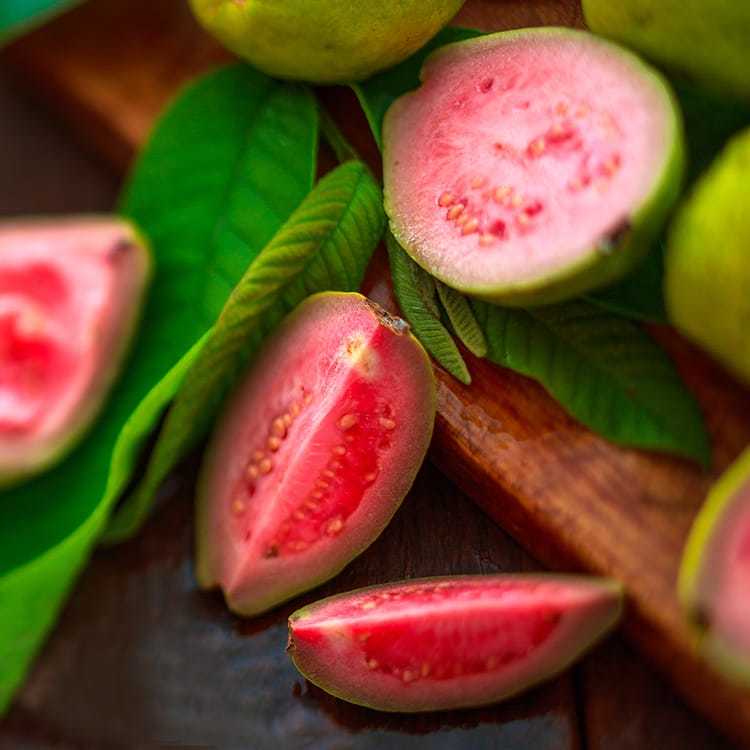 Ready to Order?
6+ 5lb Jugs
$79.94
$1.00 /oz
12+ 5lb Jugs
$71.94
$0.90 /oz
Details
Strawberry Guava is a juicy, mouthwatering fragrance oil. The fruity fusion of strawberry and guava top notes blend with passionfruit and mango for a sweet, tropical blast. Vanilla and sugar base notes lend an extra burst of lip smackin' goodness to this summery fragrance.

Liven up your line of candles, melts and tarts with the throwback vibes of this fun scent. Transport yourself back to those carefree days with Strawberry Guava soaps, lotions, and scrubs.

Note Profile:
Top: Strawberry, Guava
Middle: Passionfruit, Mango
Base: Vanilla, Peach, Sugar

Note: Though the sweet, fruit notes dominate out of the bottle, the fragrance balances out in a candle or personal care base.
Suggested Colors
: Pink, Red
See our complete list of
candle making dyes
and
soap colorants
.
Note: Bottles filled by weight, levels may vary.
Properties
Candle Safe

Yes

Usage: 3-10%
Soap Safe

Yes

Usage: 3-6%
Lotion Safe

Yes

Usage: 1-2%
Vanillin Content
0%
Soy Performance
Flashpoint
162 °F
Phthalate Free
Yes
Prop 65 Warning Required
No
Diffuser Base Compatible
No
*Usage amounts are recommendations only. Individual usage amounts can vary based on your desired fragrance strength, wax type, soap base, or lotion base. See IFRA certificate for max usage levels.
Documents


Cold Process Soap Performance
| Acceleration | Discoloration | Separation |
| --- | --- | --- |
| Slight | Brown | None |
Lye Water Temperature 111ºF
Oil temperature 105ºF
We did not experience any separation, but this fragrance was very slow to reach an emulsion and required extra stick blending to reach a light trace. However, once it came to trace it did start to thicken and the batter turned a honey mustard color. After 24 hours the soap smelled amazingly delicious and was a dark gold color we've never seen before. Due to the discoloration it was difficult to see if a full gel was reached but the center has vague signs of overheating, so we recommend keeping a close eye on this one if you plan to insulate or oven process. After 30 days the scent is strong and the bars have discolored to a brown shade. The fragrance is fairly easy to work with but the discoloration will present a bit of a challenge for choosing a color palette.
Reviews
I was very disappointed. The smell was way too sweet and artificial. It gave me a headache. Smells like too sweet candy, not pleasant.
Awesome scent.....will purchase again! Did have slight acceleration, but nothing you can't still work with!
More guava than strawberry
I didn't get much fresh strawberry out of this FO, more of a fake strawberry drowned out by pink guava. It's okay, sweet and bright and reminds me of a light, sugary pink. It might be great to mix with a lemon-y scent to get a "pink lemonade" type blend. I don't get any "tropical" vibes from it, it just smells like pink sugary fruit to me.
This fragrance oil is hands down the best! I'm learning that candle science have the best smell, quality, and hold their scent well. I have purchased a few others that are marketed as strawberry guava; there is not even the slightest comparison! The smell of this is lush and rich. I will only buy this oil from now on.
I used this fragrance oil with golden 444 melted at 185 added frag at 140 poured at 105 and any imperfections I fix with a heat gun. This one sold out quickly.
Medium Strength hot throw
Id say this is ok for a bathroom or small office
But NOT a whole house fragrance.
This is NOT a strong hot or cold throw.
If your looking for strong this is not it.
My Batch; 72oz(6-12oz jars) 464 wax I use 6oz fragrance tried One week and two week cure time.
OMG! I just received this scent today and when I tell you it is amazing. It literally makes you want to drink the bottle. It's a must have for sure, and I'm not all into fruity scents.
This smells like lip smuckers, or maybe like chapstick? It's not terrible, just very fake smelling.
I bought this because I have smelled guava scented candles in the store before and loved them! Strawberry and guava sounded like a great combination, but the fragrance was sickly sweet with a very artificial strawberry top note. But everyone likes something different and I can definitely say it has a good throw if you like the scent.
Such an awesome scent. I'd used Strawberry Guava for the first time. And it hit right on the nose. It were many samples I made of it. Gave them out. I had no complaints.
I used this scent to make wax melts (parasoy) and WOW! The throw on this scent is crazy! I love it so much, I'm buying a bigger bottle.
This scent is phenomenal. OOB you are immediately blasted with rich, wild strawberry aroma, with lingering undertones of tropical fruit. Super strong and yummy!
This sells online, flea markets, everywhere. This smell is amazing!
My customers love this one!
I'm a little indifferent with this scent as I prefer the Passion Guava myself, but, my customers love this one and they are reordering in the regular. The consensus is, it flies off the shelf in their shops! Yay!
Great fragrance, more guava than strawberry. I can see how this would be a good seller for candles and melts. I used a sample for cold process soap today. I am giving it four stars as it had moderate acceleration working at room temperature.
Did my first flea market and sold out of this and the peach nectar. I took samples and burned them they were coming from across the street. I also had one of the vendors purchase one then sent her sister back to buy the rest. Already purchased a bigger size to use in body butter as well. Smells terrific definitely a staple
Thanks CS
I love the scent of strawberry guava! It smells like sweet strawberries. It's a great summer fragrance and holds it scent. I use it in melt & pour and it has become one of my favorites. Candlescience has the best fragrances compared to other companies I've used.
Made my first candles and got this as a tester. I wasn't terribly interested in it however I figured it might be a nice scent and OOB I thought it was amazing. First candle I made and enjoy the scent. Poured it at about 6.25% and love the throw however at times I'm wishing the HT was a little more, however we can always improve that. For those who love it are you going much higher on the fragrance load?
I got a sample of this and fell in love. It smells so fresh and juicy. Made a few tiny test candles and have already sold a full sized one based on the tester. Very good hot and cold throw in my GW 464. Can't wait to take these to my next show.
I bought a sample of this during the sale and I made body butter with it. I'm going to need a bigger bottle of this to make a ton of other things with it.
This is a definite winner! Poured last night and immediately fell in love with it. Can't wait to bring it to the farmers market!
We love it and plan to make many candles with this scent. It will be a great addition to our candle line for spring and summer. It smells like strawberries with something else I can't describe but it is a winner for our business.
It's fruity. It's delicate. It's got appeal. There's not much strawberry just enough to add to the sweetness. I just made tarts with the GB 494 @ 7% with this and it's smell amazing in here. I opened my door and my neighbor asked if I was making candy. I asked her what it smelled like and she said fresh twizzlers. I totally agree with her. This one is definitely worth a try.
I love this scent! Fills the entire house 😊
My customers LOVE this scent!
The Strawberry I Have Been Looking For!
If you're looking for a really good strawberry without the fake plastic-y notes, this is it! Strawberry is a tough one to nail, and Candlescience did it!!! I don't really smell anything else but strawberry, which I was hoping for! Can't wait to try this in bath and body products! So fresh and realistic!
One of my favorites so far! Also one of my best sellers
Terrible it smells mostly of strawberries with a hint of another fruit definitely not guava. Smells like cough syrup I hate this scent and I regret buying it
I love it! HT and CT are on point. I think it smells more strawberry than guava, but you get the tropical flare to it. So good! Thanks CS for another good one.