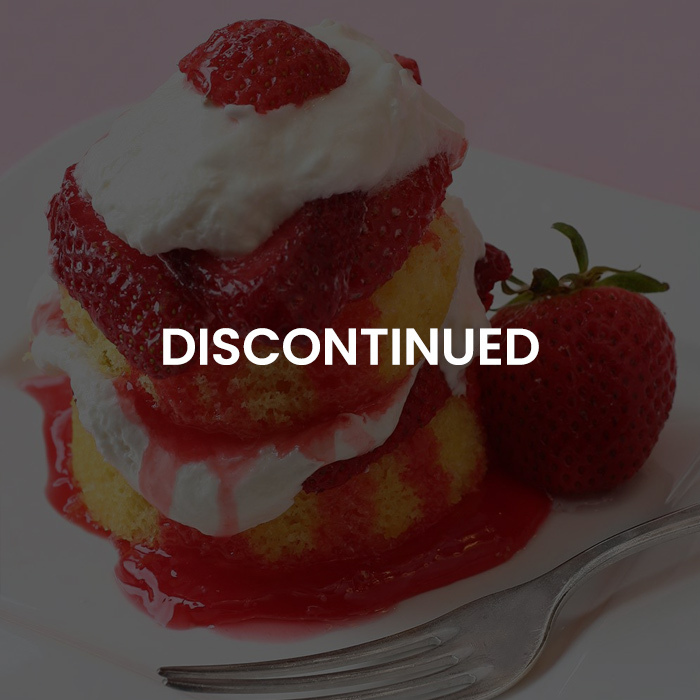 As of 05/06/2021:
Strawberry Shortcake Revision: It is CandleScience policy to notify customers if any part of a fragrance was changed for any reason. As of November 4, 2021 our Strawberry Shortcake fragrance oil was revised as a CandleScience CleanScent™. The new version is now available and has been renamed Strawberry Cheesecake.
Details
Notes of fresh strawberries, sweetened shortbread, and lots of whipped cream make this classic true to life and irresistible.
This fragrance is infused with natural essential oils, including orange.
Note Profile:
Top: Strawberry
Middle: Cake
Base: Vanilla, Cream

Suggested Colors: Red, Yellow, Ivory
See our complete list of candle making dyes and soap colorants.
Note: Bottles filled by weight, levels may vary.
Properties
Candle Safe

Yes

Usage: 3-10%
Soap Safe

Yes

Usage: 2-3%
Vanillin Content
More than 5%
Soy Performance
Flashpoint
204 °F
Phthalate Free
Yes
Prop 65 Warning Required
No
Diffuser Base Compatible
No
*Usage amounts are recommendations only. Individual usage amounts can vary based on your desired fragrance strength, wax type, soap base, or lotion base. See IFRA certificate for max usage levels.
Documents


Reviews
Please bring this scent back! I loved this scent so much that i used it in multiple ways!
I loved this scent and so did my customers. Please bring it back!!
Pleaseee bring this scent back! My customers and I miss it soooo much!
Why!!!
This was my first real candle scent I mix with very vanilla for an amazing strawberry vanilla candle so sad its gone been using it for 7 years :(
Please bring this back. It was the best!!!
Please bring it back!! It was definitely a best selling for my business.
Please bring this back!!!!!!
My customers love this! Why, why, why is it no longer available??? Please bring it back!!1
My customers love this and it was amazing in 464.. why discontinue a good product with great reviews... you have more products with a poor ratings and a horrible heat throw that have yet to be replaced... I dont understand..
This was an amazing oil. It smelled so good and had an excellent hot and cold throw. It was one of my top sellers.
I had gotten this scent as a free sample with an order, and I wanted to use it for my summer line when I saw it was discontinued! So sad :(((
Oh boy! just when I used the 3 sample bottles I had for 2 years and realize how delicious Strawberry Shortcake smells I return to order a bigger bottle only to find out it has been discontinued ! Time waits for no man/woman sigh.....
WHY WOULD YOU DISCONTINUE THIS?
I just logged on to order this, one of my BEST spring sellers, and it's discontinued. PLEASE BRING THIS BACK!!!! My customers LOVE this product. :(
This was one of my best sellers please bring back
Please oh please oh PLEASE bring this back! This is the most popular scent, I swear every time I make a candle with this people scramble to get it! I love this one, it's absolutely my favorite
Whyyyyy was it discontinued I should have bought more when I had the chance everyone loved this smell 🥺😩😩😩
I agree with everyone else who wants this back! It was my top seller as well.!! Please oh please bring this back :)
Please tell me your bringing this back it is my bestselling scent!!!
Love the fragrance. Reminds me of strawberry pound cake from BBW. I wish you'd bring it back
This is my favorite scent and my customers LOVE it. Please bring it back! :(
This is such a great scent. Please bring it back!
I can't believe this got discontinued--it's one of my all-time favorite candle scents. I hope you bring it back.
I'm so sad Strawberry Shortcake has been discontinued! It's an all time favorite & a huge hit with friends, family & customers alike! Please bring it back!
Please bring back the strawberry shortcake!!!!!! The mixture of Strawberry Guava and Lemon Pound Cake ..... or something like that is NOT the same. Its no where near the same. Please Bring back Strawberry Shortcake.
This is one of my best selling scents. I match it with a popular anime character and it always sells out! I've been trying for weeks to make a combination that's similar but like others have said, the Strawberry Guava isn't comparable-no matter how many combinations I try. While I want to keep buying the majority of my scents from Candle Science, I'm currently buying and testing Strawberry scents from other companies so that my customers aren't disappointed.
This scent is a HUGE seller and y'all have made a TERRIBLE mistake discontinuing it. Please bring it back.. mixing scents is NOT beneficial this was perfect. BRING. IT. BACK.
Please please bring this fragrance back! This is a bestseller and the scent is strong and smells yummy! Pretty Please with a cherry on top!
This scent is very popular and a favorite to everyone and I'm shock it has been discontinued. Good things must always come to end
One of my favorite scent ever. Sad to see it's discontinued
This was one of the best selling candles in my store and this discontinuation makes me want to cry. Not sure how I can replace this one. :(
I am in disbelief that you would discontinue a 5 star rated product. As a business owner I go through a lot of work, not only making the candles, but labeling, and building the sales up for the fragrance. I combine the lemon verbena with the strawberry shortcake and call it Strawberry Lemonade. This is one of my best selling products. My customers love it!! I look for 5 stars when I order my fragrance because that tells me that you have done a great job in capturing the fragrance. Why is this being discontinued and do you have any plans in developing a Strawberry Lemonade?
Hi there! Thank you so much for leaving your review, a member of our Support will be reaching out shortly to assist!
This was a favorite in my candle line, please consider bringing it back!
Really? Discontinued? This was one of my BEST sellers. The two alternatives you have suggested are not a comparable item, at all.
Pleeeeeeeeeease!!!
Please, I beg of you! I love using this in combination with another scent I purchased, and now it's back to the drawing board, unfortunately.
Are you bring back the Strawberry Shortcake Scent back. The suggestion to mix the Lemon Cake and Strawberry Guava is not quite the same :( The scents are off a bit! Please reconsider on returning the Strawberry Shortcake and the Cotton Candy. Thanks in advance.
This is very disappointing. This has been one of my best sellers. Do you have plans to bringing it back.
Hi there! Our Strawberry Shortcake fragrance oil has been discontinued and we don't have plans to introduce a new version at this time. For a similar fragrance, we would recommend trying a 50/50 blend of Strawberry Guava with Lemon Pound Cake for a similar strawberry-like cake scent.
I'm just starting my candle business and this was one the FO I decided to have in my line. I'm disappointed it has now been discontinued. I loved this fragrance it scented the whole livingroom.
Scent is amazing also very similar to bath and body works strawberry pound cake... please bring back. You guys have many boring scents to get rid of bring this back
This scent is a big seller within my small business and it is a very good product. I'm BEGGING you to PLEEEASE bring this scent back! It is a vital part of my skin care line up and I desperately need it back!
Just got a sample of this last month. Finally made and burned the candle I made with it and absolutely LOOOOVE it! So devastated that it is being discontinued. Please bring it back! ☹️
strawberry shortcake fragrance oil
ordered a 4 ounce bottle to see if my customers liked it before I bought a larger amount. I got good reviews from my customers so I went to order a larger amount only to find out that it was discontinued and no longer available and now a new fragrance my customers liked I can no longer get for them. please bring it back.
I am clueless as to why this fragrance oil was discontinued because it is the BEST Strawberry Shortcake fragrance oil I have been able to get my hands on. It smells absolutely wonderful. I am so thankful I purchased a large bottle but now I don't want to use it all in fear of running out and having to revert back to one of the other companies who cannot compare. Please bring this fragrance oil back. It is horrible to find a good fragrance oil that you add to your product line that your customers love for it to be discontinued.
This scent is vital to my business and it is the best strawberry scent I've smelled vs other companies. I really hope you guys are able to bring it back or at least bring it back in another version with similarities. please consider, WE LOVE IT! :(
I have tested over 20 other 'strawberry shortcake' FOs from other companies...they are all TERRIBLE. CS Strawberry Shortcake was AMAZING. I am so incredibly sad that it is no longer for sale. Why get rid of it!? I've tried the strawberry guava and it smells like fake strawberry lip gloss (which can be fun! but not at ALL the same). Between this and getting rid of Fig & Rhubarb, I am devastated!
Why are you getting rid of this scent?? This the best selling scent I have. Please have it come back!!!
Five stars for the fragrance with excellent ct and ht, but ZERO stars for just dropping a tremendous product with such customer support. Please explain because bases on many other reviews, you are hurting people's businesses.
This is the BEST fragrance I've ordered from CS so far!! So true to scent, great heat AND cold throw. Normally when I use a Sweet & Fruity fragrance; I always find myself having a headache afterwards, but not with this fragrance. Though the smell is potently sweet, there's still an Lightness and Clean undertone which makes it very refreshing. I'm wishing, hoping, and praying that CS bring this back or something just as similar!!
I came to order More. It's too selling
My customers are asking for this fragrance. Please bring it back. #devastated
My customers loved this scent! Why is it being discontinued??? This was true to its scent and perfect for fresh smelling strawberries!
This scent is so true to it's name. My customers love it and have bought all i had before i could order ALL you HAD.
Please reconsider bring this back. Spring is in the air and so is STRAWBERRY SHORTCAKE. :)
Please Bring Back This Scent
This is one of my bestselling fragrances, I don't understand. My customers love this scent and it's always guaranteed to sell out.
KEEP THIS SCENT OR SO HELP ME!!!
WHY ARE YOU DISCONTINUING THIS FRAGRANCE?!! IT'S OBVIOUS THAT SO MANY LOVE IT!!!!
Not another one! PLEASE! I don't feel like I should get attached to any of the fragrances I love from here😔 PLEASE bring this back!
This has become one of my absolute best sellers and one of my personal favorites! Please don't get rid of it! EVERYONE LOVES IT!
This is an amazing blend and the best seller for many thriving small businesses. Please bring it back! :)
why was it discontinued?????
n will there be like another version coming out soon ?
Hi there! Thank you for reaching out. A member of our team will be emailing you shortly with further assistance!
This is one of my best sellers!! I love it so much! Please consider bringing it back
Please, please, PLEASE...don't discontinue this scent!!!
Please bring it back its one of my bestsellers.
So sad to see this one be discontinued. I got the email and I was going to order some before it was gone but I was too late. :(
Another call to bring it back!
Came to reorder after selling out of our first bottle and saw it was discontinued. :(
We would have reordered a larger bottle a month ago if we knew this was on the chopping block.
This is also one of my VERY BEST SELLERS!!
Please don't do this!! :((((
Please don't Discontinue!
This is our bestseller! I'm beyond disappointed that it will be discontinued. I wish I would've known so I could plan. Time to go to the mixing lab and see what we can create. Please reconsider this!
Please do not discontinue strawberry shortcake! It is one of my favorites and my best seller.
I absolutely love this FO and was about to order more in a larger size. I hate that it's being discontinued. Why is being discontinued?
Listen, the news of this strawberry shortcake fragrance being discontinued really broke my heart today. I personally LOVE this fragrance! Our customers LOVE this fragrance! It's one of our BEST sellers! I really hope you guys would reconsider keeping this one.
I am beyond disappointed that this scent is being discontinued! This scent is not only my favorite but my customers love it too!
I am beyond disappointed that this scent is being disconnected! It's not only my favorite but my customers love it too!
Save Strawberry Shortcake
I hate to see this Strawberry Shortcake discontinued. This is my absolute favorite scent.
I use this scent in my body butters an body scrubs no complaints yet an by far my best fragrance an it smells AMAZING!! Its always the first scent i run out of immediately an everyone wants to eat whatever product i make with this scent
I havent even used this scent yet in my candles but I know it will be a best seller! I love this scent and I will be getting it again!
This one was recommended by one of the CS salesperson. thank you for the recommendation, I got this in a sample next time will be ordering this in large. it has very nice strawberry shortcake but not in a too sugary way, nice rich dessert.
When will this be back in stock I wish I would have bought a bigger bottle omg and to review it's amazing
Strawberry Shortcake is one of my top sellers and it smells wonderful
Yummy and mouth watering!
This fragrance smells so good and customers love it! I have tested it in both bath bombs and candles and it is a great seller!
It's so good. Sweet and amazing CT and HT. I love it.
I absolutely love this scent and my decorative Strawberry Shortcake Candle flew off the shelf. I am being pressured to make more so I will be placing my 3rd order!!
The scent is Heavenly however I didn't read the vanillin content and I tried to color my cold process soap for the first day it was a beautiful strawberry color but after a few weeks it turned dark brown so just a note in cold process soaps if you are trying to achieve the color by the name of the fragrance it won't happen
This fragances dont beahve wall because make the soap brown really dark in CP soap.
For candles is ok!
i dont like this smell at all, its way too artificial, ive tried mixing it with other oils to try and dilute it, tried different ratios, nothing has made this smell pleasant to me :( and i love sweet smelling candles so this shouldve been right up my ally
Wow ! Smells absolutely delicious. Glad I ordered a big bottle
This is one of my favorite fragrance oils. It smells absolutely delicious and I get a strong throw every time. This is an oil I make sure to always stay stocked up on.
I opened this thinking it would be a subtle sweet scent and it hits you from the second you open the bottle. Don't get me wrong it smells like strawberry shortcakes but it just gives me a cavity smelling it. 😫
The Strawberries actually smell like real strawberries.. This is one of my top selling scents on my website..
Coming back for more! I've been making candles and wax melts for exactly one year now! I have a picky nose. This is the first and only to date that I've made "To actually draw my 5 yr old from her cozy YOUTUBE bed to see what I was cooking " :)) she was a little disappointed to see that it was just wax! It's strong enough to have made it all the way back to her room, however after the strawberry firsts hits you it fades away into this glorious cake smell.... NICE CANDLE SCIENCE!! Please don't ever change this one!!
JUST what I was looking for!!!
This Fragrance Oil smells soooooo good just like Strawberry Shortcake. No artificial smell like most of the strawberry fragrances I have wasted my money on. Candle Science has really nice, strong fragrance oils. I wish I would have gotten more but there is always a next time. Thank you for this wonderful REAL strawberry fragrance.
I use this in Soy wax and it smells amazing. It reminds me of fresh strawberries. This is a customer favorite.
Scent has little to no smell. Very light.
It smells like juicy strawberries in strawberry syrup with a hint of cream. Yummy!
Lovely Scent but discolors CP
I love this scent and I use it a lot in my foaming hand wash as well as shower products (lotions, shower gels...)
I would love to use it more for CP but it discolors my bars to brown.
This FO smells like the name. It's extremely sweet, but it's not horrible.
I hate fake strawberry, but this one is different!!
I hate fake strawberry scents. Despise them actually. They make me feel nauseated. Maybe from living in the 80s and smelling those plastic-y Strawberry Shortcake dolls ruined it for me lol, I'm not sure. The only reason I bought this was because the reviews were great, and I was curious what all the hype was about & because I couldn't imagine so many people liking a fake strawberry scent lol. I don't know how Candle Science did this, but they managed to create a scent that, although doesn't replicate real strawberries - doesn't have that fake nauseating strawberry scent in it. The scent is very sweet and does have a fruity "strawberry like" scent, but there is so much to this scent the fake strawberry actually works! I have been using this in my room for the last 2 days. I can't get enough of it lol.
As I mentioned previously, this is very sweet, so keep that in mind. But If you hate fake strawberry like me, give this one a try - I think it will change your mind!
Behaved perfectly in CP soap! Smells scrumptious, sweet without being sickly or overpowering. Smells almost like a strawberry jam with buttery notes.
When I opened this, I was a little wary - I needed a sweet scent for something but am really picky about them. It didn't seem too overwhelming and I was excited to use it! In CP soap I can now smell the biscuit/shortcake part of the scent really intensely, haha! But it's very nice and not too sweet. I really like it!
Fantastic FO perfect for the season
I absolutely adore this FO it smells like the real thing!!! Great job CS
I purchased this for a replacement for the original pomegranate that was discontinued and it smells so good! It is similar to that pomegranate but is still very true to strawberry shortcake. I can pick out the cake, whip cream, and the strawberries. Great hot and cold throw. PLEASE don't change this fragrance!
Smells so good... smells exactly like a strawberry creme saver candy.... and the ht is good in 464
I tend to really like sweet, food-like scents. With that being said, this one just really didn't do it for me. I tried my hardest to like it but every time I took a sniff I would gag. I get why others would like it, as it is a very sweet smell. If you are looking for a smoother or a rich,cakey scent, this is probably not the scent for you. Packaging and size was great, I just didn't like the scent personally.
This fragrance is absolutely THE best Strawberry of anything we have EVER had in our lineup. We put this in a Body Wash and it has been so popular, I can't keep it in stock. My daughter used the Body Wash on her hair and it made her hair absolutely soft and smell sooo good! I can't wait to put it in our Wax Melts tonight!
This is my first time making candles. Everything went very well. The strawberry shortcake Is all that. Great burn... I love how the scent is throughout my whole home. It has this delicious smell. To where I've ordered more to make others gifts.
LOVE this FO! It smells mostly like strawberry in the CT, but when it's burning? It smells like when my mom was in the kitchen smashing up fresh strawberries and baking a cake. My customers love it, too! :)
I'm not really a fan of this one. I smell no shortcake. It just smells slightly of artificial strawberry.
i absolutely love this fragrance/ it has been my best seller for 2 straight years now/ please please please don't change anything about this fragrance/ it can't be duplicated/
just wanted your team to know that this fragrance rocks
Mix with blueberry cobbler
There's something about this scent that I don't quite like but I can't put my finger on it I almost want to say that both this and blue berry cobbler smell a little like cough syrup but oldly enough if you mix both of them together you'll get a berry pie fragrance instead
I was really nervous to try this scent because I find it difficult to find sweet/bakery type scents that I really like but... WOW! It smells just as if I have taken a bite of a fresh strawberry cake! So incredibly true to life. I can't stop smelling it! Definitely recommend and my customers love it!
FINALLY a strawberry shortcake scent I like
Iv tried strawberry shortcake from a few different suppliers this is the ONLY one I have liked it don't have that weird fake strawberry smell so delicious I used it for lotion bars I'm ordering a big bottle so I can make candles and scrubs with it next love this scent
I used this fragrance oil on my soy wax candles and melts, its DELICIOUS!
Good throw cold and hot.
I read some reviews that stayed that doesn't smell like fresh strawberries, I think it does, very fresh, sweet, not overpowering.
I like it, the first time I smelled it I was like, "where is the whipped cream and fork? I want a bite" Lol!!!
The melts are a hit. Thank you!!
I got this in high hopes of it being very sweet like a real strawberry but it doesn't smell at all like a strawberry. Not even a bit. Smells like a baked good but I can't pin point anything specific about it. I want to add it to another candle as a topper for sweetness but it just didn't do it for me at all. I hope you guys make a good strawberry scent just pure yummy strawberry! Other than that the other scents I've used are phenomenal! So thank you!
I know I'm super picky, but I'm really happy with candlescience products. I really love the strawberry short cake. Thanks again keep it up
My only complaint is that I wish the strawberry note had some more "fresh cut strawberry" kick. I've been trying to find something to mix with this to bring that out. I personally find this a little buttery for my taste--but customers really enjoy it.
Not my favorite scent from CandleScience. It just does not smell like strawberry shortcake to me at all. Our family loves strawberries and eat a lot of strawberry shortcake year round. This does not smell like fresh strawberries at all. Might have more of a frozen strawberry smell. I guess I was just expecting something more authentic smelling. My grand daughter says it smells more like strawberry candies to her. It's not bad though, just not our favorite.
Did a pop up shop and this was definitely a best seller in my soy wax candles and melts .
Keep Away From Kids (and Some Adults)!
This. Stuff. Smells. Delicious! When I received my FO's, I had my BF smell them without being told what they are in order see how accurate their descriptions are. He guessed this one right away! I have opened the bottle in the kitchen while he's in the living room (apartment sized space, but still another room entirely) and I'll hear him say, "I just wanna drink it!" CS nailed this scent and I can't wait to see how it performs in wax and soaps. Just be sure to keep it away from kids and any adult who may be tempted to see if it tastes as amazing as it smells. ;)
I have been lighting this candle up for almost a week now everyday i come home from work. It smells really good to me.
I've tried two batches of this scent. First one was 1oz fragrance to 1lb 464 wax. Poured scent in at 185. Can't smell a thing. Second time I used 1.6oz fragrance and same thing. I'm not understanding why. I put them in 4oz tin and eco wick 10 and 8 Oz tin eco wick 12. I'm very disappointed because I love strawberry smelling candles.
This is so juicy and fruity and sweet. Very complex fragrance that gives you layers of scent. I smell sugared strawberries right away and that gives way to the cakey vanilla fragrance after. This smells so incredible. LOVE IT!
Our BEST Strawberry ever!
We recently added this one to our line in parafin and soy. I will be doing this fragrance in votives also. It was the best seller in our shop last week. Not an overpowering fragrance, but true to description and very appealing. Another winner!
I was surprised to smell FRESH strawberries and a vanilla cake so true. This is strong and wonderful. What a wonderful combination.
This scent is so true that it makes me hungry!
This one smells great...both hot and cold throw in Golden Brands 444!!! My personal favorite...
I have purchased alot of fragrance oils from different companies and this is by far the strongest oil in my collection...we can not get enough of this scent.used in 464 wax...delicious
You smell the strawberry and cake in this scent, yummy!
I got a sample and make a couple candles using GB 444 Soy. One week later I gave one as a birthday gift when attending a dinner party in a local restaurant. Everyone at the surrounding tables could smell this candle and thought it was wonderful. Its one of my best sellers!
This is by far the BEST, strawberry shortcake scent ever. I have ordered from other sites and ended up disappointed - but this is WONDERFUL!! Thank you CS!
used this scent to make candles with IGI 4630 and also in my gel air fresheners. It was excellent in both applications. I could smell it throughout the entire house and my neighbors could smell it outside
It smelled great in the bottle, great when I mixed it and I was hoping it would smell just as good when I burned the test tart. I was not disappointed. I love this scent! I used 1 oz. per pound of ecosoya PB. I burned the tart in my bedroom and could smell it throughout the whole house! This one is definitely a keeper!
There is virtually not another scent that I love more than strawberry shortcake, and was very disappointed when this one by cs fell short. There was an undescribable unpleasant lingering stank that would not vacate my nostrils, along with a hint of strawberries. Perhaps it was the batch I got, but I will not order this scent again. I used naturewax c3 100% soy with a 6% fragrance load.
I had a good feeling about this fragrance after reading through reviews, so it was on my list to try. I made some sample tins (GB464).. and oh my god, I literally wanted to eat this candle! The sweet, creamy, strawberry goodness gives off such a warm and yummy smell. Just like real life fresh made strawberry shortcake! Mmmm
Not what I was expecting at all. It smells very nice and strong OOB, like strawberries n cream but seems to get very softened in soy wax. I use GB 464 with 6 percent FO in a 9 ounce candle and all I smell when burning is a faint strawberry smell. Based on the prior reviews I expected this to be a very strong Strawberry shortcake. I only bought a four ounce bottle and will experiment with using more FO to get stronger hot throws.
This way by far my favorite and I know you are suppose to use it for candles but I used to it to make tarts and I used paraffin wax and my customers are in love with this scent.
This is a wonderful fragrance, with a really deep, rich strawberry scent. And it lasts a long time in my oil burner. Will definitely purchase this scent again.
Straight out the bottle I wasn't a fan. However, as I mixed it with the wax it smelled throughout my house. The "Hot throw" is awesome. I used 1oz. per 1lb. in 6 oz. jars. Will be ordering more soon.
This is one of my best sellers I use 1oz -1.5oz fragrance load to 1lb of g464 soy wax in 4 oz Mason jars with #10 wick size perfect both hot and cold, in the warmers this is wonderful fills the room a lot quicker than the candle I love it
Smells just like Strawberry Shortcake! I just wanna eat it!
I tried this fragrance and I absolutely love it and My whole family loves it also!!
I absolutely love this fragrance; its one of my favorites I use it in gb464 and I use the eco wic #10 in the 4oz jelly jar realy great scent throw; I use 11/2 oz per pound of wax smells up the whole house good job cs with this one
Just used Strawberry Shortcake FO in some red soaps. Mmmm - smells delicious! I thought I had a good strawberry scent from another vendor but I was wrong. This one will thrill my customers!
I LOVE strawberry scents, one of my favorite smells, but this one has a very strange chemical smell to me.. maybe if you mixed it with some vanilla or Birthday cake scented oil it would tone the "odd" smell down. As far as the throw goes, I had no problems with it, it actually was pretty strong.
This scent is the absolute best. I have made 3 batches of it and all come out perfect. My customers are very pleased and so am I.
Me and my husband loves this scent. Customers cant wait until I restock.
This is perfection. Everyone that has smelled it made into a candle loves it.
It is plenty strong and takes you to summer eating strawberry short cake. I have yet to hear anyone say anything but great things about it. I'm not big into food scents but really love this one.
I don't know,but I can't smell it! Yet I can not stop selling it! Everyone loves it!
This is one of my best-selling candles. It smells like a very fresh version of strawberry shortcake, but I would almost say it smells like strawberry yogurt in a way. This is an excellent summer scent.
It's a great scent, but I was going to discontinue this one, just because of the artificial smell of it, but my customers just won't have it! Men in particular really love this one, and I have no idea why. That's a good enough reason for me to keep it on.
Bottle too strong, Candle too good!?
This went from terrible to great. When I smelled this oil in the bottle I gagged. It was really syrupy sweet, way too intense for me. I decided to make one batch with just Strawberry and another with it mixed with Very Vanilla to tone it down. The cold throw of the plain Strawberry was less offensive, still kind of strong and weird for me. The Strawberry Vanilla was actually kind of nice, but I was not expecting to love either. Now I've burned both and surprise surprise, they are both really nice. Maybe this is because the hot throw is slightly weak, as others have mentioned, but this worked in my favor. You can definitely smell the hot throw, it's just waaaay less intense the what you expect from the bottle. Strawberry hot smelled like strawberry ice cream, not gag sweet but really nice. Strawberry Vanilla also is light and pleasant, not too sweet, but still so yummy! If you want a really nice not too strong sweet strawberry scent then get this. Some hot throws are not obvious by the bottle. Also I use the max amount of fragrance in my 464 soy candles and mix at 185 each time so I really think the lighter hot throw is just what you're gonna get with this one.
Nice if you like food fragrances. Too weak though for my taste.
I have had no problems at all with this fragrance .I've used it in eco soya pb and gb 464 with excellent results .most of my customers love this fragrance and so do i.keep up the good work candle science. Love your products!
well, it smells good in the bottle...
I purchased this scent based off of the reviews..Well, just have to say, this fragrance smells amazing in the bottle! Yet, the hot and cold throw is extremely week. I used the highest recommended amount and nothing...The cold throw smells faintly of strawberries and cream, but while burning, the fragrance is so light. I am unable to pinpoint a scent! Sort of disappointed because I LOVE the smell in the bottle.
This has such a great throw in my 464 soy wax. Everyone seems to love this scent the best. I am thinking about making some wax tarts as well.
This scent is great. Smells just like the real thing. A lot of my candle customers are in love!
Love this strawberry shortcake fragrance oil! I can't get over how real it smells. I use in in GW 464 with Eco wicks, and the scent throw is awesome!
I was super excited to get this scent. The scent is right on but the hot and cold throw is not very strong. I was disappointed. But all in all the scent is great just wish it had a stronger throw.
I use the soy pillar wax