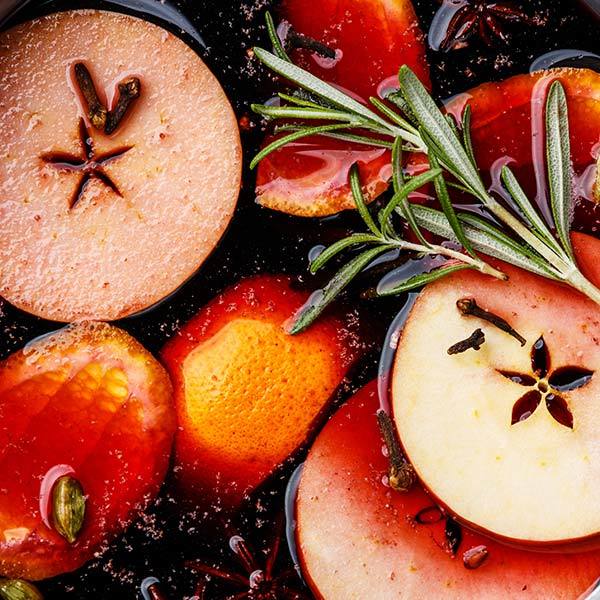 Ready to Order?
6+ 5lb Jugs
$84.84
$1.06 /oz
12+ 5lb Jugs
$76.36
$0.95 /oz
Safer Scents For The Home
CandleScience Clean Scents™ are free from carcinogens, reproductive toxins, and other potentially hazardous chemicals often found in fragrance. Choose Clean Scents and create safer home fragrance products you and your customers can enjoy with confidence.
Read More >
Details
Commonly known as mulled wine, wassail has evoked the festive spirit and good cheer of Christmas for centuries. Our Wassail fragrance oil is a warm and inviting blend of oranges, lemons, apple cider, and cranberries. A classically nostalgic scent perfect for upscale holiday candle lines.
This fragrance is infused with natural essential oils, including orange, cedarwood, and buchu.
Note Profile:
Top: Orange Peel, Cinnamon, Lemon
Middle: Apple Cider, Red Currant, Cranberry
Base: Wood, Red Wine


Suggested Colors: Any shade of Red
See our complete list of candle making dyes.
Note: Bottles filled by weight, levels may vary.
Properties
Candle Safe

Yes

Usage: 3-10%
Soap Safe
No
Lotion Safe
No
Vanillin Content
0.01% - 2%
Soy Performance
Flashpoint
172 °F
Phthalate Free
Yes
Prop 65 Warning Required
No
Diffuser Base Compatible
Yes; Up to 25%
*Usage amounts are recommendations only. Individual usage amounts can vary based on your desired fragrance strength, wax type, soap base, or lotion base. See IFRA certificate for max usage levels.
Documents


Reviews
Love this scent and my customers love it too! Makes great soy melts, candles, & potpourrie
Thank you
I love this fragrance it is one of my all-time favorites. It has an amazing hot and cold scent throw in 444 soy wax. I do wish that it could be used in soap and lotion.
I absolutely love this scent! It has a bright sweet pine smell. One of my Christmas favorites. Used in 6006 wax.
Sweet and spicy fall smell
This scent is very nice! Smells like sweet fruits and spices. Think it will make lovely fall/winter scented candles.
It has a soothing effect like eucalyptus. I love the smell.
This is my 2nd review and both reviews are 10 stars! I love this fragrance so much. It's truly a GEM! It reminds me of being outside during the fall. This is my favorite fall scent and I love carrying it in my candle line.
Reminds me of Christmas with the family!
For some reason, I was expecting this scent to be just okay but it is so delicious I cannot stop smelling my wax melts!! I mostly get the apple and cinnamon at first but then I get some of the citrus and wine. It almost kind of smells like spiked apple cider but its better than that.
I love this scent! I was looking for a Holiday Cider scent and this one knocked it out of the park. My customers love this scent and I will brining it back for my Holiday 2020 collection. Don't sleep on this scent!!
I loooooooooolooove this scent so much. Extremely soothing and unique.
My favorite holiday scent
I make with soy wax and let cure for a little over a week and it smells so good!. It's spicy and woodsy with just a hint of fruit. I love this!
Fresh, strong scent with 464 wax. Absolutely gorgeous ❤️
This by far has been my top selling scent. I poured this into beautiful goblets and sold it as a mulled wine scent. I sold out the first day!. This scent is magic in the making.
It is perfect for fall and winter lines and people LOVE LOVE LOVE it!
More of a sweet smell than I had hoped for, but I still quite like it! Its also not quite as strong as the other scents I purchased, but that hasn't dulled my fondness for it in the slightest.
I really like this scent. A hint of sweetness and very pleasant to smell. It works well with soy and has a good throw.
I was so hopeful when I purchased this scent. But, like another review compared it to bubblegum, I'd say it smells more like juicy fruit gum. Very fruity but no spice or mulled kind of scent at all. Definitely not wassail.
Bring back the original version
Not the original wassail.....smells more fruity, the original scent was more like a spiced fruit punch and my customers loved it!! Now I can't even convince them that this is the same scent.... I have an old candle made with the first bottle I purchased and it smells nothing like this new scent.....this one sucks.
I ordered a sample bottle a long time ago, I smelt it out of the bottle and honestly had no interest in it. Then I recently used it for a reed diffuser and oh my is it a wonderful fall/winter smell. I will now absolutely be ordering more and trying it out for candles.
A definite favorite among friends, customers, and ME! I love this sooooo much. Please never discontinue, I will buy this forever. Everyone who smells it agrees that it smells EXACTLY like Wassail. Love it.
This is a great scent but it not your everyday sell. It's a seasonal sell for me. I put so many out starting at Thanksgiving thru Christmas. If I sell out and need more I take orders, or I put the remaining on sale and don't keep them around. Works well for me.
This is a great fall/winter scent. Very nuanced, layered, complex. Strong hot and cold throw in both 4630 and 6006. Thanks Candle Science for another great fragrance!
I've been to a few holiday fairs and markets and have had traditional mulled wine. I love the cozy warmth it provides. This is why I decided to buy this fragrance. However, this fragrance didn't spark any memories or feelings of drinking mulled wine on a cold winter day. It actually reminded me of visiting a dollar store and seeing the bright red candles on the clearance rack. You know - "those" candles. The ones with a dozen clearance stickers that shows the store is trying to give them away. I had a few friends smell the candles and everyone seems to agree that this scent smells cheap. I wouldn't recommend this fragrance oil. This scent does have a holiday smell, but it lacks sophistication. If you want your home to smell like a clearance rack at a craft store than this is your pick.
I'm not sure why everyone likes this scent so much. From the first smell I didn't like like it. I thought I would give it a try in some wax and I couldn't even let it cure. The smell gave me a headache and it was SO fake smelling. I usually don't write reviews but this one I needed to warn people on. I do love so many other CS fragrances though, just not this one.
When I bought this I was pleasantly surprised. It has by far surpassed all of my other Holiday Scents... Even my trusty prior year candles. I have come back to buy many bottles since October and it will be a permanent addition to our fall/holiday candle line up. My next door retail business has it burning in the back of her shop and I can smell it as soon as I open the front door. Nice Throw in 6006 and just the best....
By far the most popular of holiday scents
Wassail sold out in the first few hours of my sales lol I'm going to have to order a ton more! Everyone loved it so much that anyone who sniffed it always bought it.
Amazing (in my Oprah voice)
Love love love this FO. I used at 10% and Lordy Lordy Michael Jordy, I want to eat this candle. It smells soooooooo good! I've ordered two bottles already and I'm seriously thinking about keeping all the candles for myself! Amazing Cold and Hot throw in 464 soy.
Love the cold throw scent, but hot throw is weak. Anyone have success? I used 464 and I did 6% fragrance oil.
I love this scent. I combine it with 10x orange essential oil. Smells just like orange.
With the apples and cinnamon note. I call this one orange cider. Great cold and hot throw. Its been a great seller for rwo years in a row.
This is MINE and MY CUSTOMERS favorite fall/holiday scent. I started making and selling this in the store and have already went through 3 bottles. Back to buy more. I gave one to my next door retail neighbor and she burns it and EVERYONE just loves it... I use it in 6006 with Zinc wicks.
Smells different than previous batches
I'm doing a Fall Festival in a couple of weeks and bought a sample of the Wassail to make a few small tins to include in a Christmas preview section on my table. I bought this fragrance last year and LOVED it! It smelled just like a traditional mulled apple cider. However, this sample doesn't smell the same. I don't know if the formulation has changed but it has kind of a bubblegum smell. I'm very disappointed because this fragrance was perfect when I tried it last year. Candlescience: Has the formulation changed? Would you consider reviewing it and making changes so it smells more like it used to?
Hi! We are sorry to hear you are having some trouble with the Wassail fragrance. The formulation has not been changed for that fragrance. Please feel free to reach out to us via phone or email so that we can assist further as needed.
I wasn't very sure of this scent at first so I made a batch with the a few ounces and put it on the shelf. Two months later I stumbled back onto the sample and fell in love. It is absolutely amazing. Cold and hot throw are so strong I am sorry I didn't go for it upon first try.
Great holiday fragrance. Haven't smelled anything like this from other candle companies. Smells like orange and cedar. Both men and women liked this one and it sold very well. I used at 10% with para soy blend ig6006 wax.
The smell is amazing, although the warm throw is very faint. Cold throw is amazing. I used 6% per lb so I think next time I'll add a little more to get a stronger scent.
This has been one of the best holiday sellers in years for me, I cant keep these new scents on the shelf
Chose this as a free sample on a huge order that I made. I loved this scent so much that I made another order just for this. It smells just like apple cider! Great hot and cold throw in 464
Love this! I did some holiday sneak peaks at one of my fall markets and sold out of this one right away. I always use the same ratio of fragrance to wax for all my candles and I had no problems with the hot throw on this scent.
A best seller and personal favorite!
At first i was skeptical because i didnt know what Wassail was exactly. When i smelled it i didnt even care. it was amazing! This will remain part of my fall line for sure!
I absolutely love this scent, but glad I read Gretchen's review. The throw is very weak. I've been toying with the amounts, and its getting better. Hoping it will eventually live up to the smell in the bottle.
I really like this fragrance. It's bright and uplifting.
I ABSOLUTELY LOVE THIS SCENT but the hot throw is weak :( I was so disappointed. OBSESSED With cold throw. Was hoping it was stronger :( Hopefully it can be tweaked to throw better? FINGERS CROSSED!