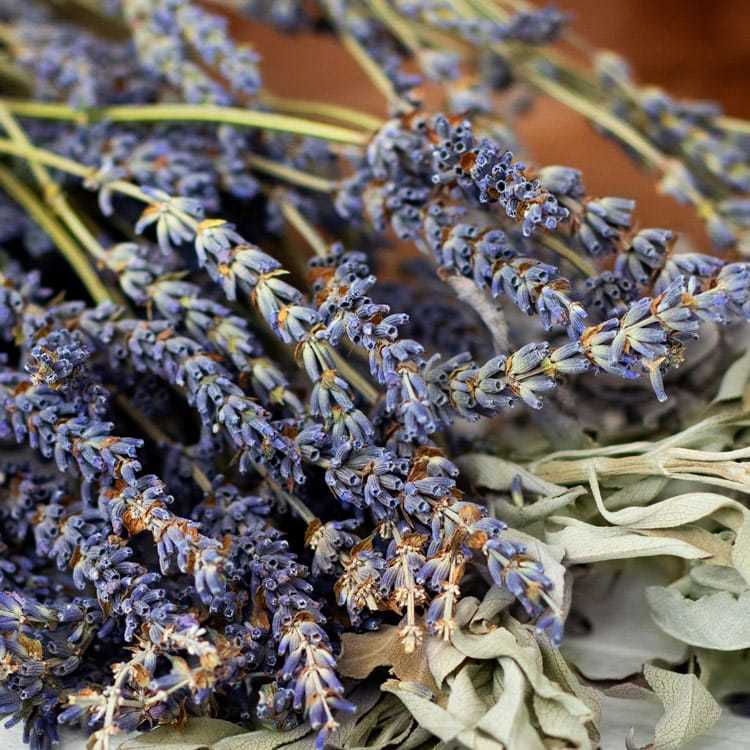 Ready to Order?
6+ 5lb Jugs
$84.84
$1.06 /oz
12+ 5lb Jugs
$76.36
$0.95 /oz
Safer Scents For The Home
CandleScience Clean Scents™ are free from carcinogens, reproductive toxins, and other potentially hazardous chemicals often found in fragrance. Choose Clean Scents and create safer home fragrance products you and your customers can enjoy with confidence.
Read More >
Details
White Sage and Lavender fragrance oil is a camphoraceous blend of herbs, lavender, and aromatic woods. Sage, rosemary, and chamomile awaken the earthiness of lavender, while hints of sandalwood and cedar in the base are reinforced by clove, lavandin, and cedarwood essential oils. This clean, herbal scent summons an apothecary atmosphere when used in candles and wax melts. White Sage and Lavender transforms your handmade bath and body care products into beautiful, calming creations.
This fragrance oil is infused with natural essential oils including cedarwood, clove, and lavandin.
Blends well with: Palo Santo, Oakmoss and Amber
Note Profile:
Top: Lavender
Middle: Camphor, Chamomile, Sage, Rosemary
Base: Sandalwood, Cedarwood
Suggested Colors: Purple, Ivory
See our complete list of candle making dyes and soap colorants.
Note: Bottles filled by weight, levels may vary.
Properties
Candle Safe

Yes

Usage: 3-10%
Soap Safe

Yes

Usage: 3-6%
Vanillin Content
0%
Soy Performance
Flashpoint
212 °F
Phthalate Free
Yes
Prop 65 Warning Required
No
Diffuser Base Compatible
No
*Usage amounts are recommendations only. Individual usage amounts can vary based on your desired fragrance strength, wax type, soap base, or lotion base. See IFRA certificate for max usage levels.
Documents


Cold Process Soap Performance
| Acceleration | Discoloration | Separation |
| --- | --- | --- |
| None | None | None |
Lye Water Temperature 75ºF
Oil temperature 100ºF
We did not experience any acceleration or separation. The batter came to an emulsion quickly but we had to stick blend and hand stir for a little over 5 minutes to reach a thin trace. The lye water and oils were a little cooler than our normal soaping temperature, which may have slowed trace. After 24 hours the soap was still very soft so we allowed the soap to stay in the mold for another 2 days. Once we removed the soap from the mold we noticed it was still very soft, and probably could have used an additional day in the mold to harden a little more. There was no discoloration and the scent had a pleasant herbal quality with the sage notes becoming slightly more dominant. We did not see any signs of the soap going into a gel phase. After 30 days the scent became more balanced and is pleasantly mild. There was no discoloration. Due to the slow trace and no discoloration this would be a great scent for intricate swirls using vivid colors.
Reviews
White Sage and Lavender has become my top seller, not only for candles but incense too!!
I LOVE this scent! It has amazing cold throw but very little hot throw. It may be on my end with the measurements but I will test again to see if I can get a stronger hot throw!
Hi There, We're so glad to hear you're enjoying this scent so far although we're so sorry to hear you've been having some trouble with the hot throw of your finished products! Scent throw can be related to a few different components so to allow us to troubleshoot better alongside you, one of our Support team members will be reaching out to you via email today. We look forward to hearing from you again soon!
My customers adore this scent so much I'm on my 3rd order of it in just two months :) I think it's very nice and it's quite strong and decent when lit in a candle (using soy) it doesn't fill my home but I can for sure smell it if I'm in the room with it.
OOB this doesn't smell like I though it would... mixed with another CS FO and curing now. Hopefully it smells better than what it did... way more white sage than lavender for sure.
Sage & Lavender was a customer request. That said, I do not like lavender and have had sage trigger congestion, thus I was not looking forward to working with this fragrance. Not only did it soap like a dream, it smells fantastic and caused me no difficulties. I may just have met a lavender fragrance that I can get excited about. I am looking forward to using it in other products. I soaped at 85 degrees with a 40% water discount.
A very strong but nice scent that is calming. I use in 464 great HT
This is SUCH a soothing, earthy, herbal scent and so nice! Myself and my customers love burning it in bathrooms and bedroom. Unlike so many lavender FOs that skew vanilla or powdery, this one is true to its herbal roots and is a keeper. One of my best sellers. :)
I LOVE this fragrance! It behaves beautifully in CP Coconut Milk Soap. It's authentic and complex. My only regret is I only got the 4 oz to test and as soon as I made a batch I can back for the 16 oz and it was sold out! I can tell it's gonna be a best seller for us!
Its a classic and best seller, those who get this absolutely love it! The smell is quite authentic
Out of the bottle, I can see how some might think it smells like detergent. However, it smells so much better in wax. I made myself a tester with this and this blended with fresh linen deodorizer at a 75/25 ratio in 464 wax. I used the 4oz mason jars with CD12s. I tend to use these jars just to get an idea of how the fragrance smells before I make testers with the jars I have on my site. Anyways, I tested both candles at different times in the same room (bathroom since it is a smaller space). Both times... WOW! Holy freaking cow this is strong. I usually am blown away by how strong this fragrance is. The lavender comes out so well and the sage adds such a gentle, earthy touch. I just adore it. Even blended with the fresh linen, the linen came out and added a beautiful, clean touch to the scent.
TMI but it is a good bathroom scent for... one of those unfortunate days... ;) haha no joke this is great!
I'm currently testing out this scent and placed this candle in my dining room first, then moved it to a small powder room and there's no cold or hot throw. Can you recommend a good fragrance to mix so that this isn't a total loss?
candle maker/small biz owner
Top seller! Great for those who love a clean, earthy scent. The CT and HT are fantastic!
I love this fragrance. I like strong scents and this does have a strong scent. I would say it is a mix of masculine and feminine smells. I love Lavender just on it own!
Smells great and makes a great candle! No complaints
I love this scent! Smells like REAL rosemary and sage and is super relaxing, reminds me a lot of the BBW Relax candle but more luxurious smelling. The cold throw is amazing and while conducting my wick test the hot throw was great as well! I used soy wax and let cure for 24 hours so I was very surprised by the hot throw. I am brand new to candle making and was very pleased. Definitely going to be ordering a bigger bottle!
I am in love with this scent. It is everything I want in a nice relaxing spa fragrance however, I think I'm nose blind to it. I used 10% in ecosoya cb advanced and can't get a strong hot throw but I know others say it's very strong so I'm going to keep testing. The cold throw is amazing. I have it sitting next to my bed and I can smell it so perfectly when it's not lit. I can't wait to get my formula right because this will be a perfect candle for me. Clean, earthy, floral, and herbaceous.
This is a legit lavender and sage scent. It's not sweet or fake smelling. I can't keep enough on hand!
did not meet my expectations
I had really high hopes for this smell - it seemed like everything i needed. I used it in 464 wax at 10%, the cold and hot throw are great, but it just smells like soap. Not at all ideal for a candle and definitely not a favorite. I recommend the rosemary and sage instead, and i'm excited to try the pineapple and sage in the future. Definitely wouldn't use this one again. however, soap makers may love this!
Was looking for a very lavender smelling scent and gave this a try. It is a little too "soapy" of a smell for me and the lavender doesn't stand out. Smells ok, but it doesn't scream lavender if that is what you are looking for. Would probably make a good soap scent.
I got this FO to combine with Rose Petals for a rose/lavender scent; I was looking for a pure lavender scent, so I was a bit worried that the lavender wouldn't be that preset since it's combined with white sage. I found the lavender smell to be very strong though and goes great with the other notes in the FO, and also combined well with rose! If you're looking for a lavender FO, try this out!
Y'all I cant keep this one in stock! I don't like the smell butttt people love this stuff!
Classic and clean! I used 6% of this fragrance oil with the 464 Soy wax and it had a pretty faint CT and HT. I recommend using 7% or higher with this fragrance if you want a stronger scent throw!
I use this as my go to base to blend with other fragrances. And I cannot keep it stocked! I can't really describe the scent as I don't use it on it's own, but I would highly recommend its use as a signature blend. Happy experimenting!
Beautiful Fragrance, Load up on % though
This scent is so beautiful and peaceful. However, if you want any type of HT, you'll need to go at least 9% in soy wax
This scent is SO good it smells like Jesus sneezed into the bottle....but in a good way. The lavender is so refreshing and the sage is so comforting. These candles are a high seller for my business! They burn beautifully and the scent actually fills the air. Highly recommend!
I've been looking far and wide for the perfect Lavender, for my line of candles and melts! I've tried several different lavender, from several different supply companies. I can confidently say, I've finally found my lavender! This is the perfect blend of floral and sage! You can smell them both distinctively, and it's such a calming smell. Subtle, yet strong enough to fill the room!
This is one of those perfect-harmony fragrances that I'm going to keep in rotation year-round. The lavender comes through with fervor, but is balanced out by the earthiness grassy/woodsy undertones from the sage element. Bravo once again.
Not too Lavendery - Try it!
Best seller for my line! the Sage mutes the lavender so not so its not bright. one of my more zen scents. Amazing!
Also take these reviews with a grain of salt y'all.. some of these comments are not even legit reviews.. lol Vampire repellent? get ya nose checked henny..
I've tried the same scent from other companies and this is the one I like the least.
Beautiful cold through but no scent when burning
I LOVE this scent so much, but I am so disappointed by the lack of scent it gives of when burning. If I'm not standing right over the candle, I can't smell it :(
amazing in both cp and candles
first oil I used for a pretty cp soap and it behaves well. best seller for me in both 464 soy candles and soap.
I wanted to love this scent as I love the Pineapple Sage and Lavender separately. Obviously the pineapple part is moot but I thought it would translate into this fragrance. To me, it smells like bug spray. I got an immediate headache. I wasn't able to move forward with this scent because of that.
This is one of my best sellers but the last bottle I bought wasn't as strong as usual. I had a customer say they couldn't smell it, which NEVER happens. I kept one of the old bottles and compared the two it seems weaker.
Soothing - Good Blend of Scents
I created a candle with this scent (and a couple others) per request of my client. They absolutely love it and continously order more! It is very soothing and a good blend of both scents - it is very "spa like".
They have requested an order in September with this scent but I see it is out of stock. When will you be restocking?
Perfect for any spiritual line of candles
Absolutely wonderful scent! Very accurate smell. Please please please never discontinue this because you cannot find it any where else. If we could also get a palo Santo scent, that would be AMAZING!
This fragrance is perfect it has a great hot and cold throw. It smells like a clean spa.. This is truly a essential oil blend
Newbie here. This is one of the 6 scents that I bought to star my new obsession and future business, and let me tell you, it's smells heavenly!! I really love it, I only give it a 4 stars because it's a bit light, more like spa smell. I tried it with 464 at 6%, so I'll order once more and try it at 10%, maybe that's why it smells so light.
FINALLY! I looked so long for the perfect Lavender scent blend and this is it! Perfect for an early morning meditation session or a breather from the rush of work.
I underestimated this particular scent. I had it for a while and recently made candles with it and it's absolutely great! This is an excellent spa type of candle and it's just a perfect blend of two cents with neither being overpowering over the other. Just a great blend IMHO.
I hate the smell of lavender, however, it's not just about me. I was really surprised that I actually enjoyed this. The lavender scent was nice and subtle, but there, and the sage escalated the scent.
I keep opening the top to my candles just to smell this again. This is a delightful scent!!
This fragrance is an absolute hit with all my friends and family. My house smells amazing after using this and I have great cold and hot throw using 464. Will be ordering again for sure!
I loved it! To me, I get mostly lavender and then there's a definite 'something else'(sage) smell in there that's really pleasant. I found the strength to fade after I made CP soap, can't smell it as strongly as some other ones. Not sure if I would continue to purchase this or regular lavender in the future, I'd thought I'd give it a shot for something slightly different. A nice pick if you want to do lavender with a little extra!!
This smells exactly like white sage smudging sticks. So if you love white sage like me this scent is for you!
Very earthy, a great scent
Product developer, co-owner, Linked Keys
Umm. No, ma'am. This scent smells like garlic with a lavender undertone. The garlic scent VERY overpowering. This FO is great if you're introducing a line of vampire repellent. Not so much if you're making products for a bath, body & candle line.
Got a free sample of this. I've been looking for a good lavender sage scent. This is exactly what I wanted.
Love the earthy herbal notes in this scent.
To my nose, this smells like a good men's cologne, with sharp natural top notes underscored by a darker spicier base note. I would rate the cold throw as excellent, and the hot throw as better than average. It wasn't what I was looking for in a lavender/herb blend, but might appeal to people looking for either masculine or gender-neutral type scents.
This is an honest fragrance. Although there are other notes you smell both Lavender and sage. Best one I've found yet!
I love white sage and lavender. I just noticed that all fragrance oil price went up which will affect my candle price... :(
A very nice balanced blend
I used this in cold process soap with no A, D or ricing. The scent is very strong, but not overpowering or annoying. I really love that it isn't your typical lavender scent, but still really smells like lavender, if that makes sense... I can't wait to see how much my customers love it as well.
I don't really care for this personally- Didn't sell well
Amazing scent and scent throw
I absolutely love this scent. I prefer strong scents and use soy wax that allows me to double up on fragrance. Wow! I keep buying this over and over because it smells so good. I haven't met anyone who didn't like this scent. It works well with 100% soy or my soy and beeswax blend. Highly recommended!
Great for bedroom reed diffuser
This has a good throw but it's very gentle. It's has a very calming, natural, spa like scent. I use this in a Reed diffuser and this and white birch are my favorite.
I don't really care for this scent, but a lot of my customers love it! So, I give them what they want! 🤪. It's a keeper!
I purchased an 8oz bottle and went back to order a 16oz. I love this scent in my soy and soy/beeswax candles. Everyone who has smelled the scent so far has loved it. I will buy this scent again and again.
Purchased just a small bottle for my customers to try. Had to come back (while the house smells so good) and order a large bottle this is my new favorite scent to relax too.
This was exactly what I was looking for. I wanted something that smelled more herbaceous rather that powdery. I think it's a nice blend between lavender and white sage.
Is not the same as lavender chamomile. But smells good.
This was an absolute HIT!!! I bought a small bottle just to try it out and when I made the candles I was pleasantly surprised. My customers love it and they are waiting for more.
Lovely blended fragrance!
I love this scent it's a perfect blend of lavender and white and herbs I love it. It's a great scent for making cleansing candles! Nice job Candle science
I have used this scent in 2 different batches and absolutely love the out no discoloration, no ricing and little acceleration. I really like the out come will definitely keep this as a regular. Thank you Candle Science.
Popular Odor Eliminator Fragrance
This is probably my second best seller (after Fruit Slices). It has amazing cold and hot throw, and my customers swear by it for eliminating kitchen and pet odors. My more metaphysically inclined customers like that it's a way to "smudge" or cleanse a space without excess smoke. It's definitely a strong fragrance and a little goes a long way, allowing me to use a bit less and still achieve a room-filling scent. It has easily found its way into my year-round collection.
This is the only Lavender Sage FO you need!
I will start off by saying that this fragrance oil leans heavily towards the sage notes, which is not a problem at all! There is definitely a hint of lavender lingering in the background, though! It kind of reminds me of camping or hiking in the outdoors. A very natural, woodsy, herbal scent.
I love this scent! I had no expectations when I opened the bottle and I was blown away! The fragrance immediately transported me to a fancy spa where I am getting a massage and someone is brining me champagne and strawberries. I have used this fragrance oil in both candles and lotions. I love them both. My candles are 6006 and can fill up the whole house with luxurious awesomeness. I keep my lotion by the bed and use it every night for a little aromatherapy .
My husband said this FO smells like funky armpits and now I cannot UN-SMELL this. I'm going to give it a go in tea lights as samples with regular candle purchases and make one actual candle. If it sells, I'll make more. I'm hoping what we're smelling out the bottle is different than how it smells being burned. I smell way more white sage than lavender and while I do smudge my home to kill bacteria in the air, I do not particularly prefer the smell of dried white sage smoke.
When you smell Lavender and Sage in essential oils they are AMAZING together, this smells nothing like that and is very disappointing. I would go back to the drawing board on this scent.
Thank you, Scott, for your review of the scent itself. He was right in stating that giving the scent low reviews based on a comparison of the old scent is unfair. This scent is incredible, and mind you, I am not a lavender, nor a sage fan. I can't keep this one on the shelves. Thank you, candle science, this one will be a staple.
Literally smells like kitty litter.
I was excited to try this scent, but as soon as I opened it, I was apprehensive. It smells like kitty litter before your cat takes a pooh. Not even sure if I want to sell it... maybe some will like it, but not like lavender or sage. Smells very chemically and unnatural. DO NOT RECOMMEND. Would return if I didnt have to pay for shipping.
This is a fantastic lavender scent! It smells much more like real lavender than the old Lavender Chamomile, which was too powdery in my opinion. In fact, this lavender FO smells as close to the essential oil as I've found. The sage component isn't super strong, but is a nice balance to keep it from being overly sweet. Not too sweet, not too medicinal... just right. :)
I should add, lavender is my favorite scent, and I have tried a LOT of varieties of the EO and FO! I've even visited the lavender shops in Marseille, France. I look forward to adding this to my candle line... for now I'm buying it for myself. :)
This smells AMAZING in homemade deodorants! FIVE STARS!
I have slowly become addicted to Lavender Sage scents, and this is the BEST one I have smelled that isn't pure essential oils. I tried one from another company and it just smelled like antibacterial cleaner. Not pleasant at all. THIS scent, on the other hand, is so beautiful and camphorous and rich. I am highly considering making a batch of cold process soap with this now. I used it in handmade deodorant, and it has very strong scent retention at 13% usage rate. LOVE.
White Sage and Lavender is my favorite and a favorite of my customers, my best selling candle.
I never tried any of the other lavender mixes that I see people comparing this to in the reviews. I like this one though. It is actually pretty spot on with the name.
Strong scent, and high quality. Smell was not my favorite, white sage came out very strong destroying the lavender scent. Almost smells like a mens cologne.
I was so disappointed that you discontinued Lavender and Chamomile. Was one of my top sellers. This just doesn't even compare to it. Others may like it, just not for me or my customers....
This is another perfect combination of Mother Nature's beauties! White Sage and Lavender is such a soothing and sensual high-end creation. Candle Science, thank you for another magnificent fragrance! My collection just keeps getting better and better because of you!
Tried a smaller bottle to see if we would like it and we were blown away! Used in our CP and the bars are curing beautifully and the scent is just amazing! Ordering a larger bottle now!
Just ordered a sample size and am loving it so far. Has anyone blended it with any other fragrances?
Owner TSC Home Decor & Design
I'm loving this scent scent. The combination of the sage and lavender are wonder.. I have mand this in a soap so for and looking forward to making a candle But I share great disappointment as many others as to the discontinuation of Lavender Chamomile as too it is a best seller like Lavender Vanilla was. It it hard to find quality scents and good prices when you are as small business owner.
Smells more like sage than lavender but I love it. This is relaxing and mixes well with other scents for a perfect hint of sage. Great hot and cold throw
I was really excited for this scent. I have been using CS oils for years now and have to say this is not one that I would sell in my shop. I dont get enough of a sage smell and it smells very perfume/ unnatural but I've noticed this in a lot of the scents lately... I love CS and hate to leave a bad review but this was a disappointment for sure.
Lavender Chamomile is one of my favorite scents, it's so calming and relaxing. I recommended to my customers and they loved it, now you no longer carry it. This is a real disappointment 😡
Not just white sage & lavender
How hard is it to make a scent that only includes white sage & lavender? All the other scents mess with what it should smell like. I was very excited to see this combination and very disappointed when I got it and tried it out.
I Love It! My Customers Love It
I ordered a sample of this scent and did a batch of goat milk soap with it and it sold out within the first couple of days! Have just ordered more, as it seems to be a hot seller! Throw is great, and everyone wants candles with this fragrance!
Excellent For What It IS, Not What it IS NOT!
I know everyone has an opinion that they are entitled to, but it makes me crazy to see a great product like this get a 3 star rating because a few people choose to whine about a completely different scent being discontinued. Let me be clear on this - my rating is for WHITE SAGE AND LAVENDER and I think that it is a FANTASTIC new scent, and I've already ordered it twice.
This is a wonderful scent that is light and airy enough to be a perfect scent to relax by, or for an everyday scent for your daily candle or wax cubes. I love how the lavender smooths the sharper edges of the sage, and I even pickup a very slight hint of vanilla in there to at the very end. I decided to put this into my luxury jars and keep the name exactly as it is, and I add a little vanilla to the mix on my own just to sweeten it a bit more than I picked up on from its original blend.
Keep up the great work, CS.
I can honestly say that I HATE the smell of white sage..but I needed to try it for a special request. I tried a few others that smelled nothing like it, but this one smells like the white sage that I hate so much :)
I love this fragrance! My customers (& myself) really like this one better than the Lavender Chamomile. It seems to do better all around in soy wax, at least for me! Thanks CandleScience.
I guess this is a new trend, mixing everything with sage. But in my opinion, not everything goes well with sage. I do however want the Blackberry Sage FO back!! It was a top seller for me and I miss it! As well as the Lavender Chamomile FO.
Why does the company continue to discontinue scents? The Lavender Chamomile was one of our top sellers and the newer scents does not compare. If you would like us to continue to patronize your business then you must have consistency Just about all of us who purchase your company our business owners and we can potentially lose customers based off you all Discontinuing scents which will ultimately force us to shop elsewhere. Please bring back Lavender Chamomile
I can't say this is one of those WOW scents but I really like the sage with the lavender. It has a wonderful relaxing feel like sitting in an herb garden in the evening. It has a good hot throw. I used GW 464 with a 11% scent usage.
Please bring back Lavender Chamomile! It was one of my top sellers. Not loving this new scent.
Cure Time 24 hrs...hot throw feel my downstairs and started going up the stairs, if you love sage this definitely is the candle for you very fresh and relaxing scent. I just wish the lavender pulled through a little more overall great candle!!
I love this new scent! It's a true Lavender, not powedery or synthetic smelling at all! Has a wonderful hot throw. I barely let the candle cure for 24 hours and it still filled the house with the soft, comforting smell of Lavender. Well done CS.
How about just bringing back Lavender Cucumber Sage and Lavender Chamomile, those have been some of our top sellers for years. You guys are nuts, what are you cutting next, Gardenia, Lilac, Honeysuckle Jasmine?
Customers are NOT loving this new scent as much as they liked the Lavender Cucumber Sage or the Sage & Pomegranate. Have had to discontinue 4 of my top selling scents from Candle Science over the past year due to CS discontinuing...This coupled with the fact that the white candle jars are now still SUB-PAR (with chips in the glass and in the paint) after they changed those...Not so great for those of us trying to run a business where customers demand a certain level of excellence.
I love this scent! I ordered a sample size, and am here for a bigger bottle. I haven't taken it to market yet, but am sure the customers will like it as much as I do.
To me this smells like Avon's Skin So Soft. Not what I was expecting at all. I don't think this smells like lavender at all. Glad I only bought the smallest size. I threw it in the garbage after making a candle with it.
I love this smell! Great hot and cold throw! It's such a light scent; not overpowering at all. Such a special scent for a candle!
I purchased all of the new scents this spring to sample, and white sage and lavender is hands down my favorite of the bunch. It is way better than the previous lavender cucumber sage scent, and I would say it's also better than Candle Science's current straight lavender. This is how lavender is supposed to smell, spicy and soothing. It's hard to find a good lavender scent as they tend to be made a bit on the powdery side, but this one is lovely. Can't wait to see how it performs in soy.
I was sad to see Sage and Pomegranate discontinued, however this is a fantastic replacement. It's strong and woody, very pleasant and has a great hot and cold throw at 1lb in 464 wax. Hope my customers love it too!