A Wholesale Success Story
D'Shawn Russell has quickly grown her southern-inspired candle company into a big brand in a small southern town by leveraging a successful wholesale strategy. We sat down with D'Shawn to get her insights and hear her inspiring story.
- Interviewed September 8, 2017

Unfortunately, we couldn't capture everything in our video interview. But don't worry, we have more inspiring insights from D'Shawn below.
You've quickly grown your wholesale business from one shop to several dozen. That's very impressive! How'd you get started? To be successful in wholesale, I knew that my product presentation had to be "shelf ready." When someone walks up to the shelf in the store, I needed a look that's recognizable and pretty enough that people actually want to smell the candle. And then if it smells good enough, they'll want to buy the candle. I knew that fragrance and pricing were both important, but I also had to get pricing right. I had to price my candles high enough that the stores and myself could both be profitable. So once I got everything with my brand where it needed to be—a cohesive line that was small enough that shop owners could pick and choose which scents they wanted, and candles that looked good on the shelf—I started approaching stores.
So how did you contact prospective wholesale clients when you started the business? I just started cold calling. I would email them, I would drop in, I would send them samples. I just did it over and over again. Literally, I've probably approached at least 1,000 stores. I got rejected a lot. But I know that as the brand grows, that "no" would turn into a "yes." It's about brand recognition, so I kept hitting them. So every six months I send out a newsletter advertising our new scents and telling people what we're doing. Eventually, new stores will pick up the products, and that's exactly what's happening. Now we're picking up maybe three stores a month, but it's because I've been hitting them for the last year and they've seen the brand grow.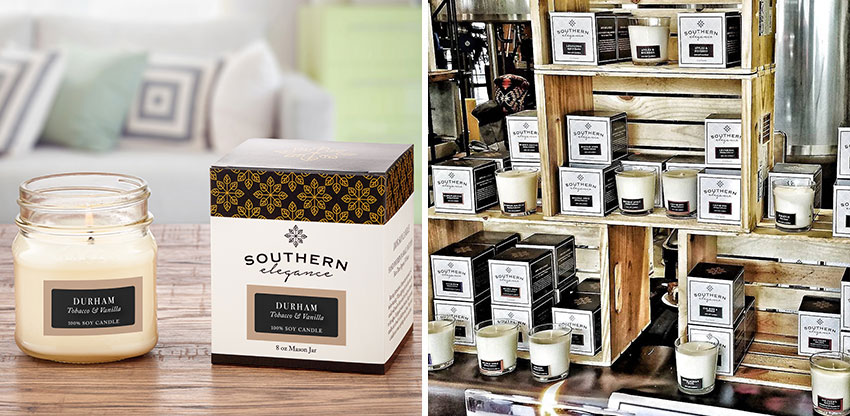 You've also had some success with Etsy Wholesale. What's the story there? I've picked up about 15 stores through Etsy Wholesale, and it's worked well because I have a cohesive brand and very nice packaging. It's a wonderful platform to be on if you can get in. It builds your confidence because you know you have a product that stores are interested in. It's also a good way to step into the world of wholesale if you can't afford to attend a regional trade show. The nice thing about Etsy Wholesale is that when a store contacts you, they're probably going to buy. Cold calling is cold calling—you're going to get way more no's. So you have to feel your way through it and figure out which stores to contact, their location, buying season, and who their buyers are. It's a lot more to navigate compared to Etsy Wholesale.
You have a separate wholesale website from your retail website. What's worked and what hasn't? Etsy is a great platform, but I don't own it. So I wanted to create a way that stores can order from me directly. And I'm in total control of that. I think it's important that whatever you do, you have at least one platform that you're in total control over.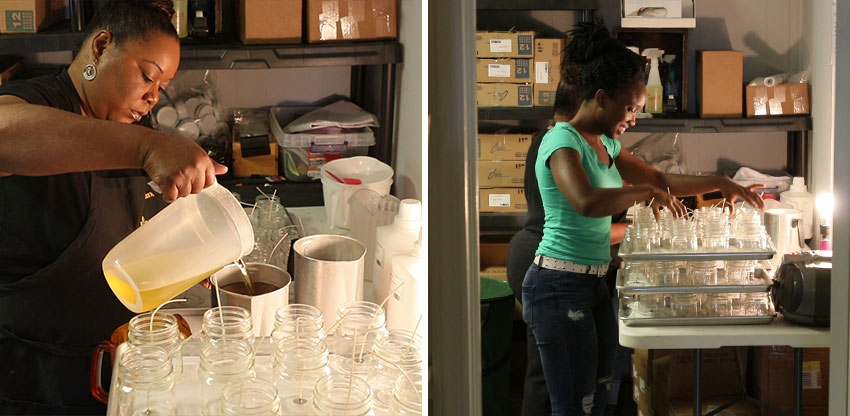 That leads me to my next question. You've done a lot with wholesale, but are there other sales channels you've pursued? It's important to have a balanced perspective and not put all your eggs in one basket. You can't just depend on one sales channel. I still do a lot of craft festivals and vendor events and city festivals—plus wholesaling and having an online presence. So right now, everything is really split three ways—a third of my revenue comes from wholesale, a third from events (I'm pretty much scheduled six months out doing events), and a third through retail sales on my website and Etsy.
Let's turn to local selling. You've mentioned that you started out with farmers' markets. What advice do you have for new candle entrepreneurs?  I always recommend they start with any type of craft fair, farmers market, or artisan market—it lets you know whether your ideas are actually good ideas. You can introduce new scents and find out what people really think about them. So before I introduced a new scent into my permanent collection, I always introduced it at an artisan market and get feedback from people. Selling locally will also let you know if your branding is cohesive enough—if people get what you're trying to do. If you're making money, then that's a good sign. If you're not making your money back, then you might need to work on things like your labels, product presentation, or setup. Working at those markets, you can introduce your brand to so many people, you get a customer base, and you get all kinds of feedback. And all of that is just so invaluable.
You have beautiful product photography. How do you get such great photos, and what role has photography played in your business? Your pictures tell the story of your brand. So as soon as I could afford to have my products professionally photographed, I did. Professional labels and product photography is what kicked my brand into high gear—having those pictures, the packaging, and putting it all together to really capture the essence of the brand.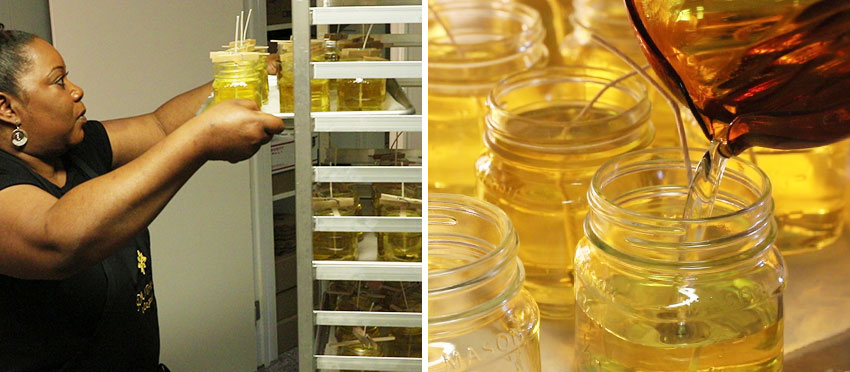 So it sounds like putting together a solid marketing and branding package helped accelerate your business? Yes. I did kind of "cheat"—I did my graphic design through 99Designs. It's one of the cheapest ways that you can do it. So I didn't go high-end and hire the best people to do everything. I did it within the budget that I had. I hired the cheapest product photographer that I could find—and she was just starting out—and I stuck with her. Now she's gotten better, and my pictures are better, but she still charges me my initial fees even though she charges other people more now. Through 99Designs, I found a graphic designer to do my boxes, and I've stuck with her to keep the brand cohesive whenever I need anything new. You don't have to go high-end and pay a lot of money for this. Even when I had my website designed, it was a very basic template and then as the brand grew I learned how to update the website. So you don't have to spend a lot of money, but at some point, if you want to move your brand to the next level, it needs to be done.
You've shared that you faced some rejection and failures early on in your business. How have you stayed positive even when it's tough? I separate my personal self from my business self. So when I get rejected, I don't take it as a personal rejection of me. I take it as this particular store or this particular person isn't interested in what I'm doing. Then I try to figure out why. Is it because they just don't have an interest, which is something that I can't control, or is it because something I'm doing is lacking? If I see a space that's lacking, then I fill it. I try to be as objective as possible and know that it's not a personal rejection of me.
Find D'Shawn and Southern Elegance Candle Co.:
 On the Web | Facebook | Twitter | Instagram
Want to see your small business story featured on our site?
We're eager to share empowering stories that will inspire other candle makers to grow their ideas into successful businesses.
Shoot a brief email to [email protected] introducing yourself and your candle business. Your story might be the next one we feature on the website!