To help mitigate stock delays, we're offering an additional version of our 8 oz. jelly jar. This container is identical to our standard 8 oz. Jelly Jar. It maintains the same dimensions and is also imported.
The 8 oz. jelly jar has a slightly tapered body and is approximately 2.5 inches wide by 3.75 inches tall. It is the largest in our Jelly line. We also carry a 4 oz. Jelly Jar.
Are you new to candle making? The 8 oz jelly jar is the perfect container for our How to Make a Soy Candle tutorial.
Note: Labeling these jars can be a bit tricky due to the gently tapered shape of the container. While the Max Label Size is technically 8.375" x 3", we do not recommend fully wrapping the jar in a label because it may wrinkle. A smaller square or oval label would be easier to apply. Sample labels are displayed below.

Looking for a lid?
The 8 oz. Jelly Jar works with any of the #70 G Threaded lids; antique gold, black, gold, gold plastisol-lined, silver, pewter, rustic, white, or pewter daisy.

How much will it hold?
Wax Weight (to Fill Line) - 6.2 oz.
Volume (to Overflow) - 8.3 fl. oz.

Looking for a wick suggestion?
GB 464 - CD 8
IGI 4630 - LX 14
IGI 6006 - ECO 2
Check out our wick guide to see recommendations for other waxes! Our recommendations are estimates and should be used as a starting point for your own burn testing.

Looking for labels?
Put the finishing touch on your candles with the perfect product label from Avery WePrint. Browse designs, create your own, and take 10% off all label orders! Head to avery.com to get started.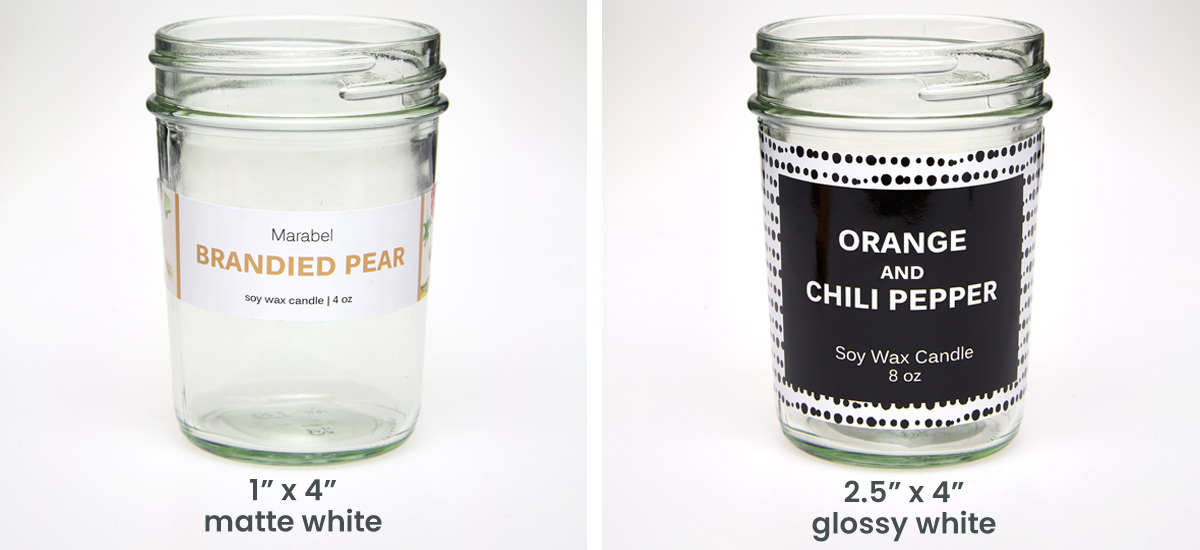 Need shipping boxes? 
Flush Packaging offers durable shipping boxes custom fit to a wide variety of CandleScience vessels—ensuring your finished candles get delivered safely.
Wholesale Ordering
View our wholesale page for more information on ordering in bulk or by the pallet.
Imported