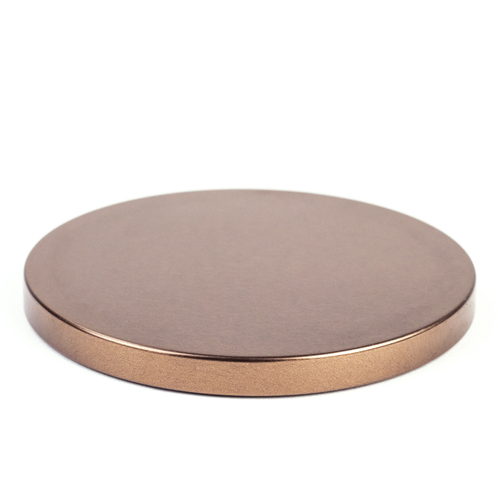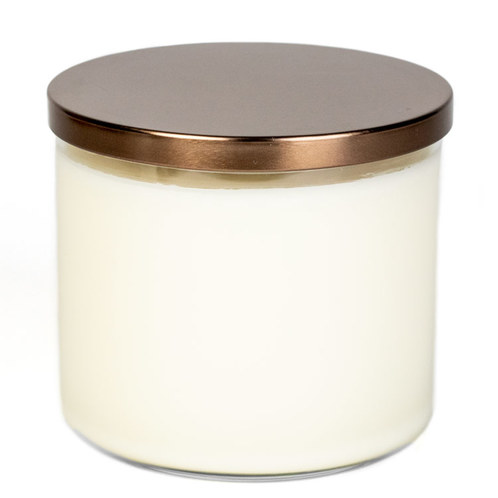 Details
Give your 3-wick tumblers a modern, sleek look with our bronze flat lids. These lids have a brushed metal finish that gives the lid a distinct polished look. Includes an inner silicone fitment to help secure the lid to the jar.
Labeling area: 4"
This flat lid fits our: 3-Wick Tumbler Jar
Note: Do not pick up jar by the lid.
Additional Details:
Width of inner silicone fitment: 6.7 mm
Inside diameter of silicone fitment: 88 mm
Made in China
Properties
| | |
| --- | --- |
| Diameter | 106 mm |
| Inside Diameter | 104 mm |
| Height | 8 mm |
| Max Labeling Area | 4" x 4" |
| Prop 65 Warning Required | No |
Reviews
These lids are great! So happy to find these in this size!
Wanting to know if the scuffing/scratched issue has been fixed?
Great but needs some work
I love these lids. They were exactly what I was looking for. I just hate that the lids were scuffed. out of the several dozen, I ordered almost all had a ring of scuff marks and one was dented. Don't get me wrong, I would still order again and you shouldn't stop either because these are great! I did notice the smaller ones had a plastic film that did a perfect job of protecting them. I hope they switch to those on here as well!
Thank you so much for alerting us to this issue! We have reached out via email with a solution!
scratch marks on these lids
I ordered 12 bronze lids for the 3 wick tumbler. they're separated by a paper divider which is not doing anything to really protect the product, all lids were scratched and it was a huge disappointment :( on the other hand, I had purchased the smaller lids in bronze for the status jars and each of those lids had a protective film on them and not scratched at all. They definitely need to protect these lids better so it's a no go on buying these lids for the 3 wick tumbler until they're properly protected and who knows if they ever truly will be.
Hi! We are so sorry to hear about the damage to your lids. We are switching to the film covering on all of our metal flat lids! In the meantime, our support team will be in touch to help with your recent order.
Scuff Marks/ Scratches Resolved
Has anyone received their lids without scuff marks or scratches recently? Wondering if packaging of the lids has been resolved before purchasing lids.
ALL of the lids are scratched! Even with the thin tissue paper between each lid. But they do fit the containers well.
Unfortunately EVERY order I have received has had the same issues others have reported...most every lid is scratched and scuffed. The replacements I ordered also arrive scratched and scuffed! It is frustrating when I have orders to go out and there is hardly any lids that are usable! This is resulting in lost sales. I have been assured that the lids moving forward will contain a protective film yet I continue to receive lids without it. Please please please fix this issue, Candlescience!!
Love the 3 wick containers and bronze lids. Mine arrived beautiful, clean, and well packaged. Love the color and the lids fit great with the jars. Will purchase again.
So many complaints but mine are scratched up too
Very upset to receive these lids badly scratched up even though they've clearly had complaints. I ordered the case of 360 and couldn't find a decent lid! They're beautiful so it's really disappointing that every single one is damaged.
Hi! We have received reports of scuffing in transit and have implemented changes to the packaging that we believe will correct this problem moving forward. All future batches will include a protective film to ensure against scratches and scuffs. Our customer support team will reach out to you with more information regarding your recent order. Thank you for your feedback!
Seal well, but are scuffed badly
I placed 2 separate orders of these lids and while they are lovely and seal the candle well, the majority of them are scratched and scuffed. I advised of the issue and was sent a replacement order (excellent communication from Candlescience) and they arrived in the exact same condition; scuffed with only a piece of tissue in between. The lids are rubbing together in transit, and I cannot in good faith sell these to my customers. I love Candlescience and have never had an issue with any product I've purchased...until these lids. Unfortunately I will need to find another vendor for lids.
Hi! We completely understand your concern and are actively taking steps to minimize scuffing of the lids in transit. We are switching from the paper dividers to a plastic film on each lid. The film is more resistant to scratching and we are confident that this will help to resolve the problem. Thank you for reaching out and giving us a chance to help!
...the lids were scratched on top, all in a circular motion. Even though there was tissue paper between lids, this didn't seem to help a lot. I like the seal and color options!
Hi! We are so sorry to hear that there were some issues with your lids. Please reach out to our support team at support@candlescience.com so we can help!