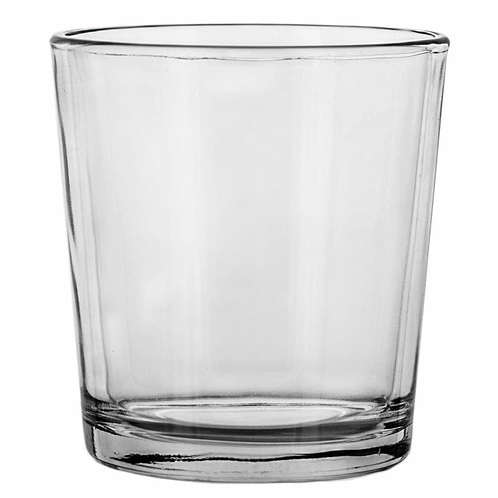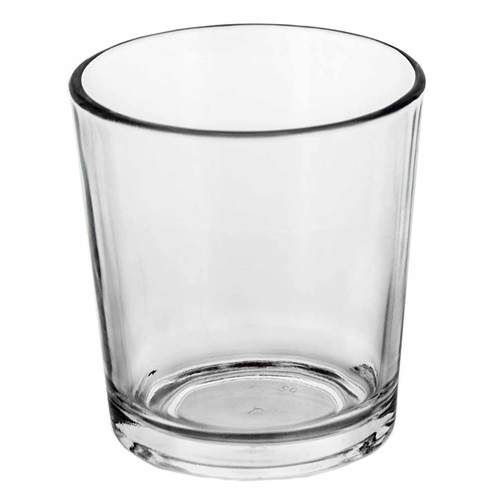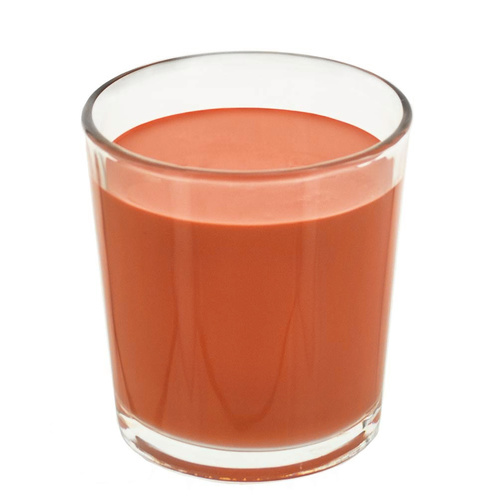 Ready to Order?
4 - 49 cases
$11.06
$0.92 /pc
50 - 99 cases
$10.44
$0.87 /pc
100+ [pallet]
$9.91
$0.83 /pc
Details
Product Update: August 20, 2020
Due to COVID-19 impacting production at Libbey, there may be some delays in our ability to restock. We will share information about any delays and estimated restock dates on this product page. 
The classic tumbler is slightly tapered and has a solid feel without being too heavy. We think it creates a more trendy candle while maintaining a classic appearance. Many of the high end candles in the market are poured in tumblers just like this one. It holds between 8 and 9 oz of wax depending on your desired fill height and unlike many tumblers on the market, this one is packed 12 pieces to a case for easy handling.
Need packaging for your tumbler candles?
Try our Kraft and White tumbler boxes!
We do not offer a top for the Classic Tumbler.
How much will it hold?
Wax Weight (to Fill Line) - 8.79 oz.
Volume (to Overflow) - 12.2 fl. oz.

Looking for a wick suggestion?
GB 464 - CD 18
IGI 4630 - LX 22
IGI 6006 - ECO 8
Check out our wick guide to see recommendations for other waxes! Our recommendations are estimates and should be used as a starting point for your own burn testing.

Looking for labels? Put the finishing touch on your candles with the perfect product label from Avery WePrint. Browse designs, create your own, and take 10% off all label orders! Head to avery.com to get started.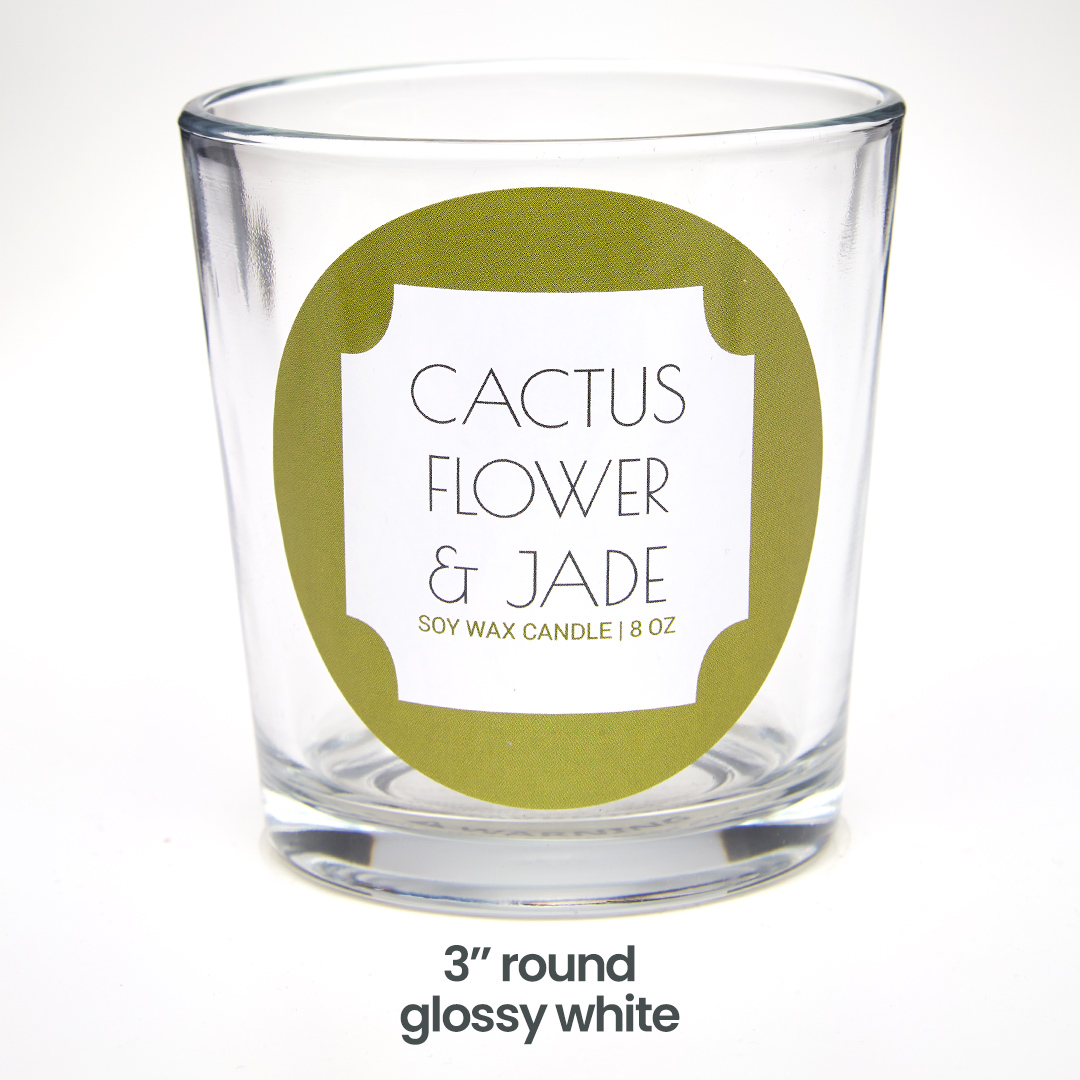 Wholesale Ordering
Check out our wholesale page for more information on ordering candle supplies in bulk or by the pallet.
Made in Mexico
Properties
| | |
| --- | --- |
| Height | 3.75" |
| Diameter | 3.14" |
| Prop 65 Warning Required | No |
Reviews
Hello,
Can you tell me which lid goes with this Tumbler?
Hi! We do not currently carry a lid for these jars. I apologize for any inconvenience! Using an alternative covering like a customer dust cover may be another option and can look great with these containers!
Seems like a lot of controversy over what wick to use - I'm new to candle making but planning to attempt to make a large batch as a wedding favor (wish me luck!). But I don't have a lot of time for trial and error ... so which wick has the best chance of working with the 464 soy wax?
I'm new to candle making and these are the first containers I've purchased, I'm so glad I chose these! They are bigger than I expected but the size is just perfect. Not too big, not too small.The glass has zero flaws and seems sturdy, very nice. I'm excited to create with these tumblers!
I absolutely love these jars. I wish you would consider at least a flat plastic top with a hole for the wick to help contain the fragrance. But the jars are beautiful in my line of products.
Nice glass that's easy to clean and reuse.
I use these with 464 wax, Eco 16 wick and usually 9% FO. The candles come out beautiful and my customers love these tumblers!
These are perfect in every way except for one of the most important which is they are way too petite by no more than an inch. I was so excited about these but customers buy when they see value as well as quality and value just wouldn't be there in this size.
I do LOVE the different colors, but would just need more variety in size and then I would be able to only shop here for all my supplies and that would be amazing!!!

Fantastic Tumbler @ Fantastic Value
I have used these tumblers for nearly 3 years now. Main selling features: size (easily 9 oz candles), beautiful lines of the tumbler, durable, high quality, reusable! This adds value to my hand poured candles and people LOVE these! I have ordered probably a dozen shipments in the last few years - many of 2 or 3 cases. A single tumbler has been broken in all that time - thanks to UPS and not Candle Science! These are amazing and I will continue to use! Can't wait to try the straight-sided tumblers now, too! Thanks for always having amazing products at even BETTER pricing!
Inexplicable Things
I use these jars with eco cb advanced wax and use the eco #4 wick. They come packaged perfectly, none or broke. the jars are beautiful and one of my main sellers. Not sure why someone posted bad about the wick. I used the wick guide and those are perfect.
I love these containers. I don't know why I never ordered these before.
owner of Pamela's Gift Shop
This is my favorite jar. All of my candles come out perfect when I use this jar. I will continue to buy this one every time.
Love these tumblers! Can anyone tell me which wick works best in these for the best hot throw using 464 wax? I have used the ECO 14 and it seems to be slightly under wicked.
Beautiful and functional jar! I am curious to know what kind of wax people are using that even a CSN 26 is too small! That's a huge wick.
I should have read the reviews!
ECO 10 and GB 464. Now, I know :)
I really like the look and feel of these tumblers. I started with the jelly jars, moved to mason and finally settled on these. They have a very classy look and feel These jars really can be recycled as a regular everyday drinking glass. I use Golden Brands 464 Soy Wax with a ECO 12 wick. It burns a little high for my taste but I have no customer complaints. (I may test burn a 10 to see if it works better. I will update this post if I do) But overall I really like this container.
Avoid this unless you are willing to go elsewhere for wicks.
I purchased a few cases of these. Not only did they come with shattered ones inside due to back packing but even the largest size wick i they sell the CSN 26 doesn't work. I have it burning now and its about to drown. I used very little fragrance and it still not a full melt! Im going to try a double wick with the ECO-16's. Candlescience? More like candleguessing...
Never had any issues with cracking or breakage during shipping. Seem to be very durable and give a nice classy look to the average candle. Customers love the look and weight of them also.
CSN 26 did not work. It was overwicked.
The sizing on these are great and they look good once they are finished, the recommended box is also a perfect fit, however every case I've gotten has had 1-2 tumblers that I couldn't use because they were chipped or cracked on the rim(one of the cases also had a glass that was too round and bubbled out at the base, so it doesn't sit straight and instead wobbles). It's always random which glass is broken/unusable, as in the broken one is never in the same area of the box. I'd love to keep purchasing these but after 4 cases with at least one broken glass in each I can't really rely on these anymore.
Due to conflicting views on which wick works best, can someone recommend a tried and tested wick they have used. Intend to use igi6006 as my wax and pour 9oz of wax in the tumbler.
The classic tumbler is a hit with customers. However, the last order that I placed had manufacturer labels on the bottoms which caused an extra step in the candle-making-process. Please notify vender and ask that labels not be added.
Thanks for the response :)
Use CSN 26. Works perfectly
Wick size
Submitted On 2014-08-14 Lesley Ferranto
You really need to wick up on these for full melt pool. I use soy/par blend 6006 and use eco 22 and its a perfect combo. Great scent throw, hot & cold. Need to try!!!
I am looking to purchase these tumbler jars and these eco 22 wicks that Lesley recommended but am having trouble finding the wicks here on candle science......Any help finding these wicks would be appreciated
These are very nice. Good weight without being too heavy. Size makes for a good larger candle. Using a pound of wax, I poured one of these and two 4oz candle tins. WICK SIZE: I used ECO 10 and it gave a nice even burn. Did not drown itself in melt pool or burn itself out.
You really need to wick up on these for full melt pool. I use soy/par blend 6006 and use eco 22 and its a perfect combo. Great scent throw, hot & cold. Need to try!!!
This is a nicely sized and heavy jar. it looks sleek and classy, bowever-- I purchased the Eco 16 wick and it burned a quarter sized pool too quickly and then went out after 10 mins. Definitely not the right wick for this jar.
I used the Eco 10 wick with the Golden Brands 464 wax and they burned great in these jars. They fit nicely in the Tumbler Boxes also!
I love the look of the jar but like the other reviewers had mentioned, the recommended wick size (Eco 14) for the Golden brands 464 wax seemed to be under wicked. Thankfully I read a review mentioning that they had already tested the Eco 16 with the same under wick experience. I will try for the CSN 26. I hope it works!!!
I tested this jar with both ECO 12 and ECO 14, neither receive a full melt. I'll have to purchase a size up in wick size, but the jar itself is gorgeous. I filled to 10 oz because in my opinion it looked better than the recommended 8.79 fill.
Beautiful jar but wrong wick size...
The recommended wick size that CS lists for this tumbler is a ECO 14 for GB 464 wax. I do not think that is correct. I used an Eco 14 and it is definitely underwicked. Wax pool does not fill jar. Otherwise, the tumbler itself is very classy and bigger than I thought! 1 lb of GB 464 wax will fill 2 of these. I love it, just wish I had used a larger wick.