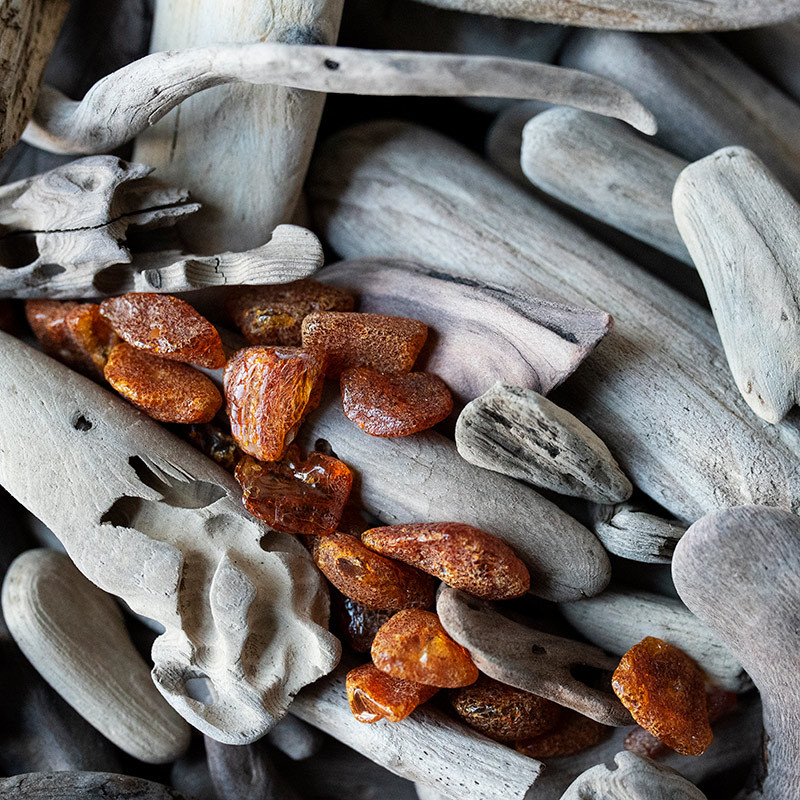 Ready to Order?
6+ 5lb Jugs
$84.84
$1.06 /oz
12+ 5lb Jugs
$76.36
$0.95 /oz
Safer Scents For The Home
CandleScience Clean Scents™ are free from carcinogens, reproductive toxins, and other potentially hazardous chemicals often found in fragrance. Choose Clean Scents and create safer home fragrance products you and your customers can enjoy with confidence.
Read More >
Details
Amber and Driftwood fragrance oil is a warm, earthy blend of sandalwood and musk. Top notes of airy ozone and a hint of citrus open up to a sandalwood core that's smoothed out with lightly sweet benzoin. Resinous amber and cedar blend with dark musk and a touch of powder for a rich woodiness in the base. This fragrance is beautiful as an "everyday" scent in candles and melts, and is also a great scent to blend with other fragrances. In handmade soap and other body care products, Amber and Driftwood adds a soft but luxurious touch.
This fragrance is infused with natural essential oils, including cedar, patchouli, and clove leaf.
Blends well with: Black Coral and Moss, Egyptian Amber, Caribbean Teakwood, Santal and Coconut
Alternative branding ideas: Sandalwood and Musk
Note Profile:
Top: Ozone, Citrus
Middle: Sandalwood, Benzoin
Base: Amber, Dark Musk, Cedar, Powder

Suggested Colors: Blue, Grey, Navy
See our complete list of candle making dyes and soap colorants.
Note: Bottles filled by weight, levels may vary.
Properties
Candle Safe

Yes

Usage: 3-10%
Soap Safe

Yes

Usage: 3-6%
Vanillin Content
2.01% - 5%
Soy Performance
Flashpoint
> 212 °F
Phthalate Free
Yes
Prop 65 Warning Required
No
Diffuser Base Compatible
No
*Usage amounts are recommendations only. Individual usage amounts can vary based on your desired fragrance strength, wax type, soap base, or lotion base. See IFRA certificate for max usage levels.
Documents


Cold Process Soap Performance
| Acceleration | Discoloration | Separation |
| --- | --- | --- |
| None | Brown | None |
Lye Water Temperature 113ºF
Oil temperature 113ºF
We did not experience any acceleration or separation. This took quite a while to reach a light trace and was very easy to work with. We continued stick blending to a medium trace and the batter turned a bright yellow color. After 24 hours the soap had discolored to a deep mustard color. We observed that the soap reached a partial gel without insulation. The fragrance was mild but had an amazingly true woody character. After 30 days, the soap had discolored to a chocolate brown shade and the scent was unchanged. Due to the discoloration, this would be a good fragrance for a darker color palette or using some unfragranced batter to create lighter swirls.
Reviews
Hot throw is barely there
Let the candles cure for three weeks and I can barely smell the hot throw. I may need to mix it with something stronger. Gorgeous smell, but barely there.
Hi There! We're so sorry to hear you're having issues with your Amber and Driftwood candles. Hot throw issues are quite common in candle making but typically a few adjustments can really help increase the throw of your finished product. A member of our support team has reached out to you to better assist you!
Strong scent, sweet and a little spicy. I wish the HT was a little stronger.
Thank you Emily and Sophie for your prompt response. I absolutely love the fragrance and I'm very happy to know that the formula remains the same. Please understand that I rate this fragrance a 5/5, however only rated a particular batch low in my previous review. Knowing that nothing has changed, this has no bearing, as I will continue to support CS trusting line of products! I am curious to know if the heat would affect the product during shipment. It has been very hot and the shipments are warm when they arrive from the carrier. Thanks again for your assistance!
I recently purchased a 16oz bottle after using 1oz samples. The customers really liked the fragrance. I would have given 5 stars for; however the 16oz bottle smells completely different. I did a candle and soap to check and it was completely different. There is a strong unpleasant stench. I am unable to provide customers with products at this time. Was there a change to the formula?
Hi there! I'm sorry your Amber and Driftwood 16oz bottle wasn't what you were expecting. I assure you, there haven't been any changes to the formula of the fragrance oil, but we'd like to help! Someone from our team will be reaching out to you via email shortly.
This one used to be so good and when it was reformulated I was really sad -- but the new version seemed close enough to the old one that I kept it in my line. This most recent bottle I received though is much heavier on the amber and that's not a favorable combo for me. It went from a soft masculine earthy scent to an old lady perfume blend.
One of the best fragrances CS has!
Didn't get hot or cold throw, very mild.
The scent isn't very strong. I also just don't like it very much. Luckily I only bought a 1 oz. tester. It isn't horrible, but I will not purchase this fragrance again.
I love the subtle smell of this fo out of the bottle, but after two weeks I finally burned my candle and no smell at all! Really bummed because I noticed this with a could other fo's that I ordered.
I am absolutely loving Amber and Driftwood! It has some really unique scent notes and a nice depth to the fragrance. For some reason it reminds me of an almond scent when it lingers on the room, mixed with a bit of cedarwood. I never get tired of it, and both men and women have expressed how much they love the scent. It is my go to fragrance when giving a gift as it has never failed to impress!
If you know what you're doing
This scent is fantastic! It is definitely masculine, the powdery notes blend well in wax and aren't overpowering like some reviews suggest.
I absolutely love this smell and sometimes I can be picky but this is very good I definitely recommend!!
Just tried out this scent and I love it! There have been reviews on discoloration although I haven't experienced it after reading the reviews I'll just dye my candle wax!
One of our faves but discolors badly when exposed to sunlight
We use 464 and our customers and wholesale retailers are complaining about discoloration. The wax turns very yellow when the candles are exposed to sunlight, even from a window. It is one of our favorite scents though.
Turns highlighter yellow when hit by sunlight! :(
This scent is one of our customer favorites, however it turns bright highlighter yellow when hit by sunlight. At one of our pop up shops, we had to completely remove the candles because the entire tops were yellow just from being in the sun for a couple hours! If you have a wrap around label or vessel that isn't clear, you should be fine but if you have a clear jar, avoid sunlight AT ALL COSTS! Love the scent but the discoloration is super frustrating. :(
I ordered the 1 oz sample of this with a larger order and I am glad I did! I had high expectations and while it smells good it smells EXACTLY like the Sandalwood scent to me. I almost ordered a larger bottle and I am glad I did not because of how similar they smell. I will try this out in a candle and see if it smells any different, but I'm fairly certain it will not.
This scent is absolutely amazing!
I definitely enjoyed this fragrance it was mostly requested by my Male clients for the holidays. Definitely will repurchase again but a Beautiful scent to smell for the Winter.
It completely disappears in wax
Driftwood used to be my absolute favorite scent here, and while this updated version isn't as moody and woody, I still had to have it. Unfortunately, there is hardly any hot or even cold throw. I thought maybe my allergies were keeping me from smelling it, so I brought the candle into my extremely tiny bathroom, where it has been burning for hours. It just smells like the wick. There's no scent. I have customers ordering this candle on scent description alone, and now I'm desperately trying to make a new batch with 20% load that will not be fully cured by the time it arrives. This is such a bummer, and my business is absolutely going to take a hit from this. I've never sold a bad or weak candle. Y'all did me wrong, Candle Science.
Hi! Thanks for reaching out so we could help!
I really like this one... I agree that I wouldn't say it's masculine but I completely disagree about all the baby powder comments. It doesn't smell like baby powder at all! It's very nice and soft.
Great scent, but bad discoloration
This was a great scent, but unfortunately we have gotten discoloration on every batch. We use 464.
We had to pull it from all of the store shelves and completely discontinue it because we aren't okay with the entire candle looking yellow. Unfortunately, we are now stuck with 5lb of it.
Two stars for the scent, but just can't get past the issue of completely discoloring our candles.
This fragrance is one of my best-sellers in deodorant. I am really surprised by the low-star reviews on this fragrance. It does have some powdery notes to it, but in the right application it works amazingly well! Customers keep coming back for this one, and I am hoping that CS keeps this in stock for a long time!
I have no idea why this is categorized as masculine, as it smells strongly of powder. With so many other masculine notes listed in the product description, I would have expected it to outweigh the notes of powder.
A bit weak on its own, but makes a lovely mixer for other fragrances!
Business Owner + Executive Creative Director
This scent smells nice, but it's not as strong as I thought it would.
Too much amber, not enough driftwood
It's got an overwhelming sweetness that overpowers my other scents so I need to use it minimally. I'm sure others may like it if they love amber, but it's not the one for me.
None of the described fragrances came through for me. It feels like it was mislabeled because the scent I got was more vanilla bean and nothing else. Luckily I got this scent free with my order.
I definitely like this scent on it's own, but I loooove it mixed with another candle science scent!
Can't get over the baby powder scent.
Thee Most Unpleasant Fragrance
This Amber & Driftwood is a scent smells like an elderly and unkempt person. I won't ever purchase this again...
I love it as well. It reminds me of the musk rollerball perfumes you'd get from the street vendors in the city. :)
Very weak cold and hot throw
For me, this scent failed. It had very poor cold and hot throw. I made 2 different batches, because I thought I had gone wrong somehow the first batch. The scent DOES smell good - it's just so, so faint. Disappointed.
Disappointed with this Fragrance
I am really, really disappointed with this fragrance. I was hoping for something masculine and this is definitely NOT. It has a light baby powder scent. Will not buy again.
This is by far one of the best fragrances by CS. The cold and hot throws are great.
Smells good, but the hot throw is weak
I love the way this scent smells - it's very subtle and woodsy, but unfortunately, the hot throw isn't what I'd like for it to be. I ordered a 1 oz bottle of this scent and combined with 1 pound of 464 sox wax, but both the cold and hot throw weren't very strong. I then ordered a 4 oz bottle and mixed 2 ounces of that with an ounce of the Cedarwood Blanc scent and 2.5 pounds of wax, and while the scent was still very nice, I can barely smell it when I burn it. I may try two ounces of the scent with 1 pound of wax and see how that does.
This scent is the "wood" smell we have been waiting for! It has an amazing hot and cold throw. Since its release it has been a customer favorite and I am filling orders for it like crazy. Keep up the good work, CS!
This is the perfect fragrance for a light/powdery woods scent. I'm using it blended with another stronger scent right now and they smell amazing together, but I think if you were to use it on its own or as a predominant note, you might want to up your % a bit.
A touch perfume-y, and a citrus stage that isn't loved because it smells sharp and a bit rank, but that passes and leaves a smoky, woody smooth amber vanilla that I really really like. I mix perfumes, lotions and do melt-n-pour soap for gifts. This is perfect for those last two applications.
I love the scent in the bottle but when I made the candles using 10% fragrance load and 464 soy wax there isn't any hot throw. Example 4oz jelly jar with a 8cd wick! What am I doing wrong? I really what this fragrance to work because I purchased a lot of it. I read some of the reviews and someone said it worked well for them using 20% fragrance load with 464 soy wax. So maybe I will try that. I only worry about my candles sweating from the fragrance load.
I made a candle with this and Egyptian Amber for about a 10% scent load, and it was wonderful! This scent has a lovely warm smell and the combination filled my entire home with scent.
This is one of my all time favs. It is very similar to drift wood, but the amber rounds it out and adds some depth. It is not overwhelming In the bottle, or in reed diffusers. I would add that I haven't tried it in a candle yet, but I have no doubt it will preform. CS, this one is a keeper!
Very similar to the last version but I like it better! Great CT and HT! Adding it to my line.
Love this scent. In fact I bought more container already. Used 464 with 10% fragrance load and found it to be perfect. No dye. Will make this one of my permanent scents.
I made a soy candle using 464 soy wax and 10% fragrance. The hot throw is very weak I placed the candle in a small area with door closed and I still couldn't smell anything. Maybe I should switch my wax.
Hi! Thank you for your feedback, we truly appreciate it! We have reached out via email to see if we can better assist you!
Forgot to add: This is the first time I have ever felt the need to leave a review. Sorry for the add on!
Used this fragrance for the first time a week ago. 464 wax with Eco 8 wick, double wicked, 16 oz flat top container. Wax heated to 190, added a little bit of the canary yellow dye block, after heat up, 20% scent load, in slightly heated containers, After 2 minutes of gently mixing in frag and dye, poured. Flawless tops, burnt even but more importantly, the fragrance is AMAZING!!!! Only waited 2 days to trial run......filled up a 900 sqft room with scent but was not overpowering. There are notes of powder and I would say some smokey scents. I LOVE this scent! My mom took them all, so now, In my basket, I am ordering more.
Note: I love a lot of their scents but do have knack for liking their baby powder, fireside, clean/lush cotton, fresh picked cucumber, cactus and jade, and tomato leaf, just to give you a sense of my palette. In the fall I do love their creme brûlée, caramel popcorn, black rasberry/vanilla, frosted juniper and cranberry woods, but those to me are winter scents.
This scent to me is a year round scent limited by no seasons and could be used all year round. It does smell fabulous!!!