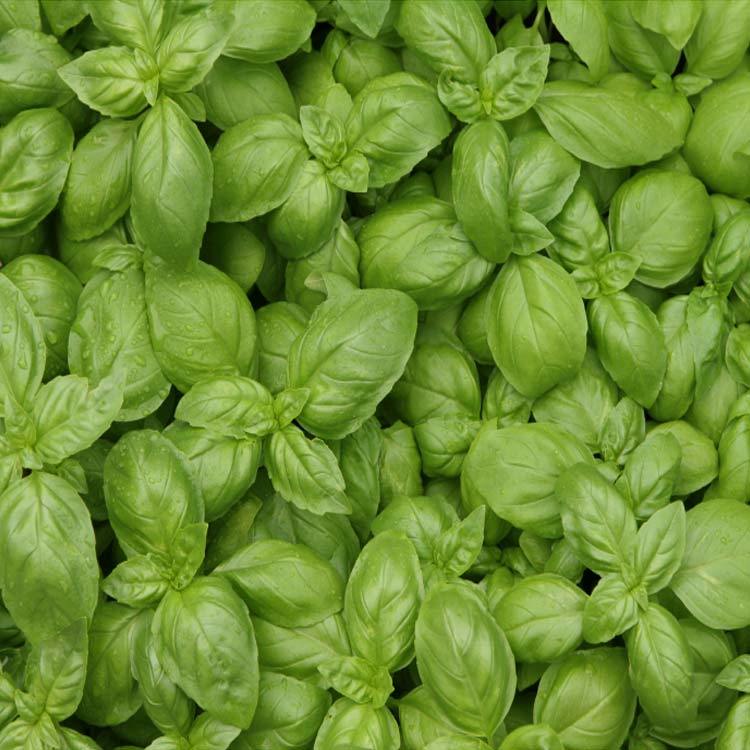 As of 03/07/2018:
This product is discontinued and no longer available.
Details
For a similar fragrance, we recommend trying our Tomato Leaf.

The aroma of a lush herb garden ready for harvest! A potent yet soothing union of fresh basil, sage and tomato leaf. A 'true to life' fragrance you must experience.
This fragrance is infused with natural essential oils, including basil, clove, and cinnamon.
Note Profile:
Top:
Citrus
Middle:
Basil, clove, cinnamon, thyme
Base:
Sandalwood
Suggested Colors
: Any shade of Green
See our complete list of
candle making dyes
and
soap colorants
.
Note: Bottles filled by weight, levels may vary.
Properties
Candle Safe

Yes

Usage: 3-10%
Soap Safe

Yes

Usage: 3-5%
Lotion Safe

Yes

Usage: 1-2%
Vanillin Content
0%
Soy Performance
Flashpoint
190 °F
Phthalate Free
Yes
Prop 65 Warning Required
No
Diffuser Base Compatible
Yes; Up to 25%
*Usage amounts are recommendations only. Individual usage amounts can vary based on your desired fragrance strength, wax type, soap base, or lotion base. See IFRA certificate for max usage levels.
Documents

Reviews
Pleaseeeeses bring back !!! Nothing like it. Breaks my heart when good things go. Ughhhhh thx !
Please bring this one back!
One of the best scents I've ever smelled. Shame it's gone, guess have to look elsewhere.
Will the CS team at least consider making this scent again?
PLEASE CONSIDER BRINGING THIS BEAUTIFUL SCENT BACK – THERE'S NOTHING LIKE IT!
Please bring this one back!!!!
I agree with the reviewer below....Tomato Leaf is not a good replacement. Please bring this beauty back! <3
I had a bottle and just starting using it and really like and was getting ready to order more ):
please bring back Basil and Herb!
I use this in a custom blend I do and there is no replacing it. Please bring it back, I just went to order some.
Loved this scent in soy candles... tomato leaf is not a good replacement. PLEASE BRING IT BACK!!
Please bring this back. Tomato Leaf isn't a good replacement.
please bring this scent back!!!! i could not keep my candles in stock when using this scent. i cannot find it's equal anywhere else.
Does CS need a bigger warehouse? What's the deal with cutting fo that are so awesome? Just add new fragrances! *sigh*
Owner Lillie Savage Candles
This is one of my top selling fragrances and one I personally love ! Please bring this scent back. The tomato leaf which you recommend to replace it caused allergic reactions in my customers so I cannot use it and there is no comparison to the brightness of the scent .
Please bring this scent back!
Please please bring this back! There is no comparison out there and this is one of my best sellers. PLEASE!
Highly Requested, please bring it back!!
Basil and Herb was such a unique and lovely fragrance. When mixed with soy wax and put in an adorable little jar it was one of my favorite candles to make for spring and summer. Many people are now requesting these candles and I'm distraught of course to see I cannot fulfill their wishes.
Please consider bringing this scent back, the tomato leaf scent is good, but it's completely different!
This scent was essential to any unique candle collection.
We are Soooooooooo Sad that this fragrance is gone. BRING IT BACK!!!
The tomato leaf that replaced Basil and Herb is nothing like this.....
Please bring back the Basil and Herb!
I use this is two of my top selling candles! I need this back ASAP !! Please
Like so many of the other comments/reviews on this fragrance it is awesome and I hope that it won't be gone forever.
Absolute Favorite - Don't Discontinue!! Please bring back
There's something about this smell, so fresh and herby, I just love it! I'm guessing it was discontinued because it wasn't super "basil-y" but so what?? Just rename it and bring it back please. Fresh Herb Garden. Bam! This is seriously one of my favorite scents and I'm very sad it's no longer available.
Please bring this fragrance back!!!!!
Omigosh, please tell me this is a nightmare! This is the best scent and one of my top sellers. Please, please, please bring this back!
WE NEED OUR BASIL AND HERB
Please reconsider- bring it back. This scent is beautiful CT/HT in soy wax always worked so well.
Need this scent to come back!
I love love love this scent! Please consider bringing it back! I really hope to see this again soon.
This was one of my favorite fragrances! I cannot believe it has been discontinued. :( Please bring it back!!!
I hope you guys are reworking this fragrance and plan to bring it back. It was one of my favorites!
This was by far my favorite candle and was one of my top sellers. This is such a great scent for spring time. I am ordering my supplies for some summer markets I'll be doing and I am very disappointed that this one is discontinued!! Will it be back?!?! I really hope so.
BRING BACK PLEASSSSSEEEEEEEEE
This was literally my top fragrance! Please bring this back if at least for a limited time!
I love this scent! I love the tomato leaf you offer as well but this scent was amazing. Please make your customers happy and bring this wonderful scent back!
I'm so disappointed to see that this scent has been discontinued! I make a gin scented candle using White Birch mixed with Basil & Herb and it smells amazing. I sell these candles at a local Distillery using their recycled bottles and it's one of their best sellers. Honestly, I don't know what I'm going to do without it! I might have to see if another manufacturer has a similar scent but Candlescience is my favorite :/
Please bring this scent back! It's one of my best sellers!!!!
Please bring this back. I've mixed it with watermelon and it is amazing!
I really love this scent, so fresh and green with just a hint of minty sweetness! My customers love it too! Too bad it is discontinued. I might try mixing Garden Mint with the new Tomato Leaf fragrance to get closer to this one.
I just discovered this scent and it smells so good. Too bad it's discontinued. :-(
Please bring this one back!
Just discovered this scent recently and it's getting rave reviews from our customers... it's also one of my faves :) Beautiful throw in 464 soy, smells fresh and clean for spring/summer... Please bring this one back!
If you're making an earthy, greenery candle, then this is perfect to use! I personally love the scent and the throw is great
After reading the reviews I did not expect to smell basil, I did expect however to smell something along the lines of a tomato plant. That is exactly what I got, it smelled exactly like a tomato plant 100%. I actually enjoy that smell I think it's quite lovely, I just don't know if many people would enjoy it burning.
Smells like my vegetable plants
This scent definitely captures the smell of a plant. If you are looking for the exact smell of the tomato plant in your garden then this is it!
Love this scent as a modifier in MP and CP soaps. Haven't used it with wax yet. We add it to at least four different soaps. It adds a wonderful green, herby, modifier that people can't quite pin down.
While this doesn't smell like basil it is still appealing in soaps when I mixed it with honeydew melon. It smells more like parsley and grass. Might get this just for mixing with honeydew melon but i wouldn't use it in a candle or alone in a soap.
Wonderful herbal and flowers fragrance and work great in soy candles
So looking forward to getting this only to be completely dissapointed. I love Basil and the scent left on your hands after picking tomatoes,so I thought rather than blend essential oils, I'll just use this FO. I can't even describe it other than just...bad. I don't even think I can use it at all.
Win some lose some...lost this one with the Basil & Herb.
I thought, since I have used basil essential oil by the pint that I would definitely love this as well. I was not as pleased as some of your other customers, nor was I put off as much as others. I just think I will have to blend it to get the throw that I am looking for. I think it could use a little more sweetness to be closer to basil. I find that oak moss mellows this when using essential oils. I am in agreement that the name needs to be changed as it gives a false idea of what it should smell like. I will , however, try it in my candles, as the reviews stated it smells very green. That is a sought after scent.
Can't get enough of this one!
Great to Pair with Cooking
This is a subtle scent, but I love to burn this when I am cooking... especially Italian food. I typically prefer fruity scents, so don't purchase garden scents very often. But even I admit that you can't go wrong with burning this candle around dinnertime.
I wanted to love this scent so bad, but smelling it in the bottle and even testing it on scent strips made me ultimately decide not to even put it in a candle. I don't smell basil at all and I have a fresh basil plant growing in my window. Many people said they smelled tomato plants and I love smelling tomato leaves and I didn't pick that up at all unfortunately.
Wonderful, but not for everyone
This scent smells like how your hands smell right after picking tomatoes and herbs from your garden, before you wash your hands. Which an awesome smell in my opinion. Everyone I've ever given candles to with this scent has loved the hot throw because it's mild and fresh. My husband (also an outdoors type) loves this scent too. Not for everyone though.
I really like this basil FO. It's not all basil or all herb. I have both and this one is better then the other basil
I wasn't sure about this one but was looking for something different so I decided to try it. I am officially in love and ordering more. I love this one so much I don't care if it sells I will keep them all for myself! Super fresh and a green herbaceous sweetness. Cold and hot throw great in cargill c3 trying in 464 next.
owner of Horse Creek candles, LLC
Amazing!!! Absolutely love this and so do the customers!
Repeat order!!
This has got to be the worst scent I've ever made a candle from. I had to let it cool outside because I couldn't even deal with it being in the house. Phew. It smells like 8000 tomato plants.
This FO smells exactly like fresh basil and a tomato plant. If that is the fragrance your looking for. I don't think I will use it in a candle but when I close my eyes and smell it, I think I am in a green house full of Italian herbs and tomato plants.
When I received this scent, I thought it was a pleasant smell in the bottle. It even had a pleasant scent as I was making the candles using 444 wax. After allowing the candles to cure for a week, I tested one in a small bathroom, and there was no smell whatsoever. I am very disappointed in this scent. Now I am having to figure out a scent to add to this wax in order for it to have a throw. The sad thing is that it had more of a scent (not much) after I blew the candle out.
Doesn't smell like basil but EXCELLENT throw!
Thought I would add a review on this FO, since I was pleasantly surprised! My first impression was that it doesn't smell like basil, but I also don't get the cilantro/parsley smell that others claim. To me its certainly "green" but had a bit of spiciness. Truthfully, I wasn't a fan ... UNTIL.... I poured it in 464 and let it cure. I still wasn't too keen on the scent it was giving off during cold throw, however, yesterday I lit my sample candle and WOW! This is a winner! A really strong clean green scent. This would pair nicely with a fig fragrance.
accelerated/ riced my tried and true CP soap recipe...rats cause I was hoping this would be a great soap fragrances. too grassy smelling to use in candles.
This is not a bad scent, but it is different. Smells like grass. I can't get anyone to buy it! Thought it would be a good summer scent, but it's not working out.
Love it, but needs new name
As the previous reviewer said - parsley and grass. That being said, I think it smells great and very natural. Also reminds me of walking into a flower shop. I do, however, sell it as "Herb Garden" as I really can't smell the sweetness of basil at all.
It has a nice smell. It has a minty smell. It smells like fresh cut grass in the spring. It smells natural not artificial.
Super good cold throw, and pretty strong hot throw. I love it, and have gotten several orders! It has a spicy, earthy scent and I feel like I am in the garden. Definitely adding it as a kitchen scent.
Not liking this one. Wanted something different so decided to try Basil and Herb. Expected a sweeter herb. My mother loved it though.
Kind of weak and not what I wanted.
Not going to reorder. I love 9/10 scents from Candlescience, but not this one.
This is a wonderfully fresh and clean fragrance. It definitely has a green plant smell. It is not overpowering, just a nice subtle "wow that smells nice" kind of thing. I just ordered a 1 oz bottle but I will certainly order more. Poured in a paraffin/soy mixture.
I've intended to use these in soaps and the scent was just as described. Great kitchen/facial scent!
Parsley, Sage, Rosemary and Thyme?
I use a lot of fresh herbs in my cooking. Parsley is one of them. If you have ever minced fresh parsley, you will know that to be this fragrance. No basil at all. I smell parsley and grass. Not a bad scent, but definately not basil.
Awesome Green and Herbal!
Basil and Herb is a beautiful, green, fresh straight from the garden fragrance. It is now up there with my favorite scents. Tested in my custom palm/soy pillar blend and it burned great and threw scent perfectly! Love it, Love it!
The scent description says it all. Wonderful cold & hot throw. I have been searching for a scent like this and now my search is over.
Wax: CB135