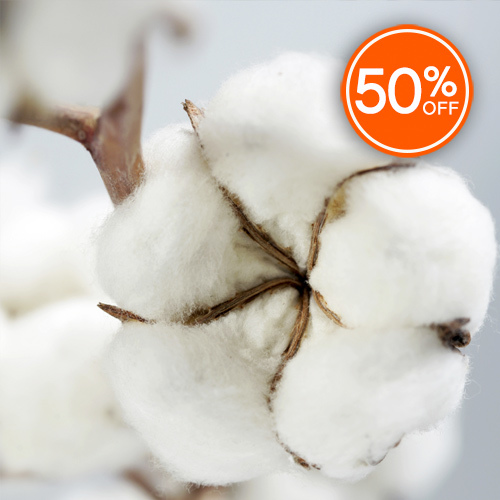 As of 05/09/2020:
This version of Cotton Tree (Discontinued Version) has been discontinued and replaced with the new Cotton and Iris. Click here to check it out!
Details
REVISION NOTICE: It is CandleScience policy to notify customers if any part of a fragrance was changed for any reason.
As of April 21, 2020 our Cotton Tree was revised to meet our new stringent safety standards to remove ingredients on the Prop 65 List. See new Cotton and Iris.
Our Cotton Tree combines airy, ozonic top notes with light floral and woody accords to create this distinct fragrance for candles and personal care. This fragrance is infused with with natural essential oils, including Clove leaf. Note Profile:
Top: Ozone, Cotton Blossom, Citrus
Middle: Rose, Violet
Base: Powder, Sandalwood

Suggested Colors: Ivory, Light Brown
See our complete list of candle making dyes and soap colorants.
Note: Bottles filled by weight, levels may vary.
Properties
Candle Safe

Yes

Usage: 3-10%
Soap Safe

Yes

Usage: 3-6%
Vanillin Content
0%
Soy Performance
Flashpoint
> 212 °F
Phthalate Free
Yes
Prop 65 Warning Required

Yes

Diffuser Base Compatible
Yes; Up to 25%
*Usage amounts are recommendations only. Individual usage amounts can vary based on your desired fragrance strength, wax type, soap base, or lotion base. See IFRA certificate for max usage levels.
**Warning: This product can expose you to estragole, which is known to the State of California to cause cancer. For more information go to www.P65Warnings.ca.gov.
Documents

Reviews
One of my favorite fragrances and my customers love it. So disappointed it's being discontinued 😔
I personally don't love this scent, but my customers definitely do. I tried only keeping it as seasonal and they spoke up they needed it year-round!
I put this in CP soap and it smells divine. It did accelerate slightly, so be prepared.
I warned my partner that the soap room smelled like laundry and he agreed but said it was better than that. It's hard to find a scent he really likes.
This fragrance is very clean like fresh laundry. It performs well in different types of wax and has excellent HT in candles.
I used this fragrance in my shampoo and conditioner and they are my favorite so far. The scent is so fresh and clean and last for long.
I also used it for my CP soap and it behaved perfectly.
Definitely one of my favorite 🤍
This is a wonderful, fresh scent with amazing CT and HT in 464! I haven't soaped with it yet (need to order more!), but it's the perfect clean fragrance. Love it!
This FO will make a great body butter or lotion! Smells amazing.
I love this clean, refreshing scent. It's a keeper!
Great smell!! My candle is having burning issues with this smell but it probably has something to do on my end I will be purchasing again!
I had given up on a clean cotton scent. The clean cotton was too strong and had a detergent smell to it. This is a fresh, clean scent that you can't put down. It has been a huge hit this Spring
This scent in my opinion would work great in both soaps and candles! It's light and refreshing just as cotton would be thought to smell like. I used mine in soaps and is my personal favorite scents for them!
Nice clean scent I used at 9% in a para soy blend. Put it out for sale a couple weeks ago. If it sells good I will change my review to five stars if not I will try another cotton fragrance
I am torn between this FO and the Clean Cotton FO for my favorite cotton scent. They are both amazing. You won't be disappointed. Great cold and hot throw. Great for bedrooms and laundry room.
everyone loves this scent!
I made several of this scent in the Libbey 7.5 oz cube and had them out for sale at a candle party at my house--everyone fell in love with this scent! If you've ever smell the Scentsy scent, "Enchanted Mist" this is very similar. So clean and light...........perfect scent for any time of the year!
This is so perfect, less sharp than a traditional clean cotton scent, so it's more delicate and fresh. The woodsy note is light and makes it unique.
My favorite so far.
I made wax tarts with this FO it has a very clean and fresh smell.I put it in my kitchen, it was Strong enough to smell up my kitchen and living room.
So far I have used this fragrance in CP soap only and am very pleased (as is my client for whom this custom soap was formulated)! I would assume that it would be considered a "floral" (despite its total lack of sweetness) and therefore does accelerate trace. Still, I just make sure to mix all colorants first then add the fragrance right before I'm ready to pour. The batter thickens to the perfect consistency for beautifully textured tops. Just be prepared to move quick and don't over mix. As for the scent:amazing! Clean, fresh and absolutely the best "Clean cotton"-type fragrance without any sweetness. Excellent!
I absolutely love this fragrance. It is clean and soft without being overpowering. This was just what I was looking for, for a fresh clean scent. I will definitely be repurchasing this scent in the future!
I bought almost 50 FOs and this FO is my favorite. I was "clean cotton" out, so to speak. So this was a great buy. I love this clean sent that is different from the usual laundry scents.
I love this oil. It had a great throw for me. I combined it with some lavender EO and it's just lovely. I use the Eco soya advanced and it had a decent cold throw and a great hot throw. I think it has a more earthy smell which works great for the candles I make. Love it.
I tried this fragrance with pillar wax at a 6% F.O. and it was very soft. I liked the clean fragrance but it was not strong enough hot or cold. More floraly than anything else. I also tried it with 464 wax at 10% F.O. and it is still a weaker fragrance both hot and cold. I prefer clean cotton for a more fresh clean scent. This fragrance will cater to thise who dont like strong fragrances.