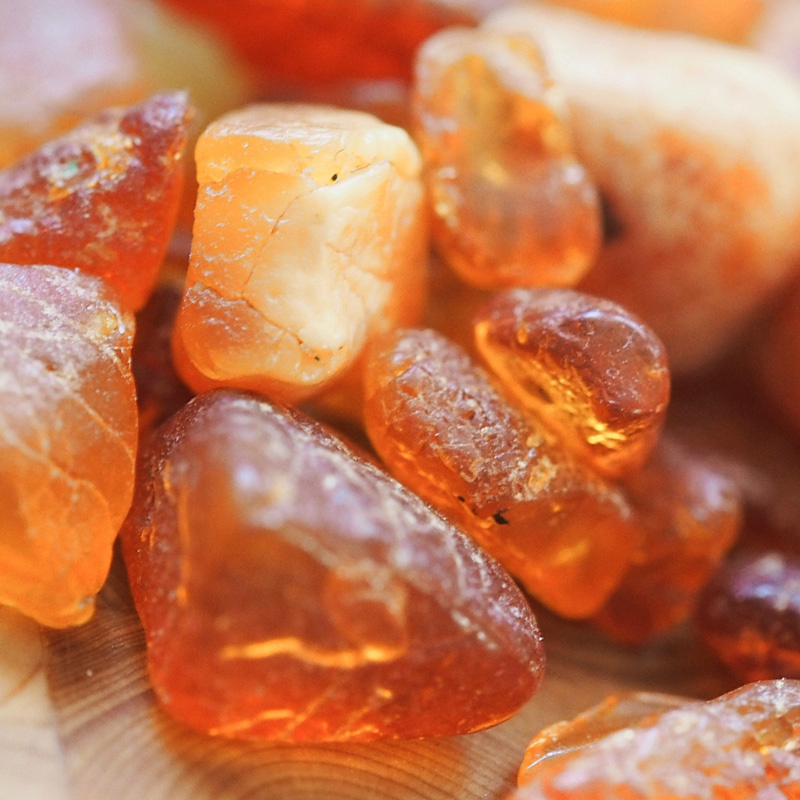 Ready to Order?
Out of stock. Expected: East Coast 7/30
3+ 25 lb Pails
$363.95
$0.91 /oz
Safer Scents For The Home
CandleScience Clean Scents™ are free from carcinogens, reproductive toxins, and other potentially hazardous chemicals often found in fragrance. Choose Clean Scents and create safer home fragrance products you and your customers can enjoy with confidence.
Read More >
Details
REVISION NOTICE:
It is our policy to notify customers if any part of a fragrance was changed for any reason. As of
January 16, 2020
our Egyptian Amber was revised to meet our stringent safety standards to remove ingredients with similar characteristics to those on the Prop 65 list. The original strength and fragrance characteristics have been preserved. To see details of the previous version,
click here
.
Egyptian Amber is an alluring, woody fragrance with bold musk aromas. A light touch of jasmine and ozone gives way to a heart of sandalwood, leather, and earthy patchouli. Amber and musk base notes wrap up this mysterious and complex fragrance. Candles and wax melts made with Egyptian Amber add a bit of opulence to any room. Elevate your handcrafted soaps, lotions, and spa creations with the luxurious warmth of this intriguing fragrance that is sure to delight all year round.
This fragrance is infused with natural essential oils, including patchouli.
Alternative branding ideas: Sacred Amber, Cleopatra's Crown, Night on the Nile
Note Profile:
Top: Ozone, Jasmine
Middle: Leather, Patchouli, Sandalwood, Tonka Bean
Base: Amber, Dark Musk, Light Musk, Powder


Suggested Colors: Brown, Orange
See our complete list of candle making dyes and soap colorants.
Note: Bottles filled by weight, levels may vary.
Properties
Candle Safe

Yes

Usage: 3-10%
Soap Safe

Yes

Usage: 2-4%
Vanillin Content
2.01% - 5%
Soy Performance
Flashpoint
> 212 °F
Phthalate Free
Yes
Prop 65 Warning Required
No
Diffuser Base Compatible
No
*Usage amounts are recommendations only. Individual usage amounts can vary based on your desired fragrance strength, wax type, soap base, or lotion base. See IFRA certificate for max usage levels.
Documents


Cold Process Soap Performance
| Acceleration | Discoloration | Separation |
| --- | --- | --- |
| None | Light Brown | None |
Lye Water Temperature 100ºF
Oil temperature 120ºF
We did not experience any acceleration or separation. The batter was slow to come to trace and very easy to work with. After 24 hours, we could see the soap had reached a partial gel, just through the very center. We observed an unusual discoloration pattern; the outer edges of the soap had turned a dark mustard yellow while the inner area turned a gold color. The scent was quite strong and more of the woody notes came through. After 30 days, the soap had discolored to a light brown shade and the scent became much more balanced although it was not quite as strong. The discoloration would make this a great fragrance to experiment with a wood grain pattern by using various amounts of titanium dioxide.
*Note - This fragrance was tested at a 5% fragrance load. With the release of IFRAs 49th Amendment this fragrance can now be used at 4.28% to remain IFRA compliant.
Reviews
Amazing Amber for Soaps and Candles
I paired this amber with the very vanilla about a 50/50 ratio as gifts of soap and candles for friend. Everyone was ecstatic over it.
Perfect as a stand alone in a carrier oil for a reed diffuser in my office. Replacing White Tea as a signature business scent in the fall through until spring.
I absolutely LOVE this one.
I love this scent! I received it as a sample with one of my very first purchases with CS and it's CT is amazing! The HT is a little on the light side, but those who purchased this scent from my shop said it they liked that it wasn't too strong so I suppose it ended up being good.
Smells so much more expensive than it is!
I honestly love this Amber blend. It smells as good or better than amber FOs I have that cost easily 2-4x as much. It's very warm and perfect for either a non-fruity "summer" feel or just a general air of luxury. The vanillin does discolor (I find it take at least a couple of weeks to show up), but I use it in products where that enhances the overall look/design.
This USE TO BE a great scent. I love CandleScience oils however, since the revision of this oil there's barely a smell and what you can smell isn't good...almost like an odor. Terrible HT and CL. I understand making the product safer but if you can't maintain the integrity of the scent then I would suggest discontinuing. Personally I am discontinuing from my candle line as the new version of this FO is terrible.
NO CT NOR HT!!!! What's Going On??
I'm very disappointed, I was excited about purchasing this fragrance. However, It has absolutely ZERO CT & HT. Wasted wax while testing this fragrance. I use 10% fragrance. This Is crazy. What's going on? Maybe I'll use the remaining to mix with something else, I just don't know what.
There is less amber here than I was expecting, but the combination is a very fresh Ozone plus Amber scent that makes very nice soap. I like it far more than I thought I would, as I'm not a huge fan of perfume-y fragrances, but this is such a pleasant clean but warm scent. Very nice.
I love this fragrance oil. It smells wonderful and gives a great throw every time.
Deep and musky, makes me miss my boyfriend! Lol
This is such a sensual scent! Makes you miss your boyfriend!
I bought a 16oz bottle of this one and was super excited to bring another masculine scent to my line but was very disappointed with the HT. The CT is subtle but great so I was expecting more. I wish I would've bought a different scent.
I am very disappointed with this scent. I had a huge wholesale order requesting this scent as one of the choices and my customer was and myself was super disappointed - there's absolutely no hot throw and the cold throw is maybe 1.5 out of 5
And the first whiff of the scent smells like B.O
This smells like body odor. Like someone who hasn't bathed in weeks. Yucky pew. If you like patchouli you will probably like this. It's not for me.
Not the same after the revision
This was such a lovely scent before the revision...a top seller for me actually! However, after the revision, you can barely smell anything both for CT and HT. Actually thinking to discontinue carrying it in my store.
Strong and great FO, 1 oz per 1000g of oils will be perfect and still give a medium - strong lasting smell.
Amazing with coconut soy wax
So I was a little hesitant to buy this because in my Facebook group people told me that you couldn't get a HT out this FO, but maaaan they were so wrong.
I've always used GB 464 soy wax and I've been getting some good and bad candles. So I decided to try a different wax for the first time, But with this particular wax that I used... (virgin Coconut soy wax) it came out PERFECT... I can't brag about how perfect it came out to be. I got both CT &HT and maaan I was so impressed.
I honestly fell in love with this FO
I truly recommend to try this with virgin coconut soy wax
This scent is amazing! Good scent to use for men candles!
Sorry I'm using 415 wax not 444.
It has a good CT and I really like how it smells, but i can't get HT. I used 444 wax alone and have tried it with a little bit of parrafin wax but still can't get HT. Please can someone help me!!!
Hi there! A member of our support team has reached out via email to offer further assistance.
Wow, I was impressed with this one! The scent is incredible.
I used this in soaps and it smells SO good! I would describe it as a smoky, musky, sultry scent.
Great Scent from the Bottle. CT is great. No HT.
I love the way this smells in the bottle and you can smell it very strong after the candle is made. Once I light the candle though, there is zero hot throw. I've tried different FO %, I've tried pouring my wax at different temps, I've tried adding FO at different temps and have had zero luck. I wish I knew how to get the hot throw from this FO.
This is one of my favorite scents and everyone else likes it too. It also handles well in CP soap.
This scent smells amazing!!
It seems to me that all these revisions to make the FO's meet the new safety standards have severely compromised the quality of the fragrances. The claim that the strength of these fragrances have remained in tact after revisions are for the most part, flat out lies. Frankincense and Myrrh and this Egyptian Amber being two of the biggest. They both smell the same but the strength of these two in particular are extremely muted and have almost no hot throw. I personally use 464 and I have already had complaints from customers saying that they can't smell them unless they put their face in it. Obviously not the goal here. I have a good standing relationship with my customers and I'd like to keep it that way. So it seems we can either have strict and safe standards or great smelling FO's but apparently not both.
I bought a sample of this scent and it is absolutely amazing, everyone who smells it falls in love with this scent. I'm not sure why others are having trouble with it. I use 444 and get a great HT and CT using HTP wicks but I do put my FO in at 157, not 185.
I absolutely loved this scent. It's been a best seller for me but as of lately it has no CT or HT. You have to get so close to smell it even a little bit. I am so disappointed. Did the formula change? I never had this problem before. Any advice on how to fix this issue? I would've easily given it 5 stars when it worked better in my candles.
It smells amazing in the bottle but I cant smell it almost at all with 464 and 444 wax! It is like the smell is non existent unless you are super close to the candle. Very disappointed with the hype.
This is one of my favorite from CandleScience. I used it in CP soap, added titanium dioxide to help with the discoloration; the soap turned a bit tan, but I will definitely make soap with it again. The bars I made smell deliciously good. Thanks CS! I love ordering from you. You guys are the best of all suppliers I order from. Everything on point always. I hope you can offer more cold process soap supplies, such as carrier oils, essential oils, and some other addictives. Thanks!
This FO is in my TOP 5 !!!
Love, love this scent. The aroma lasts a long time after it's been burned. The CT and HT are amazing in IGI6006 wax @ 8.5% FO w/ ECO series wicks and 4 drops of honey liquid candle dye. All materials from CS. I choose to lower my fragrance load to enhance the HT. In my experience, the thicker the FO I usually lower the fragrance load which actually increases the HT. I poured several single wick and 3-wick candles using only Egyptian Amber, no blending. I am a huge supporter of blending; however, this FO is perfect all on its own.
Very Nice Scent, But No HT
Egyptian Amber is one of my favorite scents from CS; it's a little spicy, musky, but also sweet like honey or spiced vanilla. The CT is very nice, especially mixed with some other scents. However, the HT is almost non-existent; I've tried several different ways of adding the oil to the wax (444) and at various different loads (6% to 12%), yet the result is always the same. I don't use 464 for my business, so I'm hoping those users get a bit more luck with the HT.
Otherwise, I like the scent a lot.
This isn't the warm, vanillic, heavy amber in a lot of fragrances. The ozone and jasmine make it lighter and more like perfume, in a light, fresh way and the ozone note is true. I wish CandleScience sold that note as a single note for perfume blending! It's outstanding. Here in this mix, it adds that light breezy feeling without making the scent aquatic. Very nice.
I used this scent as apart of my masculine line of candles & WOW!!!!!!! No exaggeration... it is amazing. Hints of honey and musk. It's not a super strong scent but most of my male scents are so this is perfect for your customers who like subtle scents. 100% satisfied.
Used this in cold process soap, I added vanilla stabilizer to make it a lighter color. It is a great deep amber scent, it's one of my favs, I renamed it amber and honey and it sold out.
Wonderful warm earthy fragrance!
Amazing warm, earthy candle fragrance
I got this as my free 1oz sample and honestly, I regret not buying it sooner. Gorgeous, deep and rich, warm earthy scent. Used at 6% in soy 444. Admittingly, I haven't burned the candle yet so I cant comment on scent throw.
I agree with the other reviewer that said this is in the middle of masculine and feminine... it's a real nice scent and my testers are pleased. I personally am I fan of burning this. I have increased the FO load on all my candles as I like a nice strong candle that will fill up a room. 12% FO, add at 185 and no issues with sinking, etc. Have used this in some mixer practice candles and I feel it adds a nice base for the lighter FO's in the blend.
This scent is middle road between masculine and feminine and smells AMAZING! I didn't have trouble with the throw but I mixed it in 464 at 60 degrees. Try the lower temp so the scent doesn't burn off.
This is my favorite scent. I find it to be elegant. I use it in my status jars. No dye. I agree it is a soft scent and works great in smaller areas. I may try using 12% load next time and use a smaller jar.
Hands down, one of my favorite scents for CP soap. It's not my fave out of bottle, but the scent changed during cure to become so balanced and smooth! It's the perfect unisex scent and I had no problems using for CP design. No acceleration, separation or discoloration (I did a zebra stripe design and soap at room-temp).
This FO smells amazing straight from the bottle and I had high expectations until I mixed it with 464 at 185deg for my candles. Unfortunately the CT and HT are veery light and mild. I would have preferred if it was more intense. I could only smell it when I am just inches away. Any recommendations on how to better use it as I really like the smell...?