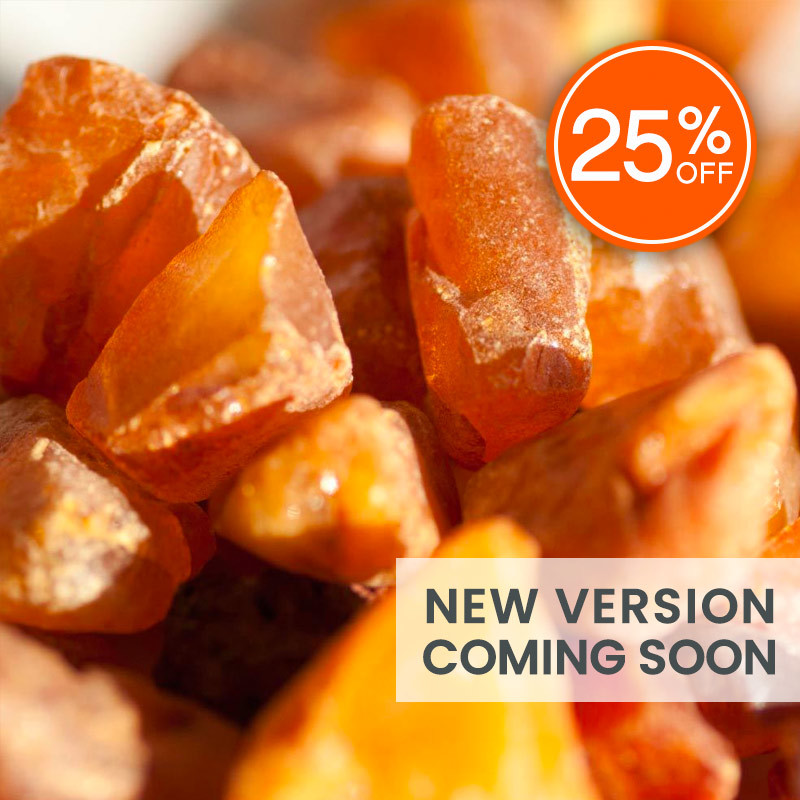 As of 01/08/2020:
This version of Egyptian Amber (Discontinued Version) has been discontinued and replaced with the new Egyptian Amber. Click here to check it out!
Details
REVISION NOTICE: It is CandleScience policy to notify customers if any part of a fragrance was changed for any reason.
As of January 16, 2020 our Egyptian Amber was revised to meet our new stringent safety standards to remove ingredients with similar characteristics to those on the Prop 65 List. See new version.
A complex woody blend infused with five essential oils. Egyptian Amber has a rich base of vanilla, dark musk, and sandalwood well balanced by a lively citrus top note. Warm amber and a touch of jasmine make up the heart of the fragrance. It works equally well as a masculine or feminine fragrance, and is well suited to a high-end natural candle or soap line. This fragrance oil is infused with natural essential oils, including Orange, Lavandin, Copaiba Balsam, Lemon, and Grapefruit. Note Profile:
Top: Citrus
Middle: Amber, Jasmine
Base: Dark Musk, Vanilla, Sandalwood


Suggested Colors: Brown, Orange
See our complete list of candle making dyes and soap colorants.
Note: Bottles filled by weight, levels may vary.
Properties
Candle Safe

Yes

Usage: 3-10%
Soap Safe

Yes

Usage: 3-6%
Vanillin Content
0.01% - 2%
Soy Performance
Flashpoint
212 °F
Phthalate Free
Yes
Prop 65 Warning Required
No
Diffuser Base Compatible
Yes; Up to 25%
*Usage amounts are recommendations only. Individual usage amounts can vary based on your desired fragrance strength, wax type, soap base, or lotion base. See IFRA certificate for max usage levels.
Documents

Reviews
this is my favorite scent by far please don't take it away!!!
Hi! This fragrance is not being discontinued permanently but we are revising it with a better version. Keep an eye out for the revision to be launched in the coming weeks!
I made this fragrance in 464 Soy wax twice and both times my candle tunneled and the wick (ECO 10) barely burned in the status jar. I love this fragrance and really wanted it to work but was very disappointed in how the candle burned.
I can't keep this candle in stock. One of my top selling candles.
Smells male. Can't complain. Just not the scent I'm looking for.
This oil is a custom favorite especially with the men. They'll pick it up when shopping with their wives and buy it every time...Bonus!
We, and our customers, love this fragrance!
This is my #1 seller so far. Both male and female love this fragrance. They are waiting for me to make some more.
This is a beautiful, soft, and exotic scent that I blend with another oil for wax melts and candles. I'm not fully in business yet, still testing, but I get frequent requests from my "test people" for my blend using this!! It's a staple for me!!!
I used this to make CP soap and people loved it! I sound out in one show! Buying more now <3
Egyptian Amber is a powerful scent. Within an hour the HT from an 8oz soy candle can easily fill a 3 bedroom apartment with this sweet, musky, spicy aroma. The CT is also potent from my experience. I don't recommend making soy candles at 10% FO with this scent. It's more musky than earthy and smells like it's in the frankincense family. The rich, dominant base fragrance smells as if it is derived from a natural resin. It may remind some people of a Christmas fragrance. For me the scent summons images of this oil being traded on the Nile between the ancient Kingdom of Punt and The Egyptian Empire. I am burning one of these candles as a write this review. Definitely a keeper. Nice work Candle Science!
This scent is gorgeous on its own in my tarts, but I've found that it mixes with so many scents extremely well. Gives everything a unique twist.
Great FO, can't complain.
This scent is really great. The scent is perfect. I used this scent in the 1st candle I ever made and it turned out fantastic. Would highly recommend :)
A very comforting scent that goes well with any line of candle or bath product!
Fantastic fragrance for CP!! I've smelled other "Egyptian Amber" FO's elsewhere as it's quite a lovely scent, but this is my absolute favorite I've come across!! It's richer, warmer & more potent than others I've smelled. It's a warm, amber, inscensy-type aroma that is just gloriously rich and well-rounded! Both men & women alike love it! This fragrance soaps like a DREAM too! Really blossoms in CP & cures to a golden tan... So perfect for the scent!! The scent STICKS too! It's been about 2 weeks into cure & my soaps are still wonderfully fragrant!! No troubles to worry about with this FO! Behavior & scent retention are outstanding, and the aroma itself is DIVINE!!!
Can't get enough of this scent. Not sure whey it is called Egyptian Amber. My friend introduced this scent to me but she called it Cashmere - I couldn't agree more with her. It smells so luxurious.
Owner at Melting Moon Candle Company
I love this scent, it is very complex and makes a nice "high end" smelling candle =) Another one that "everyone" smells to enjoy. I use this in 464
Mesmerizing and intoxicating
I used at 9% in a para soy blend. It smells amazing cold but I haven't had time to burn it yet. I have let lots of customers smell the uncured tester and everybody loves it. Men and women both. A lot of women say it smells like a hot guy LOL
I can only smell this FO when am closer to it (gb464).
I can't believe there are any negative reviews of this scent, it is by far my best seller - I cannot keep this in stock. For those of you saying you can't smell it, my only suggestion is that maybe you are heating your wax too hot or pouring too hot/cold. I personally heat to 185, mix and pour immediately without issue, but that could be related to the environment/climate I'm in (I keep my house around 70 degrees). Also let the candle cure for a week or two, and use 10% fragrance load (for every pound of wax, 1.6 ounces of fragrance oil). Please don't ever stop making this!
absolutely the most incredible thing i have ever smelled, without a doubt my best seller
So I am new at making candles, so I follow the directions given here as to how much fragrance to use per lb of wax, at first I loved the way the candles smell after they have been set, so I decided to burn one but I did not smell anything at all. Am I doing something wrong please HELP!!
This is a very complex smell, everyone who smells it seems to love it! I will be adding this to my line. Used in 464 Soy Wax at 1oz/1lb, nice strong cold throw, waiting on cure times to determine hot throw.
Though I like the smell of this fragrance I could only smell it if I stuck my nose in the candle. I like a fragrant candle to permeate the house and one that I can actually smell once the candle is lit. I have had some candles that do this. This doesn't and I was left wondering that if I used the whole bottle would I then be able to actually smell it? I bought 2 fragrances from candle science and neither one are adequate
Awesome cold and hot throw in GB 444 at 1 oz per pound of wax. Everyone who has smelled it so far loves the scent.
Used this FO in my CP soap. It behaved very nicely. I'm now steaming my soap and getting ready to package. To my delight, the fragrance held. Will purchase again.
ALL THE PRAISES (where are the emoji's when you need them)
You will be simply blessed if you order this fabulous fragrance!
MY FAVORITE SCENT OF ALL TIME!
I have bought 100's and 100's of scents from CS and from other companies. THIS is my ABSOLUTE FAVORITE. It smells amazing and more importantly it has a extremely strong hot throw. The cold throw is also out of this world, hands down the best ever. I have a candle in my office scented with Egyptian Amber and I never even have to light it because it gives off a beautiful cold throw. I LOVE THIS FRAGRANCE. It's my best seller, EVERYONE loves it. BEST SCENT EVER. Buy it, I promise you won't be disappointed, your customers will love it!
Me encanto este olor esta super lo recomiendo 100%
Very disappointed. The cold throw on this scent is amazing but unfortunately I'm not getting a good hot throw. I have to get next to the candle to smell anything and the worst part is that I tried the tester after selling a few candles to clients. Used CB advanced soy, added 9% FO at 185, poured at 135, used ECO wick 4 in a 3" container, cured for a week. Has anyone else experienced this issue with this scent?
This performed great in GB464 in 6oz candle tins. Can't wait to order more. It's a wonderful gender neutral scent. I wonder if it does well in soap?
I cannot say enough good things about this scent. It is so relaxing and wonderful😁
I received this scent with the starter kit and wasn't sure if I would like an amber smell. When I opened the lid on the sample bottle, I was pleasantly surprised at how light and relaxing it smelled. I'm new at the candle biz so I gave a couple freebies to friends to try out to get their opinions and they both thought it was the perfect "unwind and take a bubble bath" candle. So far, anyone who smells it falls in love. I've also had requests to make more!
Believe in the magic of this fragrance....every time you smell my candles; hydrosol water; and she butter creams.....you are in heaven...it makes you feel good....and brings happiness....everyone loves it!!! I almost didn't want to write a review because I don't want everyone having it...LOL.....
Can't stop smelling this one
I LOVE this one. I made soy candles using Cargill's naturewax C3, HTP 1212 wick in 3.25 inch container. They are curing so I won't know HT for another couple weeks, but CT is amazing. Seriously, I can't stop smelling it. I also made Cold Process Soap and it performed well. No ricing, no acceleration (even though I discounted my water by 4 ounces), discolored to a beautiful caramel color. Used 6% in soap and it's not overpowering. Hope the scent holds through curing. I will be be buying this one again and again... Don't you love it when you find something new you absolutely love?
This is one of my best sellers!!!! I pray it doesn't get discounted because my customers absolutely love this scent!!
One of our best selling scents. Absolutely love this scent.
the fragrance of the candle is a favorite of my clients. However its a common review that the "hot throw" is weak. As a later researched, the most common suggestion for Soy Wax (if thats what you are using) 1.5oz will be more effective than the 1oz!!!
So I ordered larger amounts of the most requested fragrances.
I love love LOVE this fragrance, this is not only my favorite scent but all my customers are obsessed with this scent. I sold out in a week and I keep having people ask me for the candle I sold to "so and so" they smelled it and now want their own. Reordering more now!!
This scent is my go to. Everyone I have given candles to loves it! it smells great even when the candle is not burning! It works well with soy as well. I will always order Egyptian Amber.
This one is a keeper. The hot throw fills the room and I cannot get enough of it. A friend came over tonight and I stuck an Egyptain Amber container candle under his nose. He wanted one immediately. I had success with 1 lb. 444 wax, melted to 185. I added one ounce of FO at 185, then a dye chip at 180. I stirred to 135 and poured into a narrow salsa jar (not quite 3" diam) wicked with an ECO 10. The top cratered, but a second pour helped and so did some smoothing with a heat gun. It cured for a week or so and now I need to make more.
I totally love the cold throw of this fragrance, as does everyone! But, then I burn it and can hardly smell it. I am doing a 10% load in Golden Brands 464 and adding at 185, pouring at 135. I also tried 6% load and it seems to be the same. I really wish for so much more for this scent, as it truly is everyone's favorite when they smell it cold. Wondering if I should try another Amber...
This is definitely intoxicating scent. Men and women love it. Will buy again
In the bottle this smelled AMAZING!! So amazing that I chose NOT to mix it w vanilla and instead mixed my vanilla with lavender (which turned out to be freakin awesome and is my all time favorite so thank you, God!!).
However, once I poured Ms. Amber into my wax at 185° (gb464), the smell totally changed!!! It got almost chemically!! I've read reviews using that word "chemically" and wasn't sure what they meant, but now I know having smelled the Egyptian Amber! I was so sad and confused bc I loved the way the bottle smelled, but I decided to let it cool and then smell it again. So the cold throw was actually a lot nicer! I'm going to let it cure for at least a week! Two days down.... 5 to go..
4 stars bc it seemed to get better as it cooled and I am very hopeful!
I made a candle from the kit - I followed the directions exactly. I poured 1oz of fragrance in 1lb of wax at 185 and poured my candle at 135. The candles look amazing, and cold throw is very nice! I am excited to burn it this weekend. I am letting it set for 5 days to give it a chance to smell it's best. I am curious what the people's methods were that are not getting good results. You should add the info on what temp you put your fragrance in and how much and how long you are letting it cure. Seems like these variables matter. 4 starts just because I don't know how it will burn yet... Keeping fingers crossed.
One of my FAVS & BEST SELLERS!
I LOVE THIS SCENT. I truly don't get the bad reviews. My male customers buy 2-3 candles at a time of this scent and Oakmoss & Amber. If you are using soy, it needs to cure at least a week if not 2, otherwise you won't get the full range of how great it really smells.
I love this scent! I make soy candles and this is by far my #1 seller. A word of advice to people giving it low ratings because of no scent throw, in my experience this particular scent needs around a 5-7 day cure time before you get a strong scent throw from it. Believe me it's worth the wait!
very disappointed with this scent..i have bought several scents from candle science and they have all worked well in my candles giving good hot and cold throw.. however i am not getting a hot throw for this scent at all. i can smell it if i'm standing right by the candle with my nose up close but not further than that....im beyond disappointed because i sold this one to one of my best buyers....it has a good cold throw...i would like to know if i can get a refund on this scent or another fragrance of similar price to replace this one...i would give it 0 rating if i could
One of my bestsellers and one of my personal favorites! Love it!
Probably my favorite scent!
This is one of my favorite scents from any company. I'm very shocked at the bad reviews and that left me hesitant to purchase in the first place. I actually think the opposite of those reviews. Very nice hot throw. You can smell the fragrance throughout the room. I love the masculine yet feminine scent. Love it!
A Scent of Vero Candle Co.
This is my BEST SELLER!!! People cannot get enough of it. Men and women love it. Works great in soy candles and wax melts.
I can't keep Amber in stock! It is my best seller. It is a wonderful sensual scent! A must have.
Love the smell, NEEDS A BETTER HOT THROW!!!
I got this scent when I purchased Candlescience's candle making kit off of Amazon and loved it. I had no problem smelling it as I poured it or as it set. I waited 3 days to let the smell sink into the soy, but when I burned it, NOTHING! I can smell it if I'm right over the flame but even if I was 5 feet away I couldn't smell it. Super disappointed in the hot throw. Guess I'll add .5 oz if I decide to buy this scent again. Used GB 464 wax in the 8oz candle tins.
I use 1.5 ounces in 464 soy wax. Customers really love this one.
I was very unsure about ordering this fragrance so I got it a sample. I have tested this fragrance in my wax melts and as a candle. This is one of my all time favorites for sure!! I just ordered more and I have orders pending for this one. As with alot of fragrances some people will love it and some will not. Good Luck!
Love the fragrance in lotions, so I tried in soap yesterday. I used 1oz per 1lb oils. It was strong going in the mold, but very faint 24 hrs. later. I suspect 2oz per lb. of oil may work, but may cause more problems with discoloration and acceleration.
Wish it worked better in soap.
I'm surprised how much I love this smell. It is so warm and lovely. However, it is strong. It is very strong. I used 1 oz. in 1 lb of wax and sometimes I have to blow out the candle because it's too much. Great, great smell though.
Forgot to say--- I use it in my candles at 8% and it is very strong....lotion bars/soap at 4%.
Rich and delicious fragrance!!!!
I seriously cannot get enough of the this fragrance! I make candles, lotion bars and soap out of it!!! Completely sold out of the candles.... In CP soap, it turns a nice light brown after curing for a few weeks. It has a sweeter smell in candles/lotion bars and a more masculine smell in soap...My husband also loves it!
Very disappointed in this FO. Weak scent, missing the "amber" tones...seems like all musk and no sandalwood. I have ordered egyptian amber from other vendors and loved it. This is just wrong and would like to return it.
I love this fragrance, to me it smells exactly like Calvin Klein's Obsession for Men! Will definitely be ordering again!
I love this scent but I have to say that I like my candles to be strong. I used the recommended 1oz per pound of GB 464 and it just doesn't seem strong enough for my liking. It does have a very nice smell but next time I make this, I will be doubling the FO amount I put in. But let me add that I have children, pets and a smoker in the house. I am sure that the recommended amount would be perfect in a home without these factors.
Easily my best selling fragrance. It is not overly musky but more fresh smelling to me than anything. Most of my customers are very pleased by this one - young and old alike are drawn to it. Cold and hot throw both are perfectly fine - I use GB 464 wax with 1oz per lb. of fragrance,
I had this scent in my bag, along with others I carry and received lots of orders for this one~ I personally love this!
I used this in IGI 4627. I wish we could post the smell here along with the review! I have to say this is my favorite Candle Science fragrance oil. It is just the most beautiful scent I have ever used in a candle! The hot and cold throw is the amazingly, strong!! I hand this out as samples to store owners I would like as clients! That is how confident I am about this oil. I have a bunch of candles set out for testing and this is the one I smell over all the others!
Surround Yourself Beautiful
My personal favorite! Very beautiful and rich. Great cold and hot throw! Used 4627 Comfort Blend...
I love this scent. It's definitely strong. And it's not too musky like I expected. It has a great hot and cold throw!
I make a sell candles and I ordered this as a free sample months ago because of the ratings! Once I saw how quickly it sold, I began to purchase larger quantities of Egyptian Amber! I use 1.5 oz in soy wax and it has a great hot throw for a medium sized room! Cold throw is good also. My customers love this fragrance!!!!
I am always hesitant to try a new fragrance, THANK YOU CandleScience for offering a free 1oz sample FO with purchase! I really love this fragrance! Will be ordering more !!!
I love the smell of this FO. Its more of a soft subtle scent in my opinion. Its very pleasant and sensual. It's not as strong as some of the others being that this is not a sharp scent but it definitely has a nice hot throw that was able to fill my large Garage/office.
i got a sample of this about 3 years ago...started making candles,then using it in my body butter and now in my body & linen spray...it is my # 1 seller
I ordered this as my sample fragrance with my last order. Tested it in GB464 @ 10%. The cold and hot throw are excellent. Will be ordering more of this FO.
I am a huge Amber fan! I ordered both Asian Amber and Egyptian Amber. I love the full bodied complexity of the Egyptian Amber. A very warm scent, smells like there are chocolate undertones. The Asian Amber gave me a terrible headache. This one wins hands down! I am about to order a much bigger bottle of it!!
Used this Fragrance for my first batch
I used a 1 oz bottle in a pound of GB464. This was my first time making candle and everything went smoothly. Running a test burn now. The cold throw is fabulous, but it has little in the was of a hot throw (I chalked that up to it being in my first batch of candles).
This is am awesome scent. Very popular among my customers. Excellent cold throw, once the candle has been burned even, the scent can still be smelled just not as strong. I use BG464 at 100%.
This is a great scent. Awesome cold throw, lacking while burning. I use GB 464 and ECO PB with max % load.
This scent is great and I only tried the trail size.I will be purchasing the big bottle as my customers love it.I used GW464 soy wax.
Wonderful romantic scent...LOVE IT!
This scent is sooooo beautiful! It is soft, but you can smell it. The mix is incredible to me. Perfect for burners and body products. Just lovely!
This is a great fragrance: smells great in the bottle, awesome cold and hot throw! Truly a winner/keeper!
Egyptian Amber is great for both candles and cold process soap!
I absolute love this fragrance. It works well in both candles and cold process soaps.
love...... then not so much
Fabulous cold throw. Smelled so good and strong. However when burning I smelled nothing. I used gb464at a 12 %load
I have been searching for the perfect amber for a year now and this is the best by far that I have ever smelled and I have been making candles for many years this is no.1!!!!!!!!!!!!!!
I like Egyptian Amber. Its a pleasant twist from Egytpian Musk.
Not crazy for this one. Made my sinuses a little crazy. Very sweet. Smells more like a sandalwood perfume. Maybe I will try Asian Amber.