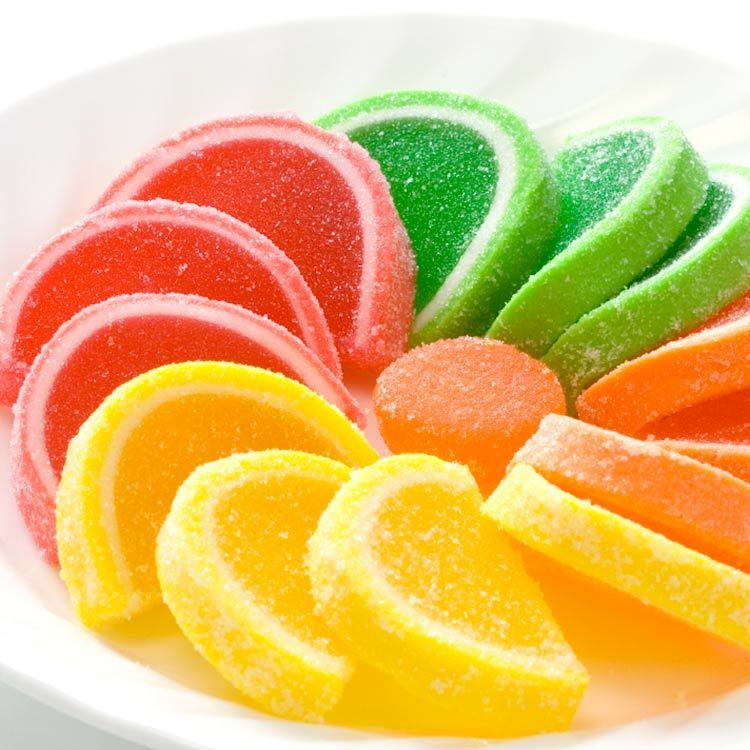 As of 08/11/2020:
Fruit Slices was discontinued and has been replaced with
Citrus Agave
. For more details
see below
.
Details
REVISION NOTICE: It is CandleScience policy to notify customers if any part of a fragrance was changed for any reason.
As of June 30, 2020 our Fruit Slices was revised to meet our new stringent safety standards to remove ingredients with similar characteristics to those on the Prop 65 List. See new Citrus Agave.
Our Fruit Slices fragrance oil is a mouthwatering array of candied citrus fruits and grapefruit. We have found this scent to be very comparable to Volcano type fragrances.
This fragrance oil is infused with natural essential oils, including Grapefruit and Tangerine.
Note Profile:
Top: Grapefruit, Orange, Tangerine
Middle: Strawberry, Guava, Sugar
Base: Black Currant, Vanilla

Suggested Colors: Orange, Green, Yellow
See our complete list of candle making dyes and soap colorants.
Note: Bottles filled by weight, levels may vary.
Properties
Candle Safe

Yes

Usage: 3-10%
Soap Safe

Yes

Usage: 3-6%
Lotion Safe

Yes

Usage: 1-2%
Vanillin Content
0%
Soy Performance
Flashpoint
145 °F
Phthalate Free
Yes
Prop 65 Warning Required
No
Diffuser Base Compatible
Yes; Up to 25%
*Usage amounts are recommendations only. Individual usage amounts can vary based on your desired fragrance strength, wax type, soap base, or lotion base. See IFRA certificate for max usage levels.
Documents

Cold Process Soap Performance
| Acceleration | Discoloration | Separation |
| --- | --- | --- |
| None | Light Yellow | None |
Lye Water temperature 110ºF
Oil temperature 110ºF
We did not experience acceleration or separation. After 24 hours the soap was a pale yellow with a mild scent. But, we did notice the fragrance had a more dominant bitter orange character. After curing, the soap bars had a light yellow color, and the scent was a pleasant lemon-orange citrus scent.
Reviews
This fragrance was one of the best ones you had and now is gone??
Thank you for leaving a review! The Fruit Slices fragrance oil was revised and is now the Citrus Agave. It is almost an exact match, if not a little stronger so it should still be perfect for your customers!
I really do hate that y'all took the fruit slices off your fragrance list... One of my favorite and top sellers.
When I make my fruity rainbow swirl CP soap this is my go to fragrance, my soap smell exactly how it looks and thats amazing.
I would not have ordered based on the name but the reviews sold me, and I love this!! Very similar to Volcano and exactly what I was looking for.
This is my best selling fragrance. I make meditation candles with a crystal at the bottom, and this is my Joyful + Citrine combo. I feel like the scent is both energizing and relaxing, and my clients love it! So glad I found this one. I use soy 464 wax and a 10% fragrance load.
Smells edible! Just like the picture shown. But, I wouldn't eat this oil. Probably doesn't taste too good and may make you sick.
This is my best selling candle scent. I've never met anyone who didn't like it. Pretty much everyone who smells one buys it. It's that good! Yes, it smells just like volcano from Capri blue. It's a sweet, fresh, joyful citrus scent with a little something mysteries that people can't place their finger one but love nonetheless. Fruit Slices, I just can't quit you.
I'm writing this review on a rainy night in November because I can't wait for Spring to start pouring this fragrance again. It's pure, yummy, fruity summertime candy sunshine. This scent gives me a strong nostalgia for childhood sno-cones. And it sells. Boy does it sell! I can hardly keep it in stock during the warmer months. It has a phenomenal cold and hot throw in 464- at 10% it's truly a room-filling scent.
I use it in my HP soap recipe with goat's milk I love the fruity but soft scent. The smells reminds me of an old shampoo in the 80's I used called: Gee Your Hair Smells Terrific.
I LOVE this scent so much but cannot get a descent Cold or Hot throw. How are you guys doing it? I got zero throw with Soy 464 and very mild throw with IG6006. I will keep experimenting because this scent could be a best seller.
WOW, amazing fragrance oil
I made cold process soap with this, it smells amazing, not too strong and I had time to do 5 pastel colors for a beautiful swirl, it came out amazing, no issues and has a great light fruity smell, nothing harsh, no seizing or ricing. I will be buying more!
I actually ordered this because I has some requests for fruit slices scent. I didn't think I would like it. I do though. It is a really bright, and fun scent.
This scent diffuses exactly like volcano. I can make every room smell like heaven, at a price that makes my partner happy ;)
Thanks so much for this amazing oil!
making tarts for wax warmer
if you add some lemon or orange this would be great.
I love the cold throw but the hot throw was very light I used the max allowed 4 oz tin with eco10 poured at 165 degrees not sure what I'm doing wrong. I still love the scent and looking for a way to make the hot throw better I used the 464 wax.
Sugared lemons, limes and oranges
Definitely volcano but don't tell your customers LOL. Come up with your own name and most won't make the connection
This smells EXACTLY like apothecary's famous Volcano candle. It has AMAZING hot and cold throw in 464 wax. I am so obsessed with this. Very impressed!!!
This FO smells like a fresh orange. Good throw, cold and hot. Very bright and sweet.
Lovely fragrance, but it faded a bunch and morphed weirdly in cold process soap.
Fresh, fruity, and oh-so-amazing!
A perfect blend of vibrant fruit, but not overly tangy or sweet...a perfect mixture of both! Grapefruit and tangerine scents are strongest, but the background notes make it more complex than just a citrus candle. This scent is a strong resemblance to Capri Blue Volcano (while that candle IS sold at Anthroplogie, it is actually from a candle company in my Mississippi hometown of Starkville...Aspen Bay Candle Company!). I've only just sampled Fruit Slices and am kicking myself for not trying this one sooner, as I know this will be a best seller for me!
Yup! Smells just like that hipster store's candle...if you like that smell, you'll love this.
My daughter and I made soap with this fragrance and we loved it! It smells great out of the bottle and in the soap. The scent has lasted and held extremely well. If you like Fruity and sweetness this is definitely a good one! I will be buying a bigger bottle next time! This is definitely a keeper for us!
Smells just as described. Amazing throw and lasts forever. I literally melted some wax melts I made with it, and one lasted for like 12 hrs! Awesome product.
My best selling summer fragrance, considering pouring this scent year round as I have received several requests.
I really like it, smells great!
This is blowing me away right now. I bought this to try to recreate the awesome smelling citrus, pineappley, fruity volcano candle and I am soooo much more impressed with this one! Now it flies off the shelves. Please don't ever get rid of this scent I may go out of business!
This fragrance smells so fruity-tropical punch like.. -just tested it and I love it.
My favorite smell in the world
Smells just like Anthro's "Volcano" candles. Exact! It is soooo yum. Like sweet fruit punch/ grapefruit.
This smells like a citrus-mix candy. So yummy.
smells like life savers candy
Wonderful fresh clean scent, very uplifting can smell each fruit, great throw hot or cold, I used palm wax!