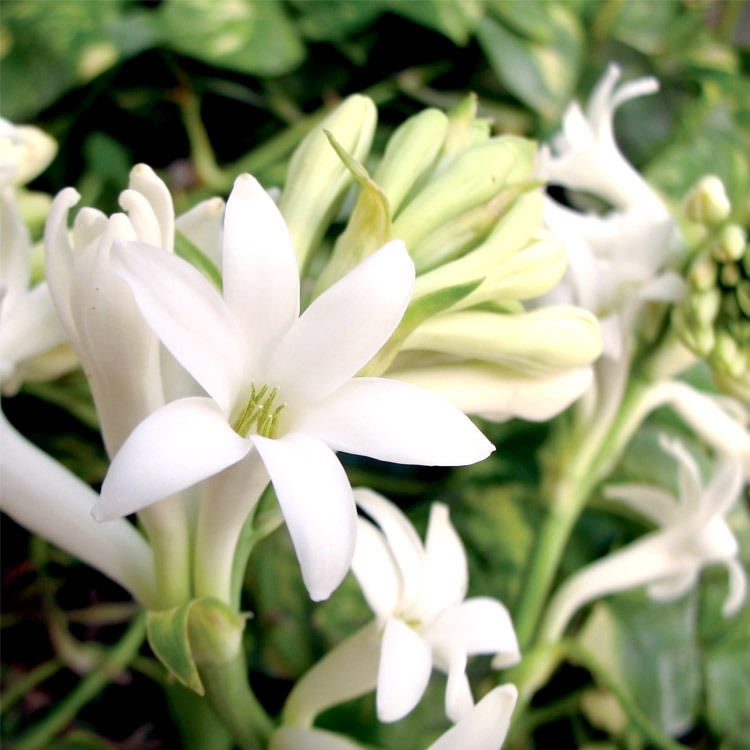 Ready to Order?
6+ 5lb Jugs
$84.84
$1.06 /oz
12+ 5lb Jugs
$76.36
$0.95 /oz
Safer Scents For The Home
CandleScience Clean Scents™ are free from carcinogens, reproductive toxins, and other potentially hazardous chemicals often found in fragrance. Choose Clean Scents and create safer home fragrance products you and your customers can enjoy with confidence.
Read More >
Details
Now Phthalate-Free!
REVISION NOTICE: It is our policy to notify customers if any part of a fragrance was changed for any reason.
As of May 2, 2019 our Gardenia was revised to meet our stringent safety standards of being Phthalate-free. To see details of the previous version, click here.
Breathe in the fragrant accords of tropical white florals in full bloom with Gardenia Tuberose. This dreamy scent begins with top notes of gardenia and lemon peel as it gives way to a blossoming heart of tuberose, jasmine, and green florals. A soft powdery finish gives depth to this earthy floral. This fragrance adds a delicate beauty to soap and other bath and body care products, and a fresh sweetness to candles and wax melts.
Note Profile:
Top: Gardenia, Lemon Peel
Middle: Tuberose, Jasmine, Green Floral
Base: Powder

Suggested Colors: Ivory, Light Yellow
See our complete list of candle making dyes and soap colorants.
Note: Bottles filled by weight, levels may vary.
Properties
Candle Safe

Yes

Usage: 3-10%
Soap Safe

Yes

Usage: 3-6%
Vanillin Content
0%
Soy Performance
Flashpoint
> 212 °F
Phthalate Free
Yes
Prop 65 Warning Required
No
Diffuser Base Compatible
No
*Usage amounts are recommendations only. Individual usage amounts can vary based on your desired fragrance strength, wax type, soap base, or lotion base. See IFRA certificate for max usage levels.
Documents


Cold Process Soap Performance
| Acceleration | Discoloration | Separation |
| --- | --- | --- |
| None | None | Moderate |
Lye Water Temperature 116ºF
Oil temperature 112ºF
We did not experience any acceleration but we did have some ricing. Initially, we thought this would just be slow to come to a light trace but then we started to see the little pieces of "rice" form in the batter and it had the appearance of soupy rice. We continued blending until the soap batter smoothed out which was when it reached a medium-thick trace. The batter was still loose enough to get into the mold easily. After 24 hours, the scent was strong and had a more dominant tuberose character but kept the sweet gardenia notes. There was no discoloration but we did observe the soap had almost reached a full gel with no signs of overheating. After 30 days there is no discoloration and the scent is more balanced and remained strong.
Reviews
Fabulous! Very strong and love it. Great by itself or in a blend.
It is a beautiful, almost sweet scent that I think will be perfect for spring and summer. It has strong cold and hot throws, and I use 7% in pure beeswax. My husband loves it too.
Gardenia was my mother's favorite scent. I am so pleased that is smells just like gardenia and is a strong scent!!! Love It!!!
this scent in a candle is very overwhelming to me. It's strongly clean and floral and i guess i wasn't as much of a fan of the tuberose as i hoped. I imagine it probably works better as a soap. Not my go-to for a floral scent from now on. It's good, just not my favorite
Did this fragrance in soap it what a beautiful fragrance! Looovvvvveee this one!
I ordered this to try with 464 and the scent throw is amazing!! One of my favorite scents from candle science.
Wonderful fragrance, accelerates
I bought the sample and used it in CP soap at 85-90 in a small flower mold. Loved it so much and it behaved fairly well .... no ricing and very little acceleration. However, bought the 4 oz and made a 60 oz batch. Accelerated fairly quickly so I had to change my design and spoon my colors in my mold on top of a solid white base that moved fast. Kept having to stir my colors because they moved fast too. I still love the fragrance as it's a beautiful floral. I soap at 85-90 so just beware of your designs.
I love this so much, the scent is divine and the cold and hot throw are excellent. Highly recommend!
Used at 5% in CP soap, nice and fragrant. Great floral frangrance for soaps. Will purchase again!
Love this Scent- Very Strong
Love this scent. It is very strong and the best floral fragrance i've bought so far. Customers love it!
Strong fragrant scent but can easily make it softened by adding less FO. Smells exactly like the flowers. This is a big hit with my floral lovers.
I love the floral aromas and this is great
This is a beautiful delicate floral scent. I love it!
At first I was like "gardenia!??" But now is one of the favorites of everyones.
Not the same as original Gardenia
This scent is nice but not my favorite, my customers really loved the original gardenia and I'm not so sure this one will sell. There's more jasmine than gardenia
I just made this candle with a mix, So Beautiful. Can't wait to burn. I know it's going to smell wonderful.
I love this scent. I have been looking for a gardenia scent that is not overpowering and this is it. I love it. My husband loves it as well. This is my new favorite. Great hot and cold throw.
Smells so good everybody loves it
Should be called Jasmine & Tuberose
Smells sooo, soooo good! Although I hardly pick up any Gardenia, and only really smell Jasmine and Tuberose. So, if you're looking for gardenia, I don't recommend this. But if you're looking for a lovely jasmine/tuberose mix, I couldn't recommend it enough!!
I got a small bottle of the Gardenia Tuberose to sample - not happy with the outcome. My customers LOVE regular Gardenia, but this new one hardly has any scent to me. Have tried two different times to burn and I am not getting any cold or hot throw. Disappointed.
Love this! A new favorite for sure!
Although the fragrance is nice and works well with several of our products, it is no match for the original Gardenia that it replaced. Jasmine and tuberose are the predominant scents; gardenia barely comes through.
Love this scent... I use 464 soy and the hot throw is amazing
Lumpy! but smells amazing
I made cold process soap with this yesterday, add your FO when you're ready to pour, you will immediately see large curd like lumps, luckily it was still fluid enough for me to pour into the mold, will see what the cut is later today, wont be my prettiest soap but it smells heavenly!
I am so pleased with this fragrance oil. Great performance, and customers can't get enough of this one.
This is such an amazing floral fragrance! Very light and pretty, with great scent retention. A little of this one goes a long way! I will definitely be buying a bigger bottle soon!
I've been using the gardenia fragrance for SEVERAL years on one of my most popular candles, so of course I was nervous about the change. The addition of the tuberose has elevated the fragrance. It is now one of my personal favorites...it smells very hi end. Like I should raise the price #jk
Great job on this one!
This oil was so rich and long lasting. It covered the whole room and made me feel like I was in a flower market. My favorite this far
I just received my sample of this scent and I love it! I'm a big fan of tuberose and love that the revision of gardenia Includes it! It's a beautiful blend, I can't wait to use it!
I just sampled this new batch and i think it smells amazing! so sweet and soft I get a very clear gardenia with soft edges, very pleasing! I haven't done a test burn still waiting for the candle to cure, but I can't wait to see how the hot throw is, if all goes well I think this will be a staple in my line.