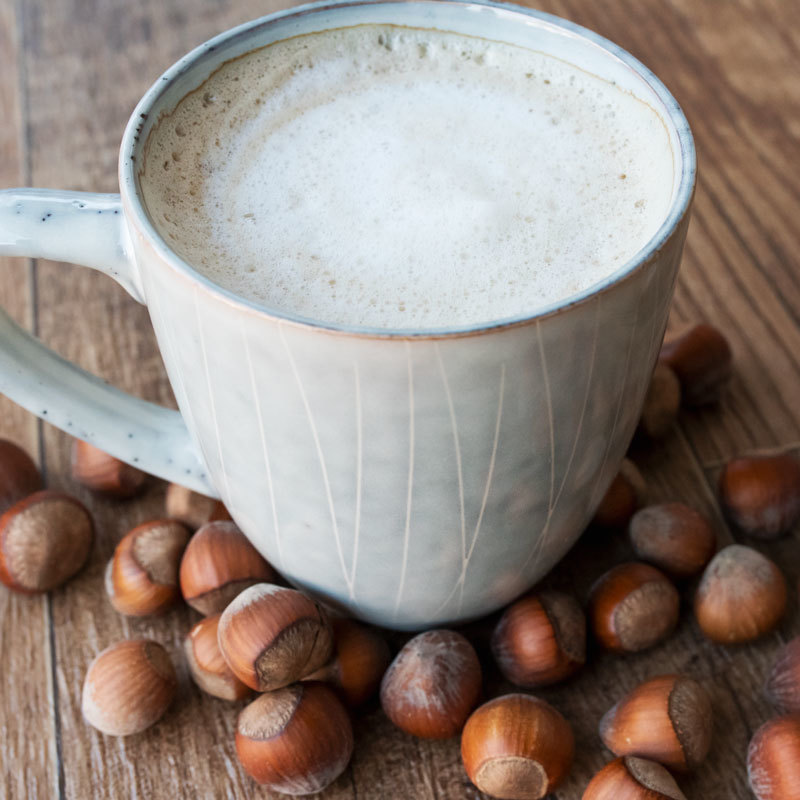 Ready to Order?
Ships from East Coast. Expected: West Coast 5/10
Ships from East Coast. Expected: West Coast 5/25
Ships from East Coast. Expected: West Coast 5/10
Ships from East Coast. Expected: West Coast 5/15
6+ 5lb Jugs
$72.42
$0.91 /oz
12+ 5lb Jugs
$65.18
$0.81 /oz
Safer Scents For The Home
CandleScience Clean Scents™ are free from carcinogens, reproductive toxins, and other potentially hazardous chemicals often found in fragrance. Choose Clean Scents and create safer home fragrance products you and your customers can enjoy with confidence.
Read More >
Details
Now Phthalate-Free!
REVISION NOTICE: It is our policy to notify customers if any part of a fragrance was changed for any reason.
As of January 15, 2019 our Hazelnut Coffee was revised to meet our stringent safety standards of being Phthalate-free. The fragrance characteristics have been preserved and the strength in soy has improved. To see details of the previous version, click here.
Coffee, anyone? Treat yourself to the warm indulgence of fresh brewed hazelnut coffee. With aromas of toasted hazelnut, fresh coffee, and a touch of maple and cream, our Hazelnut Coffee fragrance will make anyone think you just brewed a fresh pot of the real thing. The heart of this fragrance is a medium roast coffee, with a flourish of toasted hazelnut, and just a hint of coconut. Base notes of cream, maple, and vanilla add a creamy sweetness that enhances the rich, nutty coffee. Candles and wax melts made with Hazelnut Coffee fit in any space, any time of year. This inviting scent turns your soaps, and other body care products into familiar and compelling creations.
Note Profile:
Top: Hazelnut
Middle: Hazelnut, Coffee, Coconut
Base: Vanilla, Cream, Maple


Suggested Colors: Golden Honey, Brown
See our complete list of candle making dyes and soap colorants.
Note: Bottles filled by weight, levels may vary.
Properties
Candle Safe

Yes

Usage: 3-10%
Soap Safe

Yes

Usage: 2-4%
Vanillin Content
0.01% - 2%
Soy Performance
Flashpoint
212 °F
Phthalate Free
Yes
Prop 65 Warning Required
No
Diffuser Base Compatible
No
*Usage amounts are recommendations only. Individual usage amounts can vary based on your desired fragrance strength, wax type, soap base, or lotion base. See IFRA certificate for max usage levels.
Documents


Cold Process Soap Performance
| Acceleration | Discoloration | Separation |
| --- | --- | --- |
| None | Brown | None |
As of 3/20/19
Our first test with this fragrance resulted in a very unusual experience, and we ended up with a batch that could not be salvaged. When it happened a second time, we wondered if something else was causing this result and not the fragrance oil. We started from scratch with fresh oils, fresh lye, and even a brand new jug of distilled water. It turns out the masterbatch of lye water was the culprit. Now for the actual performance of this fragrance!
Lye Water Temperature 120ºF
Oil temperature 111ºF
We did not experience any acceleration or separation. The soap batter did turn a dark honey mustard shade once we reached a light trace. After 24 hours we observed that only about ¾ of the soap gelled using no insulation. The color was an even darker shade of honey mustard than when it went into the mold. The scent was amazingly strong with more of the hazelnut notes coming through with a lighter coffee note. After 30 days the scent is still strong and the color has turned to a milk chocolate shade of brown. Due to the discoloration, you could create an interesting swirl color pattern by adding titanium dioxide in varying amounts to 1-3 portions of the batter, or even separate off some of the batter before adding the fragrance.
*Note - This fragrance was tested at a 5% fragrance load. With the release of IFRAs 49th Amendment this fragrance can now be used at 4.9% to remain IFRA compliant.
Reviews
Just Yum. Better then I could Have expected. Smells just like hazelnur coffee.
First time ordering fragrance oils at CS - Shocked and disappointed
I ordered 7 small 1 ounce bottles of various CleanScents to sample, and Hazelnut Coffee was one. I was looking forward to sampling all of them, but knew this was not going to work out the second I received my oil-soaked package.
On the checkout section they do not note that if you choose USPS first class mail, they will throw the glass bottles into a flimsy little mailer with no wrapping to keep them from breaking or leaking. The post office has experienced extensive delays which didn't hep the problem, and 17 days after I ordered them, they arrived- a bag full of leaking, unprotected bottles, many of which lost a considerable amount of oil.
So what am I doing put this review under a specific oil? Well, first, I had to warn people somewhere, and I will also mention that I've ordered fragrance oils from other reputable suppliers and they've always arrived boxed and packaged properly. The oils in this shipment leaked everywhere and I couldn't remove the stench on my hands after washing with soap and water numerous times. Second, something is definitely off in these formulations because the oils shouldn't leave a sickening and rancid odor. I cleaned up the oil bottles as best I could, but the whole house reeked all day and night and then some. And the mailer that it came in, which was tossed in the trash and coated with oil on the inside, had developed a terrible rancid odor that smelled like urine.
They might all produce that unwanted odor, or perhaps only one or two of those were to blame. Besides the Hazelnut Coffee oil, I ordered Cinnamon Chai, Blueberry Cobbler, Pumpkin Rum Cake, White Sage and Lavender (the only one that seemed to smell decent), Creme Brulee and Black Amber and Plum.
I received a refund from Candlescience once it was obvious the order was late or lost after 2 weeks, and after I received the shipment,I told them they need to do something about their fragrance oil shipment practices and to make it clear which options for shipping oils were the most suitable. How would I know that First Class Mail meant that they would toss everything into a little pouch and were not going to bubble wrap anything? I was sent a link and saw that the "better" choice would be USPS priority mail, however, the accompanying picture showed the bottles lined up in a USPS box, without protective wrapping, packed alongside other supplies, to easily shift and roll around the box and break. Bad!
I'll probably sample at least some of the remaining oils but it is very unlikely that I will purchase anything from Candle Science again, if they are this careless with customer orders.
This FO gives a great throw every time and my customers love it. This is definitely a keeper in my candle and wax melt line.
Absolutely love the smell the whole house smells amazing! Definitely year-round sent that I would enjoy!
I love this fragrance oil and it got a great response from my customers. It has a great cold and how throw. This is a keeper in my candle line.
This is one of the strongest scents I have purchased from Candle Science. I love this scent. I know this will be one of my best selling candles.
I was expecting a coffee smell with notes of hazelnut. I asked two people in my household what this scent smelled like and they all said chocolate which was my opinion as well.
Rancid - this has got to be one of the worst smells OOB
Wow! This one just knocks you off your feet and ends up staying in the space like an unwanted guest. I wish I could throw this out the window but I'm afraid it will come back in. I was looking for a nice coffee smell but this is just a no thank you from me.
Crystallized at the bottom?
I used Hazelnut Coffee today and when pouring the FO noticed that there were crystallized particles at the bottom? Looked almost like sugar....Hoping this does not affect the candle any...... :(
Hi! It is possible for some fragrance oils, particularly those that contain vanillin, to crystalize. It happens more if the oil is subjected to low temperatures in transit or storage. However, getting the oil to room temp and shaking gently will mix the oil back to the expected consistency. If you have additional questions or concerns, please feel free to reach out to our support team.
This scent is very strong - which I love! Smells like walking into your favorite coffee shop! Great coffee undertones with that great hazelnut scent!
Thank you. Delivery was really fast.
Hazelnut cofee really strong. I love the smell. And others fragrance oil I loved. Soon I'll try something different. I am satisfied.
This scent is amazing and the #1 favorite with my customers. It's strong enough that several of my customers have told me they just leave it in their melting pots for awhile before heating because if fills the room with homey aroma just as it is!!! If you want a best seller for fall this scent is your ticket!
Not as strong as the Fresh Coffee.
Saw a YouTube video reviewing CandleScience FO. So, thought I would give it a try and ordered several small bottles to sample! MIND BLOWN. ALL the scents were fantastic! Hazelnut Coffee is the absolute best. Made our house foaming body scrub and it flew off the shelf! Customers LOVE IT! I couldn't be more pleased with this company. Shipping was fast and Prices are reasonable.
I was disappointed with this fragrance. I prefer the Hazelnut coffee of the past & some others I have smelled. This smells quite sweet. I don't get a burnt coffee smell. The hazelnut is much less realistic than I had hoped & it wasn't very strong. I used 10% in 464 soy wax. This has a chocolate fragrance for sure, but I am missing a strong delicious coffee fragrance.
We have not found a better coffee scent anywhere else. We always sell out!! Always come to CS for this fragrance, you will not be disappointed!!
If you want a HAZELNUT candle with a little coffee this is the one. I was a little surprised how strong the hazelnut was but overall I'm pleased with this one. Customer's seem to like it a lot, but I think if you're looking for a coffee candle you might want to try something else because this is all hazelnut with a touch of coffee.
Just received this a day earlier than expected. OOB it smells amazing, I haven't even tried it in wax yet and I'm already back to order a bigger bottle. Thank you for making this Phthalate free.
Debuted this scent 2 weeks ago and my customers love it! True to its name and very strong.
I have sold out of this candle. Everyone loves the Hazelnut Coffee Scent. I use 464 soy wax and it is great. Will be buying more!
Really strong and candy like
This scent isnt bad... but it's not what i was expecting. It's very strong and has almost a candy like smell... not really like coffee. The hazelnut is very overpowering. It doesnt smell too natural.
Different than the original
The original scent was amazing and so many customers loved it. This new version smells mostly of coconut and its not as strong.
I was skeptical about this scent when I first received it. It smelled very strong and almost like burnt coffee straight from the bottle. I only made a small batch of candles and immediately sold out upon putting them out for sale. I honestly cannot keep these candles and melts on the shelf! Excellent CT and HT. I use 464 soy wax with a 2 week cure time.
This is one of the strongest performing scents I've sampled rom CS! I use 444, and even without my usual 2-week cure time, Hazelnut Coffee was by far the forerunner in my lot for HT. The scent is delicious and nutty, but also (to me anyway) a bit chocolatey, though it must just be all those creamy notes coming through. My husband says it smells quite of coffee, but that is not the strongest note coming through, in my opinion.
After reading the reviews below, I thought maybe I had received a sample of the previous formula, but I contacted customer support to make sure I had, indeed, received the NEW fragrance. So I am a bit baffled by these other reviews. I'll be ordering more and will update if anything changes, I guess!
The previous formula was the best. When I ordered the new one I am most cried because my new candles from this scent We're not selling. Coffee Hazen Tagget has been my number one seller for over a year. I sold over 400 coffee candles and Christmas and the entire year I sold over 1000. When it was reformulated it was not as strong so I added a little bit more to my batch and when I did it started smelling a little bit better. I'm only giving it five stars because of this we're not selling. Coffee Hazen Tagget has been my number one seller for over a year. I sold over 400 coffee candles in Christmas and the entire year I sold over 1000. When it was reformulated it was not as strong so I added a little bit more to my batch and when I did it started smelling a little bit better. I'm only giving it five stars because of this But if I use my original formula it wouldn't be the same. I believe the price needs to be dropped on this or bring the old formula back. I am very disappointed that candle science is done this . Paraffin wax is petroleum so why change a formula of a fragrance just because it has one chemical in it that people should just be warned about before buying it ! My whole family has asthma issues and they don't have any problems with any of the candles that I make.
Hazelnut Coffee is orgasmic! I'm baffled by anyone having a single complaint about this oil. When adding to candles or soap, I can smell it throughout my house. I cannot get enough of the sensual, mouthwatering and comforting aroma!
So so upset with my recent purchase of my number one seller HAZELNUT. I ordered a large bottle as it goes fast and the minute I openned it up I could tell it was not the same as my previous order. Since I had an order for this I went ahead and made my tarts and container 8 in total. There was abosultely No CT and I use 6006 wax. Took a chance and sold the items and every single one all 8 was returned back has no HT like the original HAZELNUT had. Needless to say not only did I loose a customer I also lost money on this purchase as this Fo cannot be used, plus I lost money on my sell as I had to refund the money back.
If you have or had the original HAZELNUT from here, NOTE this new version is nothing like the old version. You will not have that amazing aroma as you did in original version. Don't waste your money on this one. :( 😭
Although I am a huge Hazelnut Coffee fan, this is not nearly as good as the original. It does not have a great CT or HT. Please bring back the original Hazelnut Coffee. Disappointed...
Not near as good as the original. Different and not great CT or HT in GW 464 with or without coconut wax. The original one was an excellent seller, now looking for a different hazelnut coffee scent.
Chocolate Hazelnut Coffee
I love this scent so much it does have a nice strong hazelnut coffee scent but I swear there's a bit of chocolate there to maybe it's just me but I really wanted a cup of coffee after making this candle great cold throw and hot throw
Strong coffee, subtle hazelnut
Honestly, I loved this scent more than the fresh coffee, which was my favorite up until now. Its got a fresh brewed coffee smell but you can definately tell there's some hazelnut there. Will order again!