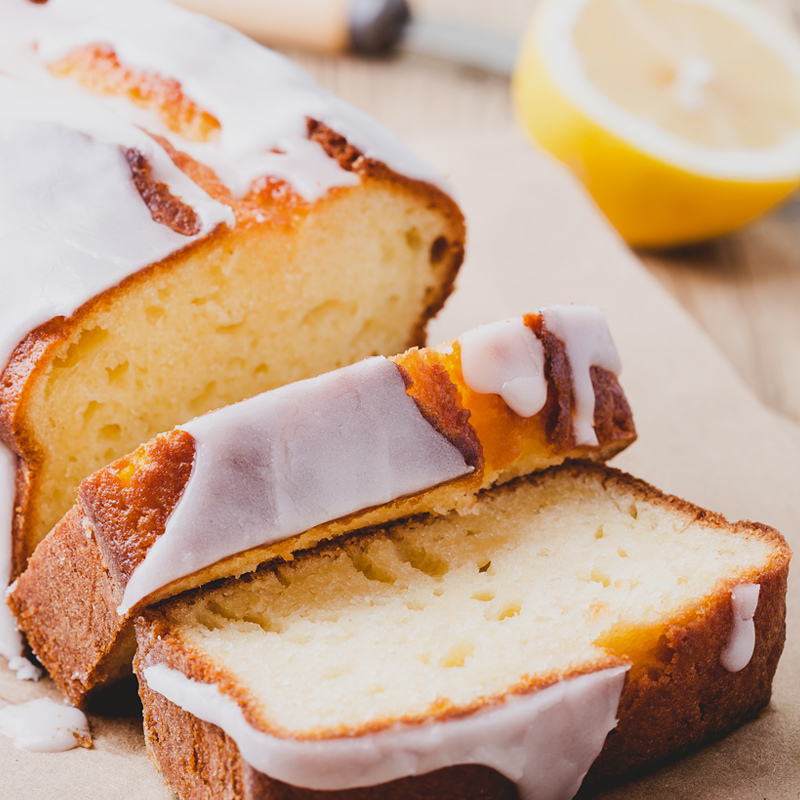 Ready to Order?
6+ 5lb Jugs
$79.94
$1.00 /oz
12+ 5lb Jugs
$71.94
$0.90 /oz
Safer Scents For The Home
CandleScience Clean Scents™ are free from carcinogens, reproductive toxins, and other potentially hazardous chemicals often found in fragrance. Choose Clean Scents and create safer home fragrance products you and your customers can enjoy with confidence.
Read More >
Details
REVISION NOTICE:
It is our policy to notify customers if any part of a fragrance was changed for any reason. As of
April 21, 2020
our Lemon Pound Cake was revised to meet our stringent safety standards to remove ingredients on the Prop 65 list. The original strength and fragrance characteristics have been preserved. To see details of the previous version,
click here
.
The mouth-watering scent of freshly made Lemon Pound Cake evokes memories of summer picnics and kitchens filled with love. Bright lemon peel and juicy lemon give this bakery fragrance its signature citrus kick. Butter, sugar, and vanilla finish off this realistic gourmand cake fragrance.
Candles, wax melts, and reed diffusers made with this scent fill spaces with all the sugar and butter of a homemade iced lemon pound cake. Create delicious bath and body care products with this lemony scent. The sweetness of vanilla cake, and juicy lemon give your soaps, scrubs, and bath butters an indulgent aroma for daily pampering.
This fragrance is infused with natural essential oils, including orange, citronella, and eucalyptus.

Note Profile:
Top: Lemon, Lemon Peel
Middle: Butter
Base: Cake, Vanilla, Sugar

Suggested Colors: Pale Yellow, Gold, Ivory
See our complete list of candle making dyes and soap colorants.
Note: Bottles filled by weight, levels may vary.
Properties
Candle Safe

Yes

Usage: 3-10%
Soap Safe

Yes

Usage: 3-6%
Lotion Safe

Yes

Usage: 1-2%
Vanillin Content
0.01% - 2%
Soy Performance
Flashpoint
196 °F
Phthalate Free
Yes
Prop 65 Warning Required
No
Diffuser Base Compatible
Yes; Up to 25%
*Usage amounts are recommendations only. Individual usage amounts can vary based on your desired fragrance strength, wax type, soap base, or lotion base. See IFRA certificate for max usage levels.
Documents


Cold Process Soap Performance
| Acceleration | Discoloration | Separation |
| --- | --- | --- |
| None | Dark Tan | None |
Lye Water Temperature 115ºF
Oil temperature 118ºF
We did not experience any acceleration or separation. The batter was slow to come to a light trace and was easy to work with. However, be prepared for your batter to turn a dark pink color initially. After 24 hours, the soap had changed to a tan color and no longer had any traces of the pink we saw initially. We observed that the soap only reached a partial gel through the center of the loaf. The scent was deliciously strong. After 30 days, the scent is strong and the bars had discolored to a dark tan shade.
Reviews
I love the smell amazing and my customers enjoyed the scent so much they are calling me for more. I love cs and what they have to offer us as business owners, but they should consider us when we order the shipping is too high and we spend all of what we have earned from selling our candles in the shipping. But over all they are great!
I love this scent and so do my customers! It's a little bit tart, a little bit sweet and a little bit cakey. I too am baffled by the low ratings, it is in my top 5 scents and was surprised how people still asked for it during the Christmas rush this year.
This is one of my favorites and my customers too!
Love this fragrance oil! My customers can't get enough of it, I am surprised by the lower rating, great CT and HT.
It's smells so good for my wax melts it did have to really heat up to get to the full potential but it smells so good
I'm baffled at the bad reviews and low star rating. Seriously, scent is amazing! Before I started making candles I struggled to find the perfect lemon scent. This is by far my favorite. Perfect combination of lemon and vanilla. A customer favorite for sure.
The original Lemon Pound Cake was a best seller for me. It had a bright fresh lemon scent mixed with the cake that everyone loved. The revision, not so much. I'll have to discontinue that candle until I can find a replacement that's as good as your original.
Smells nothing like Lemon pound cake
The original Lemon Pound Cake was outstanding and I finally got it wicked only to discover there is a new one. I just bought it and poured my first candle. The cold throw smells like Fruit Loops. Smells cheap to me and nothing like the original. In all fairness, I haven't tested the HT yet but unfortunately I can't get past the CT. I wish you would bring the original back or at least let your customers have an option between the two.
I was looking forward to trying this scent, but out of the bottle it smells like stinky socks to me! I thought maybe it was just me so I had a few other people smell it and it made them gag. I was so hopeful that it would smell more like a bright lemon, although in all fairness it does list "cake" as one of the scents
It smells like yellow fruit loops to me and not cake. I love the scent and goes great with my soy candles!
By far my favorite scent from this site so far!!! It's my best seller and It's smells amazing!!!
Weird smell while burning
smell okay in the bottle but super weird in a candle while burning..had a weird popcorn smell..
This is now my ultimate favorite scent! Hint of lemon makes this smell so amazing! worked wonderfully for my candles!
Love it!! 464 Soy Wax with Wooden Wicks
This scent is amazing!! I love the CT and HT. It reminds me of being in grandma's kitchen. It is a great seller of mine as well.
Can't keep this scent in stock! My customers love it. I usually sell out before I even get the scent in, much less have the time to make the products. Definitely keeping this in stock year round.
Sorry, had typos in the other review.. My customers love this scent. I cannot keep my candles and wax melts in stock. No matter how many I make they sell out. I will eventually have to purchase the jug.
So bummed because I absolutely loooooved (and my customers) the old version. Im all for making it more sustainable however my best seller I had to take off my list..I have been trying to come up with a modified version messing around with blends so I can bring it back. :(
I can't keep this one in stock! Customers are loving it!
I loved the old lemon pound cake scent in my candles. This scent is not the same, so sad. Please please, bring the old scent back. This is soo different.
So upset with this change. Lemon pound cake was my biggest seller. Now with this change it smells just like fruit rings cereal and my customers aren't buying it. The previous version was great customers would flock when i had this in melts. I even had to change the name because it is so different. I used to come to candle science for many of my scents, now just a few.
I have no idea how the previous scent smelled, but I know this one smells incredible! Everytime single time I smell it, I want a slice of lemon pound cake...lol..😆
I'm just getting started with my business so I've been putting my fragrances on blotter strips. This fragrence seems to be a favorite.
I'm so disappointed with the new version. It's lost the brightness of the old version, and smells more like donuts to me. I am going to experiment by adding another lemon fragrance to it.
Everyone who smells this scent loves it and it's becoming a best seller fast.
I never leave reviews but I'm pretty disappointed with the new version, the old version was one of my best sellers. I just poured a huge batch and was so confused I had to double check the bottle. I smells more like natures garden fruity loops than anything which isn't bad but it's definitely not the smell I've grown accustomed to .
I didn't get a chance to sample the previous version of this FO but I can tell you that I LOVE this new one. I first ordered the sample and fell in love right out of the box. It's lemony, it's sweet, and I want to drink it because it smells so dang good. When I made my sample candle, the cold throw was pretty weak the first couple days but I TELL YOU WHAT.....a week after curing and the CT was awesome! What about hot throw, you ask? I lit that sucker last night and within 15 minutes (not even a full melt pool!) I could smell it in my living room. Then after an hour I could smell it in the kitchen! This was an 8 oz. tin which is usually best in smaller rooms and hardly ever wafts into other rooms. I blew that little baby out and walked my dogs. When I came in about 20 minutes later I could still smell it AND EVEN THE NEXT MORNING when I came downstairs!! Insane. Love this FO but apparently that's not the consensus based on previous reviews....whatever, more Lemon Poundcake for me!
Im really disappointed in the new formula! I loved the old lemon pound cake and was a big seller! I will have to find a different Lemon Pound Cake! Please bring the old one back :(
Very disappointed in the new version. It does not smell good at all. Bring back the old!
I now have to find another Lemon Pound Cake. :(
Great cold and hot throw. The original formulation smelled a bit stronger but I had trouble wicking. Very happy with the end result! Smells so yummy!!
Barely smell any lemon. However it does smell like a sweet pound or buttercream cake. Not bad, just not what I was looking for.
I was such a big fan of the original lemon pound cake scent that I named the candle in my store after my best friend. Now the fragrance smells like sunscreen. In comparison, the other one was light, buttery, cakey. This one is more of a spicy, chemical lemon scent. I'm upset, as it was a best-seller. It doesn't even smell comparable.
I made this candle last Friday, and I lit it Tuesday night at about 10, & by 10:05 it was giving off real lemon pound cake vibes. I love this.
this fragrance oil does not give off a hot throw scent. Its cold throw smells great, but once you burn all you can smell is the wick (even after curing for over two weeks).Have to use over the recommended amount to even get it to smell a little.
I didnt care for the new reformulation of the lemon pound cake, didnt smell as strong and lemony as the origional.
This is a LOVE for myself and my testers and is sure to be a top seller at my shop! I was so excited about this one that I only waited 3 days to test the candle and got a great hot throw then, and after a week it was even better! The lemon is light but there, and the cake notes smell fantastic. One of my testers said it smelled so good they had to go buy a lemon pound cake. Winner!
I just received my 1 oz Lemon Pound Cake and I think it might have been labeled incorrectly. It smells like Hazel Nut Cake. I barely smell lemon.
Smells amazing! I'm not even a food fragrance lover but this is a must have. Sweet with a citrus bright lemon kick. Just enough to look forward to back yard barbeque!
Love! Love! Love! Sweet but not too sweet with a lemony brightness is oh so yummy!