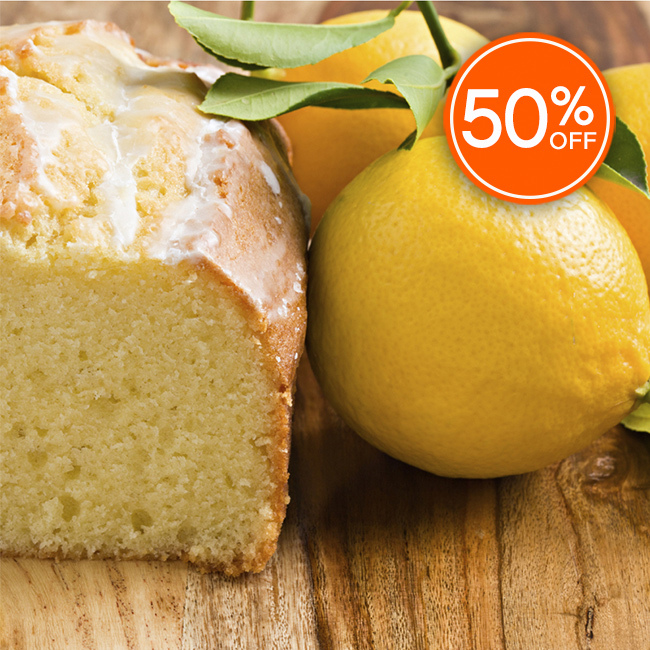 As of 04/24/2020:
This version of Lemon Pound Cake (Discontinued Version) has been discontinued and replaced with the new Lemon Pound Cake. Click here to check it out!
Details
REVISION NOTICE: It is CandleScience policy to notify customers if any part of a fragrance was changed for any reason.
As of April 21, 2020 our Lemon Pound Cake was revised to meet our stringent safety standards to remove ingredients on the Prop 65 list. See new version.
The mouth-watering aroma of warm lemon pound cake! Our Lemon Pound Cake Fragrance oil combines fresh bakery notes of yellow pound cake with a sweet lemon glaze and a hint of warm vanilla. This fragrance oil is infused with natural essential oils, including Lemon and Clove. Note Profile:
Top: Lemon Peel
Middle: Clove, Butter
Base: Cake, Vanilla, Cream
Note: Our Lemon Pound Cake fragrance oil was previously named Lemon Chiffon. It's the same great fragrance oil, just with a new name!


Suggested Colors: Gold, Pale Yellow, Ivory
See our complete list of candle making dyes.
Note: Bottles filled by weight, levels may vary.
Properties
Candle Safe

Yes

Usage: 3-10%
Soap Safe
No
Vanillin Content
2.01% - 5%
Soy Performance
Flashpoint
190 °F
Phthalate Free
Yes
Prop 65 Warning Required

Yes

Diffuser Base Compatible
Yes; Up to 25%
*Usage amounts are recommendations only. Individual usage amounts can vary based on your desired fragrance strength, wax type, soap base, or lotion base. See IFRA certificate for max usage levels.
**Warning: This product can expose you to benzophenone, which is known to the State of California to cause cancer. For more information go to www.P65Warnings.ca.gov.
Documents

Reviews
Is this being redesigned or discontinued altogether?
Thanks for leaving a review! A member of our support team has reached out to you to better assist you!
Oh no! I hope the fragrance does not change! I love this scent and so do my customers. Hopefully it will be available soon!!!
I really like this fragrance oil. It smells very much like lemon pound cake. Filled my home up very nicely with the smell. I diffused some of this oil today and it actually made my mother crave some lemon cream cake for dessert. lol
I love the true lemon scent from this candle. It has a mild buttery scent take makes the lemon not so strong. One of my favorites and also my customers favorites.
I do quite a bit of candle making for a hobby in the winter months. Most go to family and co-workers and everyone loves the lemon pound cake, smells like it came right out of the oven.
I want to love this soooo bad!
In the bottle this smells excellent, cold throw is excellent, but close to zero hot throw in 464 :( even at a high percentage.
If you do go for it - I'd suggest wicking down.
I absolutely love this scent!
Smells great in the bottle and in our candles! One of my favorite scents and a customer favorite too.
I love this lemon pound cake scent. I'm using it for one of my scents for my candle business and I cannot wait to see what people think. It lingers in my kitchen even while unlit.
This smells absolutely amazing out of the bottle. But when burning in a candle does not smell as strong as I thought it would, I have to put my nose right over it to smell it.
I'm usually not a fan of lemon scents so I was hesitant to purchase. I started off with just a 1 oz bottle and fell in love and had to go back for a bigger bottle. Amazing scent!!
I was psyched to try this as it smelled so good. (wanted to eat the candle when I made it.) ;) However, the CT on this is a stronger than the HT. It does put out a subtle fragrance that people with sensitive noses would prefer to the stronger scents.
For several years, I have bought a certain brand of wax melts with a fragrance named Iced Lemon Sugar Cookies. This was my signature home scent, but I recently noticed that the fragrance was really weak and not as long-lasting. It wasn't affordable for me to keep buying these melts but I wanted a really good substitute for the scent. This Lemon Pound Cake fragrance oil is almost exactly matching that wax melt smell. I will be buying more of this! I don't know a thing about making candles, but I got some soy wax and I put some of those in my warmer along with a few drops of this oil and it's heavenly. I also added some to some spray bottles to use as an air freshener. I will be researching how to make some "real" spray though.
I ordered this Lemon Pound Cake fragrance oil because it was on sale. When I received my order, I picked this one to try first out of all the scents. I made 4 oz jar candles using a recipe of 10 oz GW 464 to one ounce of fragrance. These turned out amazing! I love the scent and will be buying more.
i highly recommend this fragrance! I used it in my candles and it smells exactly like lemon pound cake. Definitely buying again!
Wish it was Prop 65 Free :(
I love this fragrance so much. It's definitely a favorite. The only reason I'm giving it four stars is that its not Prop 65 free. Selling in California, I wish it was. Please consider making that change. Thank you. :)
Hi! Thank you so much for the feedback, we love this fragrance too!. Keep an eye out for revisions. We hope to have all fragrances phthalate free and prop 65 compliant by the end of this year! You can learn more here: https://www.candlescience.com/fragrance-oil-revisions.
Love this scent! My customers love it as well. A perfect scent for your bakery line!
Owner of black cat candles LLC
Amazing smell. I have tried a few lemon pound cake scents and this one is the best. I had a customer buy it and she lit it in her house. The family came home and they were looking for the lemon pound cake in the house. They thought she had been baking all day.
Great cold throw no smell what so ever for Hot Throw very disappointing.
Pretty good, but couldn't get past the slight smell of baby powder or fresh baby diapers.
This is one of my favorites. Mouthwatering and true to life scent. It smells like you have a lemon pound cake baking in the oven!
Owner Covington Creek Candle Company, LLC
I started buying this scent when it was named Lemon Chiffon. This is one of my most popular scents. It goes great with Hazelnut Coffee.
Lemon Pound Cake was my very first purchase from Candlescience.....because I'm a lemon freak and love the smell of freshly baked Lemon Cake with a glazed icing! This scent I'm 100% addicted to! It did NOT disappoint! I've already purchased 3oz and am making tons of candles with it. The Cold and Hot throw is excellent....The Cold throw actually makes you hungry it's such a great scent! I put the fragrance in at 185 degrees since the Flashpoint is 190 degrees. Excellent Fragrance Oil! Never discontinue this one!
Spot on, smells like lemon pound cake!
Absolutely love this scent! It actually pairs really well with the pink Magnolia. Together they created a scent that I could smell throughout my entire house , before I even burned a candle! Utterly satisfied. Will be buying more :)
I would love it if it had a brighter lemon scent
My 11 yr old daughter loves this fragrance so I made her a loaf of CP soap with it . I felt it needed to be a little brighter on the lemon side so I added lemon EO to it. I don't think it helped very much. I like it but I don't love it.
All I can say is AMAZING. This scent smells just like the Lemon Pound Cake icing from Starbucks Lemon Pound Cake. I have made this scent one of my signature scents in the candles I am making. Very easy to work with and it is a steal for the price and quality!!!!
This FO performs very well in GB 464. Load of 2 oz to 1 pound wax. It will definitely make you hungry for a big slice of lemon pound cake!! Very true to it's name and a huge hit with our customers. One of our all time favorites.
I bought this on accident, I was buying fragrances for my bath and body products. I decided to make some candles to at least use it up, and I am so glad I did, it smells incredible! Exactly the right amount of citrus and sweet, the hot throw is as good as the cold throw. It is one of my favorite scents now, I wish it could be used in other applications!
Very bad hot throw I been making candles now for 2 months I have made over 30 fragrances and when it came to this one it was awful!!!! Smelled nothing!!!!
AMAZING. One of my best selling candles, not only for fall but throughout the year. It has an amazing cold and hot throw, looks perfect with the yellow color chips or blocks
I really enjoy this fragrance oil, it smells like lemon pound cake with spices. It has a great hot throw that fills my home.
This fragrance smells so wonderful but when I made candles and tarts with this fragrance, the hot throw had no smell. The cold throw smells very good so I think I am going to make room spray with this one.
This was my first time ordering from Candle Science. While all my other products were perfect this scent lacked any Lemon scent and the throw was little to none. I'm not an expert candle maker but I have used Lemon Poundcake from another supplier that is amazing so getting this and making several candles with it is very disappointing. This is good for someone that likes a softer scent.
A nice cake smell. I wish the lemon were a little more predominant, but my customers love it anyway.
This scent is by far one of my top 3!!!!
I absolutely love it. It's sweet, lemony, and buttery. I think it smells like a great batch of lemon bars.
Formerly named Lemon Chiffon. This has been a favorite with my customers for a few years now.
I won't buy my fragrances anywhere else!
Keep up the good work CS!
Unfortunately this scent didn't work for me. It smelled artificial and nothing as described.
This scent is absolutely divine. In the bottle, the lemon note is very strong. After curing for a week in 464 soy wax, my house smell delicious. It is a very delicate and well balanced scent. 10/10! I will definitely be repurchasing.
Smells so delicious!!!! Just like a slice of lemon pound cake with creamy vanilla icing on top 🎂🍋😍!!!!
Just a warning, this scent was so sweet that it made me feel nauseous. I am definitely sad that it didn't work out. Maybe its just not for everyone.
Strong hot and cold throw
This scent is a keeper. I use 6%/lb in GB444 and it smells delicious. It is a hit!
Oh dear, this oil rocks my world! I never knew how much I could be into lemon until I bought this. I would sell my soul for this to be a skin safe oil as well. It smells amazing. Creamy and Lemon-y. I cant even tell you how perfect and delicious this scent is. This and the Pumpkin Souffle...amazing.
I absolutely love this scent! It's one of my favorite candles to make and all my customers love it, too. This is not too overpowering and smells like a lovely combination of lemon, cake, and sweetness. Try this one if you're looking for something a little different from a true lemon scent.
5 year amateur candle maker
I was positive this would smell like lysol and sugar, so I only ordered 1 oz as a tester. Boy was I disappointed with the quantity I ordered. This scent is amazing! I now order this 2 16oz bottles at a time. The scent is warm and inviting, not at all artificial. The great thing about this scent, it is really all season. Warm and sweet enough for fall and winter, lemony fresh for spring and summer. My only slight criticism is on hot throw - probably 8.5 or 9 out of 10. It has very good hot throw, but not the absolute best. (Honestly, the ones with the best hot throw are often the least appealing scent, so 9 out of 10 is pretty good in my opinion). You will not be disappointed.
Sickly sweet and no hot throw in EcoSoya CB Advanced at 10%. Heavy on the cake, light on the lemon. Disappointed.
This is a delightfully yummy scent!
was not nearly as good as I thought it was going to be.
Absolutely loove this scent!
I really wasn't expecting to like this (I'm not a fan of food scents) but this smells so delicious even when the candle is lit. Smells amazing!
I bought this expecting to like it an I did! It is so yummy and the citrus makes it not too sweet. It is one of my favorite food scents and I will be buying more. I think I liked it more than family and friends who leaned more towards Cinnamon Buns and Strudel and Spice for food scents, but if you like sweet lemon scented things this is the best thing ever!
True to it's name. Smells just like lemon pound cake!
Childhood Memories-Favorite
This has got to be my favorite scents. So nice and soft and reminded me of my Grandmother's house. LOVE IT!
Does very well in my 12 oz status candles!
Another great scent, everyone that smells it is in awe. Only problem is.... no one is buying it. I think it is because the cake portion seems to overwhelm the lemon portion? Not sure.....
This is a knock your socks of scent and makes you want to eat it!
My customers are LOVING it!
You can taste this scent!!! It is soooo yummy!!
This is my all time favorite scent. I love it. It is the perfect sweet lemon smell. Many times, it smells too much like cleaning product and this does not at all. It's my favorite
This is a favorite of mine. A fresh, true lemon with the vanilla bakery note, it doesn't smell artificial or like a cleaning product at all. Hits the spot for both a yummy bakery scent and an uplifting citrus scent craving. It throws well in EcoSoya wax- both CB135 and PB at 1oz/lb.
Heavenly & True to Life Lemon Bakery Scent
Some lemon scented oils have a sort of furniture polish taint, but Lemon Pound Cake is a true blue lemon scent. There is nothing fake about it. It also has mouthwatering warm vanilla notes, making this FO a dessert type scent instead of straight up fruit.
Mixed at 10% in EcoSoya CB Adv & EcoSoya PB Pillar wax, it has an intense cold & hot throw, deserving of its 3 leaf rating. This scent is also great at removing bad odors. A must try!
This scent is what it says it is!! It smelled good in the bottle, but when I poured it, it smelled even better in the candle. Customers are loving this scenet! I used GB464, 1oz/lb, ECO#10 wick
Last year I gave this scent 3 stars due to the hot throw. Through numerous test burning and wick adjustments, I've finally got it!! This amazing scent is now at its full potential because of being properly wicked. I use the 8 oz mason jars with GB464 and CD12 wick. The hot throw fills a room and more. this is one of favorite scents along with Hansen & Gretal, pumpkin souffle, and fresh coffee. These scents are big hits, and the customers keep ordering!
I got this as my sample fragrance on my initial order for my new candle business. The candles turned out beautiful and cold throw is awesome - have no hot throw feedback yet, but the business that is picking up my candle line decided to buy all three sample candles I made to sell on their shelves. I am pleased. I used GB464 1lb wax with the 1oz sample bottle.