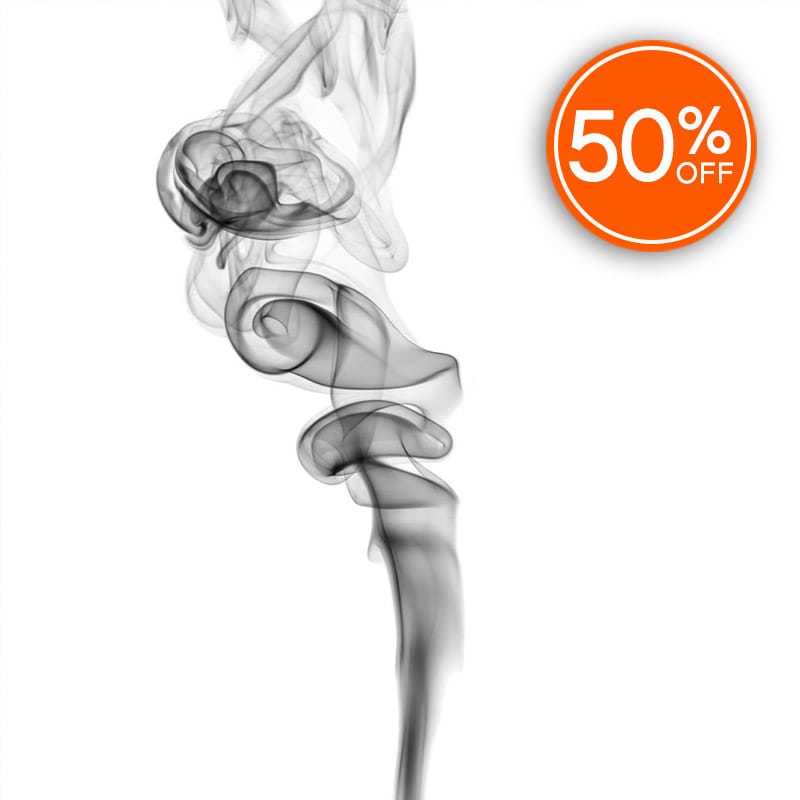 Details
REVISION NOTICE: It is CandleScience policy to notify customers if any part of a fragrance was changed for any reason.
As of June 11, 2019 our Smoke and Odor Eliminator was revised to meet our new stringent safety standards of being Phthalate-free. See new Fresh Linen Odor Eliminator. If you're looking to recreate the fragrance characteristics of Smoke and Odor Eliminator, we recommend a blend of our Red Hot Cinnamon and Juniper Breeze.
Wipe out smoke and odors quickly and easily with this invigorating spice fragrance. It really works well!
This fragrance oil is infused with natural essential oils, including orange, grapefruit and cinnamon.
Note Profile:
Top: Citrus, Spice
Middle: Fruit
Base: Cedar, Cinnamon

Usage Update
IFRA has recently updated their skin safe ingredient standards. Unfortunately, this fragrance is no longer approved for bath/body products.
Suggested Colors
: Ivory, Blue, Gray
See our complete list of
candle making dyes
.
Note: Bottles filled by weight, levels may vary.
Properties
Candle Safe

Yes

Usage: 3-10%
Soap Safe
No
Lotion Safe
No
Vanillin Content
0.01% - 2%
Flashpoint
160 °F
Phthalate Free
No
Prop 65 Warning Required
No
Diffuser Base Compatible
No
*Usage amounts are recommendations only. Individual usage amounts can vary based on your desired fragrance strength, wax type, soap base, or lotion base. See IFRA certificate for max usage levels.
Documents

Reviews
Please find a duplicate. My stock pile is running out and my customers are not happy!!
Please bring this fragrance back. I specifically came on the site to order but just finding this out is disappointing news.
I am SHOCKED that this was discontinued. NOTHING I have found even compares to this aroma. I have customers swear that this works to eliminate wet pet order, flooded and damp basements, and odors in the home in general. There are so many fresh linen order eliminators and I have not found one that even holds a candle to this one.
Please reconsider adding this back to your line of oils. PLEASE....;)
I dread telling my customers I can no longer offer them this WONDERFUL, best on the market, order eliminator.
Owner and Product Maker of Life Makes Scents
Please keep both// I use the original in my aroma beads as well as candles for my customers who smoke and I use the fresh linen one for my female customers. I love both and really would like to still have BOTH.
Smoke and Odor Eliminator
What the Hell are you thinking??? Discontinuing this old version. I'll be no one is buying the new one. BIG MISTAKE! You were the only company with this oil. Perhaps you would share the formula of the old version?
Please please please give suggestions for measurements on blending. I've tried with juniper and cinnamon and I haven't gotten good results. I really miss the original. please share the blending recipe. This is a best seller. I'll give you my first born!!!!!!!!!!!!!!!!!!!!!!!
Was one of my top sellers and a customer favorite! I am sure you can make this phthalate free...so please work on bringing this back.
PLEASE PLEASE bring back OLD version of smoke and odor eliminator.
Not happy. Original was big seller. New one too perfumed. Will not purchase.
Just like many others, this was one of my best sellers. My jaw dropped when I read that you discontinued it. I hope that this is just temporary. What can we do to have you to bring this back. We have to make this happen and soon.
Our customers and wholesale accounts are so upset that this is discontinued! The new smoke and odor eliminator isn't even close.
I have been carrying this fragrance since I started my business - People LOVED IT ! NOW what? Fresh Fabric or whatever its called is not a substitute!
WHY! WHY! WHY! WHY! WHY! WHY!!!
I'm in the processing of closing up shop but the ONE AND ONLY product I was going to continue to offer was this scent!!! OMG! Well, there goes that idea! Every police K9 car in the department my husband works for has this product in it because it works so good. This is by far my BEST SELLING item. Oh, dear. Well, I guess it's good timing.
VERY DISAPPOINTED IN CANDLESCIENCE.
Smoke and odor was one of my best sellers. I am not sure about this decision, but I will have to start looking somewhere else for a scent like it. Bad decision on the companies part. And please dont tell us how to recreate it using other scents. All that does is cost us money trying to buy multiple scents and wasting it until we get it right....
Smoke and Odor was my best seller. Customers are very upset. Please bring this one back!!! The new scent has not been well received and some customers said they are sensitive to the scent. No one had any issues with the old Smoke and Odor scent. You have got to bring it back please!!!!!
The "old" Smoke and Odor Eliminator was one of my biggest sellers!!! I am so upset!!! How will I explain this to my many customers???? Please bring it back!
it was my best seller not happy!!!!!!!!!!
I'm sitting here with my mouth wide open because I cannot believe this has been discontinued. Please tell me you have another one coming out?!?! And I don't mean the Fresh Linen replacement you've suggested.
Owner of online candle store
very sad that's it for this one
Is there any way possible you can bring the old smoke and odor eliminator scent back?? I have a lot of customers, myself included, that any of the fresh linen scents I try for my candles terribly upsets our sinus and allergy symptoms but the old smoke and odor eliminator scent did not.
Thanks
I'm concerned. I sincerely hope this one smells the same as the one you're discontinuing. Smoke and Odor Remover (under another name) is my best seller.
Big fan of this scent for years now!! This scent smells exactly like juice fruit gum. Sweet, fruity, cinnamony. It's always nice and strong in soy and definitely eliminates odors! It's magical. The scent alone is 5 stars, no doubt. BUT PLEASE make a Phthalate free version and one that's usable for sprays, diffusers. Thx!
Hi! Thank you so much for the feedback! Great news, we have a phthalate-free version in the works!
This scent is great in Paraffin wax & the cold and hot throw are amazing. One of my best sellers for my candles.
This smells awful and i did not find it did any more elimination of a bad odor than any other candle (scented or unscented) would.
Out of the bottle, this FO smells like a nice spice potpourri, and it has that spice scent on the cold throw as well. Hot throw is less sharp spice, in my opinion.
HOWEVER, when I left a dish of the wax in my car on a hot day, you could smell bubblegum on the other side of the parking lot when I opened my door. Very interesting, transforming scent.
This WORKS for odor elimination AND it smells amazing. Citrus & Spice is the best way I can describe it. I have customers who dislike citrus fragrances tell me this is the only one they've ever liked! Has a strong cold throw and an amazing hot throw as well. Highly recommend.
This was the best odor eliminator out here and to see that it's no longer skin safe is disappointing .. does anyone have any suggestions on one that is similar almost exact to this one? ? It was one of my best sellers for room sprays and I don't want to disappoint my customers
I just did my review and then read the others
I for one I DO NOT think it smells anything like juicy fruit gum or citrus, its amazing what different people smell. LOL.... It has AMAZING scent throw into the rooms. In my opinion it has a sweet warm woodsy brown sugar scent to it when burning. I don't think people put enough scent into their wax and thats why they can not smell it.
I was unsure how this scent was going to be and I absolutely LOVE IT!!! I have a dog and 2 Teenage boys and this candle woks wonders. The smell is warm and I would say woodsy sweet if that makes any sense. I use this candle in every room in my house and my house smells AMAZING!!
Needs to be Phthalate Free
I want to try this really badly however, I refused to use any oils that are not Phthalate Free. Please release a Phthalate Free version!!
Yes, it smells like Juicy Fruit or bubble gum when you open the bottle. However, it was NOT overpowering in a candle. Best of all my next door condo neighbor with the sensitive nose hasn't been complaining about odors lately. Going to order the largest size bottle next time.
We use in GW 464 mixed with 1/3 GW415 wax. Great hot and cold throw. Men and women always ask what is that Fragrance? Our best seller.
Pay attention when order. Candle science has quite a few fragrances that contain phthalates. I didn't really like this, but because of the phthalates, for sure I will not be offering it in my line.
THIS STUFF IS AMAZING. As everyone has already pointed it, it smells like Juicy Fruit when pouring but doesn't have that scent when burning. IT WORKS. I've tried it to eliminate garlic, onion, and frying smells and it totally eliminates them. I live in a small apartment and it's hard to keep the cooking odors out, especially in the colder months when I can't open the doors/windows. It's wonderful to come home to an odor-free environment. I'm giving one of these to everyone this holiday season and I'm ordering a larger size and making more!
This is the best odor eliminator on the market. Please, please, please start offering it in larger volume containers.
I can't believe it really works, but it works so well.
I had this on my shelf a very long time. I bet it was close to 2 years. It does smell a lot like Juicy Fruit gum. I don't smell citrus, but I do smell the spice. I don't like spice scents, but this one is a fairly mild spice scent. I have teen kids and pets. They can all stink in between baths. This gets out cooking odors and pet odors so well. I want to have it on all the time in my tart warmer, but I only had the 1 oz sample. I wish there was another odor eliminating scent because I don't want to get tired of it. I like having a few scents to alternate, but this works so well that I don't want to use other scents. There has to be something in this that is special because it's not just covering up the scents. It seems to make them disappear. I used this in my Ecosoya PB soy wax to make wax tarts.
Please make more odor eliminating scents.
I bought this to try when they had the $.99 sample sale and I used this in a batch of candles and it smelled just like bubble gum so that's what I marketed it as!! Needless to say they sold out!! One of my new faves!
Didn't know what to expect
This FO smells JUST LIKE juicy fruit gum, but in the best way possible. My first reaction to smelling it OOB was that I love it. I haven't burned a candle with this in it but the cold throw in GB 464 is great
Owner Potterwyx Scented Candles
One customer builds scale model wooden boats and has complained about the strong glue odor lingering and tried a Smoke and Odor reed diffuser we provided, odor disappeared and did not return. He has been a repeat customer since then. My wife and several fellow school teachers can not burn candles in their class rooms and use the Smoke and Odor Reed Diffusers regularly and pleased with the end result.
Firstly I will confirm that it does in fact smell like Juicy Fruit Gum in the bottle, however, it just smells light and citrusy in wax. Very pleasant. And I don't know how, but it does work at eliminating odors, not masking them. I wish CS would tell us in the description just HOW it works. Is it just that it is in fact masking odors but the particular combo of fragrances fools our noses into thinking otherwise? Or is there some special odor eliminating ingredient that is added? My curiosity is killing me on this and I would also like to be able to provide an intelligent answer to my inquiring customers.
All of that said, there is a reason I have only given 3 stars. This fragrance oil is not phthalate-free. Since this is an all-encompassing promise I make to my customers, I will not be purchasing it again until CS comes out with a safer version. I had not noticed this when I purchased it the first time, but fortunately had used it in a sub-line of my products that is just for pets. I try to keep that all natural as well, but since it isn't in my main line I can KINDA get away with the exception (as long as I make it known) with the stock I already have. I just won't be replenishing it. I truly am disappointed because it is otherwise a great oil.
I was nervous to buy this based off of some of the reviews. They said it smelled awful like bubblegum. I took my chances since EVERY single other FO I have bought here has been amazing. They weren't lying about one thing. Out of the bottle it is straight up bubble gum. It doesn't smell awful. It just isn't a smell you'd expect from an odor removal. However, it doesn't smell like intense bubblegum while you burn it. It does still smell slightly of it, and just sweet in general BUT, it has a lovely little hot throw and most important...it works. It really does remove the stinky odors and not just cover them up. Just try it for yourself. You will be surprised.
This scent, to me, is awful (like bubblegum and cloves), but people request it often and say that it works really well.
Using IGI Harmony wax, 1 oz used in 1lb of wax. Couldnt smell it at all.. No scent throw at all.. Smells like juicyfruit bubble gum in a bottle with a hence of spice. Not satisfied with this scent at all.
I thought this smelled like bubblegum in the bottle, which I didn't like, so I sent it back without trying it in wax.
This product is phenomenal! I made my 1st batch last week and tested one of the candles after it cured. The morning I tested it, I had made over 40 candles - 4 different fragrances - bacon for the family's breakfast. I lit the smoke eliminator candle and left for 45 mins. When I arrived home, ALL I smelled was fresh air! No bacon and no other candles scents. I am sorry I waited this long to try it and sell it.
I don't know how Candlescience does it, but they bottled a miracle! I can't keep this one stocked! It really does ELIMINATE odors! It's truly a "miracle!" Add a touch of lemon to it and it smells AMAZING! It's the only thing I use in my melter in my kitchen and whenever I have a tad extra wax from another batch of candles I'm making (no matter the scent), I'll toss it in the Odor wax and it not only eliminates the odors, but it makes my house smell great. My customers are amazed. Thanks, Candlescience!
Customers (and I) love it!
The scent is very nice, mostly fruity with a sort of spicy/smokey undertone
All of my smoker customers love this product. I have to always have this scent in stock.
I only got this scent because people said it smelled like Juicy Fruit. I'm very happy that I did purchase it. The smell is wonderful and it actually covers smoke and pet odor!!! I made a candle for my father-in-law who smokes like a chimney (his home slaps you with cigarette smell when you walk in the door) and he was very pleased with the smell and his home smells amazing now. It smells really good even when not lit. I highly recommend to anyone!
The scent combinations sound a bit odd but they are truly amazing together!! Others posted and said this fragrance oil smells like juicy fruit gum, they are right!!! It's such a delightful scent!! Made this in several votives and they are nearly walking out the door as fast as we made them! Going to order a larger bottle very soon!!
Smells just like Juicy Fruit chewing gum. Oddly enough though, it works! Used it in the room that my dogs sleep in at night that was starting to smell like a kennel. If my candle was burning, the dog smell was gone!
To me, this smells like bubblegum - its an odd scent thats certain but IT WORKS! It eliminates fish, smoke, fried foods, pet odor. I use it in my own home too. It really does work!
This stuff is awesome and perfectly named! I have been using 1 oz. per pound in Ecosoya CB with amazing results. I recently added 1 tablespoon to "smelly jelly" (1 tablespoon to 8 oz warm water) and this works really well too. As for the fragrance, bubblegum or cinnamon or however your nose interprets this, it smells way better than cooking odors, smoke, or mustiness!
This is so yummy in soap. Made it in HP and it worked wonderful!
I used this in GB 464. In the bottle the fragrance had a strong cinnamon aroma, while burning it suddenly became an overpowering bubblegum fragrance. I will admit both cold and hot throw were excellent I am very displeased with the bubblegum aroma.
I made a 16 oz. candle using GB464 and 1 oz. of fragrance. I was amazed at the scent throw. I gave it to my mother to try for me and it scented her entire 1200 ft. house! It is clean and fresh smelling. She smokes in her house and there is no trace of cigarette odor after buring this candle. I can still smell it when I walk in her house in the morning. I am going to test it using 1/2 oz. mixed with 1/2 oz. of Very Vanilla to see how it works.
...Our biggest seller! It WORKS and smells great!
Cinnamon and bubblegum, but I still like how it works. Never had too many other S and O scents, so no comparison there.
I received this as my free sample and was very unsure about it when I smelled it. I made a batch using ecosoya advanced and with the left overs threw it into tart molds. After deep frying shrimp and fries (which takes weeks to get the odor out of the house) I put a tart in my warmer and within hours there was NO trace of deep fry in my house! This is a definite keeper and I reccomend it to anyone- I also took it to work (construction company) and it took all the musty smell out of the offices!
This scent is very strong, but the mixed to me is too weird and smells not so nice. I have tried an odor & smoke eliminator from another company and like it better.
We are making candles for a fund raiser and sold out of this in less than 2 hours. We are using the Palm wax. Someone said it smelled spicy but ours smelled like bubble gum. (strange) But this even took out the smell of the other candles I was making when I burned it at my house.
Smells nice & keeps its promise
I like this scent. It has a cinnamon-citrus smell. The cinnamon is noticeable without overpowering. It throws well in soy and has passed the Fry-O-Lator test. That is, when my friend makes donuts at home, this gets the oily smell out of her home in about a day. Without it, the smell lingers for a week.
I was hesitant about this at first. All of the odor control scents that I had smelled were "nasty". This is great. Very nice smell and strong. I use 6006
This one works double...very nice scent, and it truly eats away any odor!...Our customers LOVE it, and I burned it when I cooked on New Years Eve...A must have!
Definitely absorbs odors!!
I left a soy candle sitting in a box (with no lid on it) with other candles - I had not marked what scent it was. Days later, tried to figure out the scent and all I could smell was the scent of the other candles in the box! After a few hours of having the lid on it, I figured out it was the Odor Eliminator. MIL boiled chicken - house was stinking! I burned the Odor Eliminator - no more stink smell! I have 4 orders for large candles from pet owners and 1 smoker currently!
We were thrilled with this scent. I have recently dipped some animals for a nursing home to place in rooms of residents and this is one that they have purchased one of to try. In the mean time I placed one in my Mother's room and it could be smelled half way down the hall. We are definitely adding this to our product line of scents and we love it!