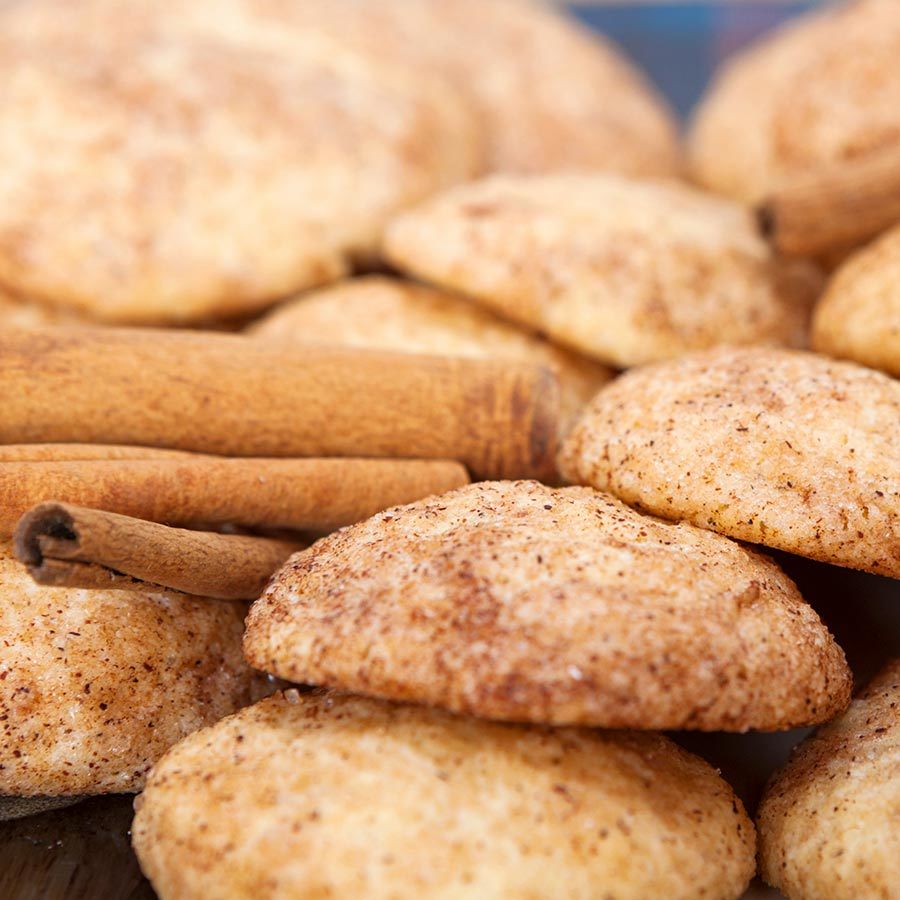 Ready to Order?
Ships from West Coast. Expected: East Coast 3/9
Out of stock. Expected: East Coast 3/11
Ships from West Coast. Expected: East Coast 3/11
Ships from West Coast. Expected: East Coast 3/19
6+ 5lb jugs
$79.94
$1.00 /oz
12+ 5lb Jugs
$71.94
$0.90 /oz
Safer Scents For The Home
CandleScience Clean Scents™ are free from carcinogens, reproductive toxins, and other potentially hazardous chemicals often found in fragrance. Choose Clean Scents and create safer home fragrance products you and your customers can enjoy with confidence.
Read More >
Details
A tasty treat with a characteristically cracked surface and cinnamon-sugar flavor, Snickerdoodle cookies are a year-round classic. In keeping with the heart of these light and delicious edibles, our Snickerdoodle fragrance oil has notes of sugar, cinnamon, honey, and butter, rounded out with a smooth base of creamy vanilla.
This fragrance is infused with natural essential oils, including davana oil, and patchouli oil.
Note Profile:
Top: Cinnamon, Sugar
Middle: Honey, Butter
Base: Vanilla, Cream

Suggested Colors: Brown, Ivory
See our complete list of candle making dyes and soap colorants
Note: Bottles filled by weight, levels may vary.
Properties
Candle Safe

Yes

Usage: 3-10%
Soap Safe

Yes

Usage: 2-6%
Vanillin Content
0.01% - 2%
Soy Performance
Flashpoint
> 225 °F
Phthalate Free
Yes
Prop 65 Warning Required
No
Diffuser Base Compatible
Yes; Up to 15%
*Usage amounts are recommendations only. Individual usage amounts can vary based on your desired fragrance strength, wax type, soap base, or lotion base. See IFRA certificate for max usage levels.
Documents


Reviews
Very true to the name! Smells just like snickerdoodle cookies! Love it!
Bought this because of a youtube review on the fragrance. It smells like cookies if you like that kind of thing. I just don't.
This scent smells so good! Just like baking cookies! Great CT & HT in my 464 candles. If you like bakery scents I highly recommend this one!
it definitely smells like snickerdoodle but it was just a little strong for my liking. it smells good though hopefully when i put it into a candle it will not he as strong
I love the way this smells. I do feel like the hot throw is missing a little something but I'm not sure what. Overall it is a very nice scent with a medium hot throw in soy wax.
VERY HAPPY WITH THIS SCENT!
I am new to candle making and I followed CS instructional videos with this scent, and it exceeded my expectations. The candle burns nice, and the snickerdoodle smell is perfect for the winter months. It's very rich and smells like a fresh sheet of cookies. I will 100% be using this scent to make future candles.
I love it but it is very sweet!
This is a very sweet scent and does smell like snickerdoodle. I've had people love it while others thought it was way too sweet. One of my customers said this has been her favorite scent out of all my scents (not just the holiday ones).
This one of of my favorite scents from them. Smells like warm butter sugar cookies with cinnamon. So good!
I ordered this scent from CandleScience in place of Lone Star Candle for my Snickerdoodle candles and it smelled AWFUL! I highly recommend Lone Star's Snickerdoodle scent instead of this one! I usually really like CS's scents but this one was just awful.
Smells great! Excellent cold throw, decent hot throw
I made Snickerdoodle candles for my Christmas line and they sold very well. I had many good reviews from my customers. They gave off an excellent cold throw and customers said a good hot throw. They smell true to their name and will definitely be ordering again.
This was awesome to make! My entire house smelled for days of cookie making! My customers loved it!
Never did I expect to love this one so much! I am attempting to make a S'mores candle for my niece and I thought this would be a good graham-crackery base .. all that and MORE - wow! (FYI, I'm blending this as 3-parts Snickerdoodle; 2-parts Fireside; 1-part Chocolate Fudge .. could be a winner!)
Everyone is on the site talking about how amazing the sent is for candles but omg its amazing in my body butter so far. Its warm and inviting the cinnamon is not over powering the other smells. I've used 1/2 tsp per 4 oz and omg its amazing. So far no skin irritation. I cannot wait to put on my site!
Great aroma and full fragrance. Reminds me of my grandmother's kitchen in the fall when she baked these cookies....just wonderful
Yes this is strong. BUT, it is amazing! Very true to the real deal. Smells just like snickerdoodle cookies! And my customers LOVE this too.
Love this fragerence! One of my favorites. Smells so good in 464. Please don't discontinue.
The scent didnt smell like a snicker doodle, it smelled more like maple syrup with a hint of cinnamon. Waist of time, for me.
This scent is sooo yummy!! Love it!
This smell made me sick to my stomach. :(
I'm not sure if this FO smells EXACTLY like snickerdoodle but so what! It is a beautiful scent. It really permeates throughout house. I don't think most scents are going to mimic exactly. Except maybe rose. And that is so strong and sickening to me. Everyone is different though. Snickerdoodle is Awesome
I absolutely LOVE this fragrance oil ! It is a bit strong but it smells sooo good . Made two candles for my parents and they love it also. the candle wasn't even lit and it smelled amazing
Oh my goodness! This is one of my favorites. The scent is so rich and decadent it makes you want to find real cookies to snack on. I've made these in wax melts and they've done VERY well. Just made my first candles today, keeping my fingers crossed!
Wow, the scent so wonderful, it has engulfed the entire house in a Xmas/fall feeling. It is not overpowering, it is just perfect. 1.5:1 is just the perfect amount for our 464 candles. First year making candles, and we will have them again. It is simply Excellent
This scent is way, way too strong for me. Out of the bottle it took over completely - I had to open the windows to de-snickerdoodle the place. Two stars for smelling like a snickerdoodle scent should... at 1000%.
I'm pretty new at making candles, but I'd just made one with Ocean Rose at 10% fragrance, no problem. So I decided to repeat with this and egad, it's WAY too strong just out of the bottle. I have no idea how it will burn because I was getting a headache, so I bagged it up and gave it to my husband (this scent was his request.)
He texted me, "My office smells like snickerdoodles after 30 minutes and the candle isn't even burning." I guess if you want stellar cold throw, this scent is for you, but it's sure not for me.
This scent smells so good and the hot throw is neverending! Made my first parasoy wax melts with this FO and the throw was amazing!
Delicious. Don't drink this fragrance. A++
I have been a crafter for many years and I dare say this is one of the best Snickerdoodles I've come across. Candle Science has captured the scent of this amazing and ever popular fragrance. I will be buying it again, and again, and again. Top seller in jar candles.
First of all, this is a great cookie scent. My kitchen smelled like I was actually preparing food in there (for once) instead of making candles! It's just not... quite... snickerdoodle. It's got butter, it's got vanilla, but it's missing just a touch of cinnamon. I'm going to try blending with a little bit of Cinnamon Stick next time to really nail that snickerdoodle note.
This scent smells sooo delicious i just want to eat my wax :D. We picked it out for a xmas candle and the house still smells like vanilla and peanut butter and cinnamon yummy . A++ will definitely be getting more
I love this scent. I did a show and was out of Snickerdoodles in 2 1/2 house for the melts of 24 and 12 candles.Needless to say ordered more.
I made these for a festival recently and sold out of snickerdoodle on the first day! I love snickerdoodle cookies and it made me hangry. My snickerdoodle spot changed their recipe. I suppose smelling it will suffice for now!
This smell was amazing! My significant other came home as I was in the middle of making these and he thought I was actually baking cookies. I used this scent with soy 444 wax and it blended perfectly. I will definitely be ordering more when the time comes.
This fo smells exactly like Snickerdoodle cookies and is very yummy, but unfortunately, it is a very slow seller for me in candles & melts. It sells, but moves very slow. I might try it in soaps to see if it sells better. In any case, you did a great job in duplicating the Snickerdoodle scent!
I'm puzzled by the comments that it doesn't smell like snickerdoodles. But then again, I'm puzzled by a lot of things these days.
My customer LOVE this in a soap or a candle! And as far as I can tell, it smells like a snickerdoodle to me - and I know cookies.
I love this fragrance oil
It smells like Snickerdoodle to me! Behaved well in cold process soap - no ricing, no accelerating. I will be purchasing this again.
I haven't made it yet but the oil smells like the cereal captain crunch and nothing like snickerdoodles.
Anyone use this FO with tins?
I've made candles with Snickerdoodle because it seems to be popular. People like the name and do ask for it again. I'm not sure that I
know what Snickerdoodle is supposed to smell like but the first time I smelled this FO,and I believe I have a review here already, it smelled like an orchestra of butter, sugar, yeasty dough, cinnamon and that is pretty close to a cookie. Nearly a multidimensional scent. So I went forward with it. I have not made many batches because the scent rusts or corrodes tins. I've ordered from Seattle, Candle wic and Candle Science and the only FO that seems to be doing this is Snickerdoodle. This should be tested by CS and then listed for this FO as a warning because I made a whole bunch of custom party favors and they all rusted, fast. I have no problems with this FO in glass. The hot and cold throw is effortless in most soy or soyblend waxes, however it smells bad in 444 and Q210 and Q220. 444 smells rancid and overtakes any FO, including Snickerdoodle. The Q waxes have a strong acidic scent and that scent doesn't go away. Those waxes stink with any FO , however Snickerdoodle is okay in the Q waxes which tells you how strong it is. Snickerdoodle smells great in 464, CB Adv and C3.
I absolutely love this scent! I have never smelled something so delicious. This makes my house smell so good.
I bought this based on reviews. I must have got a bad bottle because this is no where near a snickerdoodle scent. waste of money
Smells great and is very strong when burning. My customers go crazy over this scent.
This smells great in the bottle but when I poured in my 464 it smelled like bubble gum to me. Weird I know, but it smelled like bazooka gum.
Very popular this year. I made several candles with this. It was one of my best sellers. It has amazing cold and hot throw. It smells just like a snicker doodle. Vanilla, cinnamon, and sweet
I've never disliked a fragrance more
This scent, to me, smells nothing like snicker doodles. At best, it smells like overly buttery sugar cookies, and at worst, it smells like butter popcorn jelly beans. I totally hate it!
I just poured this and I am in love!!!! I have never been so crazy about a fragrance oil! In fact, ordering more this minute! I know I won't be able to keep this in stock. Thank you for an amazing product.
This scent delivers on scent. LOVE this!
Smells just like the cookie
This is another big hit from CandleScience. I use 10% FO load in 464 and this smells amazing, it smells just like snickerdoodle cookies.
Got this as a sample and am in LOVE. It smells like warm, buttery cookies. Will absolutely be repurchasing. Waiting for it to cure (and am dying to light it) for hot throw, but the cold throw is amazing already.
I absolutely love this fragrance!
Smells exactly like fresh baked snickerdoodles
Smells great, I love it, customers love it.
wow!!! This scent is amazing.. great hot throw in my 464.. makes the house smell like i have cookies fresh in the oven!!! LOVE!!
Good but not what I expected
So my mom makes the BEST snickerdoodles. This scent has a nutty/butter smell to it. I am not catching any cinnamon or vanilla or a sweet smell. Like I said, it smells fine just nothing like snickerdoodles to me. I just simply added some very vanilla to it and some cinnamon, it has helped but won't repurchase.
FAVORITE scent! It literally smells like buttery, snickerdoodle cookies baking!
Usually one of my fastes sellers!
I will start by saying that I do not generally like the baking scents for candles. However this smell is so perfect it is easily one of my best purchases on this site. It smells exactly like baking cookies. Where the cinnamon bun scent has a much stronger cinnamon smell, this one is much more subtle and vanilla/sweet smelling. I much prefer this one. I believe I will have absolutely no trouble selling these.
I just went for it and ordered an 8oz bottle and it was such a hit! Sold out so fast!
I'm in love with this fragrance! Smells just like cookies baking.
Kentucky Moonshine Candle Co.
I tried this scent with my free sample. Used the 1 Oz. In 12 oz jar with the ecosoya 135. Wonderful Rich smell and love it. Will order this to sell for the holidays. With the rich vanilla smell it could become a regular.
Don't understand the bad reviews...
I am really confused why people are loving this scent according to the other reviews! MY CUSTOMERS LOVE THIS! I am so happy that there is a new holiday scent to try out, and I was no disappointed! It's not my BEST seller, but it is a front runner. People love food smelling candles, so this is perfect! I am glad I bought the scent and tried it out before these reviews came in, or I would be missing out...
Smells pretty good, but nothing like Snickerdoodles...
My family loves Snickerdoodles and we make them ALL the time. This smells pretty good, but I don't pick up any cinnamon at all. I'm getting butter, and lots of it, which is yummy. And some sugar cookie. I'm going to rename it because I don't think it will pass for Snickerdoodle without blending it.
I really did not like the smell of this scent. Maybe I'm not a Snickerdoodle fan. I bought 2oz of this scent and can't use it because not only does it make me sick at my stomach but my family as well. All the other reviews on this scent are wonderful. I'm not sure why, I really wanted to like this.
I tried a sample size in 2 oz votives and could not believe the warm, luscious scent; and that's just cold throw. Will be test selling at CRAFT SHOW this weekend!
I rarely write reviews on anything, but this scent impressed me to say the least!! Used it in soy 444 and it is fantastic! True to scent, not too much cinnamon like I thought it would have. I am burning melts I made now of this and can smell it throughout the house!
No words! OK, lots of words! Oh my goodness this one is soooo good! I have been looking for that AMAZING Sugar Cookie scent...Like Gold Canyon sugar cookie. Sadly, my efforts have failed miserably! I don't even care anymore! I have found my new favorite and it is this Snickerdoodle!!!! Great scent throw in 464! Was hesitant to try because I had ordered this scent from another supplier...ugh. Smelled OK burning, but not in the jar! Hard to sell something that doesn't smell amazing in the jar! Hard to convince people that it smelled better burning...😢 Love, love,love this!
I tested this in some candles and while they were cooling, I kept looking around wondering where this amazing cookie smell was coming from (I am a horrible baker). The butteriness and cinammoness of this fragrance is amazing! I took one of the candles over to one of the stores who carries my candles and they just posted a review of them on their site about how delicious these smell. So this is a definite winner and keeper. Thank you CS!
This scent is everything I'd want in a snickerdoodle fragrance! It's sweet, buttery, and creamy, with just enough of a warm cinnamon scent. Smells like opening the oven to a fresh batch of snickerdoodles. Also reminds me of cinnamon sugar toast. It's plenty strong and performs well in Ecosoya CB Advanced.
This smell was good. I would say I thought it had a strong butter smell. Would have liked it to have a little stronger cinnamon smell when burnt. I do like this scent though.
Smelled just like a Snickerdoodle cookie. Great scent in soy