LAB NOTES: Paraffin Pillar Wax (MP-137)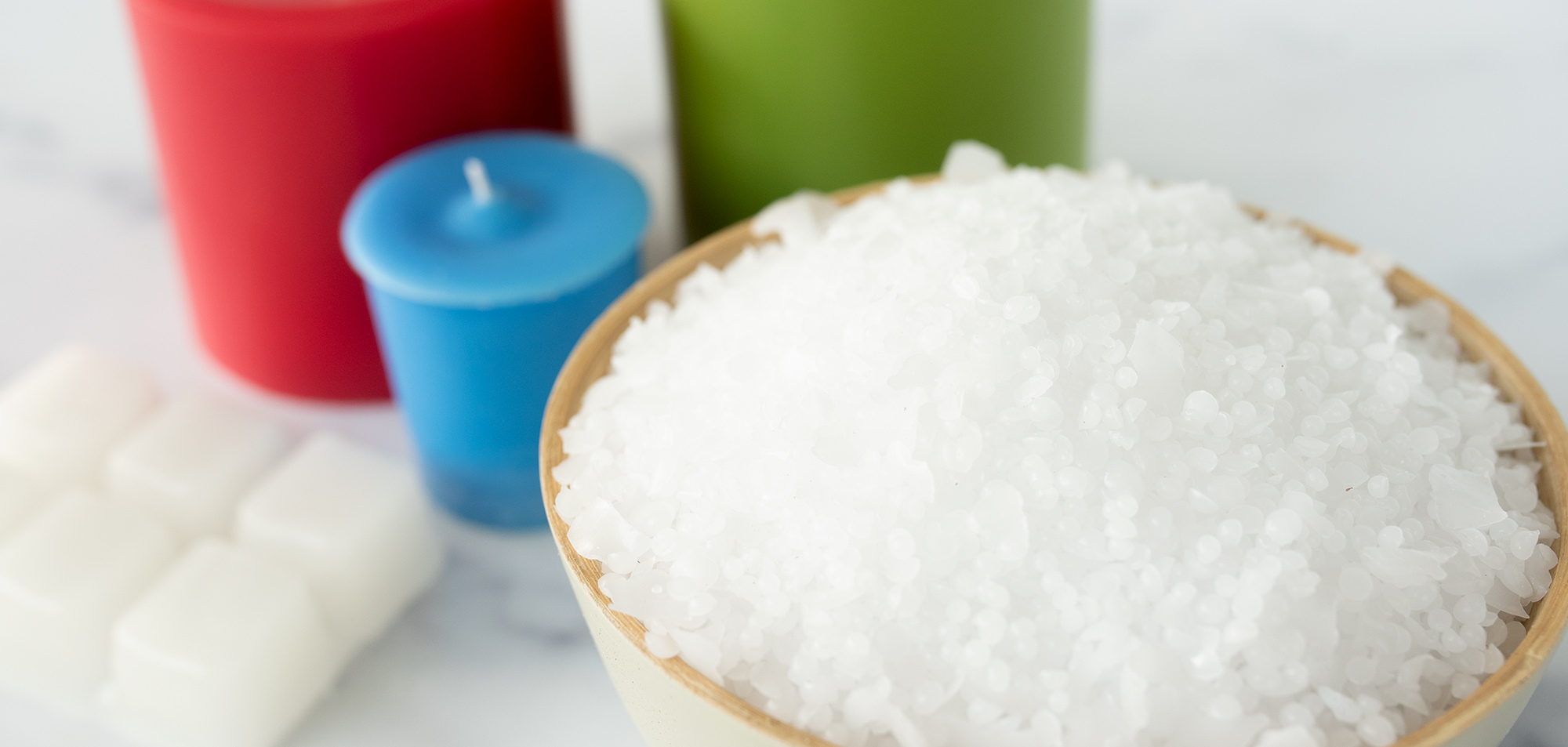 We divided our testing into three parts:
Aesthetics: We tested for mold release, stability, and color issues.
Fragrance Performance: We looked at fragrance solubility, retention, and cold and hot throw performance.
Burn Performance: We tested various wick series and sizes to find the best burn.
For the fragrance testing segments, we used White Tea, Sandalwood, and Very Vanilla fragrance oils. They have very different densities, viscosities, and ingredients. We hoped the variation would reveal potential solubility and burn issues.
Application: Pillars, Votives, and Tarts or Wax Melts
Recommended Fragrance Load: 4-6%
We are excited to bring this paraffin pillar wax to the handcrafted market! It is typically reserved for large manufacturing companies as a private label wax. With our new larger warehouse (as of May 2021) and purchasing capabilities we have more room to provide you with additional wax choices.  This wax is not specific to CandleScience, but let's just say you'll be using the same wax as major, high-end candle manufacturers. 
One of the most exciting features of this wax is that it comes in pasteille form so you won't have to worry about, or wonder how to break up large slabs of extremely hard wax. There are other great features of this wax too, but if you've ever used other paraffin pillar waxes that come in slabs you'll appreciate the convenience of these pastilles! 
The wax is white and has a more opaque appearance than most paraffin pillar waxes, which tend to be translucent. Pillars and votives will require a second pour with this wax, which is common for paraffin pillar waxes.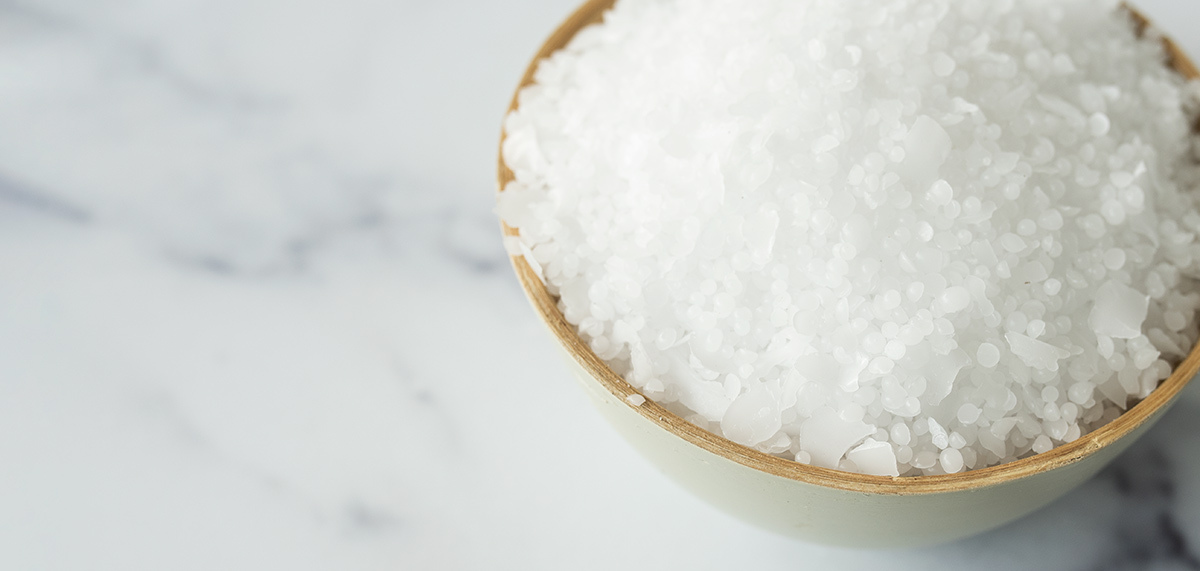 Pillars
We tested this wax in pillar candle molds with wick pins. We poured test candles at temperatures ranging between 180°F and 160°F (82.2°C and 71.1°C), and let them sit overnight. After 24 hours, the candles had significant shrinkage around the wick pin. A second pour was needed to get a level bottom. The second pour was done when the wax reached 190ºF (87.8°C) and filled in the sink holes sufficiently without requiring a 3rd pour. 
We did not use mold release during our testing and the wax came out of the molds very easily. The candles poured between 170 - 180ºF (76.7-82.2°C) had a very smooth finish that was very shiny. The candles poured below 170ºF (76.7°C) had some jump lines and the wax that was poured in the mold first had a matte finish while the other part of the candle had a glossy finish. The manufacturer's recommended pour temperature is 180ºF (82.2°C) but with our testing we found that, depending on the desired finished look of the surface, it is ok if you pour cooler without impacting quality.
We like the glossy finish but it will show fingerprints and imperfections easily. Obtaining a matte finish consistently can be difficult but we recommend elevating the molds and pouring the wax as cool as possible.
Note: We typically do not use or recommend the process of poking relief holes in pillars. While it is personal preference, this wax shrinks quite evenly and we do not believe it will have any added benefit.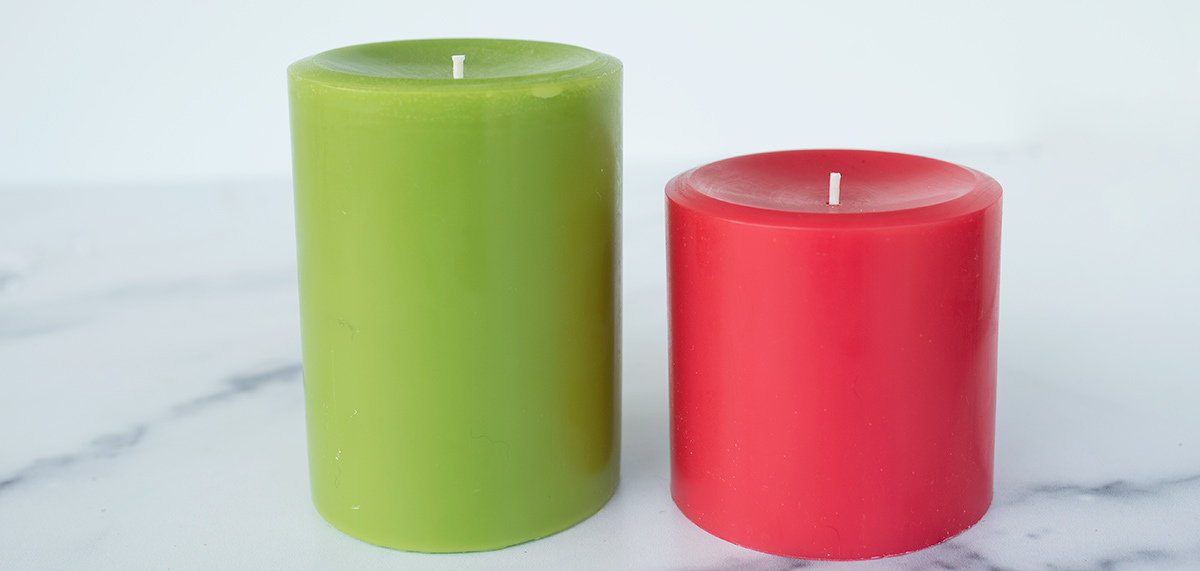 Votives
We tested our metal votive cups with wick pins without using a mold release. We tested pour temperatures between 160°F-180ºF (71.1°C-82.2°C). After 24 hours, the wax had significant shrinkage around the wick pin and required a second pour. We did our second pour when the wax was 180ºF (82.2°C). The candles removed easily from the mold and the wick pin came out with little resistance.
All of the votive candles had a matte finish regardless of pour temperature. The second pour also had more of a matte finish so the overall candle looked uniform.
Melts and Tarts
The clamshells and tart molds were poured when the wax was 160ºF (71.1°C). The clamshell did have shrinkage through the center, but the edges did not shrink. This made it difficult to top off which caused an uneven finish to the surface. We recommend not filling these molds all the way so that a second pour can achieve a more level surface. The tarts had a slight amount of shrinkage but not enough to require a second pour.
The wax removed very easily from the molds and had a very shiny finish where the wax touched the mold. The area that was exposed during the cooling process had a matte finish. Even though the wax is very hard, the wax from the clamshells broke apart easily and cleanly.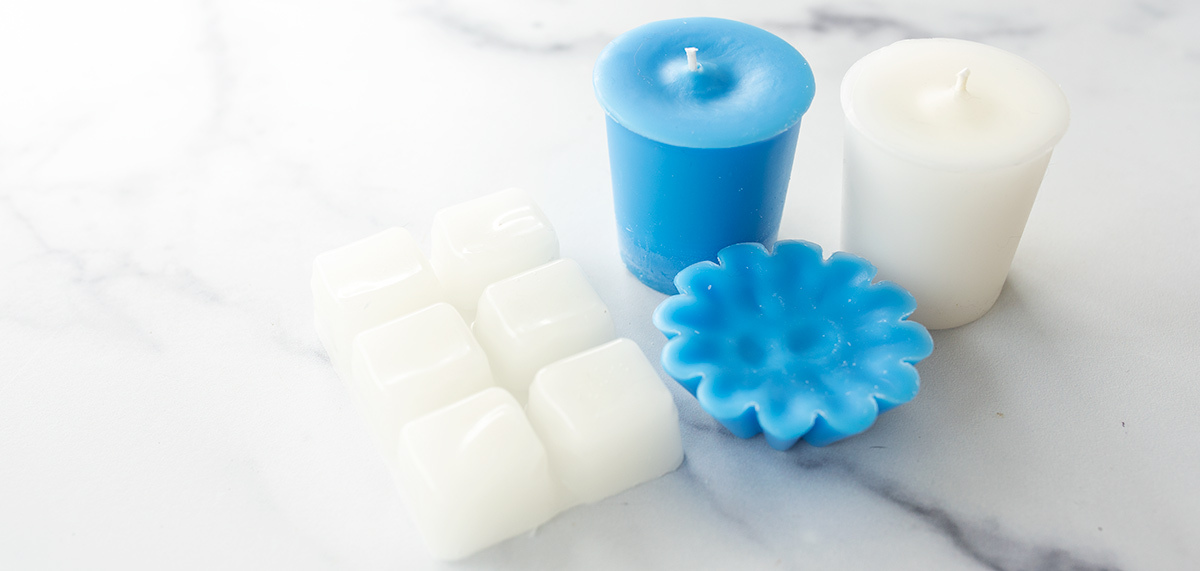 Coloring
We use our Key West, Red and Blue liquid dyes at 6 drops per pound (454 g). We added the dye at 190ºF (87.8°C) before adding the fragrance oil and the dye mixed in quickly and easily. The resulting color was quite surprising to us. The color was lighter and more pastel than what can be achieved in similar waxes at the same concentrations. For darker brighter shades we recommend the Dye Blocks.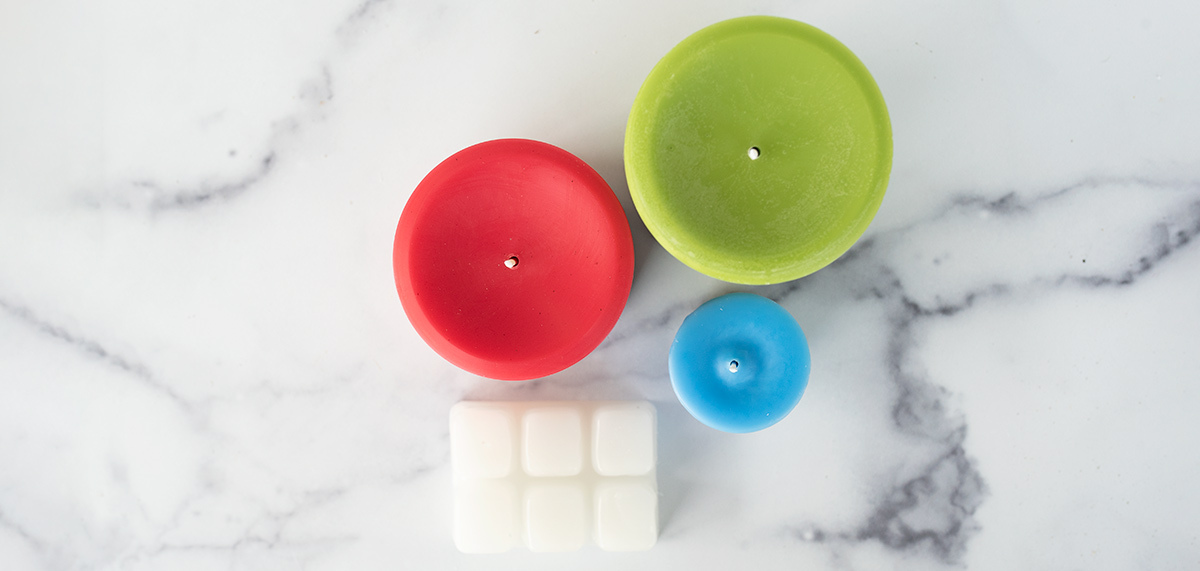 Solubility
We melted the wax to 190ºF (87.8°C) and then added the fragrance oil. On our initial test we found that the wax cooled very rapidly when adding fragrance oil and found heating to 190ºF (87.8°C) allowed us more time to mix in the fragrance and hit our goal of pouring at 180ºF (82.2°C). The fragrance incorporated easily, and we didn't see signs of separation. We were able to add up to 7% fragrance with no signs of sweating in our finished candles, However, for best performance, we recommend using no more than 6% fragrance in pillars and votives.
Hot and Cold Throw
All of the candles we made were incredibly strong after 24 hours. We started our hot throw testing after 48 hours. The hot throw was extremely strong with all fragrances at 6%. For larger pillars you may find using less fragrance is more ideal to avoid having an overwhelmingly strong candle. The smaller votives and wax melts can easily fill large spaces at 6%.
Wicking
We like the way LX wicks perform in pillar candles and found this was a great wick option for this wax also. The LX series produces a smaller tighter flame which is essential to prevent blowouts or holes in pillar candles.