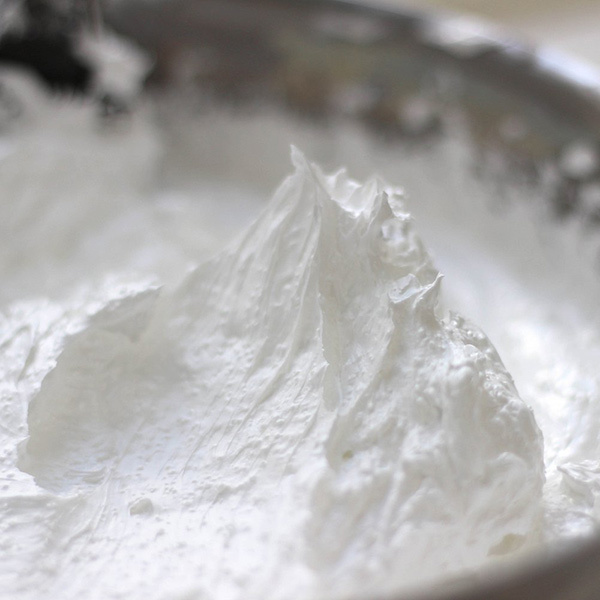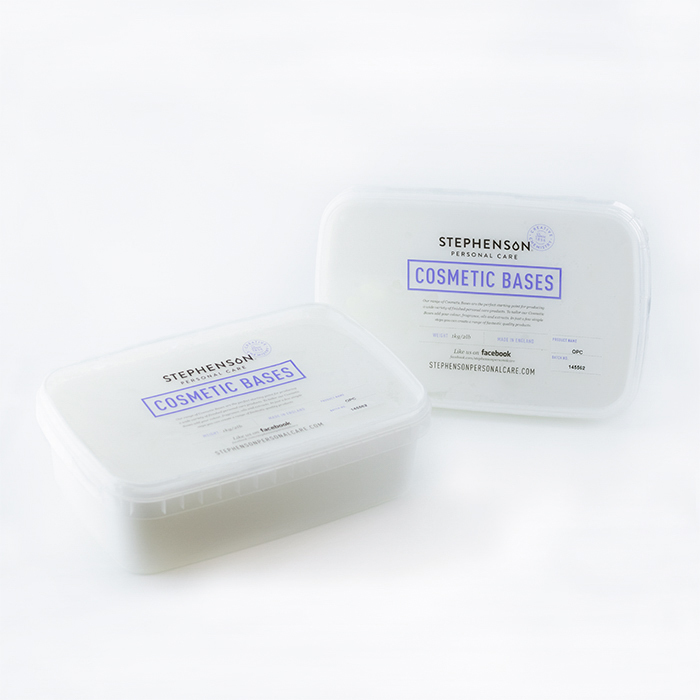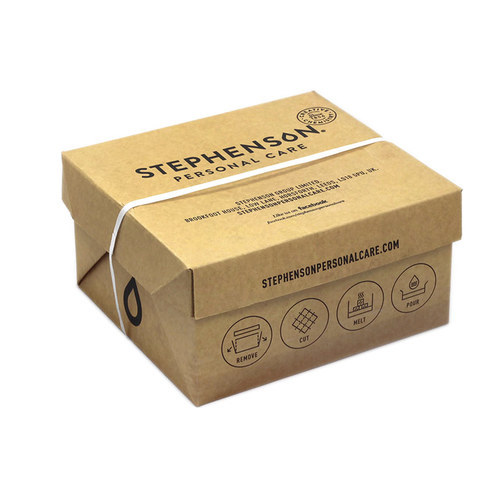 Ready to Order?
Out of stock. Expected: East Coast 7/23
5+ Cases
$87.58
$3.50 /lb
Details
Stephenson Foaming Bath Butter can be used to create luxurious bath, shower and facial products. This versatile soap base can be used for a wide variety of wash off products and scrubs. Just whip the base until it's smooth with an electric mixer, add fragrance, butters, oils, sugar or any other additives and continue whipping for 2-3 minutes. Let your creativity run wild with this multi-functional base. Put this unique, whipped product in a customized jar or tub for a beautiful addition to any soap line.
Explore some of the many uses of Foaming Bath Butter in our tutorials on How to Make Whipped Bath Soaps and How to Make Himalayan Pink Salt Scrub.
Additional Uses: Whipped foaming bath butter, shaving soap, frosting for bath bombs, body meringue, sugar or salt scrub, body souffle.
Ingredients: Aqua, Glycerin, Sorbitol, Sodium Lauroyl Isethionate, Disodium Lauryl Sulfosuccinate, Sodium Chloride, Phenoxyethanol, Tetrasodium Etidronate
Stephenson Foaming Bath Butter Base Highlights:
Paraben and MPG Free
Can be used for shower, bath or facial wash applications
Creamy lather with excellent foam
Mild Formulation
Non skin irritant
Moisturizing formulation that's rich in glycerin
See our complete list of soap colorants.
IMPORTANT - Any time products are used on the skin, it is essential to test for safety. It is your responsibility to test any and all of our products to ensure satisfactory and safe results in your finished product. When adding ingredients to any soap base, do not use candle dye or fragrance oils that are not approved for bath and body use. Please see the individual fragrance page for recommended product usages, and review the IFRA sheets for usage maximums. You can also view soap-safe fragrance changes that have been affected by the IFRA 49 amendment.

Labeling
Interested in selling your products? Check out a brief overview of labeling guidelines for cosmetics, which includes melt and pour soap, scrubs, whipped bath soaps, and more.
Wholesale Ordering
Check out our wholesale page for more information on ordering soap supplies in bulk or by the pallet.

Made in the UK
Reviews
Excellent product. Love to make whipped soaps and scrubs with this.
I love this base for my foaming sugar scrubs.
This base is simply amazing and the later is very lovely and cleansing!
Absolutely Amazing!!!!!!!!!!!!!!!!!!!
I have noticed the formula changed a bit and my whipped luster seems to be thicker then usual. But, I still love it.
Absolutely love this product!! My customer's rave about the foam & how soft their skin is after using. The scent lingers long after bathing (no matter what scent I add), which is a huge advantage. Extremely easy product to prepare.
This was my first time using this product and I must say I'm a little disappointed. It was very hard to whip. It's not a fluffy/soft consistency I was looking for. It normally only takes 5 minutes or less to get the right consistency. I won't be able to sell my product like this. I could only fill about 3 jars worth. Using 1lb I normally could fill 5-6
I'm unsure as to how to explain this problem.. I saw that other customers had the same issues though.. I have purchased so many 2 pound containers and half of them are SO HARD I cannot pipe them at all... The last 3/4 containers in my last order were solid after whipping and i do not whip mine for too long.. The others are extremely soft and do not fill the same amount of jars as the others.. The consistency is completely off for some reason and it's really hard to sell these without having balance of texture. I'm not sure why this happens as i see below that there haven't been any changes to the ingredients but something is off.
I absolutely love this foaming bath butter! It works so amazing for my whipped scrubs! I will definitely be purchasing again soon. Highly recommend!
I love working with this product. My last order did not make as many sugar scrubs as before, was there some change in the product? Please try to explain why or what to do with this batch. Really fell like I lost Money. Please help.
Hi there! There have not been any recent changes to this product. We have reached out via email to assist further!
Great but some recent issues
I love this base. It was my first experience making any kind of soap. It's so fluffy and easy to use! My first few batches were great and everyone I sold to loved them. But the recent batches I've made have hardened after a few days. Is there a way to solve this? I'm not sure what the problem could be.
Hi! A member of our team will be reaching out shortly!
I have tried many different premade Foaming bath soap bases. This by far is my favorite. Silky, smooth and creamy texture. I tend to whip a little longer than some for the extra fluff and this is the only product I can do that with the rest start to break down. The only down fall, I am noticing some scents don't take well. I end up having to use more fragrance oil than I should. Other than that, great product! Will be back for more 2lb trays.
This base is awesome!! I used it in my sugar and salt scrubs. I used some of the left overs tonight and it has a luxurious lather and is very creamy. It set up perfectly and has held it's form in the jars. It smells like unscented soap, it's not powerful though. I will definitely be using it again for other ideas I have bouncing around in my head.
I ordered the 25 pound case of this base and it performed horribly! I have ordered the individual 2 pound containers with no problem and decided to order a larger quantity because it seemed like the wise, cost effective thing to do for my business but this was definitely a mistake and total waste. The consistency is TOTALLY different and I don't feel comfortable selling this as it is inferior to the product my clients are accustomed to. I am very disappointed with this purchase.
Love the foaming base, but in bulk the quality was terrible
I have ordered countless 2lb slabs of this base and absolutely loved it! Very creamy and great texture/overall consistency. However, due to recent increase in product production I figured I'd go for the 25 LB slab instead....super disappointed. The batch was nothing but grit after I whipped it up—does not feel great on the skin :/ I don't think I'll be ordering the bulk again.
Love this product but inconsistency when ordering it in bulk
I loved this so much that I decided to buy the large box. The large box does not perform the same. It hardens before I can pipe it into the jars. Its not whipped butter but more like a regular soap that hardens. I will not purchase it in bulk again. CS is this normal?
Hi! A member of our team will be reaching out shortly!
My order from CS just arrived, this time I included a 2lb tray of the whipped bath soap base after watching the demo from Cassie. I'm so glad I tried it, it was so easy and fun, total instant gratification project. I found a case of 11.5 oz low profile plastic jars on Amazon Which would perfectly for this product since I'll plan to keep it in the shower. I easily filled two 11.5 oz containers with 1lb of the base whipped. I would love for CS to carry the plastic containers to save an extra order from Amazon.
I had so much fun playing around with this soap, it made me so happy :)
I made a coconut & citron mandarin whipped soap and it turned out great!
I decided to give this soap a try and add it to my shop along with the candles I make , I am completely satisfied with how easy it is to whip, how it holds scent as well the fact it doesn't deflate. The soap is also very moisturizing which is a huge plus , my customers love it as well as myself & my husband! Hope it's back in stock soon .
I have been making little soap jars and i can honestly say that this is the best thing i every bought i had no problem whipping it doubled in size and never de-flated and holds every scent that i could use (scents without vallian in it) i will buy again when i get to the point where im getting low, im very happy with everything!!! 😁😁😁😁😁😁😁😁😁😁
I was excited to try this product, and I am so glad I did! I made a shave soap and a body scrub. When used together, my skin was soft! Besides having soft skin, it is easy to use.
I made a small batch.( Second attempt )8 oz and was pretty pleased with the results but thought would get more product . I did add some skin living oils but a tiny amount. First time using added what company recommended and it turned out hard.
Will most likely will order again. I have used another company brand and the texture of this product more of a butter texture.
I Love it!!!!!! This foam soap is fabulous!!!!!!!!!!!!!!!!!!!!!!!!!!!!!
Everything I get from Candlescience is top quality and I love the Stephenson Foaming Bath Butter Base. I use it for my sea salt scrub. I am having a little problem with my oil and fragrance separating from the base once I put it in jars. I am following the directions and adding it at the beginning and whipping it for 2-3 minutes. It looks great at first, but it starts separating once it has set in jars for a couple of days. Any suggestions?
One needs to use the whole 2 lbs to whip it up and make back just a few dollars more than u spend considering a jar Is necessary and getting the mush into a jar is a mess and waste of it.
I usually use a different brand of foaming whip from another company, but I decided to give this whip a try AND so glad I did! At first I was a little iffy because I was so use working with the other brand, it took me a few minutes to figure out the routine with this product. Once I started adding my oils it started whipping like a dream. It feels wonderful on my skin, I made up a sample batch for my customers to try.... If I am as impressed with this product as I am, I know my customers are going to love it. I never sell something I personally do not use myself. Also, I whipped it a little longer until I got the consistency I wanted. Just ordered more... so yes, I truly love this product!!
I'm starting to make my Christmas gifts. If I make a couple batches of scented foaming soap how long will it last in jar?
Just tried this foaming bath butter base for the first time and love it!!! Followed the directions exactly as written and everything came out perfect.
However, in the directions it was written that you would get 12 8oz jars. I only got 5 jars . Can someone from Candle Science tell me why this would happen.
In one of the reviews it was written that water was added to the mix. Is it ok to add water or is it possible that my hand held mixer could be the cause.
Even though I gave it a 5 star rating which I feel it deserves I feel the consistency is a little too thick. Please help because I love this product and am proud to add it to my line of products.
I have been using this bath whip base for my foaming bath whip. I add my fragrance along with other skin nourishing additives. I have never had a problem with it's consistency. In fact, I am very busy with repeat customers' orders. Absolutely love this product!
This soap is very easy to work with and takes scent and color very well. It does have a really nice lather and tons of bubbles. I only gave it 3 stars because as I was following the directions and waiting for this "whipped cream" consistency to happen, in my opinion it never did. This stuff has more of a consistency similar to sour cream not whipped cream. Does leave your skin feeling very soft but I'm not sure I will be purchasing again or adding it to my product line.
This soap is great but I'm afraid it will be discontinued like some of my favorite candle scents were! For now I will enjoy what I do have!!! Please keep this product it's amaxing
Hi! We love the Foaming Bath Butter base too and do not have any plans to discontinue it so we hope you keep on enjoying!
I absolutely LOVE this product. Very user friendly. I've made a few sugar scrubs with this and I love the results. The lather is creamy and has a nice clean feeling afterwards. I would definitely recommend this product!
I really love this product.
It works as promised.
Simply the Best Whipping Soap Product this side of the Northern Hemisphere!!!!!
Other distributors are always out.....and I love you guys for staying stocked!!!!
My customers call me personally for this extraordinary soap!!!!
I am very satisfied and so are all of our Queen's Temple Handmade Artisan Soaps customers!!!
;)
So the wuality of the suds are amazing. You only need a small amount to lather and shower. Leaves skin feeling amazing. Hold color and fragrance very well. I poured 2.5 cap fulls of fragrance because I split it into 3 parts for coloring sake. It's amazing l. Being an original soy candle business with no color, adding color to the collection was a great thing around Valentine's Day. Going to buy more as soon as I see how fast they go
Nice but need to tweak the directions
I was excited to try this, especially after the directions indicated it would fill 8-10 jars. What a great, easy way to cross some people off my Christmas list! However, when I made it, following the directions, I only filled 4 of the 8oz tureen jars. I'm assuming I could have whipped it longer to get more volume, but the directions warned against over-whipping the base. Other than the issue with directions, the base has a nice texture and took in the fragrance and carrier oils I used very well. I decided to split it and do 1/2 a regular bath souffle and 1/2 a whipped sugar scrub. Both turned out very nice.
This is so easy and fun to work with, excellent quality. I add a splash of water to mine to get more volume, takes fragrance very well, and does well with an oil of your choice. But most of all it's easy and fun. Just follow directions. Very glad it was added to their menu of bases.