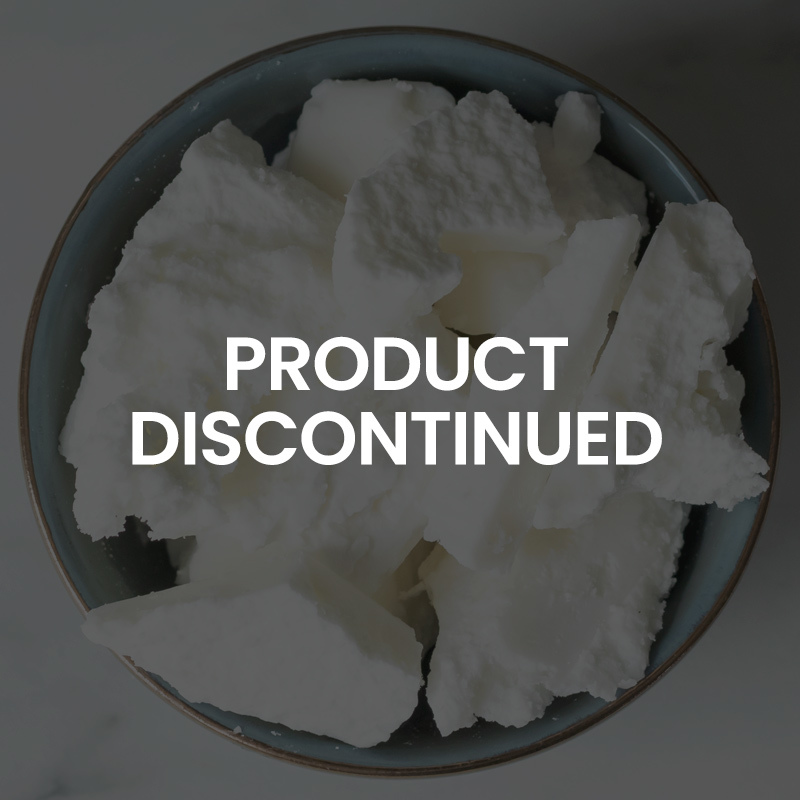 As of 05/11/2020:
This product is discontinued and no longer available.
Details
Product Update: April 8, 2020
Due to sustainability concerns about Cargill's sourcing practices, we have made the difficult decision to discontinue Cargill waxes from our product line. The Cargill NatureWax C-6 Soy/Coconut Wax will be discontinued once current stock is sold out. For more information click here.
Cargill NatureWax C-6 Soy/Coconut Wax is an all-natural blend of soy and coconut waxes. C-6 has excellent glass adhesion, a smooth finish, and resists frosting. It is packaged in slabs that are easy to cut into smaller pieces and allows for higher pouring temperatures which can help decrease candle production time. This wax incorporates dyes well resulting in vibrant colors in your finished products.
Learn more about how you can get the best results from this wax by viewing our Lab Notes 〉
Note: Wax is packaged in soft slab form.

Wholesale Soy Wax Ordering
Check out our wholesale page for more information on ordering Cargill NatureWax C-6 Soy/Coconut Wax in bulk or by the pallet.

For help choosing the right candle wax for your candles, visit our Wax Guide.
Reviews
Please stock a replacement! A natural wax that isn't soy is needed. Really loved this blend.
This was the best wax you ever carried!
I am so disappointed that this wax is no longer carried. While I do understand the reason for discontinuing it, this was the best one in every way for candle making. What I am suppose to do when my batch of wax is all gone? I guess I will have to look for another supplier who carries a coconut/soy based wax for candles. I do hope you guys can get together and get something else in to replace it soon. Otherwise I will have to start looking for another supplier.
Please stock a replacement!
I just started testing this wax several months ago and loved it so much! Are you considering a replacement for this wax? It set up SO nicely and burns so well. I understand the reason you discontinued it but am hoping there's another option for you to carry!
In the past I've had consistent issues with the 464 pure soy wax. This includes sinkholes, frosting, etc that we've all experienced using pure soy.
I started to experiment with the C-6 wax and noticed it was significantly denser because of how long it took to burn. I started to add some to my 464 soy just to see what would happen and noticed that it helped stabilize some of my issues with the pure soy. I now have far fewer holes and settling issues in my candles. As an added bonus they also burn longer which, of course, my customers are happy about.
I started candle making using 464 and after doing some research I decided to make the switch to C6 and have no regrets! The glass adhesion and smooth tops are almost effortless and the HT and CT are pretty good!
I wanted to try something different from the GB464 soy wax for a better hot throw. I was excited to try this, but I'm thoroughly disappointed in the wax appearance after one burn. I found that the trick to getting a smooth top, is to heat the wax to 190F, stir in fragrance, and pour at 175F. For some reason, allowing it to cool too much before pouring really causes severe craters on the tops. What's really disappointing is after just one burn, the wax solidifies into a lumpy mess. It's terrible. The hot throw is good, but it's not aesthetically pleasing to look at whatsoever. I'm upset I bought so much of this wax because I wouldn't sell the candles to anyone!
I hope the manufacturer of this wax can improve it somehow, because I want a natural wax without paraffin that's performs well!
I would like to purchase the Cargill C-6 Soy/Coconut wax, but the tech info pdf. would not show anything in either one. Please provide tech info.
Thank you
We are so sorry that you had trouble viewing the technical document. Our support team will be emailing it to you.
The price of this wax is great compared to other suppliers but my experience was a little disappointing. The wax is lumpy in appearance when cooled. The scent throw and adhesion were great, just wish it presented better.
i love coconut wax. But i will be changing to this wax. I have had no problems except to wick up by 3..... as long as wick care is done haven't had any problems. and i am not a soy fan.. I like how it looks in my 8 o/z str. sided glass. I heat to 200 * and poor at 185 with scent. no problems
I was very excited to work with this wax as I am a big fan of using coconut wax! It is a soy/ coconut wax blend and I thought I'd give it a try. Unfortunately all my candles came out with a lumpy finish which, even after using a heat gun 2-3 times, was very hard to get rid of. The wax also seemed to be a bit dense? and it became hard for the wick to continue to burn. I ended up burning these candles on my own since I didn't feel comfortable enough to sell them. I love Candle Science and hope to try this wax again if it gets revised!
As a first time candle maker this wax was a bit tricky to figure out. A lot of my test candles have this bubbly texture after they were burnt? but beside that it was a good introduction to soy and soy blended waxes.
I'm really frustrating on how this wax is working with me, i keep getting a lumpy finish on top! any idea why or how can i prevent this from happening?
Hi! We have reached out to you through email for some troubleshooting tips!
I'm almost finished with the 60lb box that I ordered. I've had some really nice looking candles and some with sink holes and wierd lumpiness . I like the scent throw it's not bad I made a three wick like bowl candle (blueberry muffins) a couple of days ago and I put it in my living room and my whole house smells like blueberry muffins. I think most of the time with scent it just depends on if you put in the max fragrance amount and also on the fragrance itself. I'm gonna try another 60lbs and see what happens.
This is amending my previous review of this wax. All was well until I burned the candles, it has a strange lumpy top and hardly any scent throw. I won't use anything but IGI 6006 from now on.
I'm impressed with this wax. It is very easy to work with. HT and CT are awesome. I love the fact that it is natural, no paraffin. Sometimes there is pitting on the top but that is easily fixed. I do believe the wick guide for this is way off. I am experimenting with different ones to find the perfect one.
Thanks Candlescience for another quality product.
I love this wax. I was using GB464 but couldn't get rid of the frosting no matter the temperature I poured at but the Cargill C6 is amazing and so creamy and smooth looking every time. I've had a few scents that produced some pitting but I just used a heat gun and will work on the pour temps for those scents. I wish the shipping was cheaper but understand.
We started out with 464 and 444... After reading the reviews, I was hesitant to try so I bought a small slab. We are pleased with its results and the tops are very close to smooth with the exception of a tiny, tiny dip toward the wick. The natural characteristics of soy wax are taken into consideration when using any combination. We have since bought larger quantities. Oh and the CT and HT are wonderful... Especially with a wooden wick.
Hi, I would like some feedback on this particular wax and inquiring if it can be used as a Massage Oil/Candle once melted?
I have to admit, I'm not entirely satisfied. The chunky texture on the candles surface that others have reported I've only experienced after the FIRST burn. This doesn't bother me too much considering that, with any additional burn, the top evens out on it's own once again. This is also pretty standard when it comes to a more natural wax. What I'm more concerned with is the hot throw. I get excellent cold throw but the fragrance seems to be non-existent after a burn or two.
I was unsure at first really wanted to go 100% natural but had horrible results with the HT and CT with the 109% soy in fact I couldn't get the soy to hold a scent at all no matter what temp I added the FO but with the C-6 I got an amazing CT&HT!!! Really impressed of course with any soy based you're going to have frosting and such but has been easily corrected with my heat gun. Thanks again CS for a quality product!!
Small Soap business owner
All my trials with the soy/coconut wax mushroomed real ugly on the tops
I am getting decent results with the C-6 as well, along with the CD24 wick. The mushrooming and smoke at the
extinguishing point is my only problem with this wax/wick combination. I have tried the larger and smaller sizes
of CD wicks as well without any decent burn results.
So far so GOOD with this soy blend! This wax is easy to cut (considering it packaged as a slab rather than flakes). A faster melt and pour time which is GREAT! I've been getting strong CTs and HTs as well with the tester candles only one scent was a fail. The only issue I see is the wicks recommended for this particular wax creates carbon build up rather quickly but the melt pool is fine. The appearance is more whiter in color which is nice.
What's the recommended temperature to add your fragrance oils for this wax?
Every batch I made with this wax frosted. Not only that, no matter how many times I went over the tops with a heat gun, they wouldn't stay smooth.
which wicks would you prefer for this wax?
This wax has a different look to it before even taking it out of the bag then once handling it, it is dry and crumbly. I was expecting a creamier wax. I tested it in a 12oz jar with the recommended wicks and a CS holiday fragrance oil. I heated to approx 185-190, transferred to a pouring pot with FO already measured and waiting. I gently stirred for two minutes then poured into preheated, pre-wicked jars. I had a tiny bit left over so just filled one clamshell. It took a longer time than I expected to set up then revealed sink holes. On a positive note, it appeared to set up better in the clamshell. I'm not sure, based on my experience, that I would use it with larger vessels but perhaps it will function and set up properly in small votives, tea lights, or even clamshells. It has a great cold throw but waiting to light candles to test for HT after giving it more time and using a heat gun to fix sink holes. I will be testing the performance of the clamshell after proper setting as well, but the cold throw is great.
Has anybody experienced any frosting issues while working with this wax? (Asking before i buy)
I have used up my first slab and my 60lb box of this wax and I love it! It is quicker to pour, jars don't need heating (at least in this weather.) and I have no wet spots! No oil leaching and I barely have to smooth the tops!
I am so relieved and excited to know there is something else out there better than the GB464.
If you haven't tried this wax, you really should. I think you will be happy with your results.
Thanks again Candlescience for always looking for something better and hearing your customers!
Can this be used for wax melts? Thank you!
Hi! We would not typically recommend the C-6 for wax melts as it is a softer wax and will likely crumble and/or not release well from molds. I hope this helps but please feel free to reach out with any questions or concerns to support@candlescience.com!
Does it have a coconut sent asking before I by and if so will it throw off my other sents
Hi! The C-6 does not give off a coconut scent and will not affect the fragrance oils you use with this wax. I hope this helps but please feel free to reach out at any time to support@candlescience.com with any questions or concerns!
I am in the testing phase with C6. I have poured a number of test candles with a variety of wicks.
After using Ecosoya CB Advanced wax for a long time, this wax is really a disappointment. The tops
of the containers look good after pouring, but the chunky result after a burn time is NOT what a customer wants.
I used wicks-CSN26, ECO 10, and LX28. All these wicks burned fine, but after 1.5 hour, still had not burned to the edge of a 3"
status jar.
I will keep testing.
Suzanne
Davelle Candle Co
I just poured my first brick of this new wax and it seems really nice. The scent throw (cold throw) is amazing. It seemed very soft at first but it is hardening nicely after a few days.
I was using the GB 464 soy wax for many years but it just isn't dependable anymore. I have been wanting to try a new wax for some time and was elated to hear that CS was getting a soy coconut blend.
The tops do need smoothing (a few of them, several times but that doesn't bother me.) Over all I'm happy but more testing needs to be done.
I just purchased a 60lb box and I thought they shorted me when I saw the box, but not when I picked it up!! Remembering it's in consolidated bricks will make it easier to store as well! Yay!
I will check back after I go through the case, fingers crossed.
I'm really struggling with this wax and getting a smooth top. Even when I touch it up with a heatgun it dries in a strange chunky way. This also happens after I burn the candle. Looking forward to hearing if others have solutions. Missing my Ecosoya Q210.
Finally the product that i was waiting for. I was almost buying this product in a different supplier and suddenly this product did show up in your page like magic. Thank you Candle Science for listening to us and always making us happy. Now I'm ready to buy it! :)