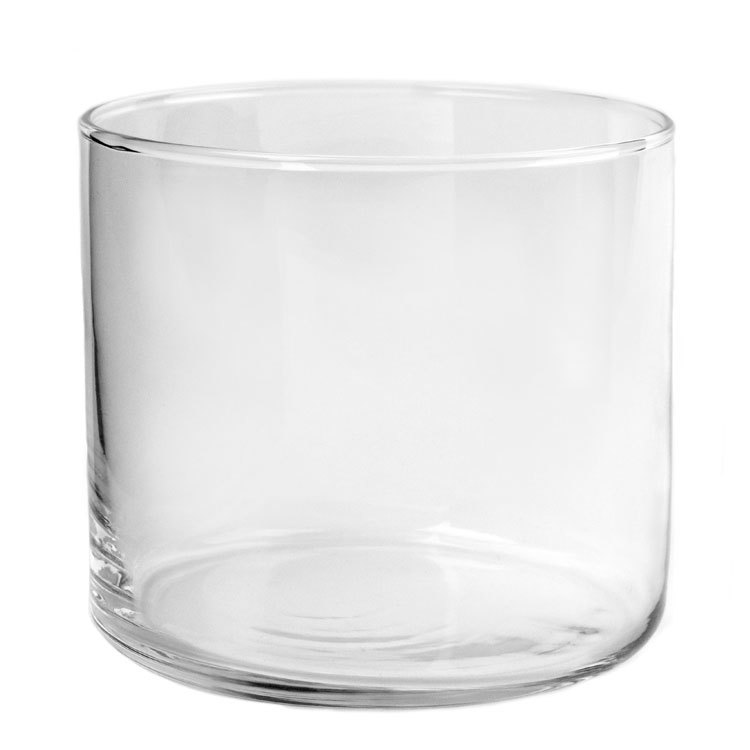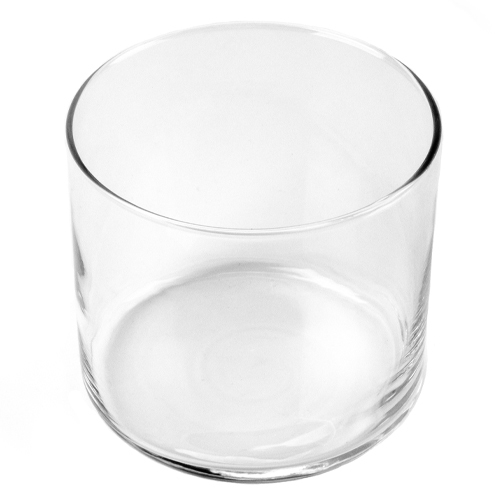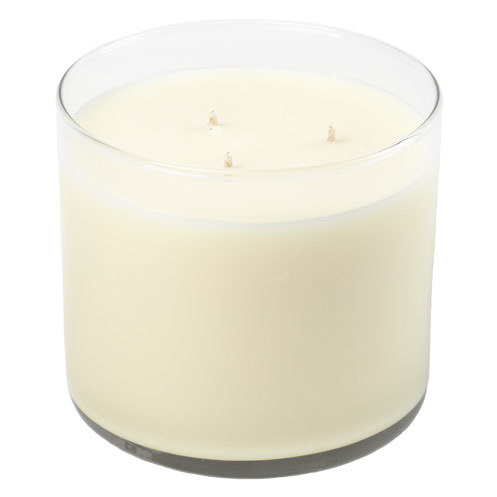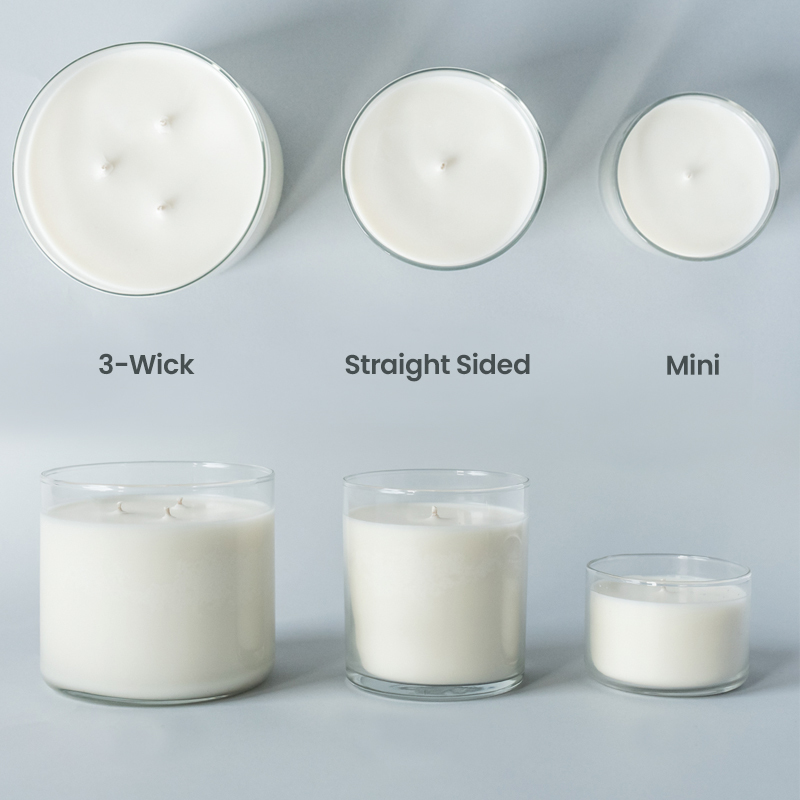 As of 12/22/2020:
This product is discontinued and no longer available.
Details
Product Update: October 21, 2020
The 3-Wick Tumbler Jar was discontinued by Libbey. A new 3-Wick Tumbler Jar from another manufacturer will be available in Late Spring 2021. The new 3-Wick Tumbler Jar is almost identical to this version, and still fits the Silver, Black, and Bronze 3-Wick Metal Flat Lids. Click here for more information about stock.
Our 3-Wick Tumbler Jars are contemporary and versatile. The 4-inch diameter of the jar makes it a great size for a double, or triple-wicked candle, allowing for a stronger fragrance throw and radiant glow. These clear tumblers are made from blown glass forming a smooth and seamless finish.

Tops are sold separately.
The 3-Wick Tumbler Jar works with the following tops:
Silver Metal Flat Lid (3-Wick)
Bronze Metal Flat Lid (3-Wick)
Black Metal Flat Lid (3-Wick)

How much wax will it hold?
Wax Weight (to fill line) - 17 oz (1lb 1oz)
Volume (to overflow) - 20.75 fl. oz

Looking for a wick suggestion?
GB 464 - CD 6 Triple Wicked
IGI 4630 - LX 14 Triple Wicked
IGI 6006 - CD 4 Triple Wicked
Check out our wick guide to see recommendations for other waxes! Our recommendations are estimates and should be used as a starting point for your own burn testing.


Looking for labels?
Put the finishing touch on your candles with the perfect product label from Avery WePrint. Browse designs, create your own, and take 10% off all label orders! Head to
avery.com
to get started.

Wholesale Ordering
Check out our wholesale page for more information on ordering candle supplies in bulk or by the pallet.


Made in the USA
Properties
| | |
| --- | --- |
| Height | 3.63 inches |
| Outside Diameter | 4 inches |
| Inside Diameter | 3.84 inches |
| Max Labeling Area | 12.5" x 3" |
| Prop 65 Warning Required | No |
Reviews
Do you have a replacement for these yet. Best seller ever, my customer loves them!!
Hi! We're planning on having a new 3-Wick Tumbler Jar in Late Spring of this year!
Wicking suggestions are off
I'm really looking forward to getting the new jars soon because I'm on my last two boxes of these! I love these. They're not great sellers for me on my website but for wholesale at another local boutique keeps requesting more.
Also, CD6 with 464 is NOT a good wick suggestion at all which is why I dropped this down by one star. Even with CD4, it burns too hot and I have a relatively deep melt pool by the end of the first hour of every burn. I had to start mixing in 444 and using plain old 444 by itself to raise the melt point of my wax so it doesn't burn too hot with CD4. If you want to do CD6, double wicking is the way to go...
Hi there! I'm sorry you're having difficulties with our wick recommendations. One of our team members will be reaching out via email shortly!
The 3-wick candles are my best seller. Candle sales have gone down since they have been out of stock. Hopefully they will be back in stock soon.
When will the new ones be available ?
It is hard to work without knowing when the jars will be available . Thank you to keep the community informed
Hi There! Thank you for leaving a review! A new 3-Wick Tumbler Jar from another manufacturer will be available very soon, however, we do not have an exact date yet. Once we have more information we will update our website. If you have any other questions or concerns you can reach out to us at support@candlescience.com.
I was looking to add a 3 wick candle to my line per a lot of request and this is the only website have found that had the 3 wick tumbler with the lids I need. Please Please Please let me know when this tumbler get replaced. I am going to try to find another site to order them from until CandleScience gets them back in stock.
Please don't discontinue!!!!
The candles that I sell in these jars go fast. I love the quality and appearance. Please consider bringing them back. My business will not be the same without them.
Love these jars! I can't wait for them to come back in stock!
These jars have been great, and I'm looking forward to purchasing the replacements when they're available. In between a global pandemic, major supply chain disruptions, a nation wide glass shortage and Libbey filing a chapter 11 in the midst of everything, I appreciate how communicative CS has been about managing realistic expectations about their ability to restock inventory in the current climate. Thank you, CS!
Love these, can't wait for the new jars!
I never made jars larger than 8 oz before but a wholesale customer asked for triple wicked containers... so I stocked up on a bunch of these right before they went out of stock. I love these, they're so cute! I'm running my first burn test on it now with Christmas Tree to get in the holiday spirit! I'm really looking forward to the new jars especially since they are nearly identical and will fit the lids. You should look into gold lids as well!
Manufacturer discontinued not CS
These were great jars and I was able to stock up when CS sent our the email alerting subscribers that Libbey would be discontinuing them. CS also put in the email that they were securing a replacement jar to fit the same lids hopefully in early 2021. It bums me out to see 1 star reviews towards CS when a manufacturer discontinued the container, that is completely out of CS control. Supply Chain is an absolute disaster for every industry right now and CS has been incredible in keeping us as up to date as possible with out of stocks and expected restocks, as well as the absolute best customer service from any other supplier. It stinks these jars are discontinued, huge seller for me, but we adapt and adjust. No low reviews deserved for this situation.
We need replacements ASAP
These jars are bestsellers for me!! We need a replacement ASAP. A 2 month gap will damage my business. Help!!
I had just decided to add these candles to my line I hate they will no longer be carrying them. They look wick really good. I'm having a hard time finding another place with these jars in stock.
One of my boxes did come in broke due to no peanuts in box still waiting to hear back from customer service.
Hi! Thank you for your review! A member of our support team has reached out to assist you.
As always, CandleScience comes through again! I wrote a previous review about my 3-wick tumbler order. There was 1 broken during shipment, but I was contacted immediately by a customer service representative to resolve my issue so easily. I had no problem with my next 2 shipments of tumblers. The added attention to packaging was key. Thanks again!
So sorry to see these tumblers go, as they have become a staple in my candle line. I hope the next collection is as nice.
I love these jars and never had an issue until yesterday with on jar being broken out of 24 jars and i submitted a claim and waiting on a response. I will continue to order from CS because they shipment is fast
Thank you so much for allowing us to provide assistance!
These are amazing and my best seller. Although tough working with 3 wicks (need a breakthrough in wick holders), I love them! Perfect for my first candle "Fall Collection".
I love these jars! I use CD-6 or CD-8 wicks depending on the testing determined by the FOs in 464 and absolutely love how these look. I've had a few issues with breakage that were promptly answered by customer service (which is amazing as a small business)! For that reason alone, I think it's definitely worth the investment. These are perfect for adding a larger candle to my line and CS's customer service is the absolute best I've dealt with in this industry!
Pro tip about wicking the three wicks: if you hot glue some popsicle sticks with drilled holes approx. 1.4" apart it works extremely well. I usually leave them there until the candle is 75% cooled and remove them so the top can set up properly (letting the heat escape fully from the top without being trapped by the popsicle sticks). :)
I love these jars. Perfect diameter for a good HT in a large room. Does everyone fill these with 17oz? I can only fit 14.5 ounces.
These are perfect. I have ordered multiple times and will continue to do so. They always come quickly and intact. They look sophisticated and well-made. Took me a while to find my wicking, but once I got it...it's amazing. I use IGI 6006 wax, 10% fragrance load, and 3 HTP-73 wicks.
I love the jars, but I'm having a hard time finding the right wick for this candle. I tried the recommended CD 6, and it burned way to fast. Now I'm trying the CD 4 and it's burning fast with only 6% fragrance, should I go to CD 3 for three wicks?
This batch of jars has so many imperfections on them. Not sure about the glass making process, but it looks like at the bottom of my jars some one didn't let them cool long enough and removed them too quick. They are either too thin in the very center or they have bumps in the center. It gives for an uneven surface. Love these jars but this batch was just not up to par.
Hi there! Our 3 Wick Tumblers, similarly to our Straight Sided Tumblers, are made from blown glass, so it's common to see variations in the base of the containers because of how they're made. Some may be more level than others, but this variation is normal and a slanted base will not cause complications in the finished creation. Feel free to reach out to our support team at support@candlescience.com and we'll gladly help in any way we can!
I love these vessels! What size mailer or box should I use to ship 1 of these? Also which size should I get that will comfortably fit 3 of these?
Beautiful tumbler jar!!! What an awesome addition to my Fall and Christmas candles. There was one jar broken beyond use! I need to replace it asap please; However, I'm not sure how?
CandleScience is my primary source for candle supplies and are ALWAYS there to answer questions or to resolve problems.
Please tell me how to contact someone to help me get a replacement 3-wick tumbler jar.
Hi there! We're happy to hear you're enjoying your tumblers! A member of our support team has reached out to better assist you!
I'm so in love with these vessels and the bronze lid BUT I'm giving it a 4 star because I've been testing for so long. The wick guide is SO off for this vessel, it's crazy. For 464, triple CD6 burns extremely way too fast. Same with CD4 & CD3. I double wicked ECO10 and it never reached a full melt pool. Double wick ECO12 works better but I feel CD wicks provide a better HT so I'm testing double CD wicks instead. Wish me luck!
Hi candle science,
Wick suggestions for coconut wax? I've tried triple wicking with CD 4 but it burns way too fast. Thanks! Great jars!
I use these for 3-wick candles, using soy 464 and CD 6 wicks. They work perfect and are great! Since these are made from blown glass, the bottoms can tend to not be flat, but this really is not a problem and I've never noticed in a finished product.
Can I use 1 wood wic with this glass jars? And if so will it burn all the wax evenly ? Or do I need 3 wood wicks !!
I live these jars! They shipped in a timely manner and are so professional looking!
But how do I choose a slower burning wick? Is it my wax or wick choice?
Love these jars! They're beautiful! I had trouble with my wicks burning the sides of the jar in this one when I tested it and decided to try using two wicks instead of 3. Works like a charm! The melting pool is still nice and even.
Will you have packaging for these tumblers in the future?
These jars are gorgeous but i am extremely frustrated with the wicking. I use IGI 6006 wax with 10% fragrance oil. No dyes or anything else. Tried cd 4 and way too hot, now testing cd 3 and the flames are flickering like crazy. Please help!!!
Hi! We're happy to help troubleshoot this for you! A member of our team will be reaching out shortly.
This jar is amazing. Easy to wick and label
I recently purchased theses jars and using the Gb464 with dye . Which is the beat wick to use with this jar? as i have used the lx 18 and had a slow burn pool.
I love these jars, my issue is finding a good wick. I use IGI 4627 and I equally love using this wax but the suggested LX 16 wicks result in a black residue that comes off of the wick, falls and rests in my wax so when I burn the candle again I get a chemical smell mixed with the fragrance. I cut all 3 wicks before every use, I snuff out my flames versus blowing them out, I don't burn them for long hours at a time. Is there another wick I can use to avoid this issue?
I love these jars they are just the perfect size. Arrived perfect and unbroken. I will be purchasing these for now on.
These jars are really nice and I will definitely order some soon. Just wish there were some more color options like the straight sided tumblers so they'll match with the other jars that I use.
Love these jars! I use 464 and cd 6 wicks to triple wick my jars. Setting the wicks is easy! I bend each wick over the jar slightly . Once the candle is warm but starting to harden I pull the wicks straight up. Then I cut the tops and use a heat gun to smooth the top and fill in the lines I made from moving the wicks.
How to wick 3-wick candle
4 chop sticks, put the wick between the chop sticks.
Love this style. What wicks do you suggest for this? I am using a soy-para blend. HTP worked well on the Miraca with dream vessels but its a lot wider. Please help thanks!
What size warning label!!!
Hey guys...what size warning label do you guys use. The only ones on here is the 2".. Is there a 3 1/2 one.
Hi! Unfortunately, the 2" warning labels are the largest size we currently carry. Larger templates, including a 3 1/2" option are available from Avery We Print however if you were looking for some different options. I hope this helps but if you have any questions or concerns, please feel free to contact us at support@candlescience.com!
I bought 2 cases of theses jars. They are amazong the only problem was that one case all were perfect. But i just opened the 2nd case and all of the jars glass are like crooked or distorted. I was not able to use them because when i put the lids it looks really bad.
I am using wax CBL 130, I know that the wax is not your but it's the container blend I can get where I live in Puerto Rico. Do you know which wicks are better for this wax??
I would really appreciate the tip.
Thanks in advance
Will these, 3 wick tumblers be available in more colors soon?? Black, blue, red, green etc??
I was so excited when you got these jars and lids!! I've been looking for something like these! Only problem I'm finding is Eco 10 double wick doesn't seem to burn very well. Anyone else have this problem? I'd really like to do a double wick vs a triple. Any suggestions?
Fantastic jars- def need to design a longer wick centering device for these!
I love these jars! Chic and sleek. One major callout/ask, along with my fellow candlemakers below. It's INCREDIBLY difficult to stabilize multiple wicks using CS's standard 4" straight wick bar...the wick bars drop into the molten wax if the jar is even slightly jostled or moved about during making, plus you have to get all Jenga style with stacked wick bars to do triple wicks. Not very safe and disappointing when you ruin what could be a gorgeous candle if only a 4-4.25" bow tie style wick centering device were created to use with these jars. My online searches for both a longer straight wick bar or bow tie bar were fruitless...there is a big need for longer wick bars, CS, and you are just the experts to make this happen.
These jars are so cute and perfect! I also did have a little struggle with setting the wicks. But other than that, love them! I would really really love to see gold lids come out for these and all the tumblers! Would complete my candle line 😃😃😃
These jars are beautiful, but I struggled centering the socks properly, and then struggled big time keeping them straight during the drying process. How do you keep the wicks from falling over? I tried everything from my too-small wick bars, pipe cleaners, and even doing a cardboard template. Nothing wowed me with its accuracy or easy to follow steps. Please help! I need to order more and start making some for the holidays.
I received a box with a few broken jars in a few months ago, and when I contacted someone about they sent me a new box right away! I love CS! ❤️
I ordered a box of these and one was broken. Instead of just sending me one jar back they sent another box. I was very surprised and very happy. That is great customer service. I love these jars.
What kind of wick do you recommend for this kind of jar ? I'm using IG 6006
Hi! We'd recommend starting testing with three CD 3 wicks for this jar and the 6006. Depending on your particular recipe, you may get better results wicking up or down a size. If you'd like to tell us a bit more about your materials and process, we'd be happy to help troubleshoot further at support@candlescience.com!
Candle Science,
What wicks would you recommend to double and triple wick this jar with coconut-paraffin and soy-paraffin (6006) blends - still CD 6 and Eco 10?
I made two cardboard templates - poking holes with a screwdriver.
The first template round, with a diameter slightly less than the container, so it will rest flat on the bottom.
Mark the wick-sticker locations with a sharpie; remove the template, and fix your wicks.
The second template is larger than the diameter so it can sit on top of the container;
after pouring, I'll feed the 6" wicks through the holes, gently pull 'em tight, twist as needed to ensure the wicks stand straight until the candle is dry.
While not fully necessary, I bend the wicks at 90 degrees on top of the template; this helps them stand straight and secure.
Works great!
I love these jars. But I too would like some help on how to set and hold 3 wicks with this diameter of jar. Thank you.
Nice jars, but how to center wicks?
Hi - I ordered these tumblers and love them. I think they're going to be a great addition to my line. However, how do you go about centering the wicks and pulling them snug during the pour + hardening process? I only have wick centerers that work on 8oz tumblers. Thanks!
Candlescience, I love these tumblers. These are just what I was looking for. I hope the lids arrive soon. I hope you always keep these in stock!
Hi! Keep an eye out. We should have lids available in the next week or so!
Nice Jar, But Missing ONE Critical Thing For Me
So I really do like this jar for the most part. It's thin, but not too thin, and it sits nicely in the 2 OR 3 wick setting area, so you could go either way. I know they are in the process of making a lid, so no worries using a dust cover until then, but here is my issue. I went and bought both of the wick settings that Candle Science sells, the small and large models, and neither of them fit this jar. So I've got a 3-wick jar, and I have a wick-setter than can easily handle 1, 2 or 3 wicks to set them exactly where they need to be, but this jar is an eigth of an inch too big for even the biggest wick setter. I know these things are not made to go together, but one would think the first 3-wick jar sold here WOULD fit the wick setter. For what it is worth, the wick setter doesn't fit the straight sided tumblers here either. So if I just assume the wick setter is a waste of money and that I never bought them, this jar would get 5 stars.
Candlescience, I've loved you for years, and now I love you even more!
Thank you SO much for these; I have hunted this style unsuccessfully for years and you've brought it to the table.
Super high quality, stunning consistency, PLEASE never discontinue these, they are perfection!
Thank you! ❤️
Love these jars. Happy they are available. Waiting for the perfect lids. Which wicks work best using Golden Brand 464?
Hi! We'd recommend three CD 6 wicks, or two ECO 10 wicks. We'd be happy to help you troubleshoot further at support@candlescience.com!
Hi
I'm ordering this for the first time and going to use it with CB Advance.
I want triple wicket can you guys tell me wish one did you guys use what size?
Need help!!:(
I'm super excited about these. I've been waiting for so long for you all to make them. I just got them in the mail. They look perfect. Can't wait for the lids. I hope there is a gold version to match my candle line's aesthic.
Love these large tumblers! Just poured my first and it is a gorgeous sight to behold. Hope you get the lids in stock soon!!
I absolutely LOVE these! I have been waiting so long for a 3 wick jar and I'm so glad they are the tumbler!! My customers are already in love and so am I! Can't wait for a lid :)
Omg Candle Science! You guys just made my entire day! I've been waiting forever for you to get this jar size in.. I am so excited to try them out & I know I won't be disappointed :-) thank you
I just poured my first jar and I love them! A great size for me. I like a larger jar that can be double or triple wicked. I did a double wick and it burns lovely!
I'm very excited to know there will be a lid to go with this jar. Hopefully they will have a good price point?