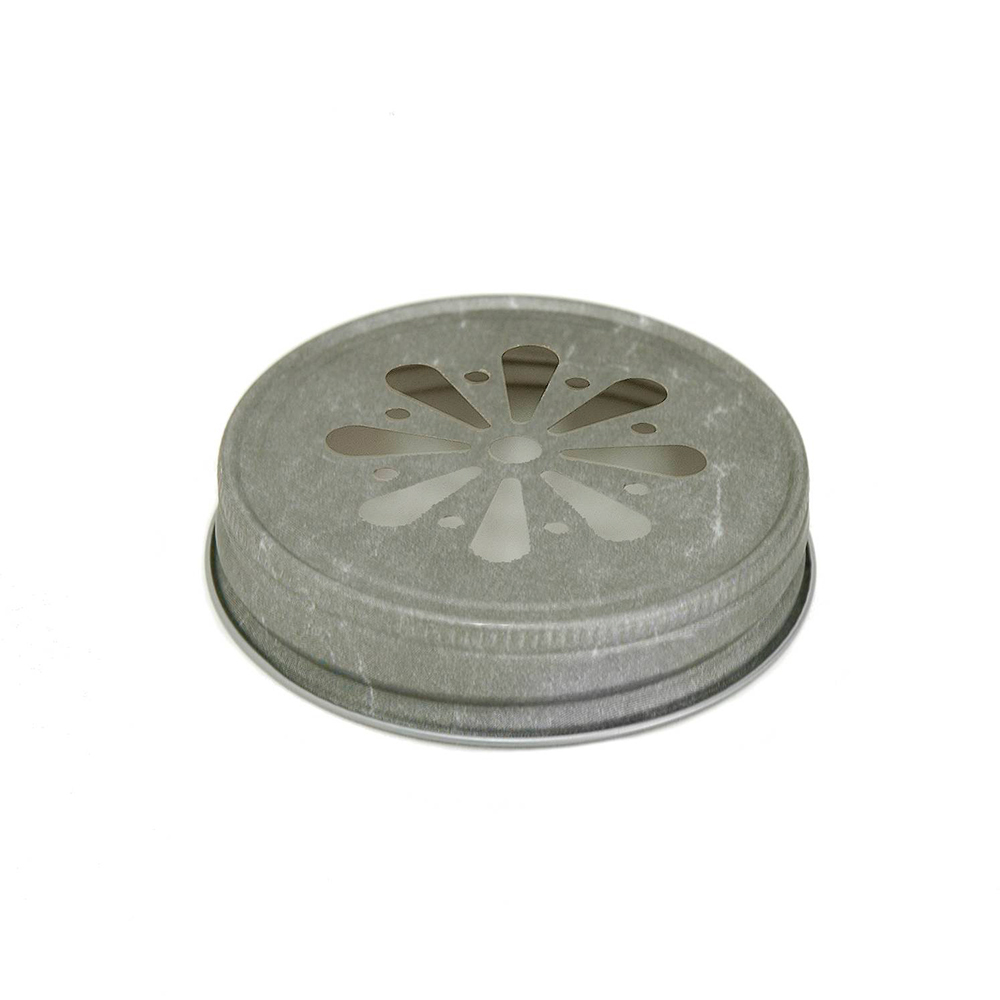 Ready to Order?
Ships from East Coast. Estimated: West Coast 10/4
Out of stock. Estimated: East Coast 10/29, West Coast 10/15
Out of stock. Estimated: East Coast 10/1
Details
Charming and timeless, our pewter daisy lids are ideal for rustic and country candle lines. These continuous thread (CT) lids are great for mason, jelly, and canning jars. The size 70 G lids pair well with the following containers:

Please note that a secondary seal is not included with this item. The top is open when placed on the jar.
Made in the USA
Properties
| | |
| --- | --- |
| Height | 0.625" |
| Outside Diameter | 2.875" |
| Prop 65 Warning Required | No |
Reviews
These lids fit amazing and are adorable! Everyone loves them. Will continue to order.
I ordered a few bags of these lids the look of the lids are really cute however I wouldn't recommend them. When you try turning the candle off with these lids the candles do not turn off. Which for me was very concerning. I also ordered the black & white lids and they work amazing. I wouldn't order these again and currently looking into returning the unused ones I have. Customers have also complaint to me about the same issue. Yes there very cute, pretty but in my opinion unsafe.
Hi! We wouldn't recommend using a lid to blow out a candle for safety purposes. Instead, you should always blow out the candle first, and then place the lid on top!
These lids do put a finished look on your candles and I do believe that mine said on them for decorative purposes only. Remove before burning. They also work extremely well for diffuser reeds. They hold them very nicely.
As someone who's shop name has the word "Wildflower" in it, these lids were a must have. They're beautiful and so unique!
I've ordered these lids several times and I cannot think of a better lid for jelly jar candles! They're excellent quality and you can smell the candle without taking it off. I've used them for gifts as an added decorative touch and have received numerous compliments about them. I highly recommend these lids to everyone!
These are adorable. The look awesome over a little tea light candle in a jar! Creates such a pretty glow. Oh and if you have a high enough table, the daisy reflects adorably on the ceiling. I did try putting leaving one on a filled mason jar candle while it burned but it for sure was burning the center of the flower and I was afraid to keep it going. I'm not entirely sure if you keep them on or off while burning to be honest. I will put it to the test and keep it on the candle just to make sure it wont catch fire (the lid that is) and go from there.
Please be sure that you burn the candle with the top off.I believe this is the way it is meant to be used.I had a friend burn candle with top on and said the candle kept going out.I love these tops so much makes the candles look so nice.
I love these. They give my candles such a cute finishing touch that I was looking for! No more fumbling around to open each candle for a sniff!
Exactly what I was looking for!
I have purchased these lids June 2011 and then more in April 2013. They have not changed a bit in their quality. They are exactly what I am looking for and fit any regular mouth mason jar. Use them for parties of all types. Very happy with the product and you can not go wrong!! I send everyone I know here to buy these. I see them all over the internet for 12.00 or more a dozen. Crazy!! But these are worth every penny and then some!
Could these be any more adorable?? This lid is super cute and quite sturdy. Looks really great on the mason jars.