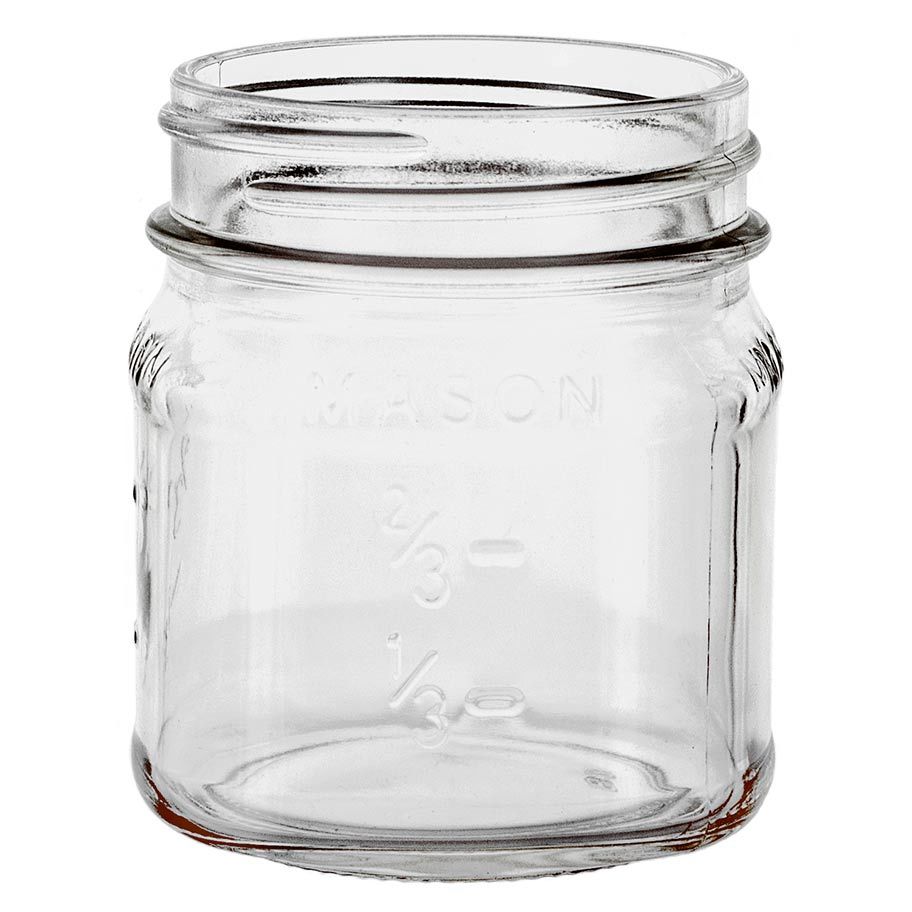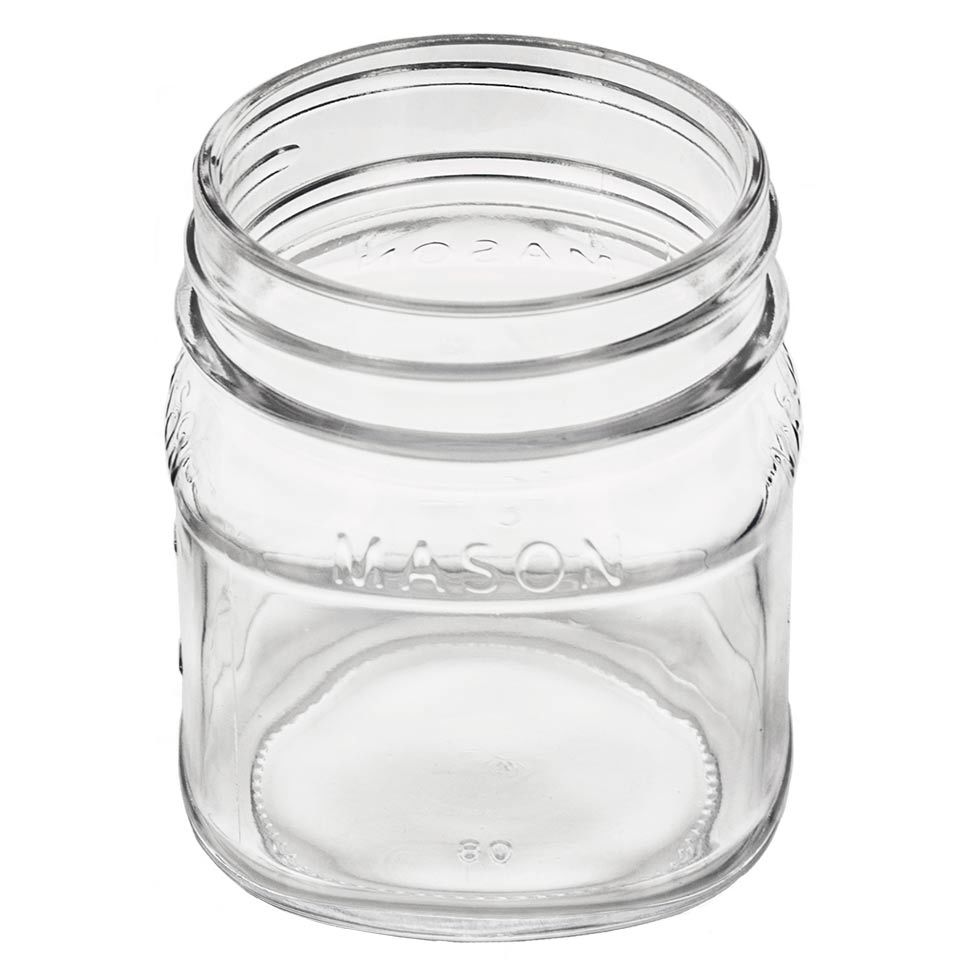 Ready to Order?
Out of stock. Estimated: East Coast 12/17, West Coast 12/22
6 - 89 cases
$6.98
$0.58 /pc
90 - 164 cases
$6.65
$0.55 /pc
165 + [pallet]
$6.35
$0.53 /pc
Details
This 8 oz (label ready) mason jar is perfect for country style or rustic container candles. The word "MASON" is featured on the top of the jar on all four sides, measurements are on two adjacent sides and the other two are smooth, perfect for adding your own labels.

The label ready mason jar features the same design as our 16 oz. mason jar and is perfect for country style or rustic container candles.

Tops are sold separately.
The 8 oz. Mason Jar works with any of the #70 G Threaded lids; antique gold, black, gold, gold plastisol-lined, silver, pewter, rustic, white, or pewter daisy.

How much wax will it hold?
Wax Weight (to Fill Line) - 7.9 oz.
Volume (to Overflow) - 10.5 fl. oz.

Looking for a wick suggestion?
GB 464 - CD 12
IGI 4630 - LX 18
IGI 6006 - ECO 4
Check out our wick guide to see recommendations for other waxes! Our recommendations are estimates and should be used as a starting point for your own burn testing.


Looking for labels?
Put the finishing touch on your candles with the perfect product label from Avery WePrint. Browse designs, create your own, and take 10% off all label orders! Head to
avery.com
to get started.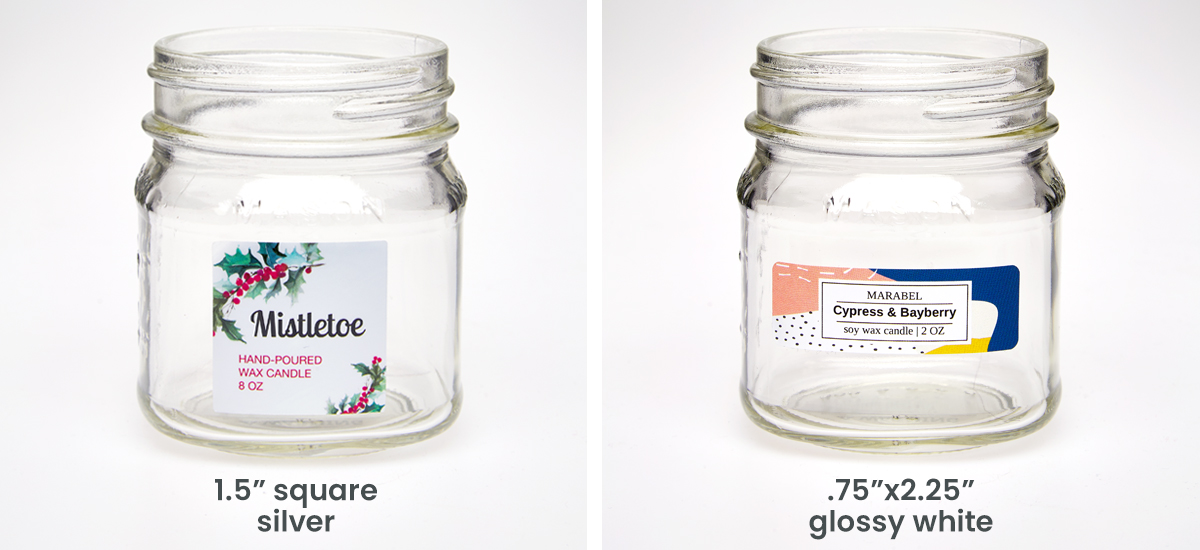 Wholesale Ordering
Check out our wholesale page for more information on ordering candle supplies in bulk or by the pallet.

Imported
Properties
| | |
| --- | --- |
| Height | 3.5" |
| Diameter | 2.9" |
| Max Labeling Area (Smooth Side) | 2.25" x 1.5" |
| Prop 65 Warning Required | No |
Reviews
i just love the mason jar. It's part of my Farmhouse collection and is the most popular.
I recently ordered these jars and i was very disappointed that one of jars was broken when i opened my package. I would hope for the cost of shipping that the jars would be secured properly so that none will arrive broken.
Hi There, We are so sorry to hear that part of your recent order was broken in transit! One of our Support team members has reached out to you via email so we can help with this damage right away. We look forward to speaking with you soon!
Love these jars!!! Definitely the look I am going for! However, having a wick issue! I use the Soy wax 464 and have been testing several different wicks to get the perfect burn. The CD 12's were not really the best for this jar and I even tried a CD 24 (worked better than the CD 12's but the flame was still really small). The ECO 16's worked well, but are sold out as of now! Someone suggested the HTP 104 wicks but those are discontinued! Any suggestions?
Hi there! Thank you so much for leaving your review, a member of our Support Team will be reaching out shortly to assist with wick recommendations!
I loveee these jars. Most of my candles are just mason jars. It's just sad that these get sold out sooo fast. & then se have to wait a month or two to restock 😭
These are my favorite jars for my candles. I love the rustic look they provide, and they are the perfect size for a variety of my candles! I ordered the 16oz to go with them and they match perfectly! I would definitely recommend these jars for candle making, BUT they are not for beginners or those who are easily frustrated! They bottoms are not perfectly flat and this can make putting your wicks and warning labels a challenge! They are also narrow at the top which means it's hard for the average person to stick their hand in the jar for adjustments. This does not make them any less perfect, but just something to be aware of if you are looking to just stick, melt, and pour, you would probably prefer the straight sided jars they sell instead! The 70g threaded lids in all colors are the perfect fit for this jar! Thank you for giving us options! PLEASE RESTOCK THESE SOON!
I love these mason jars!!! There seems to be a shortage going on around the country with canning jars but please restock soon. Note to self: buy in bulk (:
I love these Mason Jars my candles look amazing and I'm smiling from ear to ear. When I receive my shipment..I can tell it was wrapped with care..Not one single jar broken.THANK YOU SO MUCH.. I only order a few for a test run but I need more..So I will be ordering soon. Thank you,
I like these jars! They are super cute and fun! The first time I made candles with these I loved them and they seemed perfect. The second time I noticed that after they had dried there was dark spots on the sides from where the wax had dried on the sides. The spots did get smaller but never disappeared. They also grew once I started burning them. I experimented with hotter and cooler pouring temperatures but it never helped much. Also when they burned some wax would be left on the sides. This could be my fault because of wicks or filling them to high. I don't think I will buy them again. I like tins better anyway.
Hi! It sounds like you are seeing wet spots or glass adhesion issues. This can be common with any wax and any container but is noticeable in glass containers. Check out this troubleshooting guide for some helpful tips! https://www.candlescience.com/soy-wax-trouble-shooting-guide#wetspots
This is my favorite mason jar. I used the pewter daisy lip for that country vibe.
Absolutely love this jar perfect for labeling
Hello....I'm using 464 soy wax. What wicks are you having the most success with? Thx
Love these! Cute jars with a variety of lids; my customers love them! Well priced. Will definitely reorder!
Cute jars, came in timely manner and fully in tack. Now to find the right labels
These are great jars, and I love the range of lid designs available. The label area is great. I do wish the smooth sides were on opposite ends of the jar, rather than adjacent. In fact, I thought I had gotten a factory mistake when I received them because I thought the smooth sides were front & back. It would look great with the front label and a back information label. Maybe something to consider in the future. Still, like I said these are great jars that make presenting a nicely packaged candle.
Jars not packed well when shipped
I have been buying these jars for about 4 years. The quality is nice but I wish CS would learn how to package them better. This is the 8th time I've received broken jars from them. It's usually just one or two in the box (though I've received a whole box shattered before) but the glass dust gets on all of them and I have to be extra careful cleaning them and spend that extra time making sure they are dry with no water stains so I can use them. They only started using packing peanuts this year for my orders and its still not good enough. I just wish this wasn't a problem so often. They were good about sending me a new box before when I provided pictures but never since then.
Love these jars and you can do so many cute candle creations with them; labels, colors, etc.
Absolutely love these jars!
The cutest little jars for my soy candles. I am a forever customer!
Soy Candle + Jar = perfect
I love the design of this new jar. Same size as the other mason jar, but this one has a spot for you to put your label on a small smooth surface on the front of the jar. Love, love, love this. These will be my new favorite jar for my soy candle business. Thank you CandleScience!
I love these jars! Perfect size
Love these jars, product as described. I use chalkboard labels and they work fantastic! Will be ordering again