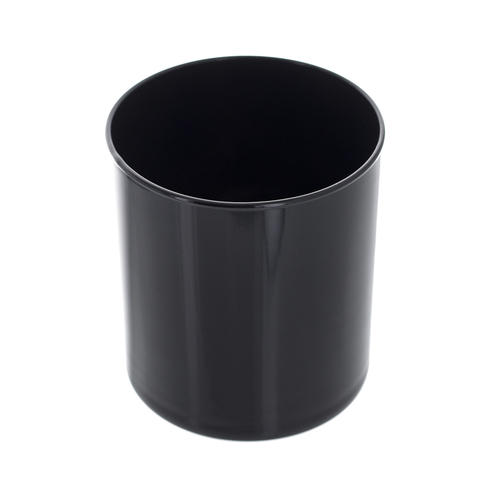 Ready to Order?
6 - 83 cases
$17.62
$1.47 /pc
84 - 153 cases
$17.16
$1.43 /pc
154+ [pallet]
$16.75
$1.40 /pc
Details
Product Update: August 20, 2020
Due to COVID-19 impacting production at Libbey, there may be some delays in our ability to restock. We will share information about any delays and estimated restock dates on this product page. 
Clean and sleek, our Black Straight Sided Tumbler Jars have a glossy outer coating that diffuses candlelight for a softer glow.
We also carry the straight sided tumbler jar in amber, white, and clear.
Looking for a lid? Try our silver, bronze, and black metal flat lids.

How much wax will it hold?
Wax Weight (to fill line) - 8.5 oz.
Volume (to overflow) - 11.16 fl. oz.

Looking for a wick suggestion?
GB 464 - CD 18
IGI 4630 - LX 22
IGI 6006 - ECO 8
Check out our wick guide to see recommendations for other waxes! Our recommendations are estimates and should be used as a starting point for your own burn testing.

Looking for labels? Put the finishing touch on your candles with the perfect product label from Avery WePrint. Browse designs, create your own, and take 10% off all label orders! Head to avery.com to get started.


Need packaging for this jar?
Try our kraft and white straight sided tumbler boxes!
We recommend using either a lid, OR a tumbler box, not both.

Wholesale Ordering
View our wholesale page for more information on ordering in bulk.


Made in the USA
Properties
| | |
| --- | --- |
| Height | 3.5" (+/- 0.06") |
| Diameter | 3.06" |
| Max Labeling Area | 10" x 3" |
| Prop 65 Warning Required | No |
Reviews
What size Eco wick, works best for this jar.
I love these jars but I do wish they came in matte black. And I also wish a larger size was available for these!
What Size Wick are you using???
I love the jars. I'm new to candle making and I am currently struggling with which wicks to try. I have tried the recommended wick as well as 3 others. Feeling defeated after 6 months of making candles with no luck 😞
I waited anxiously for my new jars to arrive . Once they arrived , I saw many of them completely shattered. The way the jars were packed was not preventable at all . I order 24 white jars and 24 black jars . I contacted candle science through all the contact resources they have available, and no one has responded back . That is very unprofessional and I'm never ordering from here again . Maybe if they wrap each glass with paper , it won't break . But the jars were just lose in the box with no form of protection. I am very upset .
Hi! Thanks so much for reaching out to our support team so we could help make this right!
I love these jars they are super cute . Question what is the net weight for these jars ?
Hi! They will weigh approximately 6.8 ounces each!
I got these jars in the black, white and clear cases. The black and white had paint chips but mostly the black. I sent them a email and they were kind enough to send another case, which is nice. But I think I'll be sticking with the white and clear jars next time.
I really like this jar and I wish it came in matte black as well. So far, no problems! And for those of you who are using The Wooden Wick coco apricot creme wax, the HTP-73 wick has been a nice size (although I'm still testing).
These are perfect. they are exactly as described. The lids hold well. We have no complaints and will continue to purchase this item.
Its absolutely ridiculous that each time I place an order for these black tumbler jars they come in damaged, and now the price has risen AGAIN? Why not let us know when these prices are going up? Its a surprise each and every time I order.
Just finished my first batch of candles using this jar ( and in white) and they look amazing ! All jars were perfect. Using in my luxury line of candles. Will buy again....
Just recieved my box of these tumblers I love them. But as a beginner... how much wax do I need to do 12 of these jars?
Hi! Each straight sided tumbler has a wax weight of 8.5 ounces. For a 12 piece case, you'd need about 102 ounces (or 6.4 lbs) of wax to fill all of the tumblers!
I ordered these in black and they look great but the paint doesn't hold up well if you need to remove a label or recycle a jar. You have be extremely careful. Shipping is a bit pricey, too.
Question: I want to use a lid for this tumbler and I want to use a box for packaging,what size box should I use?
Absolutely love these! I did however receive 2 broken ones but after reaching out they replaced them for free. Super modern look.
These tumblers work great for my 3 Keys Candles fantasy collection. The candlelight through the glass is so pretty. The look of the black glass with the bronze lid is beautiful. Don't try to lift it by the lid though, it just sits nicely on it. I really like the size too. I'll be ordering more.
I recently purchased 3 cases of the black tumblers. When i received it one of the tumblers was completely shattered. I emailed Candle Science customer service, and they responded pretty quick. after sending them a picture of the damage, they shipped out a whole replacement case. It came within 3 days !!
Thank you! great customer service.
The quality of these jars have been so disappointing. I wish they were made from actual black glass, the paint is constantly chipped, it's thin in places and thick in others creating a completely uneven look that appears very cheap and cheapens my brand, i've had sharp jagged glass poking out from the bottom of the jar where they aren't finished properly, absolutely cannot sell these to customers - way too dangerous. Absolutely no quality control on these jars by Candle Science and i've felt totally ripped off.
Hi! Thank you so much for your feedback and we apologize if you have received damaged or faulty glassware. We're always happy to replace any damaged or defective items and a member of our Customer Service team will reach out to you shortly as the tumblers should not arrive in that condition.
What size wick do you recommend if 1 and what size if doubling the wicks
1 wick size 16 doesn't work
And I think 2 wicks size 10 is a bit much
Hi! The wick you use will be largely based on the wax you are using. Feel free to reach out to our support team so that we can assist further. You can email us at support@candlescience.com.
Hi! The wax weight of this tumbler to the fill line is 8.5 oz and the volume to overflow is 11.16 fl oz.
I love these jars. Sleek and beautiful. Although some people aren't liking the inconsistency in the paint, I have no problem with a distressed look. (It's not that often though). It gives character. But if you're looking for total perfection, then these may be a little tricky. I love the size but make sure to look at the size before purchase in case its smaller than you hoped for. Also my labels are stuck! haven't had an issue with them coming off. Same for my wick stickers. Iv'e never used the discontinued version, but spray paint on the interior doesn't sound pure enough for soy candles. I'd imagine chemicals burning off in my candles.
I love these tumblers!! I also tried the white tumblers but I didn't like that the soot showed a lot. I would definitely buy these again.
I love this black candle jar! Now all they need is to make all the candles in a black option.. I'm starting a candle business and am really having a hard time finding candles in black jars.
I'm so happy these are back and Look just as nice as the originals ! Just in time for holidays ....Please keep them
Hi, I did a review on these new jars a bit ago, and now I am doing a 2nd review after using them. They passed the test! They are much nicer than the last ones Candkescience carried. Although they aren't as nice as the original ones with the paint on the inside, these work fine. So far no "holidays" in the paint other than the bottom of the jar. The last ones I had to use my black sharpie to fill in the holidays on the rims! The bottom has light paint on it and you can see through it if you hold it to the light, but once the scent warning label goes on you no longer see it.
I'm glad they finally got a product I can sell. They also fit nicely in the candle boxes.
Thanks Candlescience!
The word is still out on these new jars. I ordered one case to check the quality. I must say, they aren't as shiny and nice as the original,(still not sure why they were switched in the first place?) anyway, I digress.
They look ok but a little dingy or maybe drab is a better word? They aren't the deep black as before but I think they will do. I will have to test a few candles in them before I purchase more. They do fit nicely in the boxes so that's a plus. If you look through the bottoms of the jars, you can see the paint splotches through the bottom but the sides seem dark enough. I pray I will like them better with wax and can re review them. I will have to say, candlescience really does their due diligence and reads the customers reviews and concerns. Thanks for that! 🐸
I could not possibly love these any more! They are so adorable and exactly what I wanted. Thank you!!
LOVE, LOVE, LOVE the tumblers everything i expected. No problems at all. I will be ordering more.