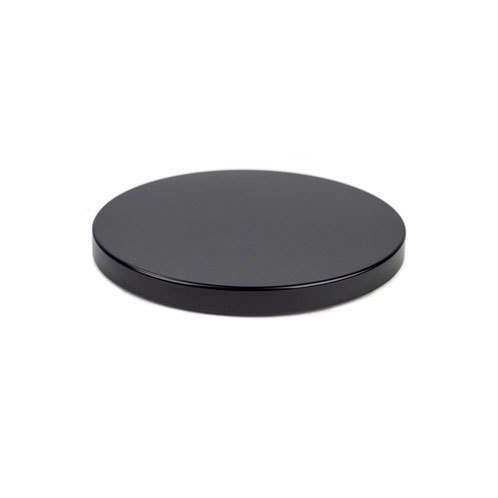 Ready to Order?
Out of stock. Estimated: West Coast 12/10
Out of stock. Estimated: East Coast 12/10, West Coast 12/10
Details
Give your candle containers a modern, sleek look with our black metal flat lids. These lids have a shiny black finish that gives the lid a distinct polished look. Includes an inner silicone fitment to help secure the lid to the jar. Also available in silver, bronze, and gold.
This flat lid fits our:
Note: Do not pick up jar by the lid.
Additional Details:
Width of inner silicone fitment: 6.7mm
Inside diameter of silicone fitment: 68.8mm
Imported
Properties
| | |
| --- | --- |
| Diameter | 3.375" |
| Height | 0.3125" |
| Max Labeling Area | 3.25" x 3.25" |
| Prop 65 Warning Required | No |
Reviews
Product is amazing! Just how I imagined it.
Perfect lids for my candle jars! I've been waiting for these to come back into stock because you cannot find them anywhere else! Will they be back anytime soon?
Hi there! Thanks so much for leaving your review. We list the estimated restock dates for any product that is out of stock on their individual product page as soon as we have them! We're still working on the date for the West Coast warehouse, but at the moment we're expecting to see more of these lids in the 12 piece bags at our East Coast warehouse around 7/16. The 360 piece cases we're expecting to see at the East Coast warehouse around 7/16 as well, and at the West Coast warehouse around 7/30. Thanks so much for your patience as we get these back in for you! If you have any additional questions, please feel free to reach out to our Support team at support@candlescience.com.
Love these when will they be back in stock ?
Hi Kimberlie! Thank you for leaving a review. We're so glad to hear you're loving the lids. For easy reference, you can always find the estimated restock dates for a product that's currently out of stock directly on its product page alongside the pricing.
I really love these lids, unfortunately they are never available does anyone know another website that will fit the tumbler jars it recommended?
I love the black lids they are a stellar product, but I was ready to purchase a numerous quantity and it's been pushed to March.
I'm disappointed however I understand that things hands. March please come tomorrow 🤣
i'm patiently waiting on these lids to restock. No luck yet
I love these lids and I am spoiled cause no other will do now. When can we get ahold of more? Please advise.
Any updates on when these would be back in stock?
I love these lids! So sleek! I can't wait until they are back in stock! 😊
Love these lids !! When will they be in stock again !????
Lids are great! But need a smaller size
Love these lids! They are slick and clean looking. Only down side is I can't find them for the straight sided mini jars. Is there not a small version?
I do love these metal lids but I'm hoping you guys will get wooden lids that fit the tumbler jars!
Absolutely love these on my candles. When will you guys have these back in stock?
Hi! A member of our team has reached out to you!
When will these be back in stock??
I love these lids, but unfortunately they are very popular. After being out of stock for almost two months, they are out of stock again.
When will these be back in stock?
Hi! If there is an expected date of arrival for an out of stock product, there will be an updated notice on the product page for convenience. As of today, 6/24/20, these lids are expected to arrive July 10th.
These lids are AMAZING! They look so sleek and add the perfect finishing touch to the aesthetic of my candle line. Hopefully these are back in stock soon!
Black Lid for the Black Tumbler
I purchased this product for the black tumbler for my high-end line of aromatherapy soy wax candle. I am extremely please with the look of both pieces. They compliment each other perfectly. Its sleek, sexy, and black.
These are perfect to add a touch of grace and color to a candle line. I absolutely adore their slick black look and they go seamlessly with the black candle jars I use.
I use all the different shades of lids for your clear, white, black and amber glass jars, however, these are my new favorite!
They are very high gloss and look great with the clear and black glass jars. I use black lids on most of my candle line so these are my perfect lids.
I'm so pleased to see them in the 3 wick jars as well. I will be also purchasing those. Yay!
Thanks Candlescience!