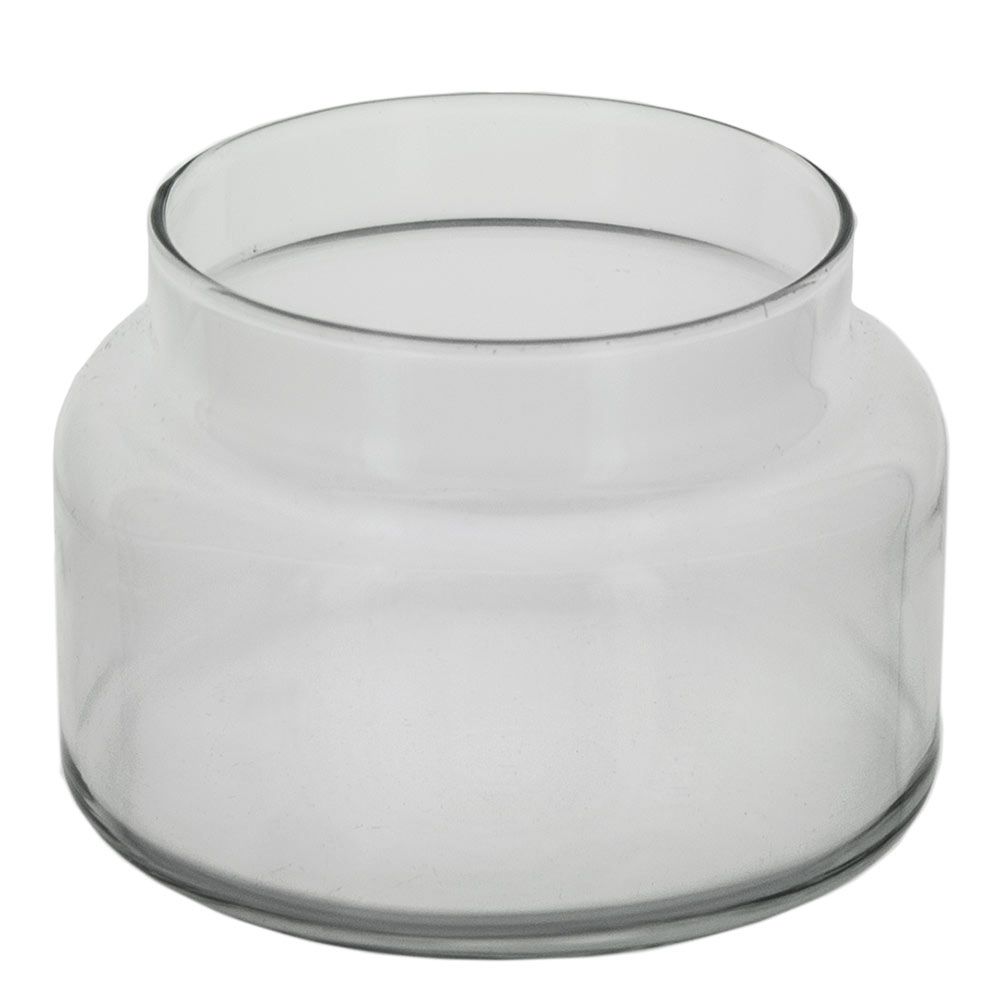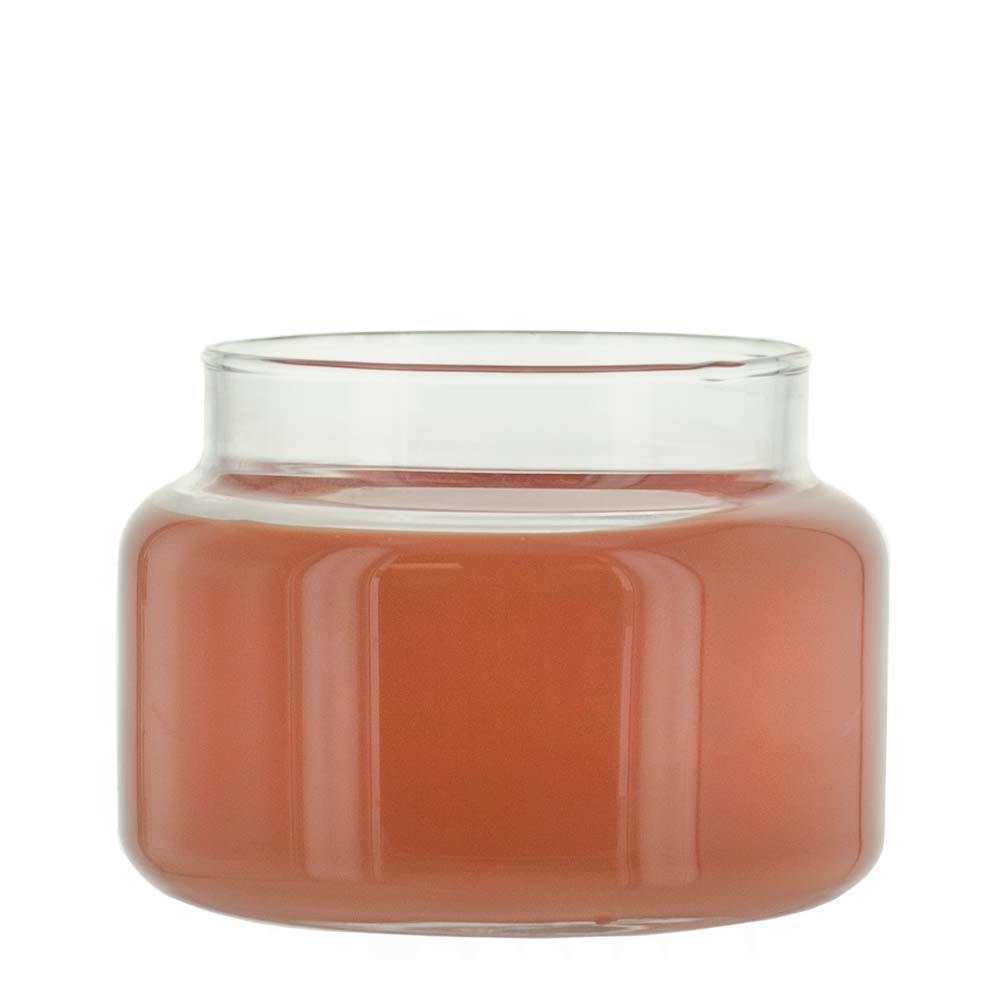 Ready to Order?
3 - 39 Cases
$9.16
$0.76 /pc
40 - 79 Cases
$8.77
$0.73 /pc
80+ [pallet]
$8.52
$0.71 /pc
Details
Product Update: June 2, 2020
After a temporary halt due to COVID-19, Libbey has resumed manufacturing and is working towards full production capacity. We have a healthy stock of Libbey glassware, but there may be some delays in our ability to restock. We will share information about any delays and estimated restock dates on this product page. For more information click here.
The 8 oz. apothecary jar is a premium, thin-walled, seamless apothecary jar with a 4 inch diameter. We also carry 16 oz. Apothecary Jars.

Tops are sold separately.
The 8 oz. Apothecary Jar works with the following tops:
Large Flat Top
Bronze Metal Flat Lid
Silver Metal Flat Lid
Black Metal Flat Lid

How much wax will it hold?
Wax Weight (to Fill Line) - 9.9 oz.
Volume (to Overflow) - 14.5 fl. oz.
Manufacturer Spec. - 15 oz.

Looking for a wick suggestion?
GB 464 - CD 26
IGI 4630 - LX 26
IGI 6006 - ECO 2 Double Wicked
The EZ Multi Wick Setter precisely double and triple wicks jars.
Check out our Wick Guide to see recommendations for other waxes! Our recommendations are estimates and should be used as a starting point for your own burn testing.

Looking for labels? Put the finishing touch on your candles with the perfect product label from Avery WePrint. Browse designs, create your own, and take 10% off all label orders! Head to avery.com to get started.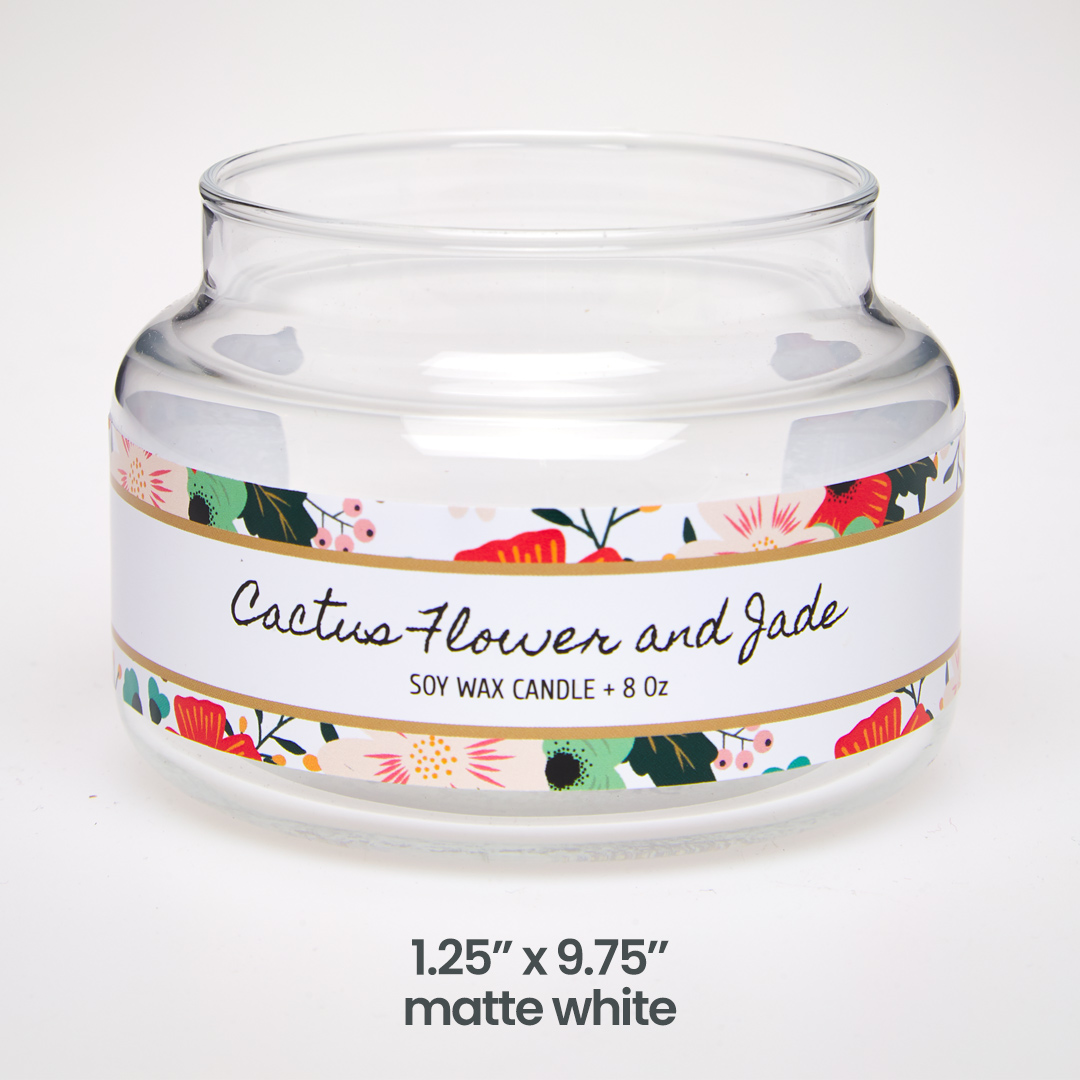 Wholesale Ordering
Check out our wholesale page for more information on ordering candle supplies in bulk or by the pallet.

Made in the USA
Properties
| | |
| --- | --- |
| Height | 2.75" |
| Diameter | 4" |
| Max Labeling Area | 12 1/2" x 1 3/8" |
| Prop 65 Warning Required | No |
Reviews
I'm done with candle science! Shipping is ridiculous. So many other candles suppliers don't charge this much.
TO say that I'm in love with the clean, elegant, and look of these jars is an understatement. These jars are very light and fragile but the aesthetics of them will elevate your candle line. It gives your candle either that country chic feel or that elegant chic look. Overall, I love these jars and will be incorporating them in my store.
the shipping rate is ridiculous
I hesitated on purchasing the jars, because of the shipping $21 is high, you're purchasing the jars all over again.
I bought a dozen of these jars and I thought they were 8 oz jars, so I did my calculation and melted the right amount that an 8 oz jar needed, but I seemed to have a lot of space when I poured it in. I checked the box itself that was delivered to me and it says 15 oz. Not sure if they delivered the wrong one to me or idk, but I do LOVE these jars, I just wish they corrected the size of the jars. I ordered more as well and the soy paraffin mix wax!
Hello! I'm using the 8 oz jars and I just wanted to know if you guys can recommend on how much fragrance oil should I put in each jar? Thank you!
Hi! There is a bit of math involved with fragrance loads, which depend on which wax you're working with. We've reached out to you to help answer your question in better detail!
When i first ordered these i was a little taken aback by them being so thin. I did use them and had no issues. The actually look very nice and are easy to label.
Absolutely LOVE both Apothecary jars !! I received ALL jars in perfect condition. Thank You CANDLE SCIENCE team!!!
Love, love love these jars!
Any recommendations for a clear label?
Hi! A great website to use for custom (and even clear) labels is Avery, which we are currently partnered with. If you use our link www.avery.com/candlescience, you will get a 10% off discount for your order! We will always have the labeling dimensions available on each of our product pages, so you will know the perfect size label for your containers.
After reading the reviews, I went with CD22 wicks for my soy candles and they are great. Love the look of these jars.
Beautiful Jars - Inaccurate oz Measurement
These jars are soooo beautiful and exactly what I wanted them to be. My only complaint is that when I filled them to 8 oz it didn't reach the line that makes it look full. This jar fits roughly 10 oz comfortably and looks nice and full at that weight. Unfortunately I ordered my labels as 8 oz so I can get them around the same time as these jars. I don't feel comfortable selling candles that look less than full so I will be filling these jars to 10 oz and I'll have to order more labels
Great jars, totally inaccurate oz
These are beautiful jars & pretty easy to work with. However, as many have noted, they are 15 fluid oz, and they hold 10 oz of my soy wax when filled properly. And they weigh a little over 5 oz empty. So the 8 oz sizing remains a mystery. It also makes me very curious about what the alleged 16 oz ones are, so I actually stopped in to look at those. 1/12 of these had a scary bubble within the glass. Used it for wick testing, closely monitored, but I'd never feel comfortable selling or giving someone else a candle in such an obviously compromised vessel. So ... basically reiterating others ... the oz is completely wrong, and they are beautiful, but they are sometimes flawed beyond safe use. Wick tabs have adhered perfectly for me. I currently double wick w/eco but I'm about to test with other types to single wick bc I'm not 100% happy about double wicking a narrow neck—sootier than I'd like at candle's end of life. Classy vessel though—and it's hard to imagine a decor that this wouldn't look good in.
I use these jars with c3 soy wax and two eco 6 wicks. Perfect!
I absolutely love these jars and how elegant they look but I wish the suggest wicks actually worked for this candle jar. I used the eco 2 double wicked as it says and after 2 and a half hours the candle still isn't melted fully. :( I wish candle science had an eco wick bundle we could buy to sample the wicks with our candle jars!
First off, I love these jars, they are a favorite for us. The quality of the jars are great, when we did have an issue the customer service team(Amanda) took very good care of us immediately. I recommend the glasses and CS for anyone creating candles or starting a business. They get the job done!
Love these apothecary jars, BUT, the last two orders that I've placed, the jars came with small indentations on them, two with larger noticeable cracks that I can no longer use for candles to sell, that's money I'm missing out on. I really love your company CS, but this makes me hesitant to buy.
Hi! We are sorry to hear that you have had some issues with your glassware. Our support team is reaching out via email so that we can help resolve this.
They work great with two wicks (CSN 16 6" Pretabbed Wick).
We've been using these for a while now. However the last twelve or so cases we've bought have been full of imperfection. Almost like chips or splits within the glass itself. Had to throw many away. Majority of the time they were great but lately, we're not very happy at all.
Hi! We are so sorry to hear that you have been having some trouble with the apothecary jars. Our support team will be reaching out via email to assist.
These are really nice jars. Once you clean them with soap they are very attractive. However, they are very thing, the lids arrived scratched two jars have a minor chip on it that I just realized but i am sure it was during transit time. I am giving these jars a 2 because of how bad the measurement recommendation is on the wick guide and how hard it is to try to figure out the wick size. Otherwise, these are really nice jars.
CS please change the wick guide because its not accurate. I was hesitant to buy the recommended wick size because of the previous review on the jars it self wick discussion and on here. I spoke with CS customer service and they advised to follow the wick guide that they've done many testings on this so I went ahead with confidence and I ordered 100 of the CD26 wicks. Oh my gosh, this wick is awful to say the least for this jar .I have a huge flame with black smoke on my 3rd burn test, worsen huge craters on the surface.
CS please do more testings and change the wick guide for this jar because I have no idea if to use CD 22 or CD 20.
Can anyone please provide guidance of what DC size has worked for this Apothecary jar? Any recommendations will be greatly appreciate it.
Thanks in advance.
Thank you so much for leaving feedback so that we could assist, it was great to speak with you!
These are classy and gorgeous jars. I've never had any errors in my orders and they give a new candle line that perfect stand out look
I ordered these jars again and still no problems!
The only thing I do have an issue with is,
PLEASE MAKE SHIPPING MORE AFFORDABLE!
Theses containers feel amazing they are great for just getting started in the candle making world
I love these !!
Though the other reviews are correct. Shipping box does say, they are 15oz.
They do work for 8oz of melted wax tho!!
I will be ordering these again!
The lid I received is not metal or atleast doesn't look it or feel like it. It feels & looks very cheap. I don't like it. It has poor suction. Hence I dont trust this to be a good lid. Regret getting this.
What size wick woul I need for these
Hi! The wick you'll want to use will depend on the type of wax you'll be using with these jars. You can consult our Wick Guide for some different options or feel free to reach out to support@candlescience.com for further troubleshooting, we'd be happy to help!
I actually love these jars but am not giving five stars because of the company. Really great products but as a small time start up person I am going broke on shipping rates. I've never seen a company charge this much! Almost the entire order price again for shipping then they split orders and double shipping from two wharehouses. Candlescience, please do something about this. No one else charges these rates
I was hesitant to buy a case of these jars with the dome lids because of the shipping cost. I was wrong, the jars are beautiful (perfect for gifts).
When 1 lid arrived broken, and I called customer support Kevin couldn't have been nicer. He requested a photo which I was happy to provide;
and I had the replacements before I even got the photo to him! I checked Amazon prime since I get free shipping, but they charge more for the jars and lids so it ends up costing the same. Great customer service that illustrates a desire for repeat business is so rare today. Candle Science you have my business and I will tell others.
I love these jars... but it does take more wax to fill these. I was confused because the decription states 8oz, but it takes more wax. The bix stated 15 0z. I finally got the right amount of wax to use to fill 2 jars at a time. These are my jars for my candles!!
** the description on the box the jars ars came in was incorrect.
Beautiful, but box says 15oz.
I was a little confused when I went to fill this jar and it took so much wax compared to my other '8oz' jars. When I looked on the box it states these are 15 oz jars. Even with filling below the line it seems to be much more wax than any 8oz I've poured. But...they are gorgeous!
I had a vision of what I wanted my jars to look like and this was it! Very clean & professional look very very pleased!!!!!
Does these jars have a frost look
I was kind of nervous upon arrival because I didn't know what to expect. But OMG I am beyond thrilled and happy with the size of this jar! The mouth of this jar is wide enough my hand can fit inside and I can even out two wicks comfortably. I am so happy with the Bronze flat lids that Is recommended. This jar paired with that lid will be my signature look going forward!!!
Shop my candles at www.etsy.com/shop/aromatherapyscents using Candle science supplies!!!
We use these 8 .oz Apothecary jars with 3 ECO 10 wicks with 100% satisfied customers. The only problem is we should have ordered more. We love getting the bulk rate. We can't find better pricing on these jars anywhere. very solid/very reliable jars. Thank you, great product. Laurenshillsoycandles.com
I am testing wicks on the 8 oz apothecary jar and want to report on my first results. I double wicked with ECO 8, and they are burning well. After the first burn of about three hours the wax was oddly cratered, but after successive burns the wax was somewhat cracked, but not cratered. I am next going to test with a double wicked ECO 6 and a single ECO 12. This comes from suggestions on another candle site.
I am testing wicks in the 8 oz apothecary jar. For two jars I used 17.8 oz GB 444 soy wax, heated to 185, added 1 chip ivory, removed from heat and added 1.78 oz cinnamon chai as the fragrance and stirred gently for 2 minutes, poured at 100 degrees. So far so good, the tops are as smooth as glass and the cold throw is great. Will be back in a few weeks with information about the hot throw. If anyone has any information about wicking these jars I would be forever grateful.
I bought these as a cheaper alternative to ones I've been buying. Although they are way thinner and I feel like they're really fragile (my personal opinion) they look great and with the flat top just what I'm looking for. As said in previous review, there are a few dirty ones but nothing that can't be fixed.
I would like to know is this 8oz jar can fit on the tumbler boxes, that you have for sale here.. thanks
I love the larger size of these jars, which makes these ideal for testing the burn characteristics of candles I'll make with the larger sizes. Until I get the right combination of wicks size and dye/fragrance amounts, these jars help to reduce development costs.