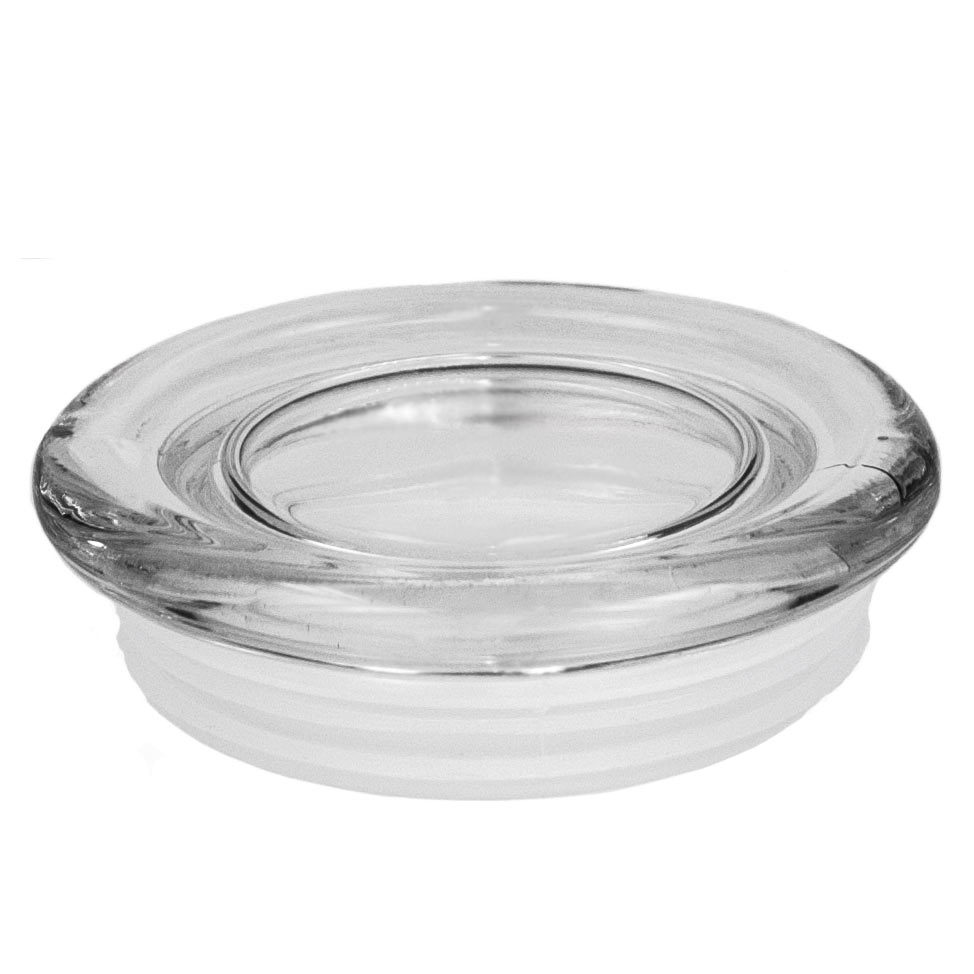 Ready to Order?
5+ Cases
$41.61
$0.69 /pc
Details
Perfect for a stately centerpiece or home accent, these large flat top lids offer a clean and contemporary finish to our status jars and our apothecary jars.

The large flat top has an open fitment.

The Large Flat Top works with:
8 oz. Apothecary Jar and 16 oz. Apothecary Jar
12 oz. Status Jar and 21 oz. Status Jar
Note: Do not pick up jar by the lid.
Wholesale Ordering
Check out our wholesale page for more information on ordering candle supplies in bulk or by the pallet.

Made in the USA
Properties
| | |
| --- | --- |
| Height | 1" |
| Inside Diameter | 2.75" |
| Outside Diameter | 3.5" |
| Max Labeling Area | 2.75" x 2.75" |
| Prop 65 Warning Required | No |
Reviews
I contacted CS with photos of broken. I love them but I wish the package them better.
Thank you so much for reaching out to us to make us aware of this damage, and for your feedback about our packaging. We're grateful you gave us the chance to make this right!
I love these lids, but they're always out of stock.
I LOVE THESE TOPS, BUT THEY ARE NEVER IN STOCK NOT GOOD FOR MY BUSINESS.
These lids look amazing and for the most part fit my 16oz and 8oz apothecary jars. On the other hand, there are some jars that the lids do not fit well at all! I don't know if its just a manufacturing error or what, but when picking up the jars the lid will literally come right off with no effort. Like I said, they look very nice and my customers love them, but a better fit is definitely needed.
Hi there! Thank you for your review. A member of our support team has reached out via email to assist further!
I ordered these to go with my apothecary candle jars. They all fit nice and snug and look really nice!
Works as it should for my 12oz status jars. They hold tight and never have any errors for me.
These fit great with the glass jars I also purchased and my customers love them!
I like the look of the flat lid but they do not fit well.
Some of the Lids fit great and some slip. I put a safety precaution in my instructions to let the candle cool and never pick up by the lid only the base. I like the flat so much better than the dome. The lid looks more modern.
I use these lids for 8 and 16oz Apothecary jars. These lids to me have a more classier look than the dome lids that's why i love the flat ones, but unfortunately when you pick the jars up by the lid, the lids slide right off the jars. If they fit more snuggish then they would be perfect to me.
I have used these lids for 2 years now and within the last 6 months, they no longer fit snug like they used too. If you pick the candle up by the lid, they will slip right off. I emailed Candle Science about it and mentioned it to the rep. Today I notice they under the description that they have changed suppliers so maybe that's why they no longer fit snug anymore. It's not worth the risk of a broken candle from picking it up by the lid and it falling.
I've started taping the lids on the jars recently so that I can use what I have, but when this box runs out I have decided to just find another jar.
I purchased the 16 oz Apothecary jar with the large flat lids and was disappointed with how the lid did not fit the jar, I had an event and the customers complained about the lids not fitting. As soon as we picked the jar up the lids were falling off. I loved the Libby jars, it is a shame they have been discontinued.
I love Candlescience, not very happy I will have to find a new supplier.
Previous reviews mentioned black specks that were difficult to remove. The lids I ordered in April of 2017 have no black specks and require no additional prep time. I appreciate that candlescience advises the buyer of which lids work best for the jars they purchase. Other companies require the buyer to use their psychic abilities to determine the require lid size. The product arrived quickly and damage free. Careful packaging was noted. Thank you for the good service!
Jars and Lids fit snugly with no manufacturing flaws. Everything worked out fine for me.
Switching suppliers because of quality
We purchased all of our glass and lids from candle science because it is convenient for us to drive to the warehouse and save on shipping. We normally purchase about 300 lids a week, and we are currently looking to get our lids from a different company due to how poor quality these lids are. There are specks of black material all over, on the top, on the plastic fitment. It is extremely hard to get off and adds a ton more time to production. Also, the plastic fitments inside are messed up roughly 10% of the time to the point where they won't actually stay on the candle.
We have had much difficulty with the large flat top lids since April. Candle Science has been responsible and would mail new ones out immediately. Unfortunately, the problem still existed.Very few lids from each case were usable because of the black substance that would become magnified once it was on the candle. Now with the new lids, they do not fit properly, and many of them still have some type of film that needs to be cleaned off. Busy season here and it slows production down considerably.
Candle Science was a 5 star supplier. I hope this problem is solved soon. I still count on them for all our production needs.
There is a huge quality control issue with these lids. They USED to be great, but over the past couple of months the quality has decreased greatly.
*They come very dirty with a black like substance on them. Often times I have to take the plastic piece off to clean between it and the glass.
*If you don't clean them thoroughly, the black particles will fall into your candle. I don't color my candles so it makes them look extremely dirty.
*There is good probability that the lids won't actually fit snugly like they used. Before, I could actually pick up my candles by the lids without fear of it coming apart. Now, doing that will land my candle on the floor because there is no snug fit.
*Out of a case of 60 I just purchased, 10 lids are unusable as the plastic piece that fits inside the jar is messed up. One of the lips is rolled under and can't be fixed.
I'm unsure if Candlescience has changed suppliers, or the supplier has changed the way they are produced. Either way, the quality is no longer there. Until this issue is resolved, I will seek out another supplier lids.
I bought these for my 16oz Apothecary jars. Not pleased as they do not fit tight. You go to pick up jar and lid comes off.
They finish my 8 oz, 16 oz apothecary jars beautifully. Just what I've been looking for, they're sturdy and have a nice weight to them.
very nice and classy glass lid
These are such a classy added touch when added to your glass container candle! I chose to pair them with the glass 'status jar' style, and they just look fabulous. I would highly recommend finishing off your design with these tops!