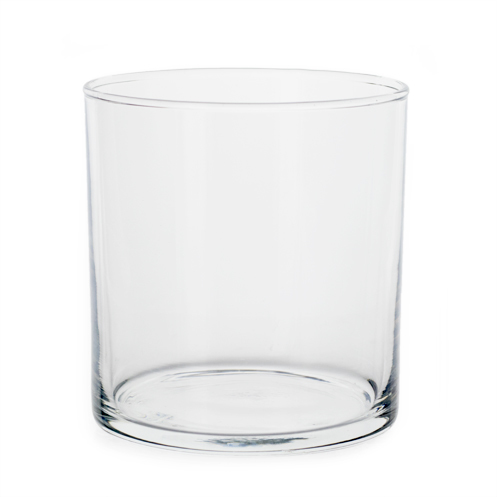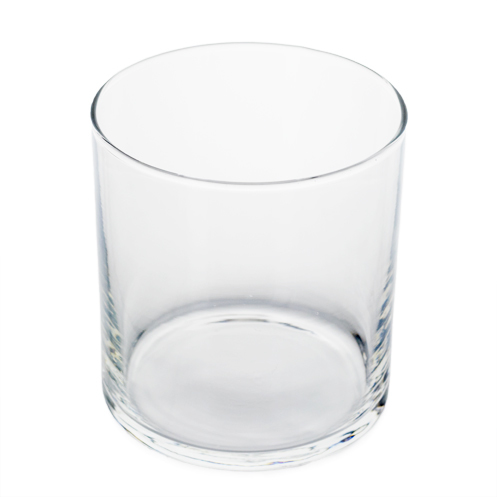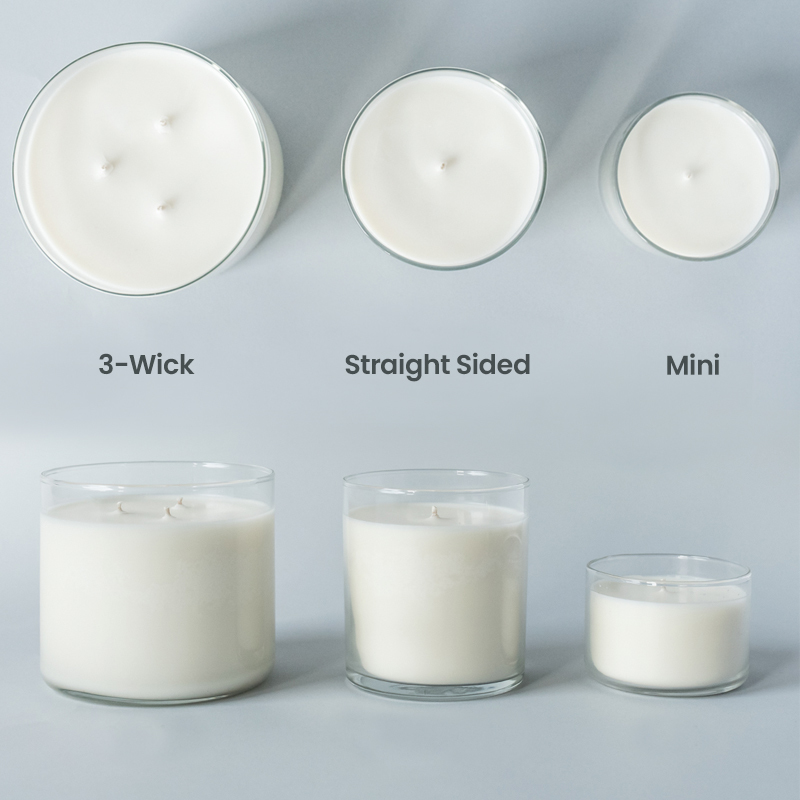 Ready to Order?
6 - 83 cases
$12.11
$1.01 /pc
84 - 153 cases
$11.67
$0.97 /pc
Details
Product Update: July 15, 2021
Due to COVID-19 impacting production at Libbey, there may be some delays in our ability to restock. We will share information about any delays and estimated restock dates on this product page. 
Made from blown glass, our straight sided tumbler jars have a clean and balanced shape for a more contemporary style container that fits a wide variety of branding styles.
We also carry the straight sided tumbler jar in additional colors and sizes.
Looking for a lid? Try our silver, bronze, and black metal flat lids.

How much wax will it hold?
Wax Weight (to fill line) - 8.5 oz.
Volume (to overflow) - 12.1 fl. oz.
Looking for a wick suggestion?
GB 464 - CD 18
IGI 4630 - LX 22
IGI 6006 - ECO 8
Check out our wick guide to see recommendations for other waxes! Our recommendations are estimates and should be used as a starting point for your own burn testing.
Looking for labels? Put the finishing touch on your candles with the perfect product label from Avery WePrint. Browse designs, create your own, and take 10% off all label orders! Head to avery.com to get started.

Need packaging for this jar?
Try our kraft or white straight sided tumbler boxes!
We recommend using either a lid, OR a tumbler box, not both.
Wholesale Ordering
View our wholesale page for more information on ordering in bulk.
Made in the USA
Properties
| | |
| --- | --- |
| Height | 3.5" (+/- 0.06") |
| Diameter | 3.06" |
| Max Labeling Area | 10" x 3" |
| Prop 65 Warning Required | No |
Reviews
Really nice jar!! Would you guys recommend single of double wick?
Hi! We're so glad you're loving this jar! We recommend a single wick for containers under 4" in diameter. Wick recommendations can be found under the "Details" section above, and you can also use our Wick Guide to find recommendations for other waxes!
I absolutely love these jars. They are fantastic. They have gorgeous glass, and I prefer the bronze lid which I love also. The issue is the stock. I ordered 24 of these to try them out when I was about to start my business. I was going to order more but they said there were out of stock until May, then I checked back in May and they said they weren't going to be back in stock until June and so on. Unfortunately I had to switch my jars. I know, in no way is this CandleScience's fault, and it is all because of Covid-19, but is very frustrating for everyone who has a small business. I am very glad that CandleScience has notifications now. I really hope they will be back in stock soon!
The absolute best jars we've used! I've tried sourcing similar jars (non Libbey brand) from other companies when inventory here is unavailable and they fail to stand up to these. Our customers love the quality of these jars and the overall simple aesthetic!
They are easy to wick, easy to store, stand up to the heat, and my candles look so amazing in them! I can see why they're out of stock but I am on pins and needles waiting for more to be available!!!!
I love these Jars! why not add the measurements for a label size for them?
Hi there! You can find the maximum labeling area for this particular vessel in the Properties section!
Really happy with my purchase. Tumbler Jars were packed nicely and all arrived unbroken. Very good quality, and fast shipping, will definitely order again.
No surprises, it truly is the Libbey #2917. It's nice that CS offers these in 12 lot cases. Other vendors I've used offer 36 lot cases.
The real differentiator though is the customer support if you have an issue. Regardless of where you buy your glass, eventually you'll receive some that is broken. How this issue is handled says much about a company. I'll be buying all my #2917 glass from CS going forward.
This tumbler jar is a STAPLE for our business. We've been ordering this specific jar for over a year now and we've rarely had an issue - if we do, it's always taken care of immediately. We love CandleScience.
In love with these Jars!... and Candle Science!
I recently ordered 12 dozen of these boxes and not only did candle science manage to get these bad boys delivered within 3 days of ordering ON A SUNDAY, everything came beautiful packaged safe and secure! Not a single broken jar! Thank you so much candle science I'm in love with these jars and I'm love with you!
Shipped all the way to Texas without breaking! I love these jars, they have such a nice clean look. I look forward to keeping them in my line!
How do you determine the fill line and overflow of this jar?
I love these jars, and have gotten great reviews from customers! They are simple and elegant!
Jars different width at top and bottom
I really love the style of these jars, but I'm disappointed that there is a very very slight taper in the jar. The top of the jar measures ~3.1" and the bottom measures 3". It may not sound like much, but it's enough to result in crooked labels. I ordered recommended the 2.25"x7.75" label and the ends of the label came out angled due to the slight variance in bottom and top widths. Does anyone have a solution for this? I love my labels and would hate to cut out some of the design because of these jars.
Thanks for leaving a review! We're sorry to hear you're having issues with your candles. A member of our support team has reached out to you to better assist you!
love these jar. I use cd 22 wick and soy wax 464 so far good melting pool .. tho I wish they weren't always out of stock it sucks for business
I absolutely LOVE these jars! Paired with the lids for a really clean finished product. CS delivery days are my favorite!!! Thank you for your wonderful customer service and EXTREMELY FAST shipping!
I love these jars when they arrive without imperfections. Most recent order had a couple that were broken.
I truly appreciate all Candlescience has done to offer alternatives in the current state of our world. I love all of the Libbery jars; however, these were first posted to be restocked around 11/4, then it moved to 11/27, and now it's in December. It's almost more helpful to not have an anticipated restock date if it's going to keep change. :( Hoping logistics bounce back to normal soon!
Hello readers..
This was my first order with candlescience.,and I was very excited to start my own candle business after watching all the inspirational videos they have to show.
I purchased goods worth $210 ( fragrance oils, jars, candle wicks, diffuser base etc). Since my order was above $25 and more ( much more!!) it qualifies for a free gift worth $2. ( yes dollar Two)
When I received my package, 2 jars were broken and so was my ♥. I didn't even get the free sample ( popcorn Caramel fragrance oil). Also shipping was way too expensive as compared to other candle supply companies.
Very disappointed.. Not recommended.
Hi! Thanks so much for reaching out to our support team so we could better assist you!
These Libby straight jars are my favorite. I've used different sizes and I just want to narrow down to just a few. I ordered this one with the black lid, so this is my number one style and size. Thank you
I love, love the jars. The lids however do not fit very well.
I buy these jars in clear. They are beautiful and bring out the bright colors of my candle wax. I add the black lid to give a sleek look and makes the black in my logo pop. Some of the jars aren't completely the same since they are handmade, but in my opinion, it gives them character. I know not everyone feels that way so it's worth knowing.
These jars are super cute and arrived in great condition. However, the bottoms of all of them are uneven. I'm still waiting for my two week cure time, so I haven't tested them yet, but I am having a problem with half of my candle "sinking" on the side that is higher. I am not sure if it is the unevenness of the jar or if it is something else, but I have not had this problem with other jars that I have purchased. Just a bit strange, but hopefully a heat gun will help correct it some
Thank you so much for leaving a review with us! A member of our support team has reached out to further assist you!
I'm not sure if it is the jar or if it is me. I have used other jars that are the same diameter and haven't had an issue, but with this hard I get an uneven burn and tunneling. Every single candle this happened. I'm not sure with two wicks would help or if the jar is even large enough for that. The jars are well made and look great. I wish they would work for me.
Hi There! Thank you for leaving a review on our website! We are sorry to hear that you are having issues with your candles. A member of our support team has reached out to better assist you!
Hi,
I'm a new candle CEO and this is my 2nd time ordering a large shipment of the Libby Tumbler vessels. Each time there's a glass tumbler broken upon arrival of my shipment. The shipping cost is already high and each tumbler is a cost. Is there any way to make the package more safe for shipment?
Also I noticed the vessels are uneven.
Thanks a new client.
Hi there! Thank you so much for reaching out to us so that we can help!
Amazing jars. They look great in any candle line and the lids are perfect. I've never had an issue with breakage in the 10+ cases I've ordered. I will say though, that the majority of my FOs need a CD-20 wick instead of the recommended CD-18. That's just what I found in my testing, so it might be different for you... but there's my humble recommendation! I use 464 as well if that helps :)
I love these jars a lot! I was very happy with them every single time for my candles. However when I got my order today one of my jars was completely broken ): and I have order to need to make like now!
Thank you so much for letting us help you with this!
I love these vessels! What size mailer or box should I use to ship 1 of these? Also which size should I get that will comfortably fit 3 of these? I am looking for an alternative to the flushable boxes.
We ordered the clear, amber, and black versions of these Libbey jars along with bronze lids and black lids last month. We actually had ZERO issues with uneven bottoms, crooked lids, etc. despite the amount of reviews having this issue. We typically use mason jars but made gift sets utilizing these style jars and it was easier for us to stick wicks to the bottom of these then a mason jar with a curved bottom. All the jars came without cracks or chips, all symmetrical/ identical (even between different colored glass) and the finished product was perfect. We plan to keep these in our inventory because they were so easy to work with and pleasing to the eye.
The bottom of candle tumblers are slanted so candle did not cure properly
Unfortunately the slant in the bottom of the tumblers affected my candle making process so I will need to return these. They look good on the website so I am quite sad that this happened. I can provide pictures if needed.
Hi there! Our Straight Sided Tumblers are made from blown glass, so it's common to see variations in the base of the containers because of how they're made. Some may be more level than others, but this variation is normal and a slanted base will not cause complications in the finished product. Feel free to reach out to our support team and we'll gladly help in any way we can!
Some people complain about the uneven bottom, but I actually love how it looks once the wax is added. They are great quality jars and very professional looking. Will continue to order.
These jars are great! They look amazing from pour to burn & customers like the streamline elegant look. They allowed me to move from the jelly jars I began with. The black lids look great, however I've ordered the silver matte lid for the holidays. Thanks CandleScience!
Any idea if the shipping costs will ever go down?! They're killing us small business owners.
Hi There! We charge for shipping in an effort to keep our product prices as low as possible. However, we do understand your concern with shipping costs, and we are actively working on adding new methods to help reduce them. Currently, we charge the UPS or USPS daily rate, the lowest published rate, which is based on the weight and size of the shipment, distance of travel, and the number of packages. We never markup or charge handling fees in addition to the daily rate.
I was worried upon ready some of the reviews for these jars, but decided to take a gamble on them. So far they have been great! I haven't had any issues with them during test pours or hot throw tests and the size of the jars is nice. Will buy again.
I love these jars. I use for all candles. I noticed from my last order several of the jars were uneven. I have used the jars but unfortunately these will be candles that I cannot sell.
Hi! Our Straight-Sided Tumblers are made from blown glass, so you may see variations in the base of the containers. Some will be more level than others, but this variation is normal due to the manner in which they are produced. However, a slanted base will not cause complications in the finished product. We would be happy to speak with you about your jars, as well as help troubleshoot any issues you are seeing in your candles. Feel free to reach out to our support team and we'll gladly help in any way we can!
Well, I had an order of 500 units of this tumbler. CandleScience shipping cost was 3x times more than one of the competitors. I bought my 500 from the competitor and there is only one good thing from the competitor. Shipping low cost. The rest? Well, nobody can beat CandleScience customer experience. Here you know where your product will be shipped from, when item will be in stock, you are fully informed of EVERY step of the way, shipping is super fast. Their customer service is kind and keen to help you. Emails are replied as soon as possible. I mean in a few hours or less .. so... Nobody can beat CandleScience customer experience. The people who sell the wood wicks... Zero customer service. The people with the store specialized only in jars, well I placed my order give days ago and nothing... No words, no information if item is really in stock. So basically I'm wondering if they haven't been transparent with their customers... just wish everything I need from CS would be cheaper shipping but we'll, that is life. And about the tumblers? Stunning. Thanks CS for amazing customer experience.
The glass on the bottom is so uneven when you put the wax in, the candle looks wonky. And the lids they suggest would look great if they didn't go on lopsided. I purchased the black and the copper lids and they both appear to be crooked on top. It's really disappointing to work so hard to make your candle and spend so much time and money on making it look professional for it to be SO uneven. I'm not talking a little bit uneven, it's reaalllyyyyy slanted. I would put pictures if I could.
Straight sided Tumbler(Libbey)
I love these jars they are great for my candles.I order at least 6 cases a month
What size jar is this considered to be? 12oz?
I was nervous ordering these because I heard they were hard to wick. I was using a parasoy wax and was having difficulties finding the right size wooden wick. I switched to straight soy and was able to wick these within the first round of tests. I'm so happy I figured them out because I wanted to use these jars for my new collection.
I love the look of these jars but they keep exploding. Idk if I should change jars . They seem very thin. I had 4 customer complaints already that their candles exploded.
Thank you for reaching out to us. Our tumblers are ASTM certified for use as candle containers. Candle jars breaking during use is a serious circumstance that can be caused by a variety of factors. Please reach out to our support team with more information and we'd be happy to help determine why this is happening.
I love these jars be just like was mentioned below the bottoms are uneven. I hope this will be fixed soon. It doesn't affect the burn but the overall look is not pleasing and had to explain it to my wholesale customers.
These are amazing Jars. Will be purchasing again if issues with the wax resolve. Definitely recommend.
Purchased these to start a candle product line for our business. I've made about 24 candles using the 464 soy wax and CS fragrances with the CD18 wicks and they have done nicely so far in our test burns.
I love these jars for my candles, but the bottom is really annoying. All of the jars are thicker on one side on the bottom
I like these containers a lot but I can tell you NOT to use the Candlescience recommended wick size of CD 18 for GB 464. It is too small and we had SEVERE tunneling using this wick size.
My candles look amazing thanks to these beautiful containers! The silver lid gives them such a clean and prestige look!
Straight Sided Tumbler (Libbey) Are beautiful.
It has renewed the quality of my candles. It only remains for me to say the I recommend them 100%
I bought these thinking I could make 8oz candles since the fill line suggested 8.5oz. They looked about half full, so i just filled an extra 2oz in them to make a bigger candle. I love the look and aesthetic of these containers!
I have really enjoyed using and working with these jars. I initially found them to be too thin for my taste, but have come around to like them. I pair mine with the bronze lids and use white square labels, and absolutely love the way my candles look!
I purchased a straight sided tumbler jar and a bronze metal flat lid, but the lids are smaller than surface of the jar. What is the proper lid to buy with the straight sided tumbler?
What size labeling to use
This is my first time making candles but I ordered these tumbler jars and was confused as to what is the best labeling size to use?
My review is mainly about the wicks since I noticed people were having trouble finding the right wick as well as myself, and I just want to back up the previous person post who suggested CD20; well I ordered CD20 after struggling and it burned edge to edge very nicely! The jars are nice too.
I see differing reviews on the wicks to use with this jar. I did a burn test with a CD20, CD18 (recommended), and ECO14. The CD20 burned edge to edge really nicely. ECO14 a good second option though
Can I use 2 wicks for this?
Hi! We do not recommend using two wicks for this container as the diameter is under 4" where we would recommend double wicking. Check out our wick guide for suggestions on where to start wick testing for your specific wax! https://www.candlescience.com/learning/wick-guide
Can I use two wick for these?
Hi I'm a beginner and I really like your website but I really need help!
have a questions regarding using these containers (the straight sided jar/glass that holds around 8 oz)
1- can I use GB464 soy wax with them?
2- what wicks to use with that combination of jar+wax?
3- and lastly please if you have any tips of the fragrance and color selection? and how much to add if I want the candles smells a little strong ? Thank you
Hi! Our support team will be in touch soon via email. Remember you can always reach us at support@candlescience.com with any questions!
I love these jars. I thought they could only hold about 7 oz of wax but I pour them while on scale and it holds over 9oz of wax in them. I thought they were smaller. I'm in the process of starting a candle business and these were the jars I chose for my start up line. I used ECO 6in size 8 and it burned perfectly using 20 oz of soy wax flakes to 1.50 oz of FO. They burned evenly and slow and steady. Love them. I wihs we can begin to add pictures with our reviews to show burn results. Thanks CS.
would this be considered an 8 oz jar or a 12 oz jar?
These jars are beautiful. They arrived as pictured and look and feel upscale. My one problem is finding the right wick (as others have mentioned). I'm using GB 464 soy with 11% fragrance oil. Tried CD 16 and CD 18 and not getting a full burn from edge to edge. Any suggestions???
This tumbler looks great. However, I have trouble to find the right wick. I tested CD 18, Eco 8, & Eco 14 wicks for this tumbler. Eco 14 is too big, but no tunneling, Eco 8 seems small. CD 18 looks ok, but not perfect. Can you help me to find the right wick for this tumbler?
I love these jars so much!!! I'm just having trouble findIng the perfect wick. I use 464 soy wax with 10% FO. I have tried the cd 18 and the flame is too big. It has a huge mushroom on the wick and the flame Flickers. I tried the eco 16 and it drowns. I have a cd 14 and Cd 16 ready to try out. Any help would be awesome!!!
This is the first product that Ive tried here that I didn't like, I love the look of these jars, but they are all uneven on the inside bottom of the jar which is causing uneven burns. I thought It was a wick issue so I tried 6 different size cd-wicks and they all turned out the same; the wax is melting to one side of the glass. I hope you fix this issue, because you have really good products.
Can you help me find the right wick for this jar? Thanks
Love these jars! Will they come in bigger sizes??
Hi! Our new 3-Wick Tumblers are a larger version of this container. You can find them here: https://www.candlescience.com/containers/3-wick-tumbler
Almost all of the jars are defective and I'm experiencing a lot of sinkholes I'm thinking do to the bottom not being a even flat surface I love the size and shape of them but something has to be do about this problem
Hi! Our Straight Sided Tumblers are made from blown glass, so you may see variations in the base of the containers. Some will be more level than others, but this variation is normal due to the manner in which they are produced. However, a slanted base will not cause complications in the finished product. We would be happy to speak with you about your jars, as well as help troubleshoot any issues you are seeing in your candles. Feel free to reach out to our support team and we'll gladly help in any way we can!
I love these jars! Any chance you could start carrying them in 3.5 oz jar with lids to go with them.
I absolutely love these jars they give my candles a sleek upscale look, especially with the lid. However, the only issue that I am having is sizing with the Wick. I use Cargills Nature Wax C-3, can some help with Wick sizing please.
Can anyone please help! I use these tumblers with 1 oz fragrance with the CB Advanced and ALL my wicks are drowning I've tried ECO 12, 14 and HTP 1212 and also LX22 and LX24 and they all will burn for the first hour a full pool real well and then drown I'm so bummed 😭. Any recommendations will help! Thanks!
Thank you for reaching out to our support team. It was a pleasure to assist!
I love these! I use gb 464 with a wood wick and they turn out perfect. I also use the bronze metal lids to make it look more elegant. A great add on to my shop! www.tinyscandleshop.com
LOVE the containers. I'm still in the wicking stage trying to figure out size. Does anyone use the parasoy wax in these containers if so what wick have you found works best or should I use double wick in smaller wicks?
I have been using these jars for some time and have had nothing but positive reviews from my customers. They are very modern and are just the right size for a quality candle. I have had nothing but positive help and support from CS and all my orders have been great. Really like this store and their products and service.
These are really nice! I just started my candle business and I've been researching many companies and decided to go with candle science (for a number of reasons)🤗 so glad I did. I only gave ⭐️⭐️⭐️⭐️ Because I wish the glass was just a bit thicker. Overall they are really nice & packaging and shipping was perfect and fast ( nothing broken or leaking).
I decided to switch my candle line to these jars before the holiday season and they are great! They look so modern and professional. Sold plenty of these over the holidays along with the silver metal lids and will be ordering more!
Classy, contemporary look
I would give these 10 stars if I could. I'm new to candle making. As something fun to do with my daughters when they are visiting over the holidays, I bought a bag of Soy Wax, candle making supplies and 12 of these tumblers + 12 silver lids. I was very pleased with how quickly my order came and how nicely everything was packaged. The jars in particular are beautiful and our candles look so professional and classy in these that I may give some as gifts. Unfortunately I found a defect in one of the jars and wrote to CS. Even though it was Thanksgiving weekend I received a prompt response that they were processing my replacement and received my new shipment in a few days. I am so impressed with this company, their products and amazing level of customer service!
I decided to test these jars for my limited edition holiday scent and I love them! Steve - I would suggest using either ECO 16 or CD 18. ECO 12 and 14 are will definitely result in a drowned wick. Also, if you've got a high fragrance load, you'll definitely need some higher than the ECO 12/14. I have a 10% load and the CD 18 works beautifully!
Hello....I'm a bit frustrated with wick sizing. I'm using Golden Brands 464 soy with the 8 oz libby. Wick guide says to use Eco 14. My candles drown.
I am now trying an Eco 12 wick. After about 3 hours they also drown......
Is this normal?
CS said using the lid or the box with the straight sided tumbler is recommended and that using both is not recommended when using the box. I will have to disagree. I use the white craft boxes for the 12 oz Cube jars. Today, I was curious whether my straight sided tumbler jar (Libbey) will fit in the box with the lid. It did fit just fine and the box closed and everything. I am not sure why they do not recommend it but they do fit in the box with the lid. So if anyone else was wondering if they fit with the lid they do with the white craft boxes.
I loved these jars and used them for all my candles. The problem is, now they don't fit in the boxes!! I switched to the arc brand, which did help with that issue, but the arc glasses almost ALWAYS have uneven bottoms or imperfections in the rim. So frustrating.
I use this size jar as the standard size for my product line, and since you all swapped distributors, I have had serious issues with quality and consistency with these. The bottoms of these are not flat, and it looks lopsided from where the glass is formed unevenly in the bottom. It is really hard to see unless you put wax in them but the stark contrast of the white soy wax to the line, makes my candle and label appear uneven as a result. I have had over half of the six cases I poured this weekend look terrible as a result of this. And it isn't by case-some in each box are good, some are tolerable, and then some just look awful. I am trying to get my spring line inventoried so I can launch it and this is a huge set back. Fortunately we can drive to your warehouse, and we have already spoken to the guy who processes orders. He said he would have them replaced but this is not just a jar I am out in product-this is wax, wick, wick sticker, and fragrance oil not to mention time and potential sales I am losing. I love every one of your products aside from this but I have built my branding around this jar and now I am really concerned I will have to find another supplier because I cannot risk quality for my customers. When we go down to pick up another order I will have a box ready for you all to look at and see what I am talking about.
Please get tumbler boxes that fit with the lid
These don't fit in the tumbler boxes anymore, which I see the update after the fact of purchasing these. Will there be a new sized box we can buy to fit these new sized jars?
These jars do NOT fit in the tumbler jar boxes anymore. Since you guys changed vendors the taller jar with a lid is impossible to fit into your boxes that are supposed to go with these candles without tearing or bending the box. I am also disappointed by the amount you charge for shipping. I don't see the point in continuing to buy from CandleScience if you can't provide appropriate containers or shipping methods that don't cost almost as much as the order itself.
So I am new to candle making and am trying to create a modern clean line of candles and these are great for that. I purchased two dozen of the I guess "newer" slightly larger tumblers that candle science had created based on production issues with the last company and thats great that they will have a stead supply of them but the candles finished with the flat lid on top do not fit the straight sided number box. So I am now faced with the dilemma of not using lids or having 36 boxes of packing boxes I can not use. For the most part I think these are great and I am so excited to build my brand with candle science at my side.
Shipping, split shipping...
These are my most popular jars, but the shipping price is ridiculous!! It's almost $20 to ship ONE case!!! And why do we have to pay for split shipping if you all choose to do it that way?! We should at least get a discount if that's the case....this is beyond stupid.
Well what am I going to do now!
These are the container I use for my main line along with the lids that fit perfect. I have a big show in less than two weeks... and they are out of stock. I don't like to keep a large amount in my back stock. I will have to scramble to find a different vendor and hope the lids fit! These are 5 star jars... but when I can't get them when I need them then they are less than worthless to me... they are putting me in a huge bind. I've never had this problem before (besides having to stop using the white jars in this style.) Very disappointed.
So Sad they are not in stock right now and during the Christmas season. YIKES.
I am just getting my candle business up and running, I have been searching for a replacement and all other places are comparable but the shipping is astronomically high. 20 to 30 dollars for shipping. I hate waiting, but have no other choice. I rate the containers very high, high heat resistant, and
look amazing with colored wax. Love the professional look that they give my candles. I also love they have a lid with them. Not sure why these jars are not put on back order so that you can ship them out as soon as possible.
I did sign up for the in stock alert.
Diane
The jars are great but its Christmas time and they're out of stock.....Love the product but you can't reply on candle science to have something when you need it. They pushed back their estimated time too...
Amazing jars and could not be happier with their appearance. BUT - if they aren't consistently in stock this does absolutely nothing for my brand. I'm so disappointed and feel like I can't even find a replacement somewhere else. This is terrible for my business right around the holiday season. If anyone has any help in finding another supplier with these jars it would be greatly appreciated!
Just received these jars. none were broken. I am upgrading to these from the 8oz apothecary jars. I have been on the fence about making the switch and I am so glad I did. I use these with the bronze lids for fall/winter. I will use the silver lids for the rest of the year. My candles look so upscale now. These jars will be my staple from now on. Very very happy with these.
wonder when you are going to come up with lids ?
Wish you would carry a lid for this tumbler, I have found a suitable lid made of plastic that fits the jar, but would rather put my money in your pocket than theirs....please carry a lid!
I love love love the jar but I wish there was a lid to go with it as someone also mentioned. (please get us a lid for this! I've emailed requesting for a lid about a year ago). Also 12 wick seems to be pretty ok but it's not perfect. 12 wick works great if you leave your candle on for 2+ hours. before that, it still leaves a pool. 14 burns too high and 10 definitely leaves a pool. I heat to 185,add fragrance and pour at 135. Only reason why I'm not giving 5 stars is because of the lids and not having the right wick for the jar.
I love these jars and would give them five stars if they had a lid or cover. They are beautiful when placed in the box to use as presents. I use GB 444, 7% FO and ECO 14 wick - with good results. I heat to 185 and pour at 100. For next year I will do a comparison test with ECO 14 and double wicking with a few of the smaller sizes.
I love these (clear) jars and the white, glossy window boxes give them a more upscale look. I tested a few different single wicks before settling on double-wicking with two CD-5 wicks. I would prefer a single wick, but none that I tested gave the full melt pool that I like without a flame that's a bit larger than I want. I use GW464.
Just curious what wick people use with these? Finding the right wick for a perfect burn has been difficult. But the candles look great in these containers! I have only had one broken jar in the multiple orders I have made for these. Only reason I am not giving it 5 stars is because of the trouble I am having finding a fitting wick. Right now I am using Eco 14 but I would love some other feedback!