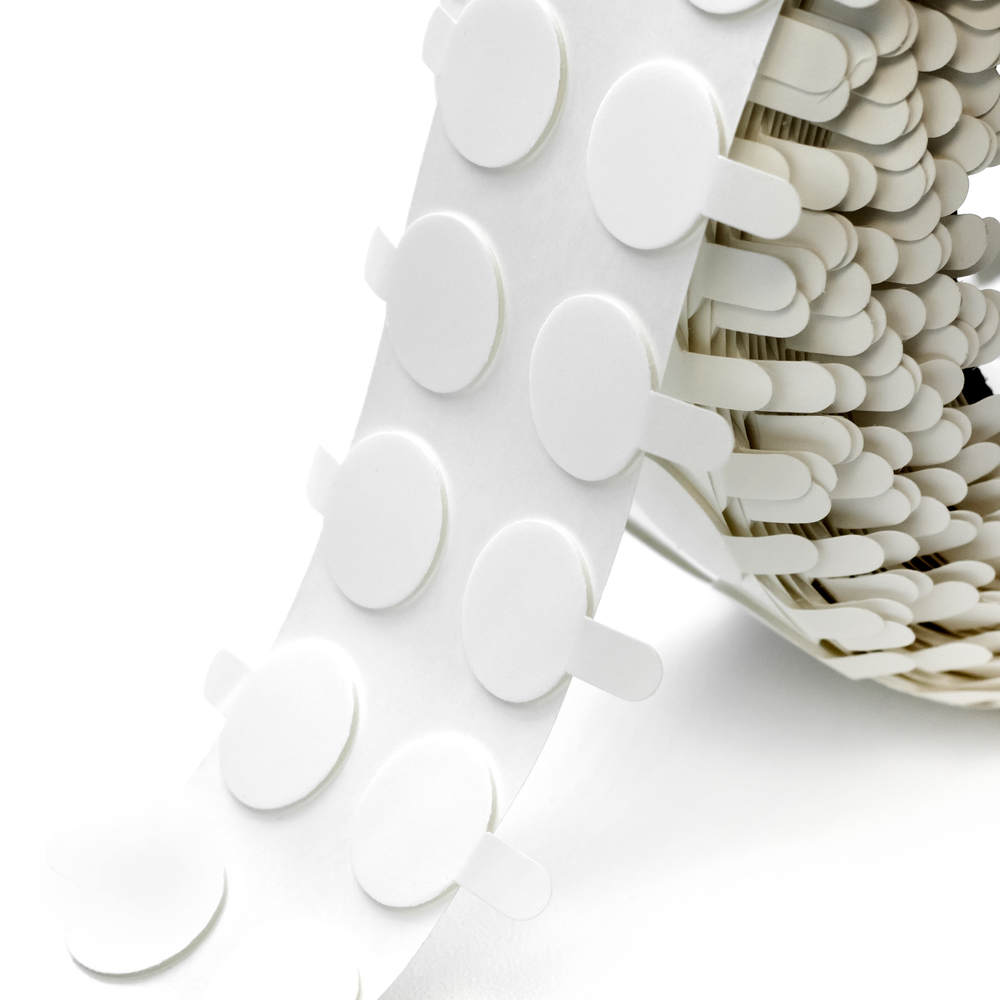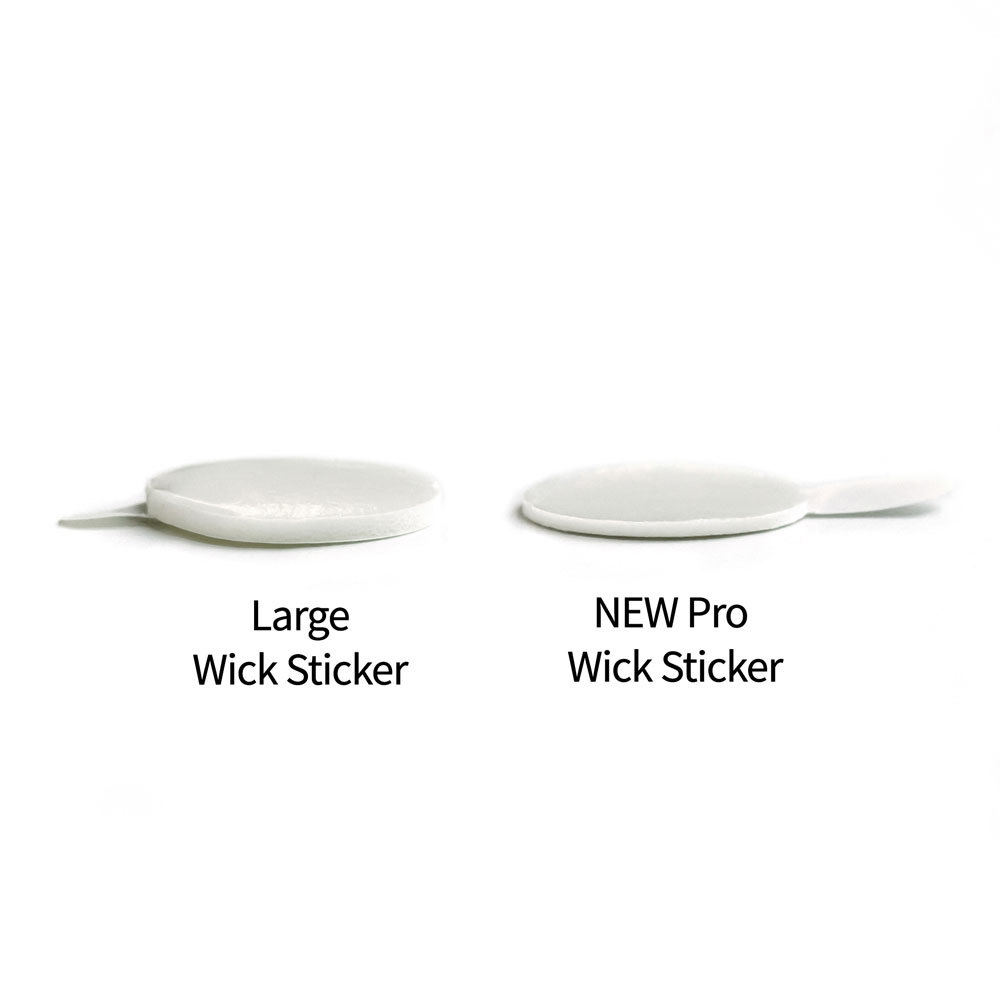 Ready to Order?
10+ Rolls
$21.48
$0.02 /pc
Details
Our Wick Stickers Pro are highly heat resistant, have a low profile, and stick better than any wick stickers we've tested before. They are half as thick as our other wick stickers, allowing for less leftover wax at the bottom of container candles and a longer burn time. This large size is perfect for our 3" and 6" wicks. Wick stickers maintain a secure hold up to 180° F. Directions:
- Peel the tab from the paper and apply to the bottom of your wick assembly.
- Peel off the paper tab and press firmly to a clean dry surface.
Use Wick Stickers along with the EZ Wick Setter for perfectly centered and secure wicks.
This item is made with double-coated acrylic adhesive polyethylene foam with a protective kraft release liner.

Wholesale Ordering
Check out our wholesale page for more information on ordering candle supplies in bulk or by the pallet.

Made in the USA
Reviews
These work great every time! Love them- no issues what so ever💕
Thank you!
These wick stickers have preformed perfectly for nearly 2 years for me. They are thin, small, and very strong. I have never had one come off in a candle despite pouring at high temperatures of 180 degrees. I love these stickers and plan to continue buying them!
I've noticed that my customers get to burn more of their candles and make my soy candles last a few hours longer. No issues with the stickers sticking to the glass jars. When I started candle making, I used the regular wick stickers and I can confidently say that I like these a lot better. Funny how such a tiny difference makes a big impact!
Best Wick Sticker on the Market
We have been pouring candles since 2018, and the Wick Sticker PRO from CS is the best on the market. I have poured literally several thousands of candles and never experienced an issue with the adhesion. We do heat our jar up to 120F prior to pouring. The sticker adheres perfectly to the warm base of our glass jars. We did offer tins a long time back and we used a warming pad to heat the bottom of the tins prior to wicking the vessel.
I do not recommend these...
After working hours and spending boat loads of money to stock up on my candles to launch my business, as I was testing the candles, I had several wicks float up which is making me wonder if I can even sell what I have in stock. Pretty concerned as I have hundreds of candles made with these stickers. I read just now that rubbing alcohol helps them adhere but it's a little too late and I've potentially lost hundreds of dollars in supplies and I'm feeling pretty discouraged.
Hi! We're happy to have helped troubleshoot this with you!
I started out loving these and bought them by rolls of thousands. I used them for almost a year without issues, then they stopped sticking to my jars. I reached out to support and they gave me some tips on how to make them work better. I started cleaning my jars with alcohol and then, they stuck. Candle Science has great customer service.
Fast forward a few months later, I've paid my contractor to stick bags of THOUSANDS of my wicks with these labels. I began candle production like normal, and this time instead of having issues with the wicks sticking to the jar, the issue was that the wick was actually coming off of the sticker, creating a floating wick... CRAZY dangerous in a glass jar.
I reached out and received a refund for the stickers, but unfortunately I've already paid my worker for hours of work, and am stuck with bags and bags of wicks with defective stickers that ALL need to be removed, creating hours more of work. Plus, all of the candles I had poured (dozens) when I realized the wicks were popping up, all in the trash.
I can use these for candle tins, but not jars. They still float up on occasion, but at least there isn't a chance of glass breakage with a tin. Hence 2 starts instead of 1.
I've been using them consistently for a year now and personally, I really like them.
The only time I have had issues with these not working is when I'm lazy and don't clean my jars, which I am now doing every single time because 1) covid 2) they get dirty in transit 3) I don't want wet spots 4) I want them to stick
Initially, I was really disappointed in these because they were not sticking to the bottoms of jars at all...or would stick then come loose as soon as I poured the wax. BUT I've found that if you rub a tiny bit of rubbing alcohol on the spot that you're sticking them onto they work perfectly and have a super strong hold- no issues at all since doing this! Also make sure your jars aren't too cold- if they're super cold (like stored in an unheated space) these won't stick- at least not for me- but a few seconds under the heat gun does the trick. Love them!
I'm having a very difficult time getting these to stick. I clean the jars prior. I can get them to work if I let rhw bottom of the candle cool prior to centering the wick. What I'm having a big problem with is them moving around when the wax is getting low and the wick sliding to the side and burning the glass.
Hi! A member of our team will be reaching out shortly!
Pro Wick Stickers Not Sticking
My Pro Wick Stickers are not sticking. What is going on? I have never had this happen before.
I have always loved these. Now, I am worried about safe candles... Please advise?
Hi there! A member of our support team has reached out to offer further assistance.
Let me preface this with saying I have had some difficulty in the past getting these to stick to the base of my jars, but I suspect that's due to the uneven bottom of the jar making it difficult to wick properly.
Now, I need to talk about these stickers on tins. I tried to scrape it off. I tried to peel it off. I tried to boil it off. Nothing can cleanly remove these stickers from the bottom of a tin, and I don't know if that's worthy of losing a star of gaining one. I ultimately ended up effectively boiling the tin and sticker in order to get it partially removed. It took 30 minutes. I'm frankly not going to try and remove the rest of the sticker. The little adhesive that's left isn't enough to warrant another 30 minutes of scraping.
I have loved this stickers. Yet this past batch I've gotten have not been holding my wicks in place. I havent changed my pouring temperature. Its releasing as soon as I try to use a wick setter to hold in place (also the same ones I've been using). Have they changed, has the supplier changed, is anyone else having this issue?!?
I would have rated ⭐⭐⭐⭐⭐ just two months ago....
Hi! We're glad to have helped troubleshoot this for you!
DO NOT BUY - DO NOT WORK!
I just bought 3 rolls (3,000) of your wick stickers pro because your website says they stick better. (order # R756593310)
I have always used the Large wick stickers and they stick great so figured these were even better. NOPE.
These "pro" stickers do NOT stick to my jars. I can push them down hard, and the wick can easily be removed - the other "large" ones would NOT release. I have a batch of 300 candles to make TODAY (a rush wholesale order for a retail store) and I am screwed because the wicks keep coming loose just putting on a wick bar. I poured in wax and the wick started floating.
And please don't give me the robot response you keep putting on reviews below of "you need to clean your jars and heat them" - because the jars are already clean and I do NOT have time to heat 300 jars nor any way to do that (no stove in a candle studio) and I have never in 5 years of using the "large" wick stickers needed to do ANYTHING to my jars.
Please admit these "pro" stickers are completely defective and STOP SELLING THEM. And stop wasting your customer's time and money. I have spent thousands of dollars with you and this is beyond frustrating. I'm furious - I will likely loose this client and order because of this crap. :(
These are great if you use them correctly. We wipe each jar with rubbing alcohol and dry them with paper towel and then immediately wick. I've have no issues with wicks moving or unsticking since I started doing it this way.
Great Idea - Flawed Execution
We purchased these some time ago in hopes it would extend the life of our candles. Been using the originals up until now, but these are not worth it - at all. They hardly stick...thinking it was the specific holder, we tried it on several different styles (tumbler jars, apothecary jars, large and small tins) all to experience the same result. Stickers don't adhere and come loose while placing the wick bar. Just recently poured one candle three times - all with the same result. Stick with the originals - hardly any difference in burn time anyway! Love Candle Science and don't have any negative views toward them for these, but they should consider discontinuing them.
Hello! Thank you for leaving a review. A member of our Support Team has reached out via email to better assist you!
Until recently these wick stickers were without fail for years! Now this last roll has me put in a bad spot and worried about the outcome batches recently poured. I have reached out to customer service and was responded to very quickly with things to try to alleviate the problem (all of which I have done), but in the end the quality of these pro wick stickers is just not at all what I've come to rely upon. Candle Science - please tell me that you are looking into this further and will be fixing the issue!
Hi there! Thank you for taking the time to leave your review. A member of our team will be reaching out shortly!
I have bought these wick stickers twice now. The first time I loved them. I had no issues with them staying in place, even after pouring wax in my vessels. And I love the fact that they are so thin. Then the second order came and I can't get them to stay stuck to the bottom of my jars when I go to put the wick holders on , even before pouring my wax. I'm not sure why won't they won't stay stuck this time around when I'm using clean glass jars. Probably will go back to my old ones.
Thank you for your review! We have reached out via email to provide further assistance!
I think I got the old ones
I for sure got the old ones. They are thick and they don't stick. So bummed I have a whole roll that I have to now buy a hot glue gun for. I got these awhile ago, otherwise I think I would have returned them. The pack that came in the little white envelope was so much better. Again, I got these a while ago so maybe they have changed now??
Thank you for leaving a review with us! Im sorry that you were having issues with your Wick Stickers Pro and would be happy to help! We have some troubleshooting steps to fix this! First, we recommend that you wipe down your jars - we like to use either rubbing alcohol, or warm soap and water. Second, you can preheat your jars in the oven, on the lowest setting (or about 100 degrees). You want them nice and lukewarm, and this helps the sticker adhere much better to the glass. The last step is making sure you don't pull the wick too tight sometimes if you pull them too taught, this can release the sticker. I hope this was helpful! If you have any further questions, we will be happy to assist!
I was weary because of the reviews but they worked perfectly! I poured my wax into the tin at 135 degrees and they stayed put. Great product and highly recommended!!
We've tried a lot of wick stickers and the stick the best for us. We always heat the jar with a heat gun for a few seconds no matter where we get the stickers from. Never had and problem with these not sticking. And the are super thin so you can use more of the candle.
I go through a 1000 roll a week. I have yet to have a "defective" roll as people are saying. I use mostly tin. When I use glass I find that i have to make sure there is no dust, but that's on me not the sticker. I used to use a cheaper sticker that would come detached when i poured wax in, that's when i learned that you have to make sure your not too hot as that cheaper brand was only good for 160. I pour around 170-180 and never have a problem with these. Excellent as always.
All of the reviews are accurate. Sometimes these stickers are amazing, sometimes they are lackluster. The last batch I ordered did not stick very well to the bottom of the vessel when I tried to tighten the wick for drying. The ones I ordered before were fantastic. They're just so inconsistent.
These worked perfectly! Sticks well to both container and wick! Low profile is a great plus!
I have purchased these wick stickers (not the roll) in the past with no issues however, the last two orders (not the rolls) of these 8/10 didn't stick. Very disappointed and it was frustrating to see this after I poured all the candles.
Hi there! We'd be happy to help. Our support team has reached out to you via email!
I also had one roll where it seemed like most would not stick. I soon quit using the roll because of the mess it created. I will say though, that I have used from a different new roll and they are great so I am hoping it was only one flawed batch. So far I do plan to continue using them.
I've been happy for the last year with these wick stickers until the last roll I purchased. This last batch didn't stick once I poured the hot wax and they were ruined. Seems like several others people have experienced this recently so I hope you figure out what caused this and fix it. I've been a loyal customer but this is disappointing :(
Hi! We're sorry to hear you're having issues with your wick stickers, however, a member of our support team has reached out to better assist you!
These stickers are great for me, and I have not had any of the sticking issues as others have stated in comments. I've purchased all of the different pack size options as well, but have not come across any issues. These stick great!
Looks like I'm not the only one experiencing issues with this once flawless product. This bad batch has created a total nightmare for my business.
I have bought these stickers before, and they have worked fine. However, My last batch was defected because while pouring the wax, the sticker came off.
Hi there! I'm sorry to hear you're experiencing issues with the Wick Stickers Pro. A member of our support team has reached out to you to assist you further!
I've been using these for forever but my last roll the wicks are just releasing and won't hold. I'm disappointed and hoping CandleScience will correct the issue quickly. I have a history of ordering these and have never had a problem. Definitely 5 out of 5 stars but this batch - NO GOOD. I'd say wait to order or call in and speak to someone before purchase. Something is wrong with the adhesive. CandleScience please reach out to me I've made contact with you I'd like to be refunded and have a new roll sent ASAP as I can't make any candles until I have tabs that work.
Hi! We're happy to have helped!
Just received a new order of these and they have separated from the wick once wax was poured Not sure what happened but I've had success with them in the past but this package is not good at all. In fact all the candles that I place came undone when using them.
Hi! A member of our team will be reaching out shortly!
Love the low profile of these wick stickers. I've ordered them countless times now and the only time I run into a stickiness-related problem is if I had forgotten to preheat my jars. I find they stay in place the entire time the candle is burning and I get a lot less wax left over at the bottom of my jars.
These are great - and so is customer service.
I have had issues with the stickiness of these in the past, but they are now resolved! Customer service is great & is on board to help whenever there's any issue with these or any CS product, just contact them! I have also learned that during humid months if I have my jars out of the boxes on my worktable, the humidity causes sticky issues so I've learned not to do this anymore! I am a pro-wick sticker lifer.
Sticky with simple maneuvers
I LOVE these wick stickers. They are super thin so you are left with much less wax at the bottom than you would be left with the regular wick stickers. I was getting a lot of complaints from people who bought my candles that there was too much wax left over once the wick was fully burnt, but since I made the switch to these wick stickers, I haven't gotten complaints (progress!). I do have one complaint (hence why it is 4 stars out of 5) and that is they tend not to fully adhere to the mason jars. Buyers beware: if you are going to use these with the mason jars from candle science, make sure to bend the wick tabs to a somewhat concave shape in order for the wick stickers to do their jobs. The bottom of the jars aren't flat, so you have to get the tab to get a similar shape as the jars themselves. If you don't bend the wick tabs when using the mason jars, these wick stickers won't do you much justice. A lot of people writing reviews say these aren't as sticky... in reality, they are SUPER sticky... but I just believe they aren't finding ways to get it to stick. I haven't tried using these on other jars and I do plan on making the switch to the straight threaded jars, so hopefully I don't have to bend the wick tabs to get these bad boys to stick. TL;DR these are great but you have to be aware of the type of jar you are using.
I had switched to the pro series of stickers when they first came out and they were great. I just opened a roll of pro stickers I purchased in January and they are horrible. I can barely get any of them to stick to the bottom of my jars. The jars have been cleaned and then wiped with a microfiber cloth and they are still not sticking. It is almost like some of the rolls were miss marked and we were sent the older regular stickers instead.
These were amazing when first launched but something has changed. They do not stick anymore. They pop right off all glass jars. What gives?!
Hi there! Thank you for leaving a review. Our support team has reached out via email to better assist you!
I thought I would try these, but I will go back to the thicker stickers. They will no stick, I had to re-make a whole batch of candles, very disappointed with these.
The Wick Sticker PRO are the best I have come across in my candle production. I have been using the Wick Sticker PRO for over a year and I have never had an issue with either the stickers on the flat sheet or the 1000 roll not adhering to my glass tumblers. We do heat our glass vessels to 100 degrees prior to pouring for proper wax glass adhesion and the warm bottom of our vessels creates a secure hold and solid base for the wicks. The wick stickers stick every time, and they hold during the pouring process and for the consumer as they burn our candles with very little wax left over. I am happy and my customers are very happy that our candles burn all the way down leaving little wax in the vessels. All and all, great product. You won't be disappointed.
Never have I had a problem with the wick stickers until now....poured 12 8oz Tins and 6 10oz jars and EVERY ONE of the stickers came loose. I have never had to heat anything before sticking. Not a happy camper. Wasted money.
I switched the Pro a while back and never had any issues with them. They've always stuck to the jars great/never had any lifting. Until my most recent order. They do not work at all. I was told the same thing as a previous reviewer below - heat the jars (which takes a considerable amount of time) and they'll stick fine. Doesn't work. They still lift. The stickiness is completely different compared to previous rolls I've had. CS what changed?
I use the 8oz candle tins, have been for the last 3 years, and the normal stickers worked just fine. Then one day, the normal stickers started lifting up as soon as I poured on a new lot of tins (I use a box of 120 tins about every 2 weeks)... so I bought the pro ones... same thing. I'm wondering if there was a change to the coating on the candle tins?
Up until now I have had no problems whatsoever with the wick stickers from Candlescience. This last lot I received are absolutely awful. The moment I opened them I could feel the "stickiness" was different and they all lifted once I poured the wax. I was told to heat the jars, that perhaps the glass wasn't level etc. but why the sudden change when the previous ones worked perfectly. The strips of 12 were the best, the ones I received on the roll were definitely inferior and wasted me a lot of time. (Following the new directions failed also).
Hi there! Thank you for taking the time to share your feedback with us. We were glad we were able to help resolve this issue for you!
I have been in business for over 6 Yrs and have been afraid to change products. This has been the great switch. Love the tabs and they are quick and very easy. Thanks Candle Science!
I tried these today for the first time. We've been selling candles for 2 years, and I never knew making them could be so easy. We heat our jars to 170 degrees, because our oven doesn't go any lower. I was able to use the stickers and the Wicksetter to quickly put the wick in each jar. If you're worried about spending the money and getting no return on investment, these are a no brainer. I can't believe I waited so long to try them out.
I've always loved the idea of these wick stickers, but I always had an issue with them - not necessarily with their staying and sticking power, but more with their size. Although they perfectly fit the diameter of the wick base itself, they were so thick that they caused too much wax to remain on the bottom of the candle after the final burns. No more. These "pro" version of the wick stickers are absolutely PERFECT. They are so thin that I nearly had trouble getting them off the paper, which is a good problem to have. They add NO noticeable height to the wicks themselves, and unless you are looking at them from the bottom, you can't even tell they are being used. I just bought both the single and multi wick setter devices, and these are the perfect companion to those devices. If you have been holding back for the same reasons I was, do yourself a favor and TRY these pro stickers out - you won't be disappointed!
Updated Review - Much Better!
I ordered these stickers a few months ago and wrote a negative review about the lack of stickiness... I contacted the company and they let me know that there was a defective batch and they sent me new stickers right away! The new stickers are incredibly sticky and work GREAT!
I was excited to try a new wick sticker that had a much lower profile. However once I started using them about 1/3 of my wicks lifting after pouring. I thought maybe it was the wick setter not being pushed down hard enough to create adhesion so I pushed every wick down by hand, but still they lifted off after pouring. Once I started using the regular stickies I had in stock the issue went away. I believe these don't have adhesive as strong as the originals and won't be using them again until the issue is resolved.
Thank you for letting us know about the issues you had with these stickers! We were glad that we could help resolve it for you.
I love using the wick stickers. It makes wicking quick and easy. I use the regular large ones for most of my needs and saw these and thought, "even better!"
Professional they are not. About every 3 out of 10 wick stickers fell away from the jars once I pouted the wax! I even push my wick bases down with a butter knife to ensure they are adhered to the jars. These are not pro stickers. The other wick stickers are much better and you don't have issues with them not adhering to your candle jars. I had double wicked some candles the night before, and they all had issues. Very dissapointed and I had such high hopes. Go with what works and buy the other wick stickers... I wasted money purchasing 1000 of these stickers! Oh well, live and learn.
Less sticky and hard to peel
I figured I'd try these "pro" stickers but I'm not really a fan. The backs are harder to peel off on these, staying stuck to the sticker and pulling the whole sticker off the sheet instead of removing the tab to expose the sticker. Then once I stick my wicks on them, everything basically just falls off the sticker sheet and I get a whole bunch of things stuck together, ruining several stickers at a time. The stickiness when inside the jar seems okay for now but the old stickers did just fine in that respect so I'll probably just stay with the old ones.
Low profile? Yes. More sticky? Absolutely not.
I sprung for these after being a user of the regular candle science wick stickers.... these are far less sticky. They pop off the bottoms of my candles once I get my wick holder in place which the former ones NEVER did. I lost about 1/3 of my wicks once I get my candles set up for pouring. Horrible for productivity. I can't imagine how they're going to hold up in heat if they don't even hold up at room temp. 2 stars for being low profile though as stated. I won't be re ordering these. Did I get a bad batch?
Hi! Thank you for contacting to us regarding your wick stickers. We checked our inventory and reached out to the manufacturer, and it does appear that we received a batch of Wick Stickers Pro that did not perform as expected. The issue has been resolved and we would love to help you further. Please reach out to us at support@candlescience.com and we'll make sure you are taken care of!
These are the best wick holders I have used. So happy to have prevented the "wick slide"!!
Excellent... but beware of jars with concave bottoms.
Personally, I never had a problem with the original Wick Stickers (as long as your jars are clean and dry) but I decided to give these a try. The new Wick Stickers Pro are excellent as well. My only issue is with a very small (1.25 oz) jar that I pour which has a very pronounced concave bottom. The lower profile of the Pro Stickers does not conform as well to the shape of jar. They still worked, as enough of the sticker was in contact with the jar to hold. Overall: Very Pleased!
We were having some trouble with our stickers staying on the jars recently and tried these. Amazing! They are crazy sticky and love the low profile design. hoping to test out a candle soon to see the difference in how low the candle can burn. Thanks for coming up with a great new product!