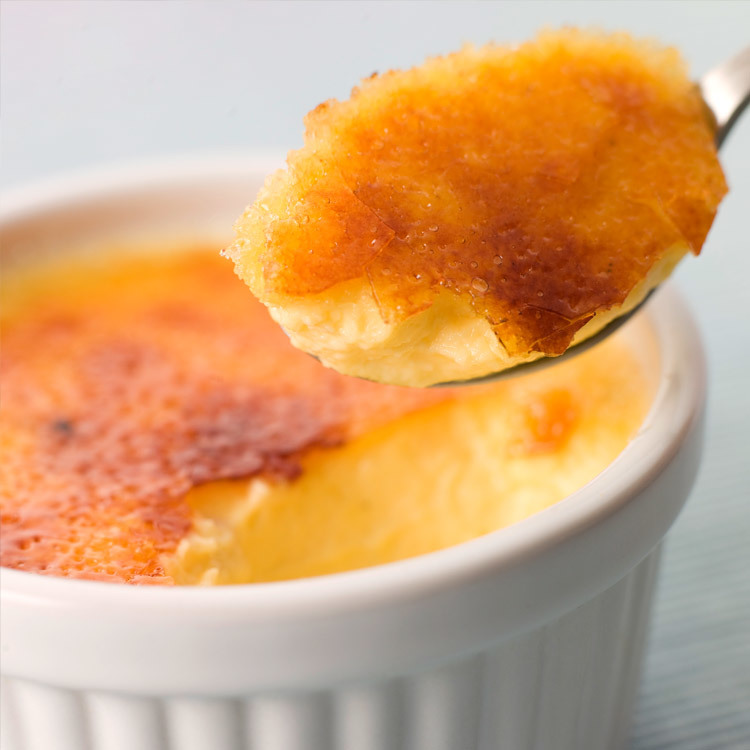 Ready to Order?
Ships from East Coast. Expected: West Coast 3/15
6+ 5lb Jugs
$79.94
$1.00 /oz
12+ 5lb Jugs
$71.94
$0.90 /oz
Safer Scents For The Home
CandleScience Clean Scents™ are free from carcinogens, reproductive toxins, and other potentially hazardous chemicals often found in fragrance. Choose Clean Scents and create safer home fragrance products you and your customers can enjoy with confidence.
Read More >
Details
Now Phthalate-Free!
REVISION NOTICE: It is our policy to notify customers if any part of a fragrance was changed for any reason.
As of May 2, 2019 our Creme Brulee was revised to meet our stringent safety standards of being Phthalate-free. The original strength and fragrance characteristics have been preserved. To see details of the previous version, click here.
Break through the crunchy caramelized sugar crust into this classic dessert scent. Creme Brulee features top notes of lightly torched sugar and a hint of coconut before giving way to a rich creamy custard heart. A dash of rum elevates the vanilla and maple base. Indulge your senses with Creme Brulee candles and wax melts, or create decadent body lotions, sugar scrubs, and soaps.
This fragrance oil is infused with natural essential oils including vanilla absolute, and styrax resin.
Note Profile:
Top: Caramelized Sugar, Coconut
Middle: Custard, Rum
Base: Vanilla, Maple, Benzoin

Suggested Colors: Ivory, Golden Honey
See our complete list of candle making dyes and soap colorants.
Note: Bottles filled by weight, levels may vary.
Properties
Candle Safe

Yes

Usage: 3-10%
Soap Safe

Yes

Usage: 2-3%
Vanillin Content
2.01% - 5%
Soy Performance
Flashpoint
> 212 °F
Phthalate Free
Yes
Prop 65 Warning Required
No
Diffuser Base Compatible
No
*Usage amounts are recommendations only. Individual usage amounts can vary based on your desired fragrance strength, wax type, soap base, or lotion base. See IFRA certificate for max usage levels.
Documents


Cold Process Soap Performance
| Acceleration | Discoloration | Separation |
| --- | --- | --- |
| None | Dark Brown | None |
Lye Water Temperature 114ºF
Oil temperature 114ºF
We did not experience any acceleration or separation. The mixture quickly became an emulsion but took a little longer than usual to come to a thin trace. The batter did turn to a bright honey mustard yellow once it was at trace. After 24 hours the color was a dark mustard yellow. The scent was a little light, but smelled amazing. The soap only reached a partial gel but still overheated through the center. After 30 days the color is a dark chocolate brown and the scent is deliciously strong.
Reviews
One of my Favorite Scents
I love the smell of this scent!!!!
Awesome. Top seller. Never disappoints with CT or HT. Use 8% in 464. Also blends well with others.
Am I the only one who thinks this smells like curry mixed with butterscotch? I can't get over it. I came upstairs from making candles and my husband asked me what I was making that smelled like curry. So yeah...I am not selling this batch of candles.
I could praise this scent all day long! I could not be more happy with this! I used it in my wax melts and named it Caramel Cupcake. It's delicious, beautiful, and so sweet! Can't say enough good things.
I am brand new to candle making and have so much to learn but one thing I do know is that this scent smells so delicious! It fills the room with a warm Sunday afternoon baking smell. It's nice and strong but not overpowering. Makes you feel warm and cozy and HUNGRY for creme brulee'
Fantastic scent!!! Not too sweet, not chemical-smelling at all. Just lovely (and I'm very sensitive to scents).
This is a crowd favorite. I use 10% oil in my batch and the throw is great! This is my favorite of the bakery scents.
Our best seller! Everyone seems to love this one- sweet and buttery. I'll get asked if I'm baking when this one is lit.
At first I thought it was not good. After a week I smelled it again and it's lovely now. It's a light vanilla scent. I used soy.
I never review any of the fragrances I choose, and I never thought I'd actually like a bakery scent but THIS creme brûlée is EVERYTHING! Perfect for your fall collection. Hot throw is outstanding and cold throw is decent. I'm now ordering ANOTHER bottle for my candles. Best seller for sure!
Will definitely re-order!
Smells amazing with hot and cold throw! Nice and strong and it hits you in the face with a warm vanilla, and then follows up with caramel notes. I think I'm just going to make it my vanilla. It's so perfect.
You'll want to reorder this one
This scent was perfect. Made my kitchen smell like I was baking up a storm.
I'm normally a huge fan of sweet bakery type scents. Banana Nut Bread, and Bluberry Cobbler, are a couple of my all time favs... But this FO is CLOYINGLY sweet and extremely strong! Tried mixing it with a softer fruit FO to tone down the sweetness and it totally overpowered the fruit scent when burned. Never thought I'd say this, but I wish it were a bit more subtle. Used it in 6046 @ 9% and was completely overwhelmed.
okay, wow! this FO hits it out of the park. It's not a very strong smell - in CP soap after curing for a couple weeks I was having to really take some deep whiffs, but the smell that you do get is incredible. very delicate vanilla scent, it just smells absolutely heavenly. I wish it was stronger but I will probably just put more in next time. not overpowering with the rum or burnt sugar notes, i just smell lovely vanilla custard and this is probably one of my favorite smells ever.
If you like really deep, strong, sweet scents, this is for you! I thought it would be softer...
It smells soooo good, I maxed wax melts and while I was waiting for them to cool, I could smell it all through the house! So good.
My customers LOVE this scent! It pleases everyone who prefers rich, bakery scents. It is a very strong scent that will fill multiple rooms with it's deliciousness!
New Candlemaker, this is wonderful!
I've made over a dozen candles (still working on making labels to sell) and this scent is the best. All of the scents I have are good (Snickerdoodle, Apples and Maple bourbon, Strudel and spice, and cinnamon and vanilla) I keep going back to the Creme Brulee and smelling it, it's so wonderful. Even my husband likes it so I know it's good lol. It reminds me of walking into my moms house when I would go to visit her (She always had candles burning) My mom has passed away so smelling this makes me remember the warm feeling I used to get visiting her :) Thank you Candlescience :) I'm sure once I have everything ready for my candles to sell that this will be a best seller, especially here in Michigan where walking into a warm yummy smelling house from the freezing cold is the best.
I absolutely love this fragrance. Great fragrance when cold and hot. I used the 444 wax, melted at 185, added fragrance oil at 140 and poured candle at 103 into glass jars. Very excited about candle making looking forward for some sales.
I absolutely love this fragrance. Great fragrance when cold and hot. I used the 444 wax, melted at 185, added fragrance oil at 140 and poured candle at 103 into glass jars. Very excited about candle making looking forward for some sales.
This one is very popular and has a delicious, warm and sweet scent. Cold throw is great and it really fills the room. Love it.
You really hit the nail on the head with this one everyone loves it smells like what can I say crème brûlée definitely a must try
I got the creme brulee discontinued version before I got this one and there is definitely a difference between the two. The discontinued version is definitely better, its more Creme. This new version had a more burnt smell to it and I definitely dont like it as much.
Yum, smells like buttered rum
Love! Smells like the discontinued buttered rum, which was popular among customers.
Wow! Creme Brulee is awesome! Fantastic cold and hot throw in my 464 soy candle! I'll be ordering a big bottle of this next time. I predict this will be a customer favorite!