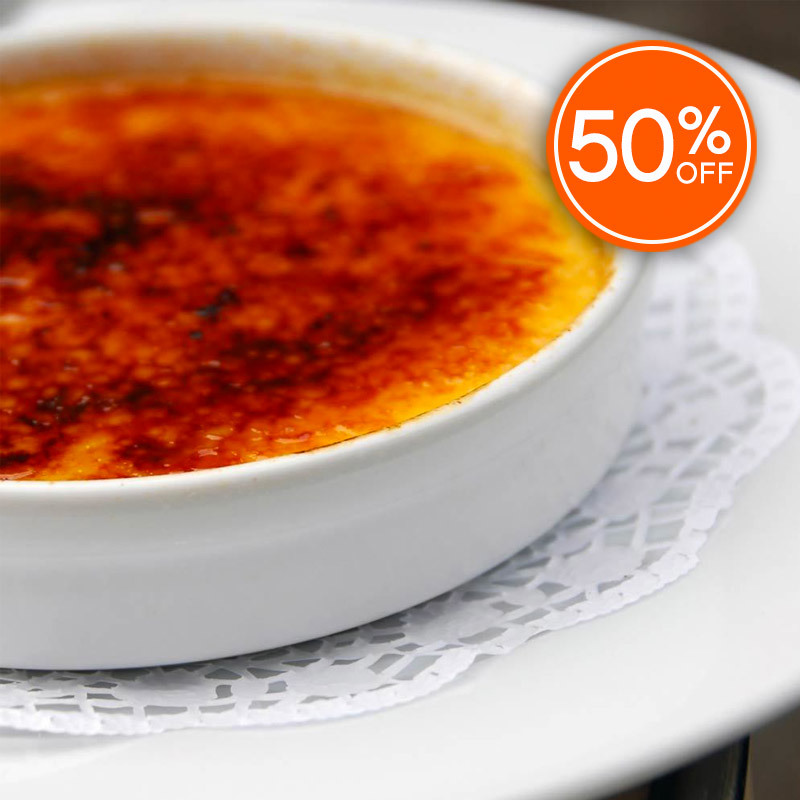 As of 07/08/2019:
This version of Creme Brulee (Discontinued Version) has been discontinued and replaced with the new Creme Brulee. Click here to check it out!
Details
REVISION NOTICE: It is CandleScience policy to notify customers if any part of a fragrance was changed for any reason.
As of May 2, 2019 our Creme Brulee was revised to meet our new stringent safety standards of being Phthalate-free. See new version.
A traditional base of vanilla custard with a hint of caramelized sugar. Note Profile:
Top: Sugar
Middle: Cream, Butter
Base: Caramel, Vanilla, Maple
Suggested Colors: Ivory, Gold
See our complete list of candle making dyes and soap colorants.
Note: Bottles filled by weight, levels may vary.
Properties
Candle Safe

Yes

Usage: 3-10%
Soap Safe

Yes

Usage: 3-6%
Vanillin Content
2.01% - 5%
Soy Performance
Flashpoint
210 °F
Phthalate Free
No
Prop 65 Warning Required
No
Diffuser Base Compatible
No
*Usage amounts are recommendations only. Individual usage amounts can vary based on your desired fragrance strength, wax type, soap base, or lotion base. See IFRA certificate for max usage levels.
Documents

Reviews
Very vanilla cake smelling
This was a sweet scent but was lacking something so mixing this and very vanilla gave a buttercream frosting candle for me. Cold throw and hot throw came through great
My customers are in love with this scent. One of the best I purchased so far. I will be buying this in a larger quantity due to the high demand for this scent. Thank You!!!
Not popular at all with my clients. Has a weird alcohol scent.
Incredible fresh baked scent. Could pass for cookie dough, sugar cookies, or a sweet icing but is absolutely delicious and a holiday favorite.
I wasn't sure about this sent but when I opened the bottle I was glad I bought it, has both hot and cold throw! I will be buying again!
I got this because a customer requested this scent by name, but I feel like its missing "something" can't quite put my finger on what that "something" is, I think I would like it to be a little sweeter. None of my testers cared for this scent, so I didn't add it to my line. used in 464
It was a nice calming scent that I made into a sugar scrub
I made candles & wax melts with this scent. The cold throw is strong. The hot throw in wax melts, will fill a very large space in minutes!!! This scent is very strong, sweet & syrupy. I think of pancake syrup every time I smell it. It's not one of my personal favorites, but that's because I don't like pancakes!! Like all Candlescience oils, this is a top quality oil!!
My customers cannot get enough of this scent! Very strong HT and CT! I do all my candles with 8% fragrance.
This is one of my best sellers. People love it.
Very nice cold and hot throw. One of my top sellers!
One of my favorites! I like sweet, yummy scents, and this is one of them!
I made parasoy tarts with this fragrance, and there was hardly and sent throw. I could only smell it when I was leaning over the warmer.
When i was making this candle my boyfriend asked if i was making pancakes hahaha! It has a sweet and syrup scent and great cold and hot throw. I love it
I love the smell and it smells wonderful its not a scent I would always burn
This fragrance is great! It throws great and consumes the whole room! The only reason I did not give it 5 stars is because it doesn't really smell that much like creme brule. (I use Golden Brands 464)
I used this with 464 Soy wax and it SMELLS AMAZING it legit smells like Creme Brulee, i absolutely love it and totally recommend it!
I made the mistake of purchasing (2) 16oz bottles from another supplier (NG),,,BIG MISTAKE, the fragrance (if you can call it fragrant) was so flat cold or hot, Yours rocks...Da best
Very strong throw in Para-Soy
This is my favorite fragrance so far. In the parasoy blend the fragrance fills the house with a warm caramelly glow.
This has become one of my favorite scents! The fragrance is wonderful and a tart filled most of my house. I used it in ecosoya PB and in 444.
Smelly just like creme brulee! Creamy vanilla and the brown sugar is strongly noted here. Try it.
This scent smells so yummy, but wish it was stronger.
This is so yummy and sweet and creamy...I just want to eat it from the jar!! Awesome scent...I use GW464.
Pleople say they can smell the sugar on top. Great one another for my regular line