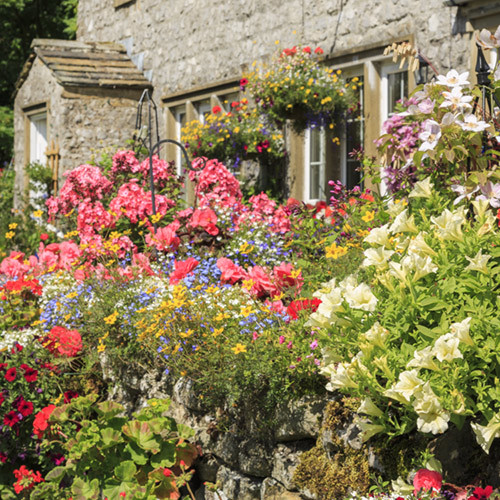 Ready to Order?
6+ 5lb Jugs
$79.94
$1.00 /oz
12+ 5lb Jugs
$71.94
$0.90 /oz
Safer Scents For The Home
CandleScience Clean Scents™ are free from carcinogens, reproductive toxins, and other potentially hazardous chemicals often found in fragrance. Choose Clean Scents and create safer home fragrance products you and your customers can enjoy with confidence.
Read More >
Details
Be swept away to a garden exploding in full bloom with our fresh, botanical English Garden fragrance oil. It starts with subtle notes of green florals with a heart of lilac, rose, and jasmine. If you're looking for a beautiful floral fragrance that will transform your creations into bursting bouquets, this is it. English Garden candles and diffusers fit wherever or whenever you want to uplift a space with lush florals. Create amazing soaps, scrubs, and lotions that smell like high-end department store products. This is a must-have scent for floral lovers.
This fragrance oil is infused with natural essential oils, including ylang ylang oil.
Blends well with: Wild Rose, Neroli and White Jasmine, French Lilac, Fresh Cut Grass
Alternative branding ideas: Summer Cottage, Garden Escape
Note Profile:
Top: Lily of the Valley, Green Leaves, Pear
Middle: Lilac, Rose, Jasmine
Base: Vanilla, Carnation
Note: Bottles filled by weight, levels may vary.
Properties
Candle Safe

Yes

Usage: 3-10%
Soap Safe

Yes

Usage: 3-6%
Vanillin Content
0.01% - 2%
Soy Performance
Flashpoint
198 °F
Phthalate Free
Yes
Prop 65 Warning Required
No
Diffuser Base Compatible
Yes; Up to 15%
*Usage amounts are recommendations only. Individual usage amounts can vary based on your desired fragrance strength, wax type, soap base, or lotion base. See IFRA certificate for max usage levels.
Documents


Cold Process Soap Performance
| Acceleration | Discoloration | Separation |
| --- | --- | --- |
| Moderate | Tan | None |
Lye Water Temperature 110ºF
Oil temperature 119ºF
We experienced a moderate amount of acceleration, but no separation occurred. The fragrance is fast-moving so prepare to work quickly. We suggest adding the fragrance as late as possible to allow for more time to work. Once the soap was in the mold, we noticed it reached a full gel within 30 minutes with no insulation. After 24 hours there was no discoloration, and the scent was mild. We did not see any sign of overheating. After the cure, the soap had a tan shade, and the scent was mild. Because this fragrance accelerates, a single color or a simple layer design is best.
Reviews
Excellent HT and CT IGI 6006 - Accelerates trace in CP but it is worthy!
Can not keep this is in stock, it smells amazing. It does accelerates the trace in CP soapmaking, so don't plan swirls or complicated desings, the fragance stays form months, its amazing. I started getting 16 oz bottles, now I only buy 5 lbs. Thank you Candle Science!
Beautiful, clean. Not too floral, with just the right amount of a fresh cut grass scent blended into it.
Smell great, failed batch of soap
I soap at 85-88 degrees and never had a problem with a FO before. Well there is always time for a first in everything, SOAP ON A STICK after a minute. I will NEVER buy this one again. even using a whisk and soaping at a lower temp. ~BAM~ I'm hoping I can us the batch for hand molded rocks but we will see about that. It smells wonder but just lost a 12 pound batch of soap.
We can't keep this fragrance in stock!
This fragrance is a huge seller for us for us this Spring for both container candles and wax melts! Will need to move to the 5 lb jug option next to ensure we always have a supply.
Great Smelling Scent a Pain to Work With
I absolutely love this scent for the smell, it gives a great cold and hot throw. My customers love it and come back for more and tell me how calming it is and how the candle fills the house with the scent. On the other side, I have found it to be very difficult to work with when making candles. I use 464 golden brands and heat to 185 add scent in at 135 poor at 120. I use an 8% FO load. All of my FOs work well with those temperatures but English Garden always has a very strange reaction. I make sure to stir in this FO very well but yet it still gives me issues. I have heard people say that it is a love-hate relationship and I have to agree.
I wanted this to work so bad
This fragrance smells amazing, it was exactly what I wanted for my soap, but it didn't play nice. I did a 100% olive oil soap with a 5% super fat percentage and just brought it to a loose trace. I added the fragrance and in the time it took me to grab a spatula off the counter the soap was solid. I was able to mash it into a mold and it's put away to finish setting. I'm hoping the texture and pH is okay cuz they'd make nice sample bars once they are cut up. If you like this sent I think it's best to stick with candles or other bath products
I absolutely LOVE this scent!!!Smells like a room of fresh flowers.
English Garden is floral and sweet, but not perfumy.
PERFECT blend of jasmine, lilac, and lilies. Slight hint of rose for me, not a whole lot. Mostly jasmine and lilac. It's tantalizing and makes me close my eyes and sigh. It is very strong though, 10% FL in soy and it's so potent I'm going to have to cut it back. I now use paraffin/soy blend so I imagine it will be stronger, I will start with 6% and see how it goes! Going to be a part of my Spring line and the only scent in my candles that I will use on its own, I usually make custom blends; it's just that good!
I love the garden smell of this scent!!!
Smells like lilacs. Very strong scent in candles
Most beautiful rose-first scent ever
I don't understand. I don't even LIKE rose scents. I don't need another rose-forward scent, because I use a Sandalwood Rose in my sampler and it does very well. But I just keep making soap out of it. It's a fast mover, no ricing for me but I've got a fairly rice-proof recipe. It just smells so darned good and comforting to me. My mom was a florist in a small Indiana town, and this smells exactly like her work; a little Indiana floral shop with mostly roses, carnations, some lilies, some green, and not a ton of exotics. My husband said it smells exactly like a grocery store bouquet, which made me laugh but was kind of spot on, because grocery store floral areas also carry the basics without anything too fancy or expensive. I'll keep buying it, because it's just wonderful.
Lovely scent, but did not perform well in my cold process soap. Due to reviews, I was expecting some ricing and added it last minute to my soap batter...but it still riced and I was unable to blend it out. My final soap is a bit lumpy, but smells great.
English Garden Smells Heavenly
For Christmas this year I made my coworkers and my husbands coworkers candles. I got so many compliments and people wanting to buy more. I would NEVER go to Hobby Lobby to get my candle supplies again. The quality is so much better and proven with my results.
I got a 4oz. bottle to try it & I'll be adding a larger bottle to my next order. Smells just like a rose & it's one of my top scents that has the best hot throw. Thanks & please don't discontinue this one!! ;)
Great cold and warm throw scent; smells exactly like the description!
Cold Throw is okay, Hot Throw is non-existent
I use Golden 464 soy wax for reference, 8oz metal tins, and CD18 wicks. After my third time burning these, there is just no scent to this. A real bummer since it was a true garden scent while it lasted!
Smells exactly like a wildflower garden! Love it!
I originally liked the smell of this one but after burning for 3 hours I cant smell it :(
If you love floral, then you're going to love this!
I personally am not a big fan of my house smelling like a garden, I prefer the clean/citrus/beach-y scents. This scent almost smells like flonase to me. It's okay but just not for me!
I'm not a big fan of florals but I'm from England and can say this does smell like an English garden for sure!
I am honestly not a huge floral fan to begin with, but had clients that were really wanting one. I decided to give English Garden a try and it turned out awesome! Definitely more of a complex floral scent but the levels and dimension make it great. I'm excited to add it to my line as "Country Wild Flowers."
this is a really well-rounded floral scent. I chose this over a specific flower scent because I really wanted that general 'floral garden' smell, and it definitely fit the bill!! will definitely order again, i love it!
Lovely mixed with Rose gelato
I wanted a pretty floral but nothing too overpowering. I liked English garden, but wanted a little more Rose and more sweetness so I blended with Rose petal gelato and I love it! It has both a lovely cold and hot throw and that something special that makes you think when you smell it!
Makes my home smell like a flower shop. I love it! Will buy again and again.
I'm not even a floral fragrance lover, but this one crossed me over. Such a stunning and organic blend of floral. Exceptional hot/cold throws, blends beautifully with paraffin and also blends seamlessly with other oils for signature scents. CandleScience knocks it out of the park again.
We use English Garden in our Spring collection every year. It's our bestselling floral scent. It's got the perfect amount of sweetness to it and has a very strong cold and hot throw, but beware because it may be too strong for some. We use at 10% in 464 wax
Only negative is that we always have to reheat the tops when pouring this scent, we can never get a smooth top regardless of what we do. Bumpy, sinkholes, poor adhesion...
Smells amazing, but not for use in CP soap unless you're prepared!
I made a batch of CP soap with this yesterday. I saw that the notes said it would accelerate trace, which is absolutely did, but I saw no mention of ricing. As I mixed the fragrance oil in (I was at light to medium trace), it immediately riced. I tried to stick blend it out as much as possible, but to no avail. I mashed it into my mold as quickly as possible, but still ended up with air pockets and CHUNKS of fragrance oil that had riced.
All in all, the soap smells great, and I love the fragrance, so definitely try this one out in other mediums. As for this batch, I will have to turn it into laundry soap. :)
It's the perfect floral! One of our top sellers for spring and summer. 464 10% fo. Great throws!
This is NOT a strong hot or cold throw It would be ok in a bathroom but NOT a whole house fragrance.
If your looking for strong this is not it.
My Batch; 72oz(6-12oz jars) 464 wax I use 6oz fragrance One week cure time.
Great smell but hard to work with
I used it in cold process soap, it immediately started ricing and by the time I sat the rubber spatula down to move the mold it was a solid so I scooped and smashed it into the mold with a big spoon. It smells fantastic so I hope that some of it turns out and it isn't a complete wash. I will use in lotions too.
Looking for the perfect floral scent?
If I were to go to England and browse through countryside gardens, this is what I would expect the breeze to smell like. Customer response to this scent in bar soap was through the top. Sold out. It's a good one to try. A++
This FO is the perfect floral garden scent! Definitely a must try!
I give this fragrance 5 stars for the scent as well as the notes about the performance. This smells AWESOME in my CP soap and has a beautiful and lasting sent. It did accelerate trace, but I whisked in right before pouring into my mould and did not have any issues. It cut and cured beautifully and 5 1/2 weeks later still smells amazing. The soap description saved my life as I had a totally different idea for this fragrance before reading & changed to a single color which saved my soap.
Owner of online candle store
This fragrance is lovely but it accelerates the soap a lot. I did add it at the last minute, and it started ricing. It is still in mold as I write this. I am hoping the finished product is not ruined. I bought more than a sample so I guess I will have to learn how to make candles to use up the remaining fragrance.
I ordered this oil when the 1 oz oils were recently on sale. Great gold throw and I am currently testing it in my master bathroom. Amazing floral but not overpowering. I can smell it as soon as I start into the master bedroom. Will definitely order again!!
I love this scent. My soy candles sell out quickly! However, this scent does not work for soap making. I use 50% coconut, 25% olive, and 25% grape seed oils. I followed the directions about adding at the last minute. I have tried twice but it turns to a chunky mess before it's in my loaf mold. The soap is unusable.
Beautiful fragrance. Nice blend of lightly sweet and gentle florals.
I absolutely love the scent, but I can't seem to get a clean pour with this fragrance.
I heat my 464 to 180, mix fragrance at 160, and pour at 110. This works perfectly for all of my candles except this scent. It seems as if the fragrance never blends correctly, and the candle is a weird texture, and somewhat wet once set.
Works fine with my 4 oz tins, but 10oz straight sides jars, they're hideous.
Great but way too strong at 10% - next time I will use 5%
English Garden is primarily a rose smell. Customers really like it! I use this one during the summer, but I think this one could be appropriate through the fall too. It has one of the strongest hot throws in my line at a 9% fragrance load.
I have problems keeping this candle in stock. Smells amazing and is quite strong when lit. My customers love it!
This is a beautiful clean FO. I have only used it in soaps and it is wonderful. It is green and flower without being bitter or too sweet. It has the perfect name and picture for it. It feels like I am walking through a garden on a rainy day in London. I would not use it on candles just because I know my demographic, but I think it is perfect for body products.
This is my absolute favorite floral from any company! I use 10% fragrance load in my soy candles and even after curing for only a few days it's got an amazing hot throw. It makes a beautiful, feminine liquid hand soap and lotion as well. It truly smells like walking into a spring garden. A wonderful floral scent without being sweet and it's great for those who enjoy florals but typically get headaches from them because this scent isn't cloying at all. Love love love 💕
I decided I wanted to start making candles so I came to Candle Science for my supplies. Usually when I buy candles (Yankee or BBW) I stay away from floral scents because I have allergies (and I'm making candles, LOL). Maybe the fourth time I made candles I tried English Garden. I used GB464 (2lb) and 2oz. The cold throw was beautiful. I waited almost a week to light one to do a burn test and to check the hot throw. This sent does not disappoint! This is my favorite one so far. I know at some point I have to blow out the candle, but I really don't want to.
Smells EXACTLY like a fresh bouquet of flowers! Very impressed with this one!
I love this scent! It smells like a lawn lined with tons of flower bushes!
Lover of all flowers. Can't wait to try in my parasoy. Purchasing a bigger bottle.
Great Floral but not sweet
Used at 9% in Para soy blend and the smell is amazing. It is selling so fast I'm going to have to reorder a couple big bottles
My mother is a floral designer and this fragrance combo is all too familiar to me. Bouquet of wild flowers captured in a bottle.
I poured this today although I have had the oil for a while. IT IS LOVELY.
This smells like a countryside of flowers. If you love florals, this is an amazing mix of many floral scents.
I haven't put it on the shelves yet so I cannot speak to its reputation yet. I can't see that anyone that loved a sweet floral scent would not like this.