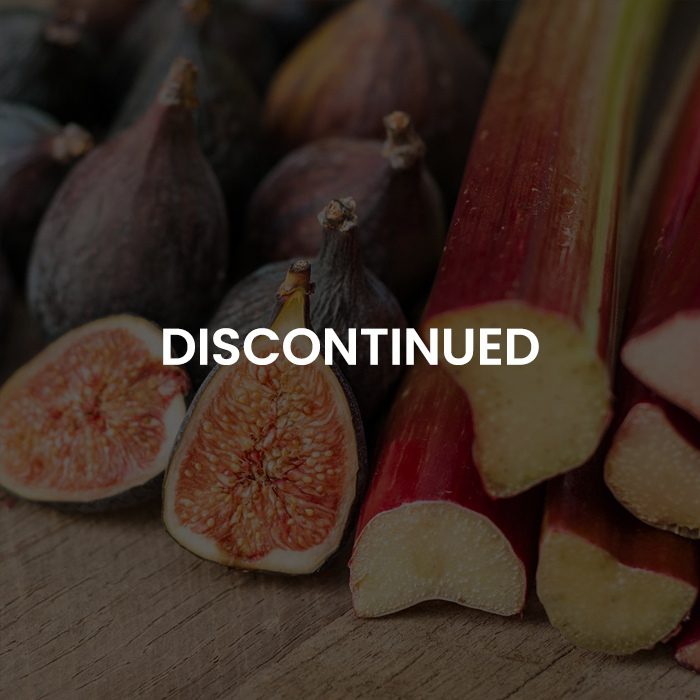 As of 05/06/2021:
This product is discontinued and no longer available.
Details
Note: For a similar fragrance, we recommend trying a blend of Fig Tree with Pomegranate Bitters (75/25).
Far too few have experienced the flavor burst of fresh figs - notes of strawberry, currant, and blackberry with a depth and character all its own. We've balanced the sweetness with tart notes of rhubarb to create an unusually sophisticated take on a spring and summer fragrance.
This fragrance is infused with natural essential oils, including Orange and Pine. Note Profile:
Top: Rhubarb, Red Currant, Strawberry
Middle: Fig, Blackberry
Base: Vanilla, Wood


Suggested Colors: Red
See our complete list of candle making dyes and soap colorants.
Note: Bottles filled by weight, levels may vary.
Properties
Candle Safe

Yes

Usage: 3-10%
Soap Safe

Yes

Usage: 3-6%
Vanillin Content
2.01% - 5%
Soy Performance
Flashpoint
208 °F
Phthalate Free
Yes
Prop 65 Warning Required
No
Diffuser Base Compatible
Yes; Up to 25%
*Usage amounts are recommendations only. Individual usage amounts can vary based on your desired fragrance strength, wax type, soap base, or lotion base. See IFRA certificate for max usage levels.
Documents


Cold Process Soap Performance
| Acceleration | Discoloration | Separation |
| --- | --- | --- |
| None | Brown | None |
Lye Water temperature 103ºF
Oil temperature 109ºF
We did not experience acceleration or separation. The soap batter did turn bright yellow when it reached a light trace. After 24 hours the soap was a honey mustard brown and quite strong. After curing, the soap bars were brown with a strong scent. A darker color palette would be ideal for this fragrance. Reserve a small amount of soap before adding fragrance to add a light color swirl to your design.
Reviews
This was a best seller for me. Please reconsider discontinuation.
I am SO sad that you decided to discontinue Fig and Rhubarb! we have SO many people that love this scent!!
I LOVED this Fig and Rhubarb scent and so did my customers! Please bring it back!
One of our best sellers was this fragrance. 😭. Please revise it!!! This is the 3rd time this has happened to us. Perhaps we need to shop elsewhere, unfortunately.
SO UPSET that this has been discontinued! No suggestion of a replacement will do. Please bring back or create new rhubarb scent! My rhubarb candle is my best seller and I just spent hundreds of dollars in labels only to get an email that the scent is discontinued. I don't need the fig....but I must have rhubarb! PLEASE CANDLE SCIENCE I beg you!
I had created a gorgeous fruity pebbles fragrance with this oil as a crucial part of the blend! my customers genuinely loved this fragrance and it was one of my best sellers! I just ran out of my 8 ounce bottle and came back to order more, only to find that would not be possible. Please bring this back or create something similar!! I have loyal customers who buy this fragrance regularly! I'm dismayed!
I worked since last August creating a custom blend with this scent I was going to launch in May. I am super duper bummed this is discontinued. I really need you to create a new Rhubarb scent or bring this back please!!!
A full year of work down the drain now. Love this scent
I just launched a full line of potpourri, bath & body, candles and room sprays with this scent. How can you dump it already? Is it just being remade? I mean my labels for all this just came yesterday!
I ordered a 1 oz to try it out , LOVED it & had planned to use in my new collection only to find out it's been discontinued. So disappointed!
I really like this scent. Please bring it back. I was getting ready to launch my candle line and this was the first scent to be introduced.
I formulated the best fruity fragrance and this is one of the ingredients.. pls bring it back!!!!
I'm SO disappointed that Candlescience discontinued this scent!! This is my all-time favorite scent personally and it has done the best in my spring line as well. I would've bought 200 lbs had I known this was going to happen! The suggestion for the replacement was a mixture of fig tree and pomegranate bitters. I really hope that works. Again, super disappointed!!!
This fragrance is delightful out of the bottle but gave off no throw at 9.5% in coconut wax. I couldn't smell a thing except for when standing directly above it
This is the perfect amount of Fig with wonderful sweet notes. There is a hint of green to this fragrance that adds a nice touch. Also very clean smelling. Very nice fragrance.
I haven't experienced what others are saying about the hot throw smelling odd. Maybe that is because I mix it with another CS fragrance. I am so pleased with the outcome. It is gorgeous and very unique. It has the perfect cold and hot throw. I just ordered more.
smells great to me! 9% in 464. great ct and ht! will add to my line!
cold throw very different from Hot throw
So disappointed with the throw when burning. I used 2 oz. to 1 lb, of 464 and couldn't smell it burning. Had to refund customers. I have removed it from my line.
This is a nice clean scent. The cold throw is fantastic. I used 1oz to 1lb 464 soy, but I think I'll have to add more. It wasn't as strong as I would have liked. I am however determined to get the right percentage so as to produce a strong hot throw. I gave it a 5 because I suppose with the correct ratio it'll be fantastic once lit! I'll let you know.
I bought a small bottle of this before reading the reviews and I'm happy I did. I might not have gone for it if I'd seen how others have reacted. Personally, I love this scent! It's very sweet and warm. It would make a nice spring/summer scent. The fig really stands out, but the rhubarb is hovering around as well. It's a superb scent and I plan to get more.
I imagine that this will be a great seller in the summer months. I sort of bought this on a whim after reading the reviews without understanding what it would smell like. It does smell literally like the description. Very nice.
I only ordered a small bottle of this one at first. I am now ordering a large bottle. I haven't made a candle with the oil yet, but based on my experience with other Candlescience oils I'm sure it will have great scent throw. I smell the perfect mix of sweet and tart. The soft berry notes come through when smelling straight from the bottle. Plan to mix this with a Strawberry Rhubarb scent I currently own. Will be a nice addition to my new "Farmhouse" candle collection this spring!
This reminds me of Partylite's Strawberry Rhubarb which I adore. The rhubarb isn't in your face, it's sweetened with figs, strawberries and other fruits. I tested in parasoy and paraffin and the scent in the parasoy wax melt lasted 20 hrs. I will carry this in my line, great scent.
awesome and very popular
can't keep it stocked
strong throw
unique and very pleasant
I wanted to try this fragrance because I trust Candle Science, and I've enjoyed the other Fig fragrances that they offer. I'm glad that I did!
I've smelled real fig and and rhubarb, separately, and I'd have to say the hot throw is dead on. The fig is a deep rich sweet smell and the rhubarb adds a sharp tartness, resulting in a one of a kind fragrance. It is unfortunate that the majority of reviewers paid no mind to the description before leaving a poor review.
I wanted to take a chance on this scent, so ignoring the reviews ( I mean, we all can't love the same thing all the time, can we?) I ordered. I really didn't like the fragrance even from the bottle, but since I only ordered 1 oz. I decided to give it a fair chance. It does have a slightly more appealing fragrance cold, and I mean SLIGHTLY, but that undertone is there. I had a headache within 5 minutes of pouring and even afterwards with burning. I wouldn't recommend this one.
overwhelming difficult to bear
I wanted to like this so much and it smelled wonderful from the bottle but what get you first is the fig. I love fig. I made this in cphp kind of soap and. Now I have a headache. some scent overtook my fig making it unbearable. It smells like burnt rubber mixed with fig. So sad but I'm glad I bought 1oz only
I don't know what it is about fig, but every time I try a scent with fig in it I can't stand it. I was so hoping the rhubarb would be the dominant scent but it wasn't!
I really wanted to love this one. Out of the bottle and the cold throw is really beautiful. The hot throw, though, has a very very strange undertone that I just could not shake. When we left it burning and came back in it has this weird scent of trash or mold, I actually looked around for some trash that hadn't been thrown out, but it was the candle. My husband likes all the scents and this one he just couldn't take.
I LOVE this scent. I am new to candle making and purchased this on a whim when it was on special even though I had no clue what Rhubarb smelled like, and it ended up being our favorite of the 13 scents we ordered. I used the 1oz sample bottle in 1 pound of GB 464 and think I may try 1.25oz fragrance next time. The hot/cold throw was pleasant, but could be a bit stronger in my opinion. Overall, AMAZING scent that is fresh and not too sweet.