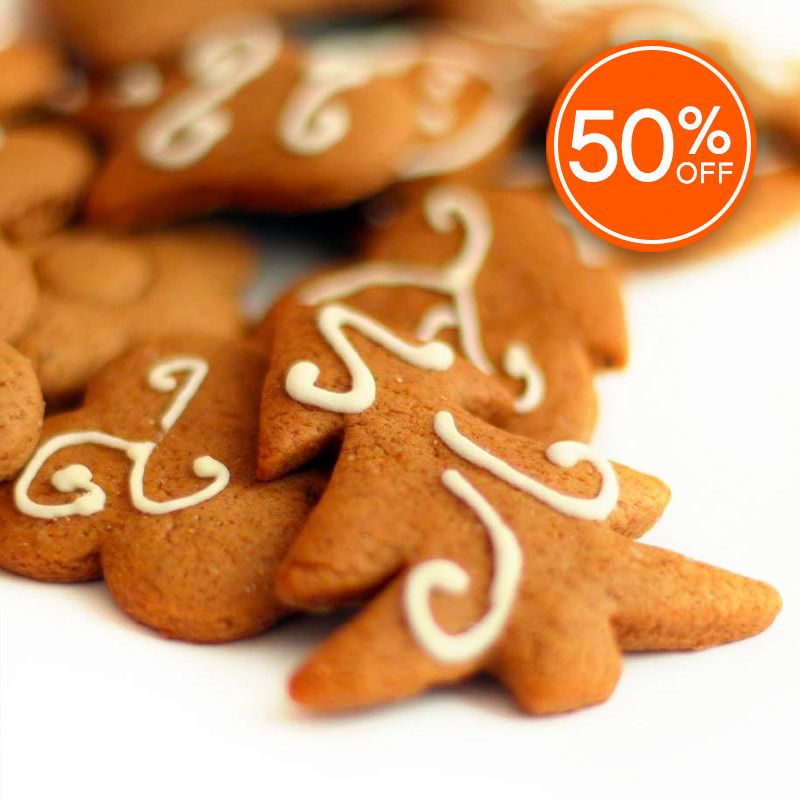 As of 03/28/2020:
This version of Gingerbread (Discontinued Version) has been discontinued and replaced with the new Gingerbread. Click here to check it out!
Details
REVISION NOTICE: It is CandleScience policy to notify customers if any part of a fragrance was changed for any reason.
As of January 16, 2020 our Gingerbread was revised to meet our new stringent safety standards to remove ingredients on the Prop 65 List. See new version.
Sweet and warm with a ginger kick, our Gingerbread fragrance combines warm vanilla and spices for a homemade, fresh from the oven gingerbread scent. This fragrance oil is infused with natural essential oils including Cinnamon leaf. Note Profile:
Top: Cinnamon, Nutmeg, Cardamon
Middle: Ginger, Clove, Cherry
Base: Caramel, Vanilla, Sugar


Suggested Colors: Any shade of Brown
See our complete list of candle making dyes and soap colorants.
Note: Bottles filled by weight, levels may vary.
Properties
Candle Safe

Yes

Usage: 3-10%
Soap Safe

Yes

Usage: 2-3%
Vanillin Content
0%
Soy Performance
Flashpoint
212 °F
Phthalate Free
Yes
Prop 65 Warning Required

Yes

Diffuser Base Compatible
Yes; Up to 25%
*Usage amounts are recommendations only. Individual usage amounts can vary based on your desired fragrance strength, wax type, soap base, or lotion base. See IFRA certificate for max usage levels.
**Warning: This product can expose you to methyl eugenol, which is known to the State of California to cause cancer. For more information go to www.P65Warnings.ca.gov.
Documents


Reviews
It doesn't smell bad but definitely doesn't smell like gingerbread I was quite disappointed
I got this scent last year when candle science had there sale on sample sizes. When i went to look at reviews on the scent to see what the throw in soap was like i was dissappointed to see not alot of poeple enjoyed the scent saying it was to spicy and not enough of the cookie!. BUUUT.. at a 2% in MP soap this scent smells amazing. I have to put a dont eat the soap label onto my soaps now cause they will smell like gingerbread :)
Gingerbread fragrance oil
This scent was suggested by CS as great in 464. I loved it until I lit it. It just smells like something is burning. I use 3" diameter masons. CD18 was wick to use per guide and 1.5 oz FO per pound per pound of wax. Not a fan
AMAZING cold and hot throw in 464 with 10% fragrance load. Love, love this one!
Could have a little stronger hot throw but overall I love this one and so do customers.
It is ok, but I wish it had some buttery notes. Just smells like spice to me without the cookie.
Total winner, sold out extremely fast. Don't be fooled by the slightly off-putting 'from-the-bottle' smell - smells like a chemical alcohol - once you make the candles it will smell absolutely amazing. I use 11% in GB464 and it smells fantastic.
I am new to candle making and prefer a very strong scent, which I am learning is harder to achieve with soy wax than with paraffin. That said, I'll never use another paraffin wax candle and LOVE the soy wax. The Gingerbread cold and hot throw is amazing with the soy wax I'm using. The fragrance is reasonably strong. It seems that the soy candles have to burn longer to get the full impact of the hot throw, but this scent is better than any other I've tried so far. Love, love, love and it will definitely order more.
Only CandleScience scent I don't like
I tried this a few years ago, and I guess some people love this scent, but this has been the only one I don't like from CandleScience. I'm a little afraid to try the other fragrance oils which are similar.
I ordered a large bottle of Gingerbread for the first time because I figured it would be a hit in my candles. However, opening the bottle I was hit with an overpowering alcoholic smell, sort of like vodka mixed with expo markers. I hoped it would smell better set in a candle, but I was wrong. It was still a disgusting scent that I could never sell or even give to anyone else. Luckily, candlescience products are priced very well, so I didn't lose out too much on this purchase, but it was still very disappointing.
Amazing Hot and Cold throw
I am not sure what some people are talking about. This is an amazing scent hot and cold. I have been ordering this scent for a few years around the holiday season and customers love it! I use 2oz per 1lb 464 soy and eco wicks. I made a 1lb candle for my grandma about 4yrs ago. She only burns it at Christmas time. She still has it and it still has an amazing hot and cold throw!
It's a good Christmas scent but to me it's not gingerbread. Maybe because I am a baker I'm just picky....who knows lol. I do like the scent but to me it doesn't scream gingerbread.
Produces a very nice scent using your formula of 1oz/1lb in Soy 464.
My biggest complaint CS...Your shipping prices. I have found a competitor that ships for way less. Their products are a few cents cheaper too. But your products being a few cents higher isn't a deal breaker for me, it's the shipping cost you guys charge. 5 stars for product only!
Excellent in cold process soap. Will be ordering more.
Wonderful in cold process soap. One week into the cure and it has not yet faded.
This isn't exactly how I want my gingerbread to smell, but it's still good. It's just a little heavier than I want. I use Hansel & Gretel's House for my cookie scent at the moment.
Gives a bit of a sharp cold throw in GB464 but when lit it mellows out and smells like its baked good counterpart. Hot throw offers nice spiciness with gentle buttery undertones.
Smells like CURRY when burning
I had multiple customers tell me that it smells like CURRY when burning! I burnt it myself and thought it was my boyfriend because he works in a kitchen. LOL! I use 464 and eco wicks. It totally sucked and was embarrassing!
This is a nice, strong gingerbread and throws well in EcoSoya PB. It doesn't smell artificial, but after a few hours there's a sharpness to it that starts to give me a headache. If that note (I can't describe what it is) were a bit more mellow, it would be perfect!
Wow! With so many holiday FOs spicing up our candles, what a pleasant surprise. Soft sweet Gingerbread! You'll be getting out the mixing bowls after the pour .... a team of Gingerbread Men from the oven to go with the glow. In ours we dribbled a few drops of yellow & orange to give a depth to the golden brown. Hearthside beauties!
LOVE it - had to get more!
I got this as a free sample yesterday, used it in GB 464 to make candles last night, and ordered more today. My Gingerbread candles smell so good, I HAD to burn one, even though I just made them last night. Smells just like the real thing. I can't wait until my new order comes so I can make more Gingerbread candles and use my Ecosoya PB to make votives and tarts!
I use 464 wax. I was disappointed with the scent. Not very strong smell.
Great cold throw, not so great hot??
This smelled absolutely wonderful while making and after curing. Excatly like baking gingerbread. But while burning there is a bit of a smoky smell but nothing is smoking. Like an earlier reviewer said, it smells a bit like burning leaves???
Good cold and hot throws. It filled my room in less than 1 hour. However, sometimes it smells more like burning leaves than Gingerbread(which I like anyway). I am using Ecosoya Advanced. I definitely plan to purchase more. Thanks again Candle Science.
Exactly like gingerbread cookies
I primarily make body products, room sprays and reed diffusers. I did this as room spray and just mixed up reed diffuser with CS base and reeds. I bake a fair amount of gingerbread cookies and make gingerbread houses. This smells dead on exactly what my gingerbread cookies smell like. And as usuall the reed diffuser started having noticible scent in about an hour. The room smells fantastic!!!