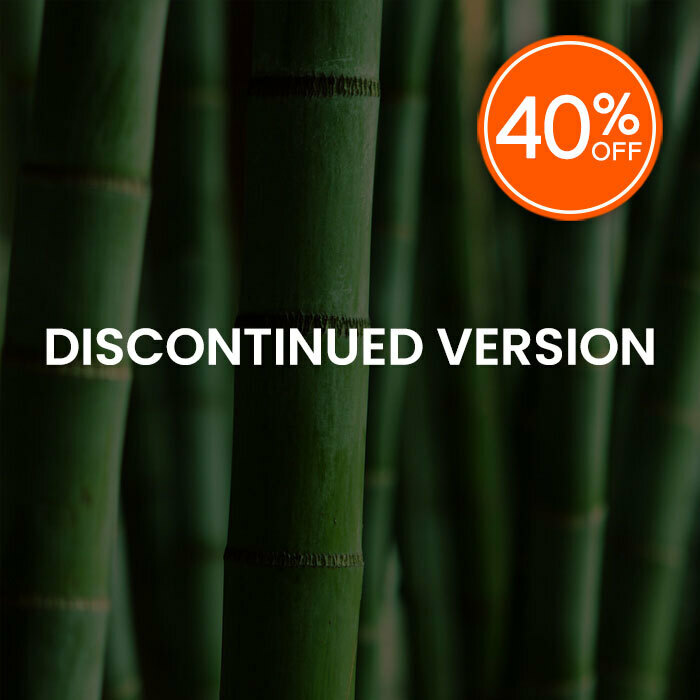 Himalayan Bamboo Revision:
It is CandleScience policy to notify customers if any part of a fragrance has been changed for any reason...even when the revised fragrance cannot be distinguished from the old one by our fragrance testing panel.
Our Himalayan Bamboo has been revised to meet our new stringent safety standards to remove ingredients with similar characteristics to those on the Prop 65 List. The revised fragrance maintains the original strength and fragrance characteristics, so you will be able to use the revised fragrance worry-free. The new version is now available.
Details
Himalayan Bamboo fragrance oil is now 40% off.
1 oz bottle original price - $2.65

 

4 oz bottle original price - $8.92
8 oz bottle original price - $13.51
16 oz bottle original price - $20.95
5 lb jug original price - $94.27
A complex union of bamboo foliage and green florals. The natural, subtle character of this fragrance is calming rather than overwhelming, so it is well suited for a high-end or aroma-therapy line - where a room filling, not house filling fragrance is desired.
This fragrance oil is infused with natural essential oils including Bergamot.
Note Profile:
Top: Bergamot, Lime, Grass
Middle: Green Leaves, Cucumber
Base: Bamboo, Violet


Suggested Colors: Green, Brown
See our complete list of candle making dyes and soap colorants.
Note: Bottles filled by weight, levels may vary.
Properties
Candle Safe

Yes

Usage: 3-10%
Soap Safe

Yes

Usage: 3-6%
Vanillin Content
0%
Soy Performance
Flashpoint
207 °F
Phthalate Free
Yes
Prop 65 Warning Required
No
Diffuser Base Compatible
No
*Usage amounts are recommendations only. Individual usage amounts can vary based on your desired fragrance strength, wax type, soap base, or lotion base. See IFRA certificate for max usage levels.
Documents


Cold Process Soap Performance
| Acceleration | Discoloration | Separation |
| --- | --- | --- |
| Moderate | None | None |
Lye Water temperature 109ºF
Oil temperature 104ºF
We did experience a moderate amount of acceleration, but no separation occurred. The batter came to a thick trace very quick, and the batter seemed workable for a very short period of time. We did not see any signs of discoloration and the scent was strong. We observed signs of a partial gel with minimal insulation. A single color or layered design would be ideal for this fragrance.
Reviews
Smells so nice!! Will be getting this one again!
Can't say I was a huge fan of this scent. It does smell fresh and clean, but to me it smells like a cheap suave shampoo. I haven't added it to my soy candles yet, so hopefully the smell is enhanced when I do!
My first experience with this particular bamboo fragrance was in my Goatsmilk M&P Soap Kit and it smells great! I plan on mixing this with some sort of rain scent. Love this!
Absolutely love this fragrance! I nor my husband can get enough of it! Smells so leafy and green.
Eh, can be great sometimes...
I've used this FO in CP, MP, and GB 464. It seized my batter up so quickly I barely had 5 seconds to shove it into the slab as fast as I could. I expected some moderate acceleration but I'd describe that as almost instant soap lol. Shall we call it time travel? Afterwards the scent morphed and wasn't so pleasant anymore which is a shame. I guess it just doesn't work for my recipe. On the other hand, it smells absolutely amazing in MP soap. HT and CT were non-existent in 464 for me.
Himalayan Bamboo is a beautiful, clean, spa like fragrance both out of bottle and in cold process soap. The scent was so captivating that I had to make soap within a couple of hours of smelling it. I soaped at 84 degrees with a small water discount and experienced a slight bit of ricing in one of three colorants in the soap. The ricing was easily blended out and still gave me a good while to create fluid swirls. The scents is still nice and true to the original scent in the finished soap after the soap has been cut.
I'm going to buy a much larger bottle to make lotion, bath bombs and candles sets. This one should be a best seller!
I got this in the starter kit, in the bottle the scent was alittle strong for me, but once I put it in the Melt & Pour soap and let it set up the scent is awesome. Looking forward to make more soaps with it.
I used this in cold process soap and it behaved very well! The scent retention is amazing! I have bars from last year and they smell like I just made them. This has a beautiful complex smell to it. It has a slight sweet note, some grass notes and just A wonderful freshness. This would mix well with any citrus, mint or a tropical flower. Will purchase again.
I love this scent! It is a light and calming scent, but still strong enough to make its presence known. I'd totally recommend for aromatherapy.
Owner of online candle store
I mix one part with two parts English garden and it is amazing in paraffin wax.
I ordered a sample of this on a whim, as it "sounded" fresh. It reminds me of the vacations we've taken at Emerald Isle, NC. You know, that early morning smell that the beach has just befor the sun beats down heating everything up? That is what this scent reminds me of. I used it in soap, but will be doing candles and wax tarts, as well, for themed gift baskets. So far, everyone that has smelled it wants something in this scent! I'm even keeping some for our house. :)
This is such a great clean scent..smells just like I thought bamboo would smell like. First time I did 10% FO in my 464..good HT, but not great..this last time, I did 12% FO and the HT is amazing! Will definitely buy more!
A bit of a challenge, but CP doable!
Not the easiest FO I've worked with, but the scent is worth it! This is such a beautiful depthy-green aroma! It's crisp, botanical & refreshing, like an excellent bamboo aroma should be, but at its base lies a lovely complexity that makes it so unique from others I've smelled! This is such a true, authentic, organic aroma, and the scent is wonderfully strong in my soap! There are tricks one should implement when soaping with this FO though. Let it be known however, that I did NOT use a slow-moving recipe, and did utilize a steep liquid discount (1.5:1), so this may be more workable in more forgiving recipes! For me, the only issues I ran into were moderate acceleration (still workable), and moderate ricing (was able to hand-stir back to smooth), but was able to execute a 3 color ITP swirl with no major problems I couldn't work around. The key was soaping at room-temp, and only blending just to emulsion. My accent colors I left unscented, and only added the FO to my main color. I quickly hand-stirred it in, then didn't hesitate to incorporate my remaining colors and immediately pour. You don't want to take your time with this FO, but if you keep your design simple, your temps low and walk away from the stick blender, you'll be A-OK, and the end result will be fabulous-smelling soap!! This FO did heat up quite a bit as well, so skip the CPOP & just insulate with a towel if you're wanting to promote gel phase. This is a wonderful FO I'd recommend and buy again!
I only give 5 stars if the smell fills my living room-this will scent a bathroom
This smells so beautiful in my Lampe Berger! I came upon this accidentally when someone swore that this smelled realistically like honeysuckle (which i does NOT at all imo). I am not displeased though! I usually prefer floral scents, but I know not everyone does, so I use this one when we have mixed company, like larger get togethers.
This is almost exactly what I imagine bamboo would smell like, except sweeter. I do not work with scents as a profession so I'm using these descriptive terms in a layman's fashion. The words that come to mind when I smell it are green, sweet, fresh, nature.
This is a nice light, fresh green scent that would be a great mixer but it does not play well in CP soap at all. Might be okay in HP soap. It completely seized up the soap and then caused the batch to separate into a lump of solid soap with a layer of liquid at the bottom. I did eventually get it to come together after putting it in a crock pot for about 30 minutes and mixing it within an inch of it's life. The scent might have morphed on me due to the cook, so I am not sure what the scent was suppose to smell like in a soap.
While spicier scents appeal most to me, I knew I needed a few good 'green' scents to add to the mix. This one did not disappoint. It has a shockingly big presence in my candles. I mixed 5% of this with a 5% mix of Birch Wood and Amber Noir. It turned out to be a candle blend that fills the room hot or cold.
To me this one is ok. It's not bad...maybe just not my thing. It smells like when you pick a fresh weed or plant and snap the stem in half. Weird description, I know, but that's what I smell.
I love this fragrance and it is selling very well. Used at 9% in Para soy blend. It's very green with a hint of lemon
Lovely fragrance - one of my best sellers
Great fragrance, subtle yet very pleasing. Most customers that smell this one describe it as "lovely". Great cold and hot throw. Great for anyone that is interested in an aromotheraphy type of fragrance to their line.
smells like grass with a coffee after tone did not like at all
Wish I could give it 6 stars
This one is simply amazing. It has the most beautiful scent. I did a festival this weekend and people went nuts over this one! I only had made a sample bottle..wish I had more.
Nice smell, medium scent throw.
A refreshing and pleasant aroma and a good but not great scent throw.
I primarily make body products and room sprays with this. Nice clean fresh. almost like a real cucumber fresh smell. really like it and so do customers.
This smells like a mix of honeydew and bamboo scent. Clean and a bit floral. I like it very much!
I really like this scent. Reminiscent of a clean bamboo forest.
Bought the sample size, and it smelled "green" with a floral note at the end. Used in GB 464, and everyone that smelled it really liked it. Has a nice floral cold throw (don't know where the green scent went) but is not giving a strong hot throw. Seems good for a bathroom, or somewhere that doesn't require a lot of scent. Overall, fresh and pleasant.
Immediately one of my Faves!
Got it as a sample and I love it. I'm not big on floral scents and was surprised to hear someone refer to it that way. Very relaxing scent. Used in Paraffin 4627 Comfort Blend and has a nice hot throw.
Only 4 stars because I wish it was stronger. I LOVE this fragrance and it is the perfect bamboo, not too much "cut grass" smell. Very subtle and soothing smell, just wish it was more potent.
IGI 4627 and IGI 4630
10% Fragrance
Very good hot throw.
Beautiful scent overall, not what I was expecting
Wonderful scent, though not much of a hot throw. A more appropriate name for this scent would be "Cool Honeydew"
One of my favorites along with Caribbean Teak wood. This one works amazing with lemongrass EO. After a week cure I get a really good throw.
Smells very similar to green tea lemongrass, but a pleasant scent none the less
This is an amazing, green, clean scent. It's calming, soothing and my manly husband even likes it- not girly at all. Used it at 6% in clear melt and pour soap and it was magic!
Another one of my favorites!! Wish it was stronger because it is magic, you will get transported in an exotic land in one breath!
This has a fantastic scent- exactly what I think bamboo would smell like if real bamboo actually had much of a scent. If you've ever smelled the yellow base of a new shoot of grass, this is close. Fresh, sweet, green (but not super grassy). Nice. But- really weak. I use it in body butter and add it after my freezer phase, so it never has to withstand heat. I've only ever worked with one scent which was weaker. I'll be buying it again.
EVERYONE loves this scent! I can't keep it stocked!